Vancouver Does Not Need More Barriers To Better Mental Health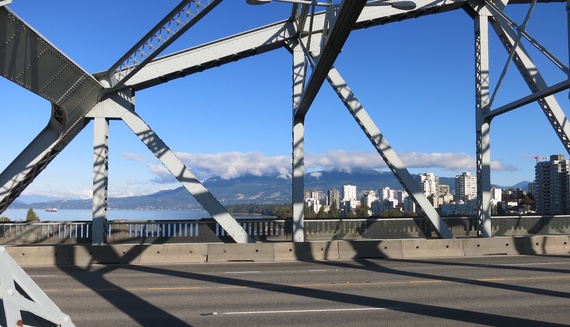 The ruling Vision Vancouver council recently threw out Councillor George Affleck's motion for discussion about the the wisdom of suicide barriers on Burrard Bridge, thereby enhancing their hard-earned reputation for not listening. This, despite election eve promises to the contrary. What the heck.
I started a petition a little while back to ask council to reconsider it's decision on the barriers.
That petition garnered over 500 signatures and was featured in media at the time, but it has since grown to well over 2000 (and counting) CKNW's Bruce Allen spoke passionately about the issue, referring to my previous HuffPost blog about the bridge.
Remember the promise to end homelessness? Of course you do. I voted for Vision because I believed that a promise of that magnitude, that importance, was worth supporting, and my gosh, if you make a promise, you damn well better live up to it or there will be hell to pay. (By hell, I mean getting re-elected.) At the time, it was said that the mayor was staking his political career on the line with this promise. Well... not so much.
Clearly, the promise to end homelessness is hollow if it is not backed up with sound policy. Lo and behold, homeless numbers in 2016 are higher than ever. Yes, the total opposite of ending homelessness is to actually increase the problem under your watch. Congratulations, Vision Vancouver, for that dubious achievement.
I bring up this "ending homelessness" promise because the suicide barriers have the same hollow ring. "Lives over a view," as Councillor Reimer said. "Even one life is worth saving," as Councillor Jang said. Who could argue with that kind of altruism? Not me. Well, yes, me, actually.
Consider the recent news that the city is putting a million dollars towards a mental health hub. Councillor Jang called it "a big health investment for the city." This hub will help about 5,000 people in need per year. How many people die by jumping from Burrard Bridge every year? The answer is .08 people, but the barriers will cost $3.5 million.
The B.C. auditor general said that more money needs to be spent on mental health. This is the very same Vancouver Coastal Health that lobbied the city to install the barriers and recently cut funding to an arts therapy program which was said to "save lives."
She feels angry that vital funds are being directed not to the people who need it most, but a barrier which avoids the real issues.
So while the VCH and advocacy groups lobby for barriers, they know that funding for other programs is in short supply. If Councillor Jang feels that even one life is worth saving, why not spend $3.5 million to help many, many more people? There is evidence that barriers do not even save lives, as people may be inclined to just go somewhere else. Funding should instead be focused on helping people at a much earlier stage.
I am fortunate to have no personal experience with these issues, but I do know someone who has, and she wrote a very eloquent letter to council which so moved me that I asked her if I could  share some of her thoughts here, which she agreed to -- although she prefers to remain anonymous. The writer is a successful public figure who has lived our mental health system first hand and has recovered fully. She described her experience:
"If you're admitted to the psychiatric ward, you are shamed for life," she said. "It was the absolute worst experience of my life." She went on to explain that it was not health professionals who ultimately helped her, but friends, who gave her the support she needed. In other words, the system was sorely lacking. 
For this reason, she feels angry that vital funds are being directed not to the people who need it most, but a barrier which avoids the real issues. She considers the fencing more than an impedance to a beautiful view for the thousands who use the bridge -- as she puts it, it is "a chronic reminder of our flawed relationship to mental health and how uneasy it makes us feel. Look away, build a fence, sleep better at night."
"The true answer is to help people who need it and help them get better, not throw up a fence on our beautiful 84-year-old historic bridge, blocking the view and at the same time reminding us of how disconnected we are," she said. "If we all weren't depressed before the fences, we definitely will be afterward as it collectively robs us all of much of the joy and enjoyment of the beauty of Vancouver."
For this woman who wrote so passionately to council, the fences are a vivid and emotive reminder of the pain she suffered under treatment. "You are treated like a prisoner here in our mental health facilities and this is very much represented through the jail-like appearance of your fences," she said.
She feels that much work is needed to improve the system she has had first-hand experience with and she is sure that $3.5 million could be far better spent. "We all suffer more when you choose to ignore us naysayers using our voices to speak up against the fences. Know that what you're really doing is creating more walls in this city, both figuratively and literally, specifically for people who have not had the easiest ride for their emotional well being," she said.
She ended her letter with a plea: "Please do not spend this money on bridge barriers thinking you are solving anything. When you see those fences on the bridge, be reminded that many people out there are hurting and they're not getting the help or support they need. I would never wish any person to feel a second of how I felt at my worst moments. I was lucky I made it through alive but as we know, not everyone is."
This woman's heartfelt and emotional letter received not a single response from any Vision councillor.  That's what they call "listening."
Follow HuffPost Canada Blogs on Facebook
MORE ON HUFFPOST:
The Facts About Depression Symptoms
Do you have persistent feelings of sadness or hopelessness that have lingered for at least two weeks and occur throughout the day, every day or nearly every day? Are these feelings interfering with school or work, or your relationships? This is a key symptom of clinical depression. We all have negative thoughts from time to time, and it's natural to be sad when there is a serious event in our lives, like a death. The difference with clinical depression is that the feelings stick around and interfere with your ability to live your life day to day.

Many people with depression find it difficult to get out of bed — and we're not just talking about hitting the snooze button. For some, getting up seems nearly impossible. They may also find themselves spending unusual amounts of time in bed throughout the day, or having trouble with normal activities because of fatigue.

As tired as you may be, if you're depressed you might also have trouble sleeping. Marked changes in sleeping patterns, like insomnia or increased time spent sleeping, is another symptom of clinical depression.

Some people either gain or lose weight when they have clinical depression because of their change in appetite. For some, this means an increase in appetite and possibly weight gain as a result. Others lose their appetite and struggle to eat much at all. In either case, a significant change is worth investigating.

We all have times when we feel a bit more introverted than usual, but when people have clinical depression, they can lose the sense of pleasure they used to get from their favourite activities or from engaging with others. This isolation can make it harder for friends and loved ones to see the other symptoms of depression a person may be exhibiting, which makes it more difficult to know when a person needs help.

It's more often thought of as a symptom of ADHD, but an inability to concentrate or hold focus on one's activities can be a sign of clinical depression. Of course, if someone with clinical depression is also having trouble sleeping, not eating well or has lost interest in regular activities, this symptom can be amplified.

This is the most serious symptom of depression, says Dr. Joe Taravella, a psychologist and the supervisor of Rusk's Pediatric Psychology Service at NYU-Langone Medical Center in New York. "When you're severely depressed, suicidal thoughts can become so prominent, you begin to make a plan for ending your life, as you feel there are no other options." If you are experiencing suicidal thoughts, seek help or tell a trusted person in your life and ask for help — call your doctor, call 911, or go to an emergency room. And never assume that a person who talks about suicide won't do it. If someone tells you they are feeling suicidal or discusses plans to end their life, always take it seriously and get help.

"Many people don't realize that low levels of chronic irritability and anger can mask an underlying depression," Taravella says, "which can be undiagnosed and untreated for years." A study released last year found that more than half of men and women who were experiencing a major depressive episode reported irritability as a symptom. Constant irritability is also a symptom of depression seen in teenagers and children, one that could be written off as normal growing pains or teenage behaviour.

Yes, depression can literally hurt. There is increasing recognition of the physical symptoms of depression, which include headaches, stomach pain, and back pain. One study found half of patients with depression from around the world reported unexplained physical symptoms. But because these physical symptoms are often vague or have no logical explanation, they can be missed as as symptom of depression.

For people with severe depression, basic tasks of self care can seem too overwhelming to undertake, Taravella says. As well, personal hygiene may seem unimportant if you are feeling hopeless or worthless. If someone in your life is showing a marked decrease in personal hygiene, don't assume they are simply lazy.

Going along with trouble with concentration, people with clinical depression often have memory issues that can add to their difficulties in maintaining day-to-day activities. "As a result of these symptoms, they are more likely to become inattentive to their environment and prone to falls and injuries," he adds. A 2013 study found that this could be because clinical depression impairs the process of "pattern separation," which is the ability to distinguish between things and experiences that are similar.

Some people who show signs of depression engage in what Taravella refers to as "externalizing behaviours," which include substance abuse and risk-taking activities. Men are more likely to do it, he says. These behaviours can be a sign of an underlying mental-health problem, particularly if they're out of the ordinary for the individual.

"If you recognize symptoms of depression, take action and immediately seek professional help," Taravella advises. There are valuable resources out there, he says, including psychotherapy and antidepressants. Many people also find some relief with meditation and exercise, often in conjunction with other treatments. It can be difficult to navigate the process of finding the right help, especially if you are having trouble just getting out of bed. Try talking to a trusted friend or family member who can help you research options and even call a therapist for you.

It can take time for depression treatments to start making a difference, which is frustrating when you've taken the difficult step of admitting you need help. But while you work on medication and/or therapy, there are things you can do. Be as active as you can, Taravella says, and try to see friends. "Create small goals for yourself each week but don't put a lot of pressure on yourself," he suggests. While it can take time for depression symptoms to begin to lift, it may be worth seeking different treatment options if you are not seeing any improvement after two months.

"The best way to help someone who is depressed is to be a constant source of support for them," Taravella says. This can sometimes be difficult, however, because people with depression tend to isolate themselves despite your efforts to stay in touch and/or get involved. You may also be able to help someone by making a doctor's appointment for them. It's a simple task to request an appointment, but for someone who is severely depressed it can seem incredibly daunting.
Follow David Fine on Twitter: www.twitter.com/DavidFineGuy