Carve Some Love Into Halloween This Year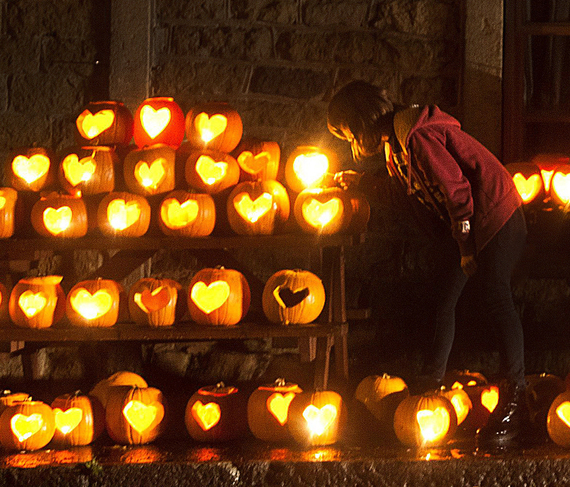 World Vision is asking Canadians to help farmers overseas to feed their families this Halloween. "Carve a Heart" in your pumpkin, and post to social media using hashtag #carveaheart. Photo: World Vision
Our Toronto neighbourhood goes big on Halloween. And I do mean big.
Several houses transform into something resembling the Bates home from the movie Psycho. One neighbour plays Michael Jackson's Thriller video on a giant screen, over and over again. One lady dresses as a witch, and offers "severed finger" cookies to the kiddies.
It's wonderful to see everyone involved. But I have to admit, it can be a bit overwhelming.
When my boys were little, they were afraid to go trick-or-treating for more than a short time. You just never knew which jump scare was coming next. We were new to the block, and wanting to meet neighbours. It was sad to know we wouldn't recognize any of them the next morning.
I found myself missing my first childhood Halloween days in Canada. We were immigrants from a place that didn't celebrate Halloween. My parents were yearning to make new friends in the neighbourhood. Halloween was the perfect time to embrace a new tradition, while going door-to-door to introduce themselves.
Memories of Halloween love
Our early Halloweens were a time of love and closeness. My dad, who mainly stood back from our activities, put his engineering expertise to work on our costumes. We were Rubik's Cubes. Star Wars characters with glowing eyes or wiggling ears. Muppet characters complete with Miss Piggy noses and Gonzo beaks.
Things moved more leisurely in those days. There were fewer neighbours to visit, and most people had time to chat. I still remember other parents offering mine a drink, while we kids munched candy on the front porch. And we never left before collecting some change to help children overseas, a critical part of our Halloween tradition.
This year, try to put some of the love back into Halloween, while continuing to have fun too. Here are a few suggestions:
Link up with a neighbour: I know two families who cook dinner together every year on Halloween. They sit together on one front porch with an after-dinner coffee, handing candy to the children. It's one of the highlights of their year, and helps keep the friendship strong.
Visit someone in need of joy: One year, I saw the elderly residents of our local retirement home sitting in the lobby, waiting for children to come. They had their big bowl of candy ready, but got very few visitors. Visiting is now an annual tradition for us. It takes just ten minutes right after dinner, and you should see their smiles!
Make your home a haven: Why not have coffee on the porch for parents who've had a long day, and put out a few chairs? Even the most zealous trick-or-treater will likely agree to hang out for a bit -- if they're allowed to eat some of their candy! Have water on hand for those who are thirsty.
Think of other cultures: Not every faith group embraces Halloween, and its different traditions and symbols. You might know a family whose children stay home from school on the day, or at home in the evening. Why not wrap up your festivities a little early, and offer to drop by with a non-Halloween dessert to share?
Carve a Heart in your pumpkin: Collecting coins for children in need was always an important part of our Halloween growing up. This year, World Vision is asking you to "Carve a Heart" for families overseas who don't have food to eat, let alone candy to enjoy. Here's how to help:
Take a picture of your loving pumpkin!
Post a picture on social media, using hashtag #carveaheart
Tag us at @worldvisionca to help share the love
Text 41010 to donate $10 for crop seeds for famers overseas
Follow HuffPost Canada Blogs on Facebook
Also on HuffPost:
Family Halloween Movies To Watch On Netflix
Based on the children's book by Neil Gaiman, "Coraline" tells the story of a girl who discovers a secret door in her new home which leads to an eerie alternate universe.

In this live-action film, the Mystery Inc. gang has broken up, but is brought back together after they are each invited to an island resort to investigate it's spooky happenings.

Watch R.L. Stine's horror anthology come to life in this Canadian TV series.

Featuring the voices of Adam Sandler, Andy Samberg and Selena Gomez, this hilarious movie tells the story of what happens when a human boy discovers Dracula's monster resort and falls for his teenage daughter.

With the release of the "Ghostbusters" remake this summer, your kids will no doubt want to watch the original. They'll love meeting the hilarious team made up of Dr. Peter Venkman, Dr. Raymond Stantz and Dr. Egon Spengler.

This collection of spooky stories involves some of DreamWorks' beloved characters from "Shrek" and "Monsters vs. Aliens."

Tim Burton's "The Nightmare Before Christmas" is a must see. The film follows the adventures of Jack Skeleton, king of Halloween town, as he discovers Christmas town for the very first time.

Wallace and his dog Gromit have so many adventures together, but nothing can top this one. Here, the hilarious duo sets out to discover the mystery behind who keeps sabotaging the village gardens.

In this cute TV series, Casper the Friendly Ghost is sent away to boarding school to learn how to be as scary as possible.

Although this isn't a movie, this TV series is a great one to watch for Halloween. If the kids like to be scared, put this show on and turn off the lights!