To All The Girls In The World - Including The Daughter I Never Had
On International Day of the Girl Child, I think about a little girl I used to know. She was the daughter I imagined I would have.
I said goodbye to that girl on a cold, February afternoon, in an ultrasound lab in downtown Toronto. I learned that the child growing inside me was my second, beautiful son. I would never have a daughter.
Parenting boys has been more wonderful than I ever could have imagined. I've learned that I grossly underestimated the depth and sensitivity that's possible in any human being -- regardless of gender. I wouldn't change anything.
But I will always have a sacred place in my heart for girls. My heart will always break when I see a girl exploited or undervalued, just because she's female. Or leap with joy when she has a chance to realize her full potential. I lose sleep when she's not safe and cared for, and am constantly searching for ways to make it better.
So in many ways, I have daughters all over the world. And in my travels with World Vision, I've learned that there are many ways to play a special role in the life of a girl child. I've seen how your gifts to girls everywhere can make a difference in their lives.
On the International Day of the Girl Child, here are some of the things I would love to tell every girl in the world, if I could.
"You were born a girl. You were born special." The daughter I imagined always had a clear sense of her identity. I think of her when I see girls like Anny in Jordan, a proud member of her school soccer team. "It keeps me healthy, and I get to practice my skills and become a better player," she says.

"You are bursting with gifts and potential." Sonali is the daughter of a sex worker in Bangladesh. But she could so often be seen at this World Vision drop-in learning centre leading the group with her smiles and quick, ready answers. It's as though she's saying "I'm ready to take on the world." I wish I could tell her I agree.

"Your circumstances are not your identity." Everywhere I've travelled, I've seen girls forced into the worst kinds of labour just to put food on the table. In Pakistan, Tayyaba works the same hours as a Toronto CEO, picking through garbage for bits of metal to sell to the scrap collector. I would love to tell Tayyaba that in her, I see someone worthy of the best the world has to offer -- not the worst.

"I am awed by your courage and determination." Jouri had a houseful of treasures to choose from when quickly packing to flee the bombing in Syria three years ago. She picked her school report card. Now in Lebanon, Jouri has continued to learn at World Vision accelerated learning centres. I want to say "Keep going. I believe in you."

"You may be different than the boys you know. But you are capable of great things." In Ethiopia, fourteen-year-old Miskia (pink head scarf) studies with her friend. Almost half of the girls in this community leave school once they hit puberty. I was deep-down glad to read that World Vision had included a "pad room" for girls who are menstruating, with its new latrines, so girls don't have to stop learning just because they are girls.

"No matter how busy I may get, I will always try to help." In Mongolia, seven-year-old Erdenesurd has a new, strong home, thanks to donors around the world who donated to the World Vision Gift Catalogue. I may never tuck her into bed, but I can sleep more peacefully knowing she is safe and warm tonight.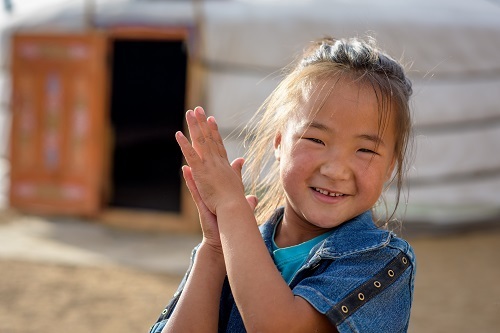 As you think of the world's girls today, think about what you might like to say to them. You may never meet children like the ones I've described, not in person anyway. But there are so many ways to send your love. Visiting a web site like worldvision.ca is a great start.
All photos by World Vision.
Follow HuffPost Canada Blogs on Facebook
Also on HuffPost:
Photos Of Girls Going To School Around The World
Withington Independent Girls School students celebrate getting good grades on their A level exams on August 15, 2013 in Manchester, England.

International Monetary Fund Managing Director Christine Lagarde watches school girls in the computer room at Toutes a l'Ecole school on December 3, 2013 in Kandal province, Cambodia.

Chinese children attend a class at the Jinqao Center Primary School in Shanghai on September 1, 2014.

Students sit the annual Scolastic Aptitude Test at a the Poongmun high school in Seoul on November 13, 2014.

Girls attend a class at a school in the forest in Xapuri, Acre State, in northwestern Brazil, on October 8, 2014.

Iranian school girls observe Members of Parliament discussing a draft to limit photographer's and cameramen's access to cover parliament's open sessions in Tehran on February 27, 2013.

Afghan schoolgirls board a bus in Qara Zaghan village in Baghlan province on May 7, 2013.

Sri Lankan Muslim school girls stand on the edge of a sea port in Colombo on May 20, 2013, after traveling from their town of Kalmunai, over 231 miles east of the capital Colombo.

Palestinian girls arrive to read verses from the Koran during a class on how to read the holy book of Islam, at a mosque in Gaza City, on June 9, 2013.

Pakistani school girls pray for the early recovery of child activist Malala Yousafzai, who was shot in the head in a Taliban assassination attempt, at their school in Peshawar on October 12, 2012.

Two Islamic school children prepare for prayer during a school trip in Jakarta on October 18, 2012.

Cuban schoolgirls read during class, on November 13, 2012, in Havana.

Girls pose at a rural school at La Palizada in Tulcan, Carchi province, in Ecuador close to the Colombian border on November 7, 2012.

Brazilian UN peacekeepers distribute juice and crackers to students at the Immaculate Conception School February 6, 2013 in Port-au-Prince, Haiti.

Iraqi school girls walk home in Tikrit on September 22, 2005.

A class of students run during a physical training exercise at the temporary campus of the "Walking School" of Xu Xiangyang Education and Training Group on December 22, 2005, on the outskirts of China's southwestern city of Chengdu.

Students read outdoors at the Jigmei Gyaltsen Girls Welfare School on April 21, 2006 in Maqin County of Guoluo Tibetan Autonomous Prefecture, Qinghai Province, China. The Jigmei Gyaltsen Girls Welfare School, established in 2005 was built to provide free education for impoverished female students in pasturing areas. The school currently has about 96 students and 10 teachers, teaching Tibetan, Chinese, mathematics, art and other courses.

A Kosovo Albanian girl answers a question in a sociology class at Sami Frasheri high school on March 15, 2007 in Pristina, Serbia.

Cadets laugh on the bench in the garden of the Defence Ministry Girls Boarding School on September 9, 2008, in Moscow, Russia. Russian President Medvedev took the decision in January 2008 to create an academy for the daughters of Russian servicemen serving far away from the capital, without the opportunity for a good education and for those who lost their father in post-Soviet armed conflicts.

Schoolgirls participate in a lesson in Kilifi on June 23, 2010. An initiative called "Moving the Goalspost" (MTG) has sponsored female students from the Kilifi district where drop-out rates due to early marriages, teen pregnancy and a traditional bias towards educating male siblings over female, are high. Using the sport of football to recruit pre and teen-aged girls out of school, MTG has managed to maintain hundreds of girls in school whom it also recruits into its all-female soccer teams to compete at district level tournaments.

High-school graduates celebrate the last day of their classes on Red Square in Moscow on May 25, 2011.

A young schoolgirl looking bored during a concert at the Glen Forest Development Centre on December 3, 2012 in Harare, Zimbabwe.

Students of the 7th and 8th classes swimming during a school triathlon on June 19, 2010 in Berlin Germany.

Westminster High School Future Farmers of America students cuddle their pigs in between grooming and preparing them to be shown in competition at the Orange County Fair in Costa Mesa.

Students of Christopher Lee's engineering class react as the small bridge they built in class finally crushes in a stress test.

School children in uniform play in Isla de Laganave, Haiti.

School girls in orange uniforms walk to school along a trail around Manaslu Trek, Nepal.

Primary School students in North Korea on May 16, 2009.

Children learning their lessons at home, in a village in Netrok.

School girls wearing school uniform on the way home on June 1, 2009 in Trinidad, Cuba.

A girl goes to primary school in Bangladesh in 2007.

Female warriors of Shaolin in Henan, China on their way to lunch on October 1, 2006. Created in 1978, Tagou Wushu school in Henan is considered the biggest kung fu school in the world with more than 15,000 students yearly, among them 10 percent are girls.

H'mong students exercise at Hoang Thu Pho primary school in Bac Ha, Lao Cai, Vietnam.

Visually impaired students of Delhi University staying in a dilapidated hostel run by an NGO in Burari, New Delhi.

Students learning in a Hezbollah girls' school.

A group of students from the school Cur Immaculé de Marie take part in a small parade organized for their school on Haitian Flag Day in Port-au-Prince on May 18, 2015.

Girls hug each other on the first day of school outside the European school of Strasbourg in Strasbourg, France on September 1, 2015.

Palestinian school girls walk during a sandstorm in Gaza City on September 9, 2015.

Yemeni girls listen to their teacher on their fist day of school at a public institution in the Yemeni capital Sanaa on November 1, 2015.

––Girls once again allowed to attend school raise their hands to answer a question in math class. ––

Indian schoolchildren pray during morning assembly at their school in Shimla on December 17, 2014, as they pay tribute to slain Pakistani schoolchildren and staff after an attack on an army school in the restive city of Peshawar.

Yemeni schoolgirls attend an anti-mine and unexploded ordnance awareness campaign in a school in Sanaa on December 17, 2014.

Children play during a break after returning to school following a two-months strike of teachers due to criminal threats, in Acapulco, Mexico on January 27, 2015.

Students wearing traditional hanbok dresses bow as they attend a graduation and coming-of-age ceremony at the Dongmyeong girl's high school in Seoul on February 12, 2015.

A young Bangladeshi school girl.

Students in school uniforms pose for a photo on September 29, 2015 in Beira, Mozambique.

Students listen to instructions during a coding class at The Young Women's Leadership School of Astoria in New York on September 17, 2015.

School girls head home through their cocoa-producing village on November 11, 2015 in Akyekyere, Ghana.

Indian school girls eat a free mid-day meal at a government school on April 28, 2015 in Nagaon, Assam, India.

Young female students in a "pondok," a school providing general and religious studies on June 29, 2015 in Narathiwat, Thailand.

High school students walk home from school in Trinidad, Cuba.

Student walk to school the rain in June of 2013 in Kyoto, Japan.

Young Pakistani girls pursue their studies even without the modern facilities in a village near Wagah border area on the eve of "International Day of the Girl Child at Lahore" on October 11, 2014.

Children sit on the ground with a temporary roof to protect them against the strong sun in a small village called Bilwadi in the state of Rajasthan. The children who come from nomadic families are 6-14 years olds who are taught mathematics as well as reading and writing in Hindi. This photo was taken on October 29, 2014.

A student stands in a classroom at a school the capital city of Bangui, Central African Republic on March 12, 2014.

High school girls walk home from school in Milot, Haiti.

A girls' track team runs through traffic as they travel to McKinley High School where they practice on May 28, 2013 in Washington, DC.

Kashmiri school girls playing during recess in Kulhama district, Bandipora on August 11, 2015 in Srinagar, India.

The female warriors of Shaolin in Henan, China on October 1, 2006. A young female student practices with a group of boys at Tagou wushu school near the famous Shaolin temple. Created in 1978, Tagou Wushu school located in Henan province, is considered as the biggest kung fu school in the world with more than 15,000 students yearly, among them 10 percent of girls.

A young student from Malabar Public School reads on a beanbag at her school on July 19 2006.