'Location' Really Matters When Natural Disaster Strikes
We've all heard the real estate mantra: "Location, location, location." It means that two identical homes can have completely different value, depending on where they're situated. Location is everything.
Millions of the world's poorest children know this all too well -- especially when natural disaster strikes. When the ground shakes or a hurricane blows in, living in the 'wrong' location can turn a child's life upside down, bringing danger, increased hardship, or even death.
These were the findings of a UN report released last month. The authors noted that families living in poverty almost always occupy the least desirable land in a given region, areas vulnerable to climate hazards like mud slides or flooding.
The dangers of living 'high'
Ten year-old Enivens can attest to the dangers of living in an unfortunate spot. His neighbourhood, perched on a hillside outside of Port au Prince, was ripped apart when Hurricane Matthew tore through the country last month.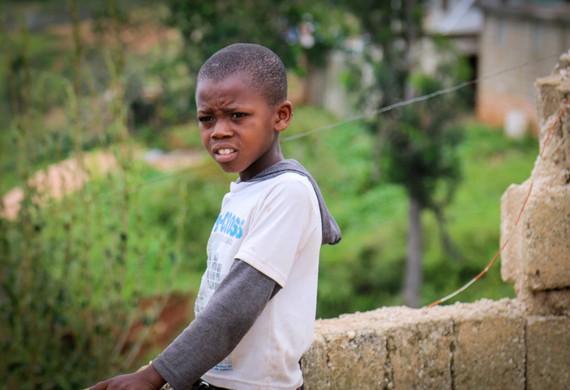 High on a hilltop, Enivens' home was exposed to the worst of Hurricane Matthews ruthless winds. Photo: World Vision
"Hurricane Matthew blew away my home," said Enivens. "It has killed pigs and other animals. It also destroyed my grandfather's house. It has ravaged the gardens. It has destroyed books and my toys."
Hearing this, it struck me for the first time that without walls and a roof, a child's entire life can be blown away. A house of this construction would have likely taken a beating anywhere that Matthew was raging. But there's no question that it happens more often in places like Haiti.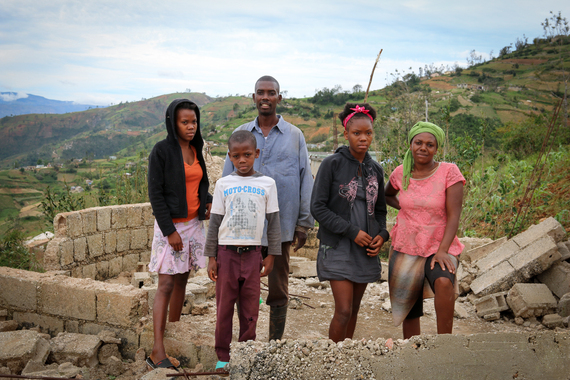 A home is the foundation of everything else. Now Enivens' family is focused on survival, rather than living life to its fullest. Photo: World Vision
Families like Enivens' are vulnerable to natural disasters in several ways. There's no question poverty plays a huge part, as the UN report also notes. Enivens' neighbourhood is vulnerable to deforestation and erosion, as families burn the vegetation for firewood. Denuded areas are far more prone to flooding and mudslides.
Geography also plays a part. Violent hurricanes tend to favour the tropics, or the Western Pacific Ocean. In contrast to the few dozen people whose lives Matthew claimed in the U.S.A., more than 1,000 people died in tiny Haiti.
Yet even for countries in the direct path of a deadly storm, some locations are definitely safer than others, and some structures are far better built. But sadly, the poor can't afford to buy this kind of security.
The dangers of living 'low'
On the other side of the world from Enivens, a small girl named Winnie has lived through similar turmoil. Her home was torn apart three years ago this week, when Super Typhoon Haiyan, known locally as Yolanda, ripped up entire communities in the Philippines.
It was one of the strongest storms recorded on the planet, and children like three-year-old Winnie were at its mercy.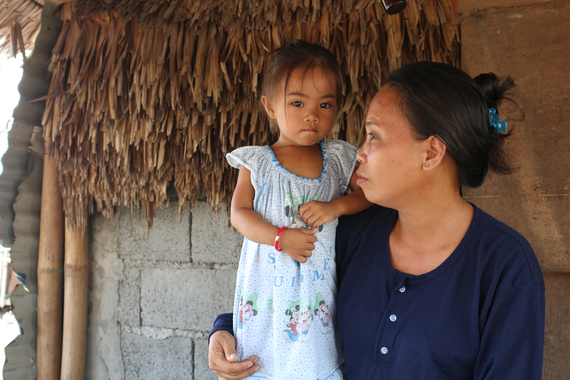 Winnie and her mother, Rosemarie, remember that dreadful day three years ago, when Typhoon Haiyan washed away their home. Photo: World Vision
Winnie's house was located right at sea level, just metres from the coastline. It may sound like heaven to many inland Canadians. But in a country that's regularly pummeled by typhoons, an ocean view can be deadly. Tiny houses, erected with 'found' materials, stand little chance against powerful flood waters and crushing waves.
As with Enivens' parents, Winnie's mother could only afford to live in one of her country's most dangerous locations. She was raising two children on her own, and needed to put a roof over their heads -- period.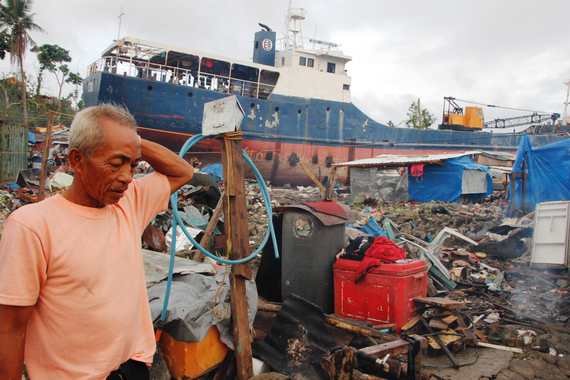 Ships were washed ashore and entire buildings devastated by the wrath of Typhoon Haiyan, three years ago today. Photo: World Vision
Strength to face the storms
In the three years since Typhoon Haiyan, World Vision has been busily working to help families rebuild. There's no doubt that many still live in areas vulnerable to the wrath of natural disasters. But we're helping families become more resilient, thanks in part to donations from Canadians.
"We've provided families with sturdy materials, careful training, and help when needed, to rebuild homes stronger and safer," says Tineka Levy, of World Vision Canada's Humanitarian and Emergency Affairs team.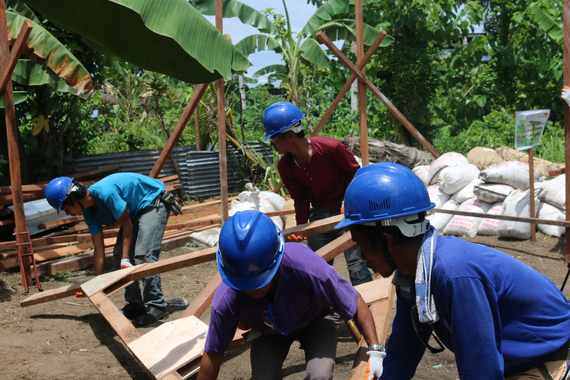 Carpenters -- many of whom are typhoon survivors themselves -- rebuilt Winnie's home shortly after Typhoon Haiyan. Photo: World Vision
Canadians' generosity has helped anchor families like Winnie's against future storms in the Philippines. Our government pitched in, helping to provide materials and training to more than 2,000 families who had lost their homes in the disaster.
The most vulnerable families, like Winnie's, received help with the rebuilding. World Vision trained carpenters, who also trained community members, on 'build-back-better' techniques, fortifying homes to withstand future disasters.
Strong materials, strong futures
The carpenters rebuilt homes like Winnie's using sturdy materials, like water-repellent lumber and thicker iron sheeting. Design features included elevation to reduce flooding, as well as cross-bracing, sturdy flooring, and 'hurricane straps' to secure the roof in high winds.
As with survivors of Hurricane Matthew in Haiti, children need more than a stronger roof over their heads. In all natural disasters, World Vision responds with things like safe drinking water and proper sanitation, to reduce the spread of diseases like cholera.
"And as with the carpenters rebuilding Winnie's home, Canadians give people overseas a chance to learn new vocations, through our accredited training programs," says World Vision Canada's Tineka Levy.
"That's a skill they will always have -- no matter what storms life sends their way."
Learn how you can help families in Haiti, like Enivens', to rebuild their lives.
Follow HuffPost Canada Blogs on Facebook
Also on HuffPost:
It Is No Wonder Haitians Are Anxious
In 2010 I walked through buckets of bleach to disinfect my boots before entering and leaving the St. Marc cholera ward. The ward is still there and it is still receiving patients—196 admissions so far this November 2015 and two deaths. The trends this year are tripled compared to last year. 19,949 cases and 170 deaths occurred countrywide in July 2015, as opposed to 7,739 cases and 56 deaths in July 2014. One must remember that these are cases that made it to reporting centers and hospitals. It is suspected that many more incidents go unrecorded in remote regions. Official counts change rapidly and cholera does not discriminate between the old...

...or the young. Know also that this hospital does not have enough supplies; not enough rehydration fluids; and too few rapid detection tests. Millions and millions of dollars sent to Haiti and a few boxes of rehydration fluids stand between these souls and the morgue. As of June 30, 2012, $2.3 billion has been provided to support long-term reconstruction activities in key development pillars identified in the five-year United States Government (USG) Haiti strategy. (Source: USAID)

Graphic assembled by Jake Johnston of the Center for Economic and Policy Research. See data report.

Locked gate in Caracol at the employment kiosk for USAID's flagship project at the nearby Caracol Industrial Park. Sae-A Trading Co. Ltd.― Korea's leading garment manufacturer is the designated corporate anchor tenant. USAID provided $43.5 million in direct support for the Industrial Park. Foreign investors were promised the moon.

As a result, the employment numbers at Caracol's anchor tenant facility have been under intense scrutiny and criticism. The Korean Sae-A (S&H Global) employs 7,027; 4,976 are women. The only remaining evidence of the Clintons is this golden plaque on a community school. Up to 60,000 jobs have been promised in the industrial park, not all in the garment industry.

No visitors allowed inside. The $300 million, 590-acre park, opened with many promises in 2012 by then-Secretary of State Hillary Clinton and former President Clinton. Where are the Clinton's now? The total number of people working at Caracol at the end of September 2015 was 8,648. 40-60,000 jobs were promised at the PIC.

The Caracol-EKAM settlement was originally projected to provide permanent houses to approximately 3,750 to 4,500. Where were the workers supposed to live? In fact, no one with experience in that massive of a building project stepped forward, and as the future would unfold, the Potemkin village was crumbling before it left the drawing board. Then there was the sticky issue of payment. This was not free housing, and garment workers would be expected to pay a monthly mortgage as well as utility bills. 331 workers from Caracol live in homes built by USAID at EKAM.

This woman was fired because she took two days to go to a doctor in Port-au-Prince for what amounted to a stress-induced illness. It takes a day to drive back and forth IF you have a car. Korean employers did not care that she had endured unwanted sexual advances, supervisors screaming at her to "work faster," and fists pounded on tables if she failed to meet production. Still, all she wants is her job back.

This development of 750 300-400 square foot homes experienced cost overruns due to design changes (Haitians wanted more than 200 square feet to live in), labor disputes and protests, according to a report by USAID's Inspector General.

..along with foundations that are less than two years old. Would you pay rent here? The pay of about $5 a day at the Korean factory is the minimum wage.

Earlier this year, USAID's inspector general found that the project, which was originally estimated to cost about $53 million, ballooned to $90 million. While the price tag grew, the project shrunk. Indeed, the plan had originally called for building 4,000 houses by 2012, but as of July, only about 816 houses have actually been built. This man's house floods every time it rains.

Neighborhoods are still struggling to repair to third world standards

Bel Air is a neighborhood of Port-au-Prince. It was hard hit by the earthquake and the poverty is palpable.

2013 guesses of camp dwellers at 171,974 does not include all three camps: Canaan, Jerusalem, and Onaville. See report from Ayiti Kale Je. "Three years after its star-studded launch by President René Préval, actor Sean Penn and various other Haitian and foreign dignitaries, the model camp for Haiti's 2010 earthquake victims has helped give birth to what might become the country's most expansive – and most expensive – slum."

With a slum of this magnitude, clinging precariously to mountain and hillsides, if another earthquake were to hit Haiti, the toll could eclipse the 350,00 of 2010. The threat of mudslides in a heavy rain or hurricane is ever-present.

"Circumspect" (Wary and unwilling to take risks in analysis) Download the report here.