Resilience Dictates How You Pick Up The Pieces After Loss
If you had to name your most important value, what would you say? What drives your decisions and life choices? Have you thought about it? Whenever I think about values, I often think of my son and the key value that I want to leave him with. I never have to think about the answer; it is very clear to me. I want my son to be resilient. It has always been very important to me that my son learns to weather the storms of life and to not be defeated by hardship.
I learned early in life that just when we think we have it all, we don't. Nobody has a right to happiness, good fortune, opportunity or success. We can't demand it nor make it happen, just because we want it to. Good fortune comes to some of us and misses many others. As soon as you have it, you can lose it.
Believing that we can control our futures lessens our anxiety and fear. We work hard to control what we can, and that's a good thing. It's important to set up the conditions for success. However, much of life just happens, often in spite of our best efforts to direct it. And because of that, we need to build resilience into our lives.
No matter what your situation, you need resiliency to resurrect what remains of your life and your future when facing loss.
I have had the privilege of supporting people in some of the worst times in their lives; as a volunteer in a palliative care unit and as a career transition consultant. In both situations, I've shared the profound loss of the sure thing and an odyssey into the shadows. It can be devastating.
In a moment, all that somebody believed was solid and true is no longer. The reality upon which they built their lives and their futures suddenly shifts. Certainty becomes uncertainty; solid ground becomes quicksand. Resilience gets them through, and so do other values such as love, courage, integrity, wisdom.
How individuals face these tough situations depends on their character and personality. Some are stoic and recognize that they need to make major changes in their lives and their assumptions. They get down to work and rebuild, creating something new out of what remains.
Others have difficulty accepting what has been lost; they rage and despair, trying to hang on to a past that is no longer.
Others are simply lost; they have no idea how to move forward and how to envision their lives differently.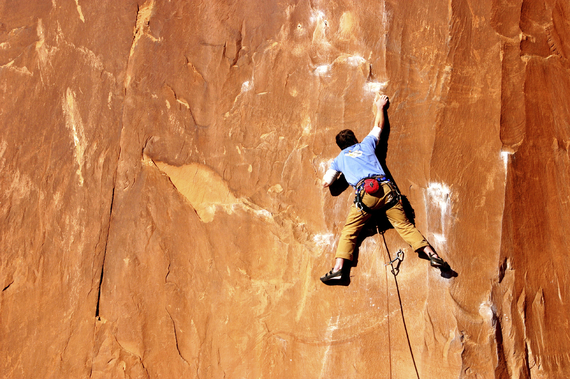 No matter what your situation, you need resiliency to resurrect what remains of your life and your future when facing loss. What are the actions I'm suggesting in the fact of loss? Below are five -- you likely can add to my list.
Accept that you are not owed anything.
Not happiness, nor opportunity, nor success. Sometimes you are lucky and good fortune shines on you. In that case, be grateful. When luck runs out, be thankful for what you had and learn from your hardship.
Bring grace.
There are others who have suffered setbacks and sharing your experience and learning can help them. Take your pain and turn it to something worthy.

Get support.
Often, people don't want to admit that life isn't going well or they don't want to seem "negative." They fear rejection and so they won't share what is happening nor ask for help. By withdrawing, they deny others the gift of generosity and of feeling useful. People get great value out of helping others so don't deny them the chance to help you.
Move to action.
While it's important to acknowledge and process your emotions, remaining locked in your feelings doesn't help you to move forward. Accept your emotions, let your soul send love your way. Then make a plan.
Appreciate the fragility of what you have and be thankful.
When your situation improves and you once again regain your stability, remember to be grateful. There's always somebody worse off than you. Find them and help.
Follow HuffPost Canada Blogs on Facebook
MORE ON HUFFPOST:
7 Resilience Strategies For Stressful Lives
People spend over a third of their waking life at work, but levels of work satisfaction vary widely from person to person. Amy Wrzesniewski's research shows that those who consider their work to be a job are generally interested only in the material benefits from their work and do not seek or receive any other type of reward from it; those who consider their work to be a career have a deeper personal investment in their work and generally seek to advance not only monetarily but also within the occupational structure; and those who consider their work to be a calling usually find that their work is inseparable from their life.[1] Those with a calling work not for financial gain or for career advancement, but for the fulfillment that the work brings. Wrzesniewski explains that those who consider their work to be a calling generally have a stronger and more rewarding relationship to their work. To determine whether your work is a job, career, or a calling, visit Authentic Happiness to take Wrzesniewski's short assessment, entitled "Work-Life Questionnaire."

Use this four-step process when you're curious about a reaction you had, don't like a reaction you had, or simply want to find a new way of looking at a problem. This technique is based on the work of Drs. Albert Ellis and Aaron Beck, and can help you better understand why your react the way you do to certain situations. First, describe factually what pushed your buttons (who, what, where, when); second, write down your reaction -- both what you did and how you felt (I felt angry and yelled); third, write down exactly what you were thinking in-the-moment during the challenge; and fourth, ask yourself whether your reaction helped or hurt your ability to find a solution. If you find that your reactions are harming your leadership ability, relationships, or other aspects of your life, target your thinking, which is where we have the most control.

Kids have zest in abundance, but as we age, societal and organizational pressures quietly tell us that having fun and being serious don't go together. Not surprisingly, zest is a strong predictor of work and life satisfaction. In addition, fun helps you socialize, provides an outlet for learning and creativity, and has great health benefits. The Association for Applied and Therapeutic Humor posts numerous resources, including research, about the benefits of fun.

Research by Dr. Christopher Peterson and his team shows that using your strengths in new ways every day for a week increases happiness and decreases depression. In addition, Harter et al. found that those who get to do what they do best at work on a daily basis have increased loyalty, retention, and productivity.[2] Two strengths tests are the StrengthsFinder by Gallup and the VIA Inventory of Strengths.

When you hear the word "optimism," do you think of a big smiley face, Pollyana, or an ostrich with its head stuck in the sand? That is not the kind of optimism that builds resilience. Optimism as a resilience ability is about a thinking style and not about a personality trait. Optimistic thinkers are able to identify what's in their control during a setback. Second, optimistic thinkers know "this too shall pass." They know that a stressor might be around for awhile, but it likely won't be around forever. Finally, optimistic thinkers know how to compartmentalize. For example, if they have a setback at work, the fallout does not bleed into other areas of their life. Conversely, pessimistic thinkers think the cause of a problem will be around for a very long period of time, affect many different areas of their life, and they fail to see where they have any control.

Remember the children's book The Little Engine that Could? The phrase the engine kept uttering was, "I think I can, I think I can." That is self-efficacy -- your ability to believe you can accomplish what you want to accomplish. The tendency to remember and dwell on only the times when you've failed or done less than your best often thwarts your ability to remember what you've accomplished. To build your self-efficacy, keep a journal of "wins." Write down all of the times in your life when you have exceeded expectations, accomplished tough goals, and were in control of your life. Review this list often and keep adding to it. Encourage your kids to start building their list now. In addition, don't be afraid to start small. Small victories create momentum, which is a great foundation from which to succeed at more complicated tasks.

Shelly Gable's research shows that how you respond to a person's good news actually does more for building a relationship than how you respond to bad news.[3] This applies across the board, from personal relationships to business interactions. Responding in an active and constructive way -- that is, helping the bearer of good news savor it -- is the only response that builds good relationships. Killing the conversation by offering a terse response or hijacking the conversation by making it about you are quick ways to weaken a relationship.
Follow Deborah Nixon on Twitter: www.twitter.com/deborahnixon