Is A 'Partner Predator' Circling Your Husband Or Wife?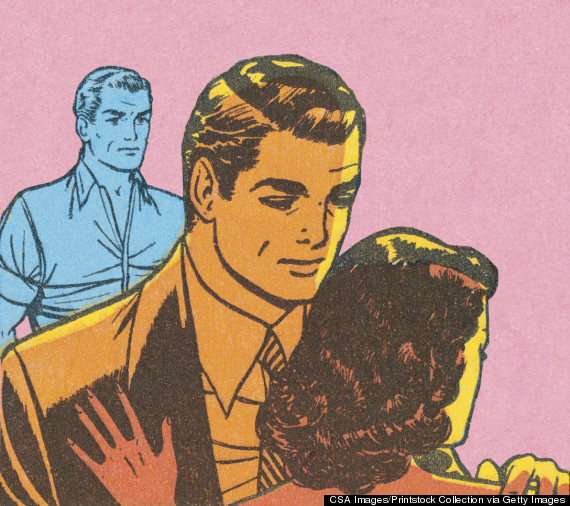 You're having a nice coffee date with your wife when her phone chimes with a new text. She reads it, giggles, and starts texting this other person back. You know who it is.
It's him. It's always him. Your neighbour, that overly friendly guy that you just know is a player. The one who sits a little too close to your wife during those backyard BBQs.
He gets his kicks by texting your wife whenever the mood hits him, sending inside jokes and even pictures of himself pretending to hop over the fence into your yard. Yeah, real cute.
But it's pointless to tell her your concerns. She'll just say you're jealous, overreacting or that you just don't get his sense of humor. He's "just like that." So you swallow your anger and hurt. No point having yet another fight about it.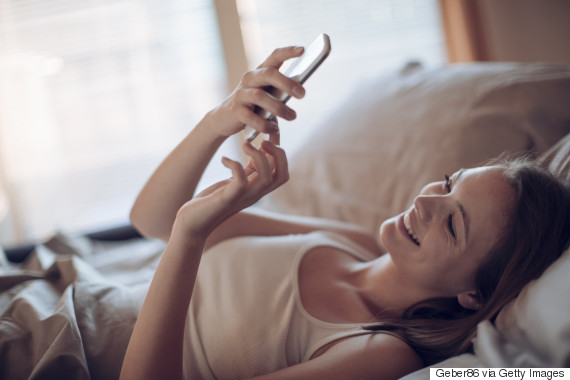 Or maybe it's like this?
You're lying next to your husband in bed when his phone chimes with a new text. He looks at it, turns his back to you and starts texting. You know it's her. It's always her. That new female co-worker, the one with the train-wreck of a life who's always asking for your husband's help, whether it's to set up her Wi-Fi or fix her kid's bicycle.
You say, "Really? She's texting you at 10 o'clock at night? Is that necessary?"
"She's just having a hard time and has nobody else to talk to," he says. "She's just got out of a bad relationship."
You know how the whole "damsel in distress" game works, and you know this woman is playing it with your husband. And more and more, it seems like she's winning.
"I'm sure she can find someone else's shoulder to cry on," you reply. "It isn't right. You're married and she should know better."
"She likes to talk to me because I'm married. I'm safe. She can talk to me and get a guy's perspective without worrying about being hit on."
You bite your tongue. But inside, you're screaming, "Bullshit!" You're also hurt. Hurt that your husband is defending this other woman over you. Hurt that he trusts her "innocent intentions" more than your gut feelings.
Because you know better. You know how the whole "damsel in distress" game works, and you know this woman is playing it with your husband. And more and more, it seems like she's winning.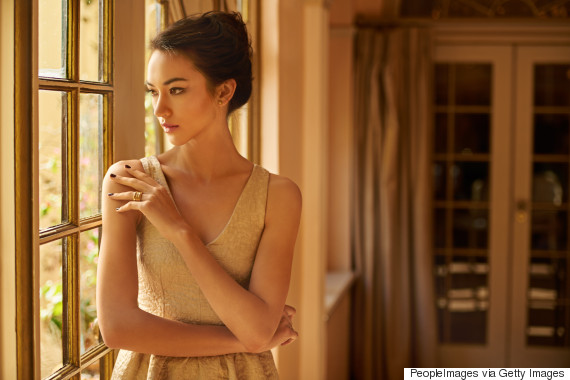 These kinds of scenarios are more common than you think. I see them all the time in practice: an "innocent" opposite-sex friendship on the part of one spouse begins to drive a wedge between a married couple. Yet instead of prioritizing the marriage and ending the friendship, the married partner defends their friend.
While this is a complex issue and I can't unpack the whole thing in one article, there is no doubt that some of these "friends" have far guiltier intentions than they let on. There is what I call a "partner predator." This is a person who -- married or single -- goes to great lengths to seduce another person's husband or wife.
Why? Because it's fun. Because it's how they get their kicks and pass the time. Because it's how they add a spark to their own relationship or how they find validation in life. Because, thanks to things like texting and social media, it's easy and relatively risk-free.
Or because they're looking for a bail-out for their own life. Because they need financial or emotional support, and they know your partner can provide that. Because they want to keep someone else -- your spouse -- on the back-burner in case their own relationship falls apart.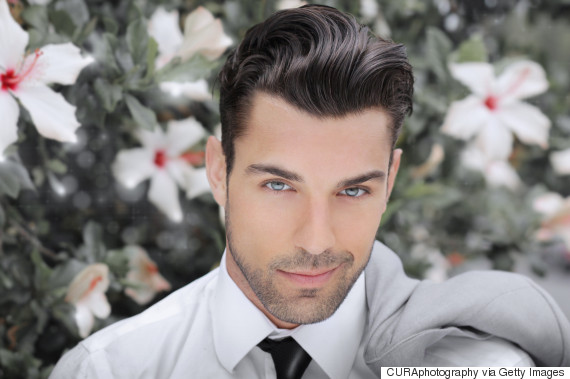 If one of these folks is circling your spouse, get ready for a world of pain, frustration, drama and conflict. Because they're good at what they do. They're good at exploiting your spouse's vanities or needs.
They're good at exploiting shared interests: "Oh wow, you like motorbikes/jazz music/video games/old movies/cat memes too? What a coincidence!"
They're good at persuading your spouse that their intentions are innocent and that you, the husband or wife, are being unreasonable. "Seriously? Your husband/wife doesn't like it when I text you? That's too bad. You deserve better. We're just friends."
Or some bullshit message along those lines. It's all about dividing and conquering.
So what do you do about it? I'll tell you what NOT to do. Don't complain. Don't warn your spouse that the other person is up to no good. Don't obsessively check your spouse's phone or nitpick their texts for evidence that's crossed the line.
If this is happening in your marriage, you need to trust your own instincts and stand up for yourself and your marriage. Insist that the friendship ends.
Don't allow yourself to be put in the role of the controlling, nagging or insecure spouse while the friend plays the role of the innocent friend who is simply befuddled by your baffling suspicions.
If this is happening in your marriage, you need to trust your own instincts and stand up for yourself and your marriage. Insist that the friendship ends. What's your alternative? To let it continue to cause problems in your marriage and drive a wedge between you? To let it become more entrenched until it transitions into a full-scale emotional or sexual affair?
If you can do this on your own, great. If you need help, there are resources out there, including my audio course: Prevent Infidelity // End Their Inappropriate Friendship.
Just be sure to advocate for yourself and the kind of marriage you want to be part of, one where you and your spouse are romantic best friends. One where partner predators will quickly tire of circling and will move on to easier prey.
Visit DebraMacleod.com for more info.
Follow HuffPost Canada Blogs on Facebook
Also on HuffPost:
In the General Social Survey, which tracks how Americans think on a variety of issues, a majority of men and women both said that infidelity when married is always wrong — but more women agree. At least 78 per cent of men think cheating is never okay when you're hitched, while 84 per cent of women share that sentiment. In the 1970s, those numbers were 63 per cent and 73 per cent respectively, so both men and women are more likely today to be anti-infidelity, and the gap between the sexes on the subject has narrowed over the time.

Data from the American Association for Marriage and Family Therapy says that approximately 25 per cent of husbands and 15 per cent of wives have had sex with someone else while married. However, the fact that people are not necessarily eager to admit that they've been unfaithful — even anonymously — those numbers could be higher in reality.

More women are committing adultery today than reported doing so in the past. A 2010 survey by the National Opinion Research Center found that women are 40 per cent more likely to cheat today than they were 20 years ago. Some researchers think this is because more of them are in the workforce, and because more women today have jobs that require them to travel.

When researching his book The Truth About Cheating, marriage counsellor M. Gary Neuman found that 92 per cent of men said that their infidelity wasn't about sex. The men said that their reasons for cheating were often emotional, such as feeling disconnected from or under-appreciated by their spouses.

Neuman's research indicated that 88 per cent of men who cheated didn't do so with someone more attractive than or fitter than their wives. But people who are perceived as more attractive — whether it's because they have looks, money, education, or power — are overall more likely to cheat.

Fifty-five per cent of the men in Neuman's study either lied when presented with evidence of their infidelity, or just didn't tell their wives it had happened.

A study from the University of Texas found that 50 per cent of men said they'd forgive their female partner if she cheated with a woman, but only 22 per cent would forgive if she cheated with a man. Women felt differently — 21 per cent said they'd forgive if their male partner was unfaithful with a man, but 28 would forgive an affair with a woman. The researchers indicated that the difference may be because many men find female-on-female sex to be erotic, and because a woman's affair with another woman can't result in pregnancy.

In one survey, 54 per cent of men who had cheated said that before the affair, they thought their marriage wasn't bad — or was even good. Just 34 per cent of women who had cheated felt the same. The study, published in the Journal of Marriage and Family in 2008, found that those who defined their marriages as "not too happy" were three times more likely to cheat than those who said their marriages were "very happy," and even people whose marriages they described as "pretty happy" were twice as likely to cheat as the "very happy" respondents. Another study found that half of women said their marriages had problems before an affair occurred, while only a third of men felt the same way.

A recent American poll found that a large majority of both men and women felt that non-sex cheating was just as damaging to a relationship as sex. Eighty-five per cent of female respondents and 74 per cent of men said that sexting is cheating.

Sixty per cent of men in the YouGov poll felt that kissing someone other than your partner was fine, but only 34 per cent of women agreed. Younger people were more likely than older respondents to consider a kissing cheat a reason to end a relationship.

A study published in the journal Sex Roles in 2007 found that women were more likely than men to start a new relationship with someone they cheated with. As well, men were more likely to say they cheated simply because the opportunity arose, whereas women cited problems in their existing relation as reasons for their infidelity — perhaps for women, cheating is more often seen as a way to get out of an unhappy relationship and into another.

One study found that both men and women feel guilty about infidelity— but not for the same reasons. Men feel guiltier following sexual infidelity, the researchers found, while women feel worse about an emotional betrayal, such as falling in love with someone else.
Follow Debra Macleod on Twitter: www.twitter.com/DebraMacleod