The Cost Of Living In Bali: A One Month Breakdown
People have been asking me what it costs to live in Bali, so I put together this post to breakdown the numbers for inquiring minds that want to know.
Keep in mind, I didn't go there to travel, I went there for three main reasons:
1. To live like a local. A local expat I guess? 
2. To learn about the culture through food and people watching.
3. To build something. Build something bigger than me. I'm not that big, so that sentence has no merit.
Because Bali was home, not a place I toured, I can give you a legitimate breakdown. A one month breakdown that is.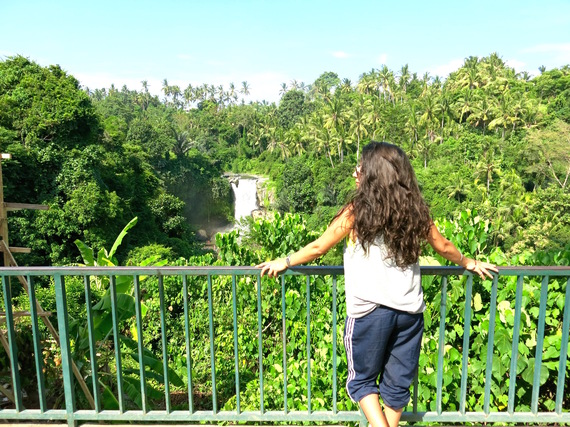 The views were worth every penny
Accommodations
Common living options in Bali are a) hostels (dorm room shared with multiple adult children) b) homestays (better than hostels) c) cottages (better than homestays) or d) private villas (large homes with a few beds/baths, shared amenities and a private pool, located outside of the downtown core.)
Hostels are where you stay when you're a dirty twenty something backpacking in places with cheap booze and greasy parties, whose sole purpose is to make bad decisions. I'm too old for that. I'm in my thirties, it's time to upgrade.
Homestays in Bali are a mix between staying at a Balinese person's house and a traditional hotel.
A cottage is a step up with bigger, cleaner rooms, better linens and feels more like a getaway, even if you're in the core area because you're surrounded by trees, flowers and in my case, a river streamed through the cottage compound. It made no sense but it was calming.
[Side note: I stayed in a homestay located in Ubud central for the first month and a cottage 15 minutes outside the hustle and bustle for the second. The cottage ran for $705/month. Agota.com is a great site to find deals, I found this place for 40 per cent off there.]
[Side note (the sequel): My friends who lived in a private villa outside of downtown Ubud paid the same amount as I did living central.]
My home, Latugu Homestay, offered the option of a standard room that ran for $450/month or what I opted for, a two-storey loft that was $850/month. I knocked down the price to $740. Yup, bargaining for accommodations is a thing in Bali.
The standard room was a typical space with a bed, an armoire, shower-over-toilet and ceiling fan.
Getting in from 31 hours of travel time, I wanted the nicer, air conditioned room. I deserved the brighter, more comfortable, air conditioned room.
The main floor of the loft made up my entertaining/working quarters, with a giant window exposing an untamed jungle, a fridge, a natural stone bathroom complete with a rain shower head and a separate throne area for the pooper. The second floor was furnished with a double bed on the bamboo floor, two floor lamps and two giant windows showcasing more nature at its wildest.
Accommodations: $740 CAD/month
Food & Drinks
Dealing with 39*C everyday, I was hungry for only one other meal a day besides breakfast, and breakfast was included in the cost of renting a homestay and cottage.
Now there is a pretty dope food scene in Bali, and I was determined to eat my way through the island. Sometimes I ate for $2.50/meal and other times I ate for $65/meal.
I tried to average my meals around $10-15/day.
Again, because it was too hot for comfort, I ended up buying tons of bottled water on the go, like any other human would living in extreme heat. (I'm being dramatic, I love the heat, especially when I could feel the gathering of cleavage and underboob sweat.) Water was only 50 cents/litre, but when you're buying it so often, not only to drink but to wash your fruit with, to make tea with and to brush your teeth with, it adds up.
Plus, as I went about my day, I would stop off for at least one of the following, every single day; a fresh fruit smoothie, cup of coffee, coconut water, Teh Botol (bottled cold tea), any drink with electrolytes from the convenience store and a Bintang Radler, or three.
This would amount to another $10-15/day.
Food: $450 ($15/day x 30 days)
Drinks: $450 ($15/day x 30 days)
TOTAL: $900 CAD/month
[Side note: tipping 10 per cent is something I stuck to.]
Cruising
Being mobile in Bali is key for the experience, although it's not the safest way to get around. Monthly scooter rental is $60/month (or $5/day). If you do the math, it's worth renting for the whole month, even if you end up scootering around for only two weeks.
Full tank of gas for my Scoopy (brand of Honda scooter) was $2.50. I think the tank size was 3.5L. I can't tell you how much milage I got out of it, but I can tell you I rode from Ubud to Seminyak and back, a two hour ride, on a full tank of gas and when I got back home, to Ubud, I still had a little more than a quarter tank!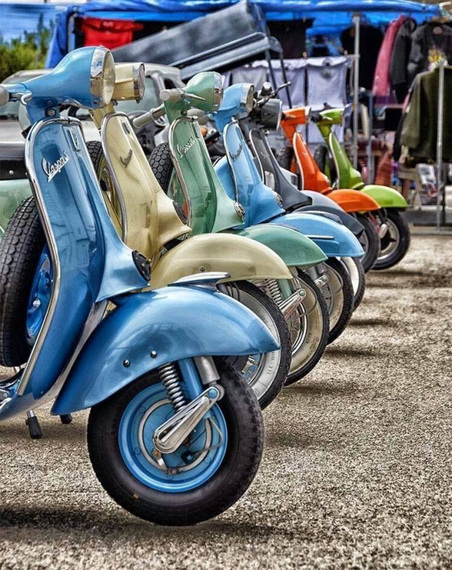 Mine was the blue one | Image courtesy of vintageholic.wordpress.com/
Overall, I filled up on gas once a week, at most, and it was never a full tank.

[Side note: I found that gas stations were sparse in Ubud. Fortunately, little convenience stores sell gas in vodka bottles for $1/0.75L off the side of the road.]
Scooter rental: $60/month
Gas: $8/month

[Side note: If you don't want to rent a scooter, there are too many scooter taxis available everywhere. I mean EVERYWHERE. There are also regular taxis which I used once, until I knew Uber existed in Bali. Just to give you an idea of the price difference, when I initially arrived to Bali, I arranged for an airport pick up from my homestay. Flat fee was $30, however with Uber it was half of that.]
Real taxi: $30 CAD/month
I used Uber specifically to run errands outside of Ubud.
Example One: When you stay in Bali passed 30 days, you have to make a visa extension run to the Denpasar immigration office, an hour away, I used an Uber to take me there, wait for me to get all the paper work done and drop me off back at home. My three hour mission was $20.
Example Two: I went to visit a friend in Thailand for a few days and arranged for an Uber to drop me off at the airport ($14) and of course, pick me up upon my return to Bali. During the pick up ride, I made friends with the driver, told him I have a slight drinking problem and we ended up stopping by his buddy's place to sample some homemade coconut liquor, called Arak. After that, we got talking about the gifts I needed to buy for family and he suggested hitting up a Polo outlet on the way home. With the meter running the whole time, my one hour ride turned into a three hour mini day trip and my Uber bill was a whopping $17.
Example Three: I once Ubered from Ubud to Seminyak, there and back for $30.
In total, my Uber rides ran me about $85/month.
Scooter rental: $60 
Gas: $8
Real taxi: $30
Uber: $85
TOTAL: 183 CAD/month
Hubud Coworking Space
To work out of Hubud, a coworking space that is essentially a multi level, bamboo treehouse, (also the reason I was drawn to Bali in the first place) was a set cost of $270 for 100hrs of high speed internet, download speed=50mbps/ upload speed=10mbps, which is by far the best on the island -- says Hubud.
Hubud: $270 CAD for 100hrs/month ($205 US)
Entertainment / a.ka Alcohol Consumption
I hit up a few pool parties; three in a month to be exact. Hubud hosted a few pub nights, I went to two. I also checked out a few after hours bars, which in Ubud really means places that are open till midnight, or a little later. On a regular day I was in bed by 10 p.m. 
Cover total: $30 
Drinks total: $220
TOTAL: $250 CAD/month

[Side note: It may look like I spent a lot of money on alcohol  --  that's not the case. It's very expensive to drink in Bali. The tax on booze is around 200-300 per cent.]
Precautions Taken to Avoid Getting Mildly Obese
I joined a gym and got me a trainer. A friend convinced me to become her workout partner. We weight trained together three times/week with an attractive lad from Cali, whose body was (and probably still is) wonderland.
The gym membership set me back $7/month. Now before you get all googly eyed over how ridiculously cheap a monthly gym pass is, let me paint you a picture of this "state of the art facility." This gym was split up into two big rooms; on one side there was an open space for us to do manual cardio. This is where I could hear the dead cockroaches and beetles being crushed beneath me, every time I did a set of burpees. Better yet, after our cardio session, I saw little bits of bug stuck to my skin. I guess sweat makes for a good glue. On the other side of the dusty glass was the bigger space that housed six old school, rusty weight machines, IN THE WHOLE GYM! We only used one of the six to do sets of deadlifts, bench presses and barbell squats. There wasn't an option to do more.
It was an indoor/outdoor gym which was nice because occasionally it would rain and a little breeze would drift in post rain. However, it was also gross because it was always hot and muggy to begin with.
[Side note: I really regret not taking a few pictures of this one of a kind gym.]
I secretly kind of loved it. It reminded me of the first Rocky movie. I felt bada** stepping inside a gym that was hardcore, or as hipsters would say "industrial." This also goes to show, you don't need much to workout. It's also true, you pay for what you get.
Monthly gym membership: $7
Beautiful trainer: $400 ($40/session x 10 session/month)
TOTAL: $407 CAD/month
Playing Tourist
As mentioned earlier, playing tourist in Bali was not part of the plan, but sometimes I got the urge to see some touristy spots. Below, I laid out three of my excursions (the only three I did), just to give you an idea of how much it costs to see some must-see spots in Bali.
Outing One:
I hired a motorcycle taxi for half the day to see the following: Tegelance Rice Terrace, Luwak Coffee Plantation, Hidden Tegenungan Waterfall, Lebih Black Beach.
Motorcycle taxi fare: $18 
Entrance fees total: $15 
Drinks for the day: $10 (no need to buy food, I came prepared with snacks in my bag)
TOTAL: $43 CAD
Outing Two: 
For a full day of site seeing across the island, my friends and I chartered a car and custom made our tour. We covered a lot in one day; Mount Batur, Tanah Lot Water Temple, Balangan Beach and Jimbaran Bay.
Charted car for the day: $32 ($95 total split three ways)
Entrance fees total: $20 
Food & drinks for the day: $100 (Seafood at Jimbaran Bay was pricy but worth it, picture the freshest grilled seafood in Bali, served on the beach!)
Total: $152 CAD
Outing Three: 
Spending the day at Potato Head Beach Club in Seminyak, where the drinks were as inventive as Chef René Redzepi's food. Therefore, you can't help but indulge and then overindulge.
Drinks at Potato Head Beach Club= $100 ($9-18/drink)
Dinner at Sarang: $50
Fuel to get to Seminyak and back on my bike: $2.50
Coffee/snack/mid day drinks: $20
Total: $172.50 CAD
Outing 1: $43
Outing 2: $152
Outing 3: $172.50 
TOTAL: $368 CAD
Custom Threads
I found me a tailor in Ubud, she was aight. I made one custom dress which I'm never going to wear for $25, and one jumper I've already worn twice for $20. It's true, finding a good tailor really is a very difficult mission.
Tailor: $45 CAD /month
Shopping
I didn't really shop for myself. All I bought myself was a litre of the best coconut oil, coconut soaps, and a bunch of other potent oils that were much better quality than anything I could find at health stores in Toronto.
Oils: $50 CAD
Miscellaneous
Travel insurance: $130
On arrival visa $45 (or $35 US)
Visa renewal fee: $65
Gifts: $200
Total: $440 CAD/month
Flight Details (in case you were curious) 
Eva Air: YYZ to DPS return = $1550 CAD (about a 31hours journey with delays, getting an on-arrival visa, baggage, etc)
En route to Bali
16 hours from YYZ to TPE (Taipei) + five hours stopover in Taipei
Five hours from TPE to DPS (Denpasar)
two-hour taxi ride from DSP to Ubud 
[I know this only amounts to 28hours, I said delays and such!]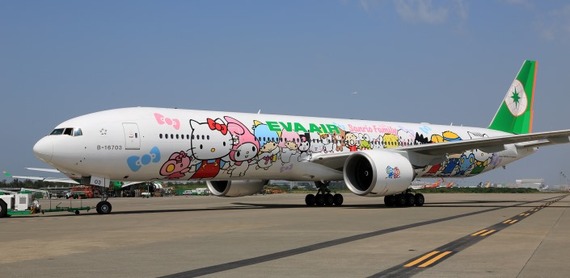 Yup, this is real. I was on it | Image courtesy of evaair.com
En route to Toronto 
DPS to YYZ (about 29 hours with delays, rechecking bags, going through a ridiculous amount of unnecessary security at San Fran) 
Five and 1/2 hours from DPS to TPE + two-hour stopover
12 1/2 hours TPE to SFO (San Francisco) + two-hour stopover
Five hours SFO to YYZ
Keep in mind, I was living there during off peak season, which affects the overall cost of living.
So, here's my one month breakdown of Bali expenses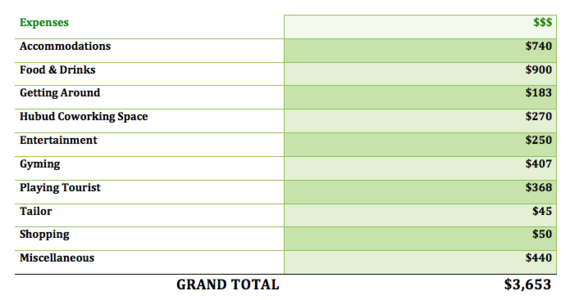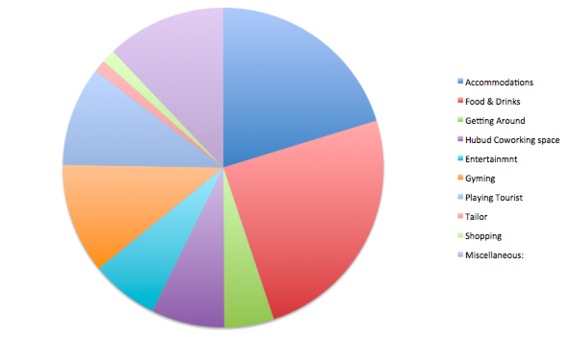 Interesting Find: My largest expense was food and my smallest expense was shopping for myself.
Follow HuffPost Canada Blogs on Facebook
ALSO ON HUFFPOST:
10 Ways to Win at Budget Travel
You booked a dream vacation and ended up spending way more than you expected. What happened? Yes, it's your vacation and you should make the most of it, but it's also important to make sure you can pay the bills when you get home. Here are 10 money saving tips to follow when planning your next vacation.

When it comes to booking, timing is everything. Prices on both flights and accommodations can vary wildly depending on when you book. Follow these three guidelines to maximize your chances of getting the cheapest options: Book in Advance: Whether it's a flight or accommodation, you're more likely to get a better price booking ahead of time—but, that isn't to say that you can't find last minute deals. The exact amount of time to book in advance will vary by destionation—check out TripAdvisor's "Best Time to Book" for upcoming summer travel—but many hotels will offer up to 20 percent off for booking in advance, and according to CheapAir.com, 54 days in advance is the magic number for booking the cheapest flights. Of course, timing is everything and there is no "golden rule", but earlier does tend to prove to be cheaper. Book a Stopover: If you're going on an international trip, consider taking a stopover to make the most of your journey by getting to experience a second destination for a much lower cost. Here are the top airlines that offer free stopovers. Book Travel for Midweek: If you can avoid travel on a weekend, you're going to have instant savings in most destinations. Fares are usually lowest on Tuesdays and Wednesdays, so it might be worth evaluating if the money you'll save makes up for using a few extra vacation days. RELATED: 14 Myths About Booking Cheap Flights (Photo: Thinkstock/iStock)

From couch surfing to house sitting, there are dozens of ways to cut travel costs or trade a service for accommodations. Hostels are a more traditional low-cost option, and new higher-end brands like Safestay and Generator Hostels offer hotel-like amenities. Couch surfing, staying in a university dorm, and KOA camping are other budget-friendly ways to save on accommodations while traveling, if you're willing to sacrifice a bit of comfort and added amenities. WWOOFing (World Wide Opportunities on Organic Farms) is one way to travel and stay for free in exchange for your work on a farm. Another alternative is to pet or house sit in exchange for accommodations through a site like TrustedHousesitters, or to house swap (HomeExchange) or night swap (NightSwapping). (Photo: Thinkstock/iStock)

Savvy travelers know that you can't just take any regular ATM or credit card abroad. Foreign transaction fees and ATM fees can add up quickly, so it's important to choose your cards wisely. Many credit cards now offer cards without foreign transaction fees, which will save you the two to three percent that other cards tack onto every purchase, so make sure the card you are primarily using abroad doesn't have these fees. ATM fees can also take a heavy hit on your wallet, so check with your bank to see what its ATM access fee is in foreign countries. Choosing a bank that is part of the Global ATM Alliance is also a good option for frequent travelers, as it will not charge an international ATM access fee—but beware: Depending on the card, you might still end up with international transaction or foreign currency fees. Another alternative is to take out larger quantities of cash a few times during your trip to avoid racking up fees with multiple smaller withdrawls—just make sure you are carrying your money carefully. RELATED: The Worst Credit Card Gotchas to Avoid When You Travel (Photo: Thinkstock/iStock)

Walking is often the best way to see a city, plus it's free and a great way to work off those extra scoops of gelato. By walking and booking accommodation close to the sites you want to see, you'll cut costs on transportation and be less likely to spend extra cash on taxis or ride shares. Many cities also offer free walking tours, and many of the best sites in cities are parks or architectural buildings you can see for free. (Photo: Thinkstock/iStock)

From AAA cards to student and senior discounts, there are plenty of discounts out there just waiting to be used. For American frequent travelers, AAA cards are a must, as they offer discounts at most major hotel chains, on Amtrak tickets, at stores and attractions, and they provide roadside assistance. Sites like Groupon and Living Social are packed with deals on travel, restaurants, activities, and travel gear—just make sure you read the fine print in the offerings. Many U.S. tourism boards are also great resources for discounts, offering coupon books, maps, recommendations, hotel discounts, and trip planning services. And, if you qualify as a student or senior, you tend to get even more discounts for transportation, museums, and attractions. RELATED: Tried and True Student Discounts in Europe (Photo: Thinkstock/Photodisc)

Spend a little extra time preparing and packing to save money when you're on your next trip. Make sure to use a bag that fits the carry-on restrictions to avoid checked bag fees (and to save you time at the airport). And be sure to abide by weight limits if you're traveling on an airline that's a stickler for this rule (most budget airlines are). When packing, make sure to have a checklist with all necessities—especially medicine, first aid kit essentials, and proper toiletries—as certain things tend to be a lot more expensive abroad (or at the airport). Speaking of …

Everyone knows this by now; there's an airport markup on many items. While you can't do much if you forget an essential at home, don't replace forgotten items at airport shops unless you want to spend more than you need to. To avoid high airport prices, pack an empty water bottle and refill it after security, bring your own snacks, shop for books and magazines before you travel, and make sure you have all of necessary toiletries, medicines, and essentials in your personal item before you leave for the airport. Finally, take note of currency exchange rates. The U.S. dollar is particularly strong right now, so you won't really be saving any money shopping duty free in most countries. RELATED: 9 Things You Should Never Buy at the Airport (Photo: Thinkstock/iStock)

Spend a few extra hours researching and budgeting to save big on travel and follow these tips: Research public transportation options ahead of time and decide if you're going to rely on walking, the subway, or taxis. Figure out your airport transportation ahead of time so you don't just hop into a cab. Budget in advance, so you're more likely to stick to a set dinner price or limit daily expenses. Find free attractions ahead of time and decide what other sights you are willing to spend on. By making a "must-do" list, you can prioritize what you would like to see in a destination, and then if you have extra time or money, do things lower on the list. It's also important to consider that some countries are expensive to get to, but very inexpensive in terms of hotels and food. The opposite is sometimes true, too: Often, destinations that have cheaper flight options also have high hotel and food prices. To budget on-the-ground expenses, check out Expatistan's Cost of Living Index for a general idea of prices in destinations around the world. (Photo: Thinkstock/Ingram Publishing)

You won't be charged that much data to post this one Instagram … right? Data roaming charges add up quickly, and it's unrealistic for many people to rely solely on Wi-Fi. There are a plenty of ways to make a phone work abroad, but as a general rule, know that unlocking your phone and getting a foreign SIM card is usually the best and cheapest way to go. Most carriers will unlock your phone if you go into a branch store, and basic data and text plans in most countries abroad will cost you under $30 (SIM card included). This option essentially allows you to use your phone as you normally would at home, just under a different number. RELATED: How To Prepare and Use Your Cell Phone Abroad

Food is an amazing part of a destination's culture to discover, but you can save a lot by reducing how much you rely on eating out, especially for breakfast and lunch. Pack 5 to 10 of your favorite granola bars in your carry-on to have on the plane, for a snack, or for an on-the-go breakfast. If you're staying in alternative accommodations, it's a lot easier to cook your own breakfast and keep snacks in a kitchen. If you're traveling for a longer period of time, check out the local grocery store—it will save you money compared to dining out, and it's a great way to have an authentic cultural experience. (Photo: Thinkstock/Photodisc) Read the original story: 10 Ways to Win at Budget Travel by Ashley Rossi, who is a regular contributor to SmarterTravel.