Turmeric Was India's Cure-All Long Before Hipsters Made It A Latte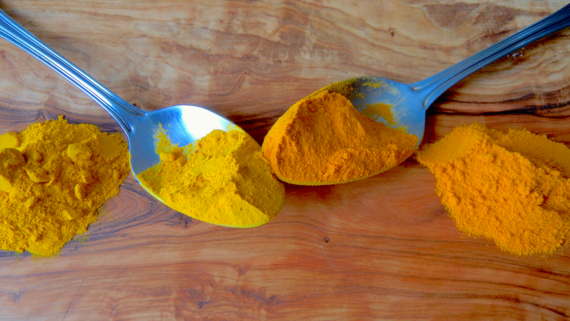 Bulk Barn Turmeric (L) and turmeric from the motherland, India (R)
Punjabi people call it haldi, everyone else knows it as turmeric.
In the last few years, turmeric has made its way onto the shelves of all major grocery stores and into the mainstream spice scene. Its popularity comes from the fact that turmeric carries tons of medicinal properties - curing the flu, sore throats, stomach pains, aching muscles - and Google will point out hundreds of other relieving powers contained in this super spice.
The latest obsession is the "golden milk latte," something I remember my brother and I were forced to drink as kids when we got sick from a cold. Mom would simmer up a batch of milk and swirl in a few spoons of fresh turmeric powder, pour it into giant mugs and make us finish it while it was still warm. We called it haldi doodh, which literally translates to "turmeric milk." Now it just has a fancy title. Thanks, hipsters! 
Golden milk might just be the new lemon water. 
What is Turmeric?
It's a traditional Indian spice
Commonly used as food colouring and a staple spice for Indian curries, marinades, sabzis (vegetables cooked in spices and curry flavours)
Bright yellow in colour (pure turmeric has a more orange hue)
Easily available in powder form
Carries a sharp, earthy and bitter taste
Comes from the ginger family and the root is from the Curcuma longa plant
Turmeric has a long history of boxing up super healing powers. Let's step back in time to ancient India when turmeric was first used. Thousands of years ago, one of the world's oldest forms of holistic medicine was born called Ayurveda, which involves cleansing the body from undigested food through plant-based drugs, special diets, massages, mediation, yoga, life style changes and more. In Ayurvedic cooking (and all curries) turmeric is the star of the show. Turmeric is often prescribed by Ayurvedic practitioners to support the blood, liver, joints, immune system and digestive tract. In India, about 80 per cent of the rural population depends on traditional Ayurvedic medicine.
According to MedIndia.net, turmeric is "five to eight times stronger than vitamin E and stronger than vitamin C, this antioxidant breakthrough may help boost your immunity, maintain normal cholesterol levels, and puts the brakes on aging." WebMD has a long list of benefits for you to probe through. Here's another 22 surprising uses for turmeric from the Mother Nature Network.  
Then in the year 2008, along came Goop, Gwyneth Paltrow's lifestyle site, which noted turmeric as a key anti-inflammatory ingredient to help your skin stay fresh and glowing. She even throws in a Gwyneth-approved turmeric latte recipe and the rest is history, in terms of becoming a trending topic. 
My family swears by it. Growing up I saw my mom (and now my younger female cousins) make face masks using honey, homemade yogurt and turmeric. And I have to admit, I've never seen a blemish on my mom's or my cousin's faces, as they've made this mask part of their daily skincare routine.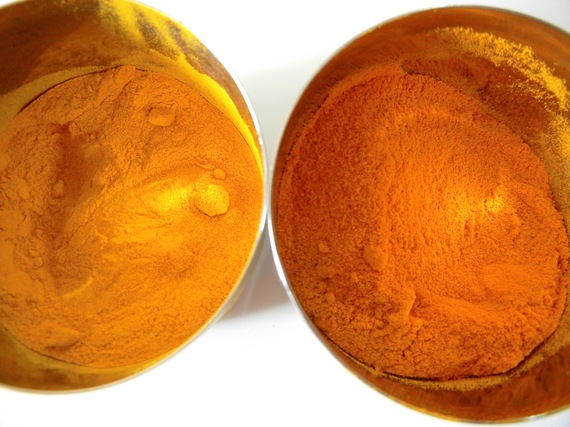 Bulk Barn Turmeric (L) and turmeric from the motherland, India (R)
Side note: As you see can from the image above, organic turmeric has a much more rich, vibrant colour to it when compared to what I bought from Bulk Barn. My parents' place is always stocked with the real-deal turmeric, straight from the motherland. My mom never buys it here in Canada. Clearly she has some connections abroad. I don't ask.
In the summers back at my parents' place, I often find a jug of turmeric, ginger and lemon tea in the fridge. In the winters they make "golden lattes."
Growing up in the village of Punjab, my mom remembers when her mom (my grandma) and the other elderly villagers used homemade turmeric remedies to cure knee or joint pains. They would make a paste out of mustard oil and fresh turmeric, spread the paste on a hot roti and place it directly on the body where it ached. The roti acts as a compress and the hot paste seeps into the skin, killing off the pain. Clever, right?
I could go on and on about how Punjabi families can't live without using turmeric on a daily basis, but I won't. The bigger overall insight is that staples in any South Asian household, such as neem, henna, coconut oil, homemade yogurt, ghee, jaggery, amla, tulsi and so on are now becoming commercial products in the West. Looks like South Asians were well ahead of the hipsters subculture, which poses the question: Just how long have hipsters been around?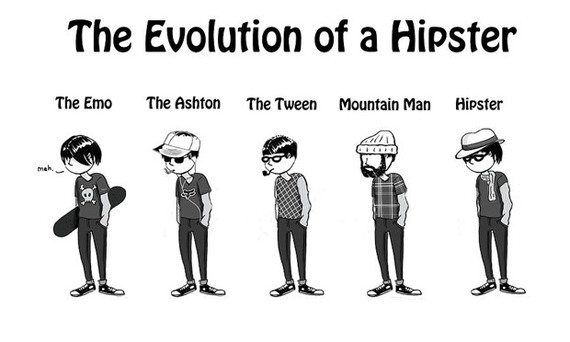 Oh, and it's pronounced tur-mer-ic, not too-mer-ic. Up until I wrote this, even I was saying it wrong.
Follow HuffPost Canada Blogs on Facebook
MORE ON HUFFPOST:
15 Health Benefits Of Turmeric
In Chinese medicine, the turmeric root or rhizome is called jiang huang and is used to promote the movement of Qi (pronounced chee), invigorate the blood, and alleviate pain. According to the Yin Yang House Acupuncture and Wellness Center, turmeric is considered related to the liver, spleen, and stomach meridians.

Followers of this ancient Indian health system believe that turmeric contributes to balance between the three doshas, and it is used in ayurveda in many ways, both internally and topically. Turmeric juice can be used to treat wounds, for example, and turmeric, milk, and sugar is given as a cold remedy. "Susruta's Ayurvedic Compendium, dating back to 250 BC, recommends an ointment containing turmeric to relieve the effects of poisoned food," the Herbal Medicine: Biomolecular and Clinical Aspects notes.

That deep yellow colour comes from the presence of curcumin, an antioxidant. In lab studies, curcumin has been linked to potential benefits including anti-inflammatory properties, Dr. Andrew Weil notes. Weil says he includes turmeric in his anti-inflammatory meal plan.

Recent research from Tufts University in Massachusetts found that curcumin suppressed the growth of fat tissue, and therefore prevented weight gain in mice. However, more research has to be done to demonstrate its effects on humans and weight loss.

Another study from UCLA found that rats who ate curcumin were more resistant to the accumulation of beta-amyloid plaque in their brains — an abnormality associated with Alzheimer's in people. Elderly people in India have one of the world's lowest rates of Alzheimer's, according to the NCBI, and also have diets high in turmeric. But more research needs to be done to confirm a connection between curcumin and Alzheimer's in humans.

People in India and Pakistan usually use turmeric to relieve stomach pain, and there might be something to that. There is some research showing that taking turmeric internally (in food, tea or juice and milk) may relieve stomach upset or dyspepsia, according to the National Institutes of Health (NIH).

There is also research showing that turmeric extracts taken either alone or with other herbs can reduce osteoarthritis-related pain, the NIH reports. This could be related to turmeric's purported anti-inflammatory properties, according to the Arthritis Foundation, which recommends taking turmeric in a powder, capsule, or extract form.

Turmeric is an everyday ingredient in Thai and Indian cuisines, for example, and it's what makes mustard yellow. Sometimes it's a more subtle part of a dish, and other times it's the star — like in this recipe for grilled turmeric chicken from She Shimmers. Either way, it's delicious! Along with using turmeric where it's called for in specific recipes, you can try adding a pinch to soups and sauces to add more flavour.

If you can get your hands on whole turmeric root, try pickling it. This haldi achar (haldi meaning turmeric) is a type of Indian pickle often eaten with meals. It has a great burst of spicy flavour and can enhance your curry dishes. And to go all out, we highly suggest a combo of pickled turmeric and ginger from Tarla Dalal.

Turmeric milk is exactly what it sounds like: a mixture of turmeric paste, milk, and a bit of honey for sweetness. It's just one more way to get more turmeric in your diet, particularly if you don't eat a lot of Thai or Indian foods. We also like this turmeric milk recipe from Allrecipes.com.

This is simple to make: just mix three tablespoons of the powder with three cups of water, and boil while stirring until a thick paste is formed. Store the paste in your fridge in a glass jar — if you use plastic, the container will end up the same colour as the paste. Use the paste to apply to areas of your skin that need soothing or to add to smoothies for an extra kick.

Mix together a teaspoon of ground turmeric, a teaspoon of honey, and a teaspoon of milk. (Adjust the milk to get a thick paste-like consistency.) Turmeric's anti-inflammatory properties may be soothing for sensitive or red skin. Also, during wedding season, many Indian brides also add turmeric to their faces (and other areas of the body), to create a natural glow. For some, this is considered a part of the wedding ritual, according to Panache India.

The Japanese island of Okinawa is well-known for the longevity of its residents. It's thought that the healthy, whole-food based, soy-rich diets of Okinawans has something to do with their long and healthy lives, and that diet includes turmeric tea, says Weil. You may be able to find turmeric tea sold packaged in stores, but it's easy to make your own: add one teaspoon of ground turmeric to four cups of boiling water, then simmer for 10 minutes before serving. Add honey or lemon to taste.

Thai turmeric chicken soup is the perfect meal when you have a cold. If you need something a bit heartier, this turmeric-heavy stew fits the bill.

Turmeric is generally safe, particularly when used simply as a flavouring ingredient in food. However, some people might have side effects if they consume the spice in excess or take turmeric supplements. The NIH advises that people with gallbladder issues such as stones, bleeding disorders, gastrointestinal reflux disease, iron deficiency, hormone-sensitive conditions, and pregnancy should avoid medicinal quantities of turmeric. If you have any questions, ask your doctor.