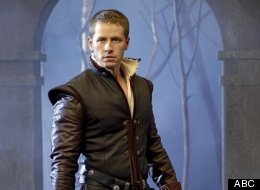 My resolution for the new year should be to watch less TV, because let's face it -- I watch a lot of TV. But since I love it and it's kind of my job, I'd rather just complain about the few characters I don't like on some of my can't-miss shows; specifically, the characters who drive me bananas.
There are five in particular whom I can't stand, five who make my job actual work, five who have me running to do the dishes or fold laundry or scrub toilets or ... well, you catch my drift.
Were there any characters this year that drove you crazy? Sound off in the comments!
5 TV Characters That Should Be Gone By 2013
To be honest, I could've written about half the cast (scrunchy-faced Charlie and oatmeal-y Bass immediately spring to mind), but Danny is perhaps the most "meh" character around. Yes, he's family and the main reason Charlie and Miles (the one truly likable character on "Revolution") teamed up, but now that they've found him, he's expendable as far as I'm concerned. Yes, it'll only make Charlie cry and scowl more but it will also soften Miles more -- always a good thing.

When I heard that Blair was upped to series regular after guest-starring in the pilot, I thought he would add another dimension to the comedy. Boy, was I wrong. I get that he's not meant to belong -- though the same could be said for NeNe Leakes' Rocky and she makes it work (because she's awesome). But every time Clay's in a scene, it makes me want to change the channel. Thankfully, he's not on often. Perhaps he'll get bumped back down to recurring, or better yet, off the show completely.

How has no one killed Serrat yet?! The mayor of the unknown village where the crew of the USS Colorado is seeking refuge has been nothing but a thorn in their side. He and the crew don't see eye-to-eye, nor does he seem well-liked by the long-time residents, either. Hopefully once the Captain finds out what he and his henchmen did to the COB (though that doesn't seem likely since Prosser's keeping the heinous act under wraps), that's reason enough to off their island enemy. Plus, there are enough bad guys to deal with; this little weasel shouldn't be one of them.

When I hear the name "Prince Charming," I envision tall, dark, chiseled and handsome, flowing, longish locks, brawny, commanding and brave -- not exactly words I would use to describe Dallas' portrayal of fairy tales' main man. I don't mean to knock Dallas completely, however. It might have more to do with the gals of "Once Upon a Time," who all tend to be powerful, headstrong, independent women who don't need a knight in shining armor. So the Prince Charming we've come to know over decades and decades isn't what we're seeing on the ABC hit -- and, unfortunately, makes Dallas' Charming pretty dispensible.

Are we supposed to believe that Laurel, a.k.a. Debbie Downer, and Oliver are destined to be together? Because, no. Just ... NO. Oli and Helena were hot, and the vigilante shares more chemistry with his sister, Thea, so I'm not sure if that's just gross or more proof that Laurel belongs with Tommy. To be honest, however, I don't like Laurel with anyone. I'm not sure if it's because the writers are giving Cassidy -- who should not get second billing; every time I see it, it drives me nuts -- little to work with, or the actress herself, but if Laurel packed her bags and left Starling City forever, or (my preference) was killed by a stray arrow, I wouldn't exactly be mourning.
Follow Denette Wilford on Twitter: www.twitter.com/DenetteWilford