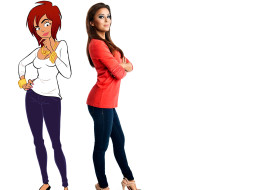 You know how Betty Draper of "Mad Men" is arguably one of the chilliest moms on television? Well, she has just been dethroned. Meet Rudi Wilson, perhaps the worst mom to hit the small screen -- ever -- on City's newest show, "Mother Up!"
The animated series centres on Rudi (Eva Longoria, who also executive-produces), a former music industry executive who leaves her job after a work scandal.
"She's a high-powered music exec that has quit her job and moved to the suburbs to become the mom she thinks she can be, and thinks her business skills will transfer over to parenting skills. She doesn't understand why it doesn't transfer," Longoria told me during last year's Rogers TV up-fronts. "The show is about that journey and the stumbling blocks she has to overcome to be a good parent."
Those stumbling blocks are more like mountains, because Rudi is as cold as they come. She thinks motherhood comes easy and she'll conquer it like she did the music industry. Too bad it's like apples and anchovies.
Enough of the mother talk; what about the funny? Longoria hopes that "Mother Up!" fills a void that's missing in today's animated series.
"That's how the show was pitched to me, that there's no female presence in animation," said the actress-executive producer. "I'm a huge fan of 'Family Guy,' 'American Dad!' and 'The Simpsons,' and for me, I was like, 'You're right, there is no female lead.' They're the mom or the wife. Rudi Wilson has a very male energy -- we like to call her the female Peter Griffin because she's inappropriate and misguided and awkward and selfish -- so for me to even play that in animated form, was awesome."
The problem is, "Mother Up!" isn't awesome -- or funny. While Rudi and Peter Griffin are the opposite of model parents, Peter at least has an excuse: he's a simpleton. Rudi is smart as a whip and can handle a Kanye-like rapper named Two Bit (Clé Bennett) but can't handle a couple of sweet, normal (how, I have no idea) kids like Dick (Jesse Camacho) and Apple (Rebecca Husain). Rudi is just an awful person, be it a mom, a wife, a boss, or a friend, and watching her try to navigate her way through motherhood in her half-ass, lazy way is painful. It's sad that she doesn't understand how to show affection or provide a meal or have a conversation with them -- and not in that sad-funny, ha-ha-dysfunction way. Nothing I saw in the first two episodes warranted any laughs. Not even a smirk. It even would have been better if it pushed the envelope and was offensive but funny. It's not, though. Basically, my mouth was set in a grim line the entire 44 minutes.
It's hard to watch, and that sucks because I agree with Longoria that there isn't a female-led animated series, but perhaps there isn't an audience for it. "Mother Up!"'s only redeeming quality is Longoria herself, who has a voice tailor-made for animation. She deserves better than the oh-so-flawed Rudi, who is short on charm, while Longoria oozes it.
Longoria admitted that she and Rudi are nothing alike. "There's nothing I derive from to play her. She's a mom, she was in corporate America. It's nice to play somebody that's totally different than me. She's narcissistic, she's selfish, everything roots from 'How does it best serve me?', which is fun to play." But it would be nice if some of Eva was in Rudi. That might make "Mother Up!" more likable.
Perhaps if Rudi wasn't Dick and Apple's mom and, rather, an aunt or family friend who gets the kids after Mom and Dad die in some freak accident, the premise would make more sense. But unless Rudi transforms from a selfish, despicable woman to a less selfish, less-despicable mom, there's nothing to root for here. It has so much potential (annoyed and annoying overworked suburban moms, the opportunities are endless) but why should we care when Rudi doesn't?
"Mother Up!" premieres Thursday, Jan. 23 at 9:30 p.m. ET/PT on City.
A single-camera, half-hour comedy set in the world of advertising, "The Crazy Ones" revolves around the dynamics between a father, played by Robin Williams, and his daughter, played by Sarah Michelle Gellar.

"The Bachelor Canada" is the Canadian version of the perennially successful "The Bachelor" franchise on City and OMNI Television. This nine-episode, original reality series will feature an all-Canadian cast including the host, bachelorettes and of course, the highly sought-after bachelor. Season 2 starts production in 2014.

New live-action, multi-camera comedy from Seth MacFarlane, Alec Sulkin, and Wellesley Wild, the creatively outrageous team behind "Ted" and "Family Guy." "Dads" stars Seth Green and Giovanni Ribisi as two successful guys -- and childhood best friends -- whose lives get turned upside-down when their pain-in-the-neck patriarchs (Martin Mull and Peter Riegert) move in.

When Terry Gannon, a recently divorced single mother, temporarily moves in with her estranged father, a beer-swilling former baseball player, she reluctantly starts coaching her son's underdog little league team and is drawn back into the world of sports she vowed to leave behind.

"Package Deal" is the story of three overly close brothers and the woman who comes between them. Danny is the smart, good-looking, and successful lawyer brother; Sheldon is the stubborn, politically incorrect, and bossy salesman older brother; and Ryan is the sensitive, slightly metrosexual, and former house-husband brother. Sharing more than just a last name, they are overly involved in each other's lives -- until Kim, a beautiful, smart, and funny woman, begins dating Danny and finally cuts his umbilical cord from his brothers.

In a new comedy from Chuck Lorre, Anna Faris plays Christy, a single mom whose newly found sobriety has given her the ability to see her life clearly -- and she does not like the view. Now, she must try to untangle years of reckless decisions in order to make a better life for her and her kids.

Starring popular Australian comedian Rebel Wilson, "Super Fun Night" is a new half-hour, single-camera comedy series that follows three nerdy female friends in their mid-to-late 20s on their "funcomfortable" quest to have fun every Friday night -- even if it kills them. Kimmie, Helen-Alice, and Marika have been best friends for 13 years, united by a love for warrior princesses, rock parties (with actual rocks), and fantasizing about one day having a boyfriend. Every Friday night they are "always together, always inside!" But after Kimmie is promoted at her law firm and invited to drinks by Richard, the cute new lawyer from London, she realizes the friends haven't been out since ... well, since prom.

"Storage Wars Canada" is a modern-day treasure hunt, as six professional buyers use their knowledge, expertise, and wit to bid on the contents of abandoned, repossessed, and forgotten storage containers. With mere minutes to scan the contents of a locker using only the beam of a flashlight, the high-stakes fun begins when the buyers have to out-bid each other for the locker, which could be full of trash -- or treasure.

Starring Eva Longoria, "Mother Up!" is an animated adult comedy series about a former street-smart -- but now disgraced -- big-city music executive-turned-suburban supermom with one catch: she is not a very good parent.

Based on the hugely popular and multiple-award-winning BBC 3 series Gavin & Stacey, "Us & Them" is an ensemble, single-camera comedy starring Jason Ritter and Alexis Bledel, about a young couple whose path to happily-ever-after is complicated by the screwed-up circus of people closest to them.

Of all the notorious lawmen that have ever patrolled the violent Texas frontier, none are more storied than the Texas Rangers. But being the only female ranger in this elite squad isn't going to stop badass Molly Parker, who is committed to finding the truth and seeing justice served. While she's surrounded by law enforcement colleagues who want to see her fail, including Police Lieutenant Guillermo Salazar, the Rangers, led by Company Commander Luis Zea, have her back.

Based on the Dutch series "Overspel," "Betrayal" follows Sara and Jack, two lovers caught in an affair, and an impossible situation on opposite sides of a murder investigation. Photographer Sara Hadley and attorney Jack McAllister's chance meeting leads to an instant and undeniable attraction.

In Victorian England, the young and beautiful Alice tells a tale of a strange new land that exists on the other side of a rabbit hole. An invisible cat, a hookah-smoking caterpillar, and playing cards that talk are just some of the fantastic things she's seen during this impossible adventure. Surely this troubled girl must be insane, and her doctors aim to cure her with a treatment that will make her forget everything. Alice seems ready to put it all behind her, especially the painful memory of the genie she fell in love with and lost forever -- the handsome and mysterious Cyrus.

From the Emmy Award-winning writers/producers of "Parks and Recreation," this single-camera comedy stars Andy Samberg and Andre Braugher. "Brooklyn Nine-Nine" is an ensemble comedy about what happens when a detective who doesn't take anything seriously gets a new "by-the-book" boss who wants him to grow up and respect the badge.

Every day across the country, Americans imagine what it would be like to strike it rich. They dream of new houses, new cars, new everything. It could never happen to them -- but what if it did?

From writer/producer Rand Ravich comes this emotionally charged action thriller. It begins with a field trip for the students of Ballard High School, a place that educates the children of Washington, D.C.'s elite, top-of-their-industry CEOs, international diplomats, political power players, and even the president's son. But when their bus is ambushed on a secluded rural road, the teenagers and their chaperones are taken, igniting a national crisis.

"Enlisted" is an irreverent and heartfelt single-camera, family comedy set in the military. Starring Geoff Stults, the series follows three brothers and the group of misfits who surround them as they get reacquainted on a small Florida Army base.
Follow Denette Wilford on Twitter: www.twitter.com/DenetteWilford