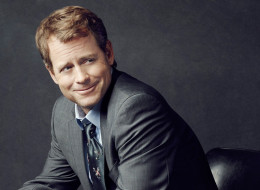 Last summer, I popped in the screener of "Rake"'s original pilot and wanted to poke my eyes out.
I didn't get how the antics of an alcoholic and gambling-addicted lawyer could be so boring but, boy, oh boy, was it a snoozer. I honestly didn't think Greg Kinnear knew how to play an uninteresting character because the actor oozes so much charm, but Keegan Deane was nowhere near as charismatic as his portrayer.
I guess I wasn't the only one who was less-than-impressed with the original pilot because, thankfully, it has been overhauled into a compelling hour. Kinnear's talents are no longer wasted and what's better is that he is also surrounded by an equally appealing, enjoyable cast.
"Rake" -- which is based on the successful Australian series of the same name -- centres on Keegan Deane, whose life is constantly snowballing around him, thanks to his massive gambling addiction, money problems and personal struggles.
The show has already been compared to "House" as it features a sometimes unlikable character whose one redeeming quality is how great he is at his job. And, for me, therein lies the difference. House was cranky yet brilliant; Keegan is as debauched as they come but as far as work goes, he's good, great even. But formidable? Not quite. Perhaps that's because we've only gotten a glimpse at who Keegan is, and the entire package may be tainting what we've seen.

Most of the clients Keegan takes on are guilty of the crimes they are accused of so that doesn't make him any more likable. He is self-centred, takes on particular cases because of how they will benefit him best, and while that would be irksome, Kinnear makes it an almost endearing quality. How does he do that?
Keegan starts off every day battered and bruised, be it physically and/or emotionally. It's all self-inflicted, of course, and while that could be frustrating for viewers, because of Kinnear, that only makes him - and the show -- more entertaining. Thankfully, Kinnear is nothing like his character.
"I don't know that there's a lot of similarities," the actor said during a conference call with the media. "I think it's what really attracted me to the character, when I saw the Australian show.
"Not only the ensemble nature of the show, but just Keegan himself, the inability to not get out of his own way, his needs and wants and addictions all snowball around him constantly, just that notion, two step forward, three steps back, seemed like a fun zone to play with," he explained. "Not that I don'thave my own little bag of self-destructive traits, we all do, but he has them at such a flawless rate. He has such an ability to miscalculate, set off personal landmines around him in life. It seemed like a fun area to play around in."
But "Rake" isn't all about Keegan. Despite his downfalls, he is surrounded by some very forgiving people who have obviously also fallen for his charms. There's his best friend Ben (John Ortiz) and his wife, Scarlet (Necar Zadegan), another of Keegan's old pals who also happens to be a prosecutor, and is often Keegan's opposition in court. Often cleaning up Keegan's messes is his no-nonsense assistant, Leanne (Tara Summers) and picking him up when he's feeling down is his favourite prostitute, Mikki (Bojana Novakovic).
Rounding out the cast are enforcer Roy (Omar J. Dorsey) whose job it is to get Keegan to pay his gambling debts, his ex-wife, Maddy (Miranda Otto), who provides him with free therapy, and his son, Finn (Ian Colletti) who will soon show that the "like father, like son" adage is indeed the case here. Uh-oh. Oh, and also part of the cast -- but not in the pilot -- is IRS tax attorney David Potter (David Harbour), which doesn't bode well for Keegan and will likely make his life more miserable than it already is.
The series is created by Peter Duncan, who also conceived the original "Rake," and is executive-produced by Peter Tolan, co-creator of "Rescue Me." While there's nothing particularly original about the series (we've seen the charming loser who's too irresistible to resist many times before) but the excellent writing and the winsome Kinnear somehow manages to make it seem fresh. What could have been -- and once began as -- a dark, dismal, sleepy show has evolved into a quirky legal drama with the comical tone of "The Good Wife" and "Boston Legal." That may sound like a tough sell (it likely won't retain too much of "American Idol"'s very-different audience) but I wouldn't count out Keegan Deane just yet. In fact, I bet he will find success.
"Rake" premieres Thursday, Jan. 23 at 9 p.m. ET on Global and Fox.
Shaw Media Upcoming Shows, 2013-14
This event series will restart the clock on the groundbreaking and Emmy Award-winning drama franchise starring Kiefer Sutherland ("24"). The high-octane saga reunites "Homeland" producer Howard Gordon with Sutherland and retains the real-time, fast-paced format with split screens and complex interweaving storylines, with 12 episodes representing 24 hours.

"The Queen Latifah Show" is a daytime talk-variety series that showcases Queen Latifah's extraordinary range of talents as a global entertainment icon. The multi-topic, daily syndicated show features a mix of A-list celebrities, real people with inspiring stories, buzz-worthy musical acts, and Queen Latifah's unique -- often comedic -- take on pop culture. "The Queen Latifah Show" is the perfect platform for this multi-talented host to entertain, inspire and create television that matters.

From the producers of "Downton Abbey" comes a twisted, sophisticated and sexy take on Bram Stoker's classic novel, Dracula, proving that some stories never die. It's the late 19th century, and the mysterious Dracula (Jonathan Rhys Meyers, "The Tudors") has arrived in London, posing as an American entrepreneur who wants to bring modern science to Victorian society. He's especially interested in the new technology of electricity, which promises to brighten the night -- useful for someone who avoids the sun. But he has another reason for his travels: he hopes to get revenge on those who cursed him with immortality centuries earlier. Everything seems to be going according to plan, until he becomes infatuated with a woman who appears to be a reincarnation of his dead wife.

In this action-adventure series from executive producers J.J. Abrams ("Lost") and J.H. Wyman ("Fringe") set in 2048, a cop teams up with a second-hand synthetic android to fight a strain of urban crime that has evolved in even more frightening ways. Detective John Kennex (Karl Urban, "The Bourne Supremacy") survived a catastrophic attack on the city's police department that cost him his friends, one of his limbs and his reputation. When he returns a year later, he finds the transition difficult. Not only does one of the surviving detectives, Richard Paul (Michael Irby, "Flight Plan") blame him for the lethal ambush, but department policy now requires that every cop be paired with a highly-evolved human-like android partner. Instead, Kennex works with lab technician Rudy Lom (MacKenzie Crook, Game of Thrones) to reinstate an outdated Dorian android (Michael Ealy, The Good Wife) whose somewhat dysfunctional platform is based on a "Synthetic Soul" program, allowing it to have emotional responses. Together, the two set out to keep the city safe and uncover the criminal conspiracy that threatens to destroy their world.

This thrilling new action-adventure drama is a modern-day retelling of Washington Irving's classic tale. Ichabod Crane (Tom Mison, "Parade's End") is resurrected and pulled two-and-a-half centuries through time to find that the world is on the brink of destruction, and that he is humanity's last hope, forcing him to team up with a contemporary police officer (Nicole Beharie, "42") to unravel a mystery which dates all the way back to the founding fathers.

For decades, ex-government agent Raymond "Red" Reddington (James Spader, "Boston Legal") has been one of the FBI's most wanted fugitives. He has mysteriously surrendered to the FBI with an offer: he will help catch a long thought to be dead terrorist, Ranko Zamani, under the condition that he speaks only to Elizabeth "Liz" Keen (Megan Boone, "Law & Order: Los Angeles"), a new FBI profiler. Zamani is the first of many on a list that Red has compiled over the years: a "blacklist" of politicians, mobsters, spies and international terrorists. He will help catch them all, with the stipulation that Liz continues to work with him as his partner. Red will teach Liz to think like a criminal and "see the bigger picture"... whether she wants to or not.

Nathan Miller (Will Arnett, "Arrested Development"), a recently divorced local roving news reporter, is looking forward to single life until his parents' marital problems unexpectedly derail his plans. When Nathan finally breaks the news of his divorce to his parents, Carol and Tom (Margo Martindale, "The Americans" and Beau Bridges, "White Collar"), his father is inspired to follow suit and stuns the family when he leaves his wife of 43 years. Already in shock, Nathan is even more aghast when his meddlesome mother decides to move in with him. Meanwhile, his absent-minded dad imposes upon Nathan's sister and her husband Adam. As Nathan and his sister settle in with their truly impossible parents, they both wonder just how long the aggravating adjustment period is going to last.

From creator Michael Caleo ("The Sopranos") comes the gritty one-hour drama "Ironside." Detective Robert Ironside (Blair Underwood, "Sex and the City") is a tough and fearless NYPD cop who is out for justice. He and his trusted team of specialists will do whatever it takes to solve some of the city's most notorious crimes – even if it means breaking the rules. And despite having shattered his spine by a bullet two years ago, nothing stops Ironside from taking the bad guys down.

Written and produced by Jason Katims ("Parenthood") and directed by Jon Favreau ("Iron Man") comes a light-hearted comedy 'about a young boy.' Will Freeman (David Walton, "Bent") lives a charmed existence as the ultimate man-child. After writing a hit song, he was granted a life of free time, free love and freedom from financial woes. Soon, needy, single mom (Minnie Driver, "Good Will Hunting") and her oddly charming 11-year-old son Marcus (Benjamin Stockham, "1600 Penn") move in next door and disrupt Will's perfect world. Over time, Will develops a newfound friendship that teaches him something he never thought possible to care less about himself and more about others.

One of New York's most beloved news anchors, Mike Henry (Michael J. Fox, "The Good Wife"), put his career on hold to spend more time with his family and focus on his health after being diagnosed with Parkinson's disease. Five years later, with the kids growing up and Mike growing restless, he decides it's time to go back to work. Mike is determined to succeed in juggling home, family and career, just like the old days -- only better.

Sean (Sean P. Hayes, "Will & Grace") is a divorced dad who's trying to juggle it all. From his overbearing boss and offbeat employees at work to his pushy mom Lorna (Linda Lavin, "Alice") and teenage daughter Ellie (Sami Isler, "Homerun"), Sean is finding out that balancing life is no easy task.

This half-hour comedy is about four single guys who unexpectedly find camaraderie through their many missteps in love. Carter, (Christopher Nicholas Smith, "Fake It Till You Make It") who recently moved into the building complex after being ditched at the altar, is eager to re-enter the dating scene. Along the way he gets advice from his "band of brothers": Frank Russo (Tony Shalhoub, "Monk"), a successful middle-aged clothing manufacturer and four-time divorcée who still fancies himself a ladies' man; Gil Bartis (Kal Penn, "House"), a small business owner who was caught having the world's worst affair; and Stuart Strickland (Jerry O'Connell, "The Defenders"), a Speedo-wearing OB/GYN who is hiding his assets until his divorce is settled. Armed with a hot tub, a pool-side barbeque and plenty of questionable advice, these six-time losers in the marriage department take Carter under their wing to impart their own brand of wisdom about the opposite sex.
Follow Denette Wilford on Twitter: www.twitter.com/DenetteWilford