France's Revitalized Bordeaux Is Buzzing With Life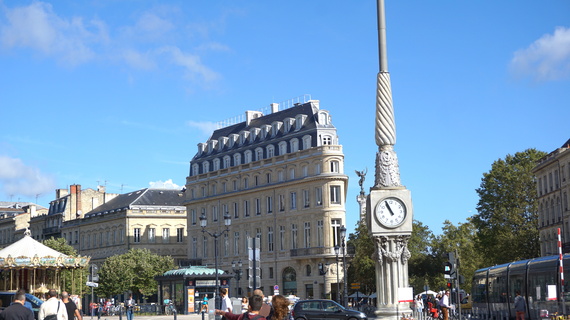 (Photos: Desi Globetrotter)

Note: Airfare provided by Air France. Accommodations and activities arranged courtesy of Atout France, Aquitaine and Bordeaux Tourism.
Like preserved fine wine, Bordeaux is becoming better with age. Famous for its surrounding vineyards and chateaux, this port city in France's southwestern Aquitane region is no longer a gateway or a quick stopover on the road to the world's best vinos; it's also a highlight. To fully understand the Bordelais art de vivre, or art of living, visitors are encouraged to indulge in its art, architecture, wine and gastronomic culture; a city in wine country is not meant to be consumed in a hurry -- swirl, sip, savour and stay awhile.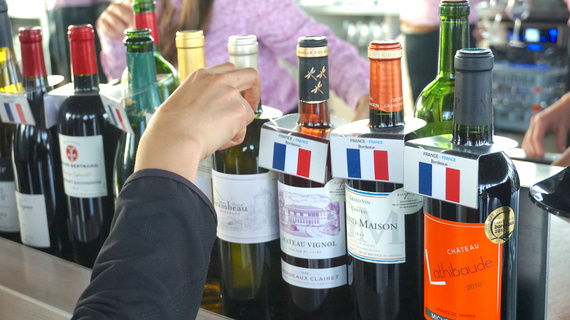 Why Go Now
Dubbed in the 80s as "Sleeping Beauty," Bordeaux has awoken refreshed and energized after a 15-year makeover. Once engulfed in black soot due to heavy pollution, the city's limestone façade has been polished clean, unveiling the grandeur of the city's historic 18th century architecture, helping the city garner recognition as a UNESCO World Heritage Site.
With Bordeaux's commitment to urban renewal and city beautification, the once neglected waterfront has been revitalized with new pedestrian areas, cycling paths, interactive public spaces such as the Miroir d'eau, a reflective sheet of water in front of the Place de Bourse. The city has an easy tramway system for connecting its various quarters and upcoming in 2017 is the launch of the LGV Sud-Ouest train, a high-speed rail linking central Paris to Bordeaux in two hours.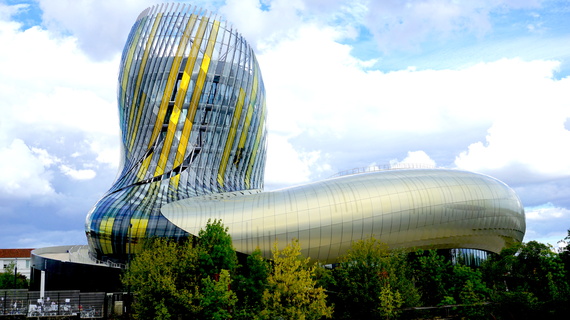 New Wine Museum
Bordeaux's revival has shown no signs of stopping. Bold and powerful, curvy and sensual, Bordeaux's waterfront is now home to La Cité du Vin, a massive contemporary architectural landmark museum dedicated to discovering the diversity of world wines. This impressive and unique example of contemporary architecture opened its doors June 2016 and has cemented Bordeaux's role as the wine capital of the world, giving the city its very own "Bilbao effect."
Built by Parisian agency XTU Architects, the museum's fluid design is emblematic of wine swirling in a glass. Inside, visitors can expect an interactive, multi-sensory and digital experience through permanent and temporary exhibitions taking you through the history of wine regions around the world.
Engage your senses by smelling various aromas and elements of wine, swirl and swipe your hands across digital screens built into taller-than-human wine bottle constructions, and take with you the "travel companion," a guide available in eight languages as you make your way through the museum.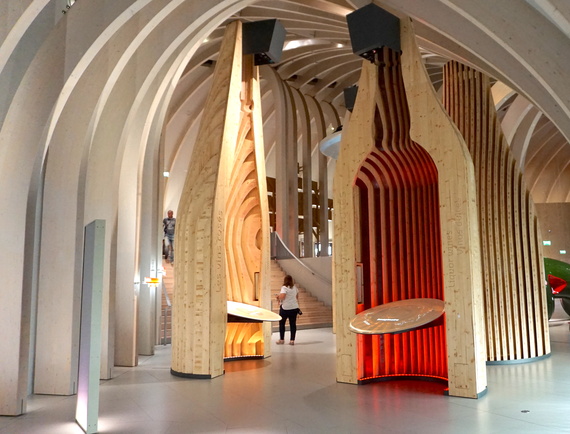 General admission is inexpensive and includes a drink at The Belvedere, a top-floor wine bar with a city view and a cool ceiling thematically decorated in hundreds of wine bottles. To add to your experience, you can book various multi-sensory workshops for adults, families and children at reasonable prices and if you lose track of time, cap the night with dinner at the panoramic Restaurant Le 7 -- as predicted, the sommeliers there have deep knowledge of food and wine pairings and can give you spot-on recommendations.
La Cité du Vin has become a highlight for visitors and in the short time it's been open, it has welcomed its 130,000 visitor (as of September 2016). And if that's not enough to have you pack your bags and fly to wine city, Bordeaux has also recently been named the number one city to visit in 2017 by Lonely Planet.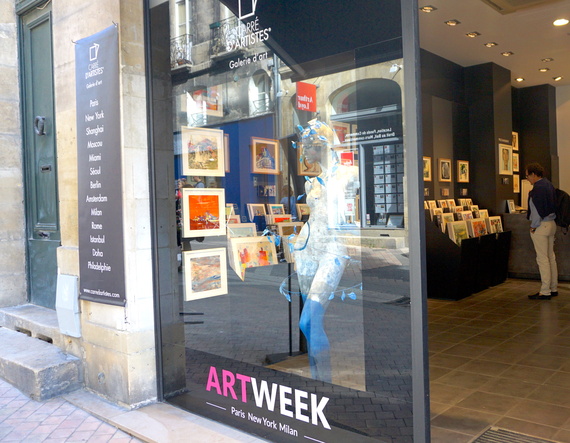 Lively and Young City
Along with its physical transformation, Bordeaux is also welcoming a natural cultural shift with new trends and a liveliness felt throughout the city -- a boon for tourism. Bordeaux is a young city with one-third of the city's population under 25 years old and with many student facilities (two universities, 10 business schools, eight engineering schools and one political studies institute), it's been an attractive choice for students.
Bordeaux welcomes young people every year because of its strong cultural scene, its "art de vivre" and gastronomy, its outdoor cafes on every street (Bordeaux has the highest number of cafes and restaurants per capita in France), trendy bars, galleries, designer shopping (Rue Sainte-Catherine is one of the longest pedestrian shopping streets in Europe) and its nightlife. Locals see it as a dynamic city with all the positive aspects of a capital like Paris, but less expensive -- and warmer, with 350 more hours of sunshine a year.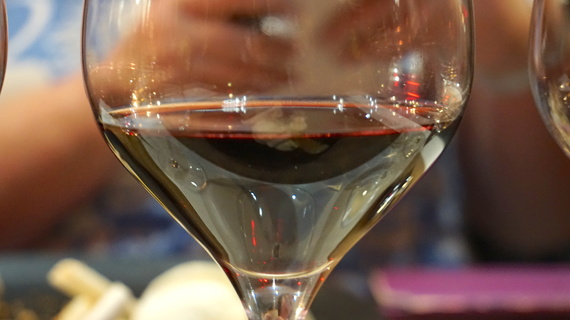 What's On Trend
With the young come new ideas. If you're looking for trendy things to see and do on your visit to Bordeaux, start with the city's gastronomical revolution. Three Michelin-starred chefs -- Gordan Ramsay, Joël Rabuchon and Pierre Gagnaire -- have opened up restaurants in under a year. Surprisingly, the concept of wine bars in wine-centric Bordeaux was obsolete 10 years ago (the outlier chateaux is where you went) -- now modern wine bars such as La Ligne Rouge and Garopapilles are spotted all over the city and are the places to sip.
For art aficionados, head to the CAPC - Musée d'art Contemporain, for intriguing contemporary art exhibitions located inside a historical warehouse, then walk over to Rue Notre Dame to shop at independent artisan boutiques with a vintage touch.
With Bordeaux attracting more young people, it's also embracing the sharing economy, stimulating and encouraging the creation of alternative spaces such as the Darwin eco-quarter which features an urban farm, a skate park, spaces for graffiti artists, co-working spaces, a wellness centre and more.
How to Get There
Bordeaux is only a one hour, 10 minute flight from Paris with Air France. A bonus? Air France fares allow for free stopovers, either on the inbound or outbound flight, allowing you to visit two destinations on the same journey.
Tourist Information
For trip planning help, visit: Atout France - ca.france.fr; Aquitane Tourism - tourisme-aquitane.fr; Bordeaux Tourism - bordeaux-tourism.co.uk.
City on the Move
It's an exciting time to visit Bordeaux -- with revitalization boosting its tourism, a new architectural wonder spotlighting world wines and a young demographic bringing in a trendy vibe, Bordeaux seems to be a city on the rise.
Follow HuffPost Canada Blogs on Facebook
Also on HuffPost:
Much of making wine is hustle and bustle, frenzy and action and chaos. But maturing wine is different. Here are Ch. Pichon-Longueville's beautifully modern but timeless cellars; silence reigns, as the new wine begins the slow, calm process of marrying all its component parts together during a period in new oak barrels that can last as long as two years. The flavors that will thrill you when you open a bottle of Pichon-Longueville in 10 years, 15 years time were melded here under the quiet gaze of these noble pillars.

It's scenes like this that make me think - oh, wouldn't it be lovely to own a château. The beautiful building on top of the hill, the vines tumbling down the slope beneath the house as I sit blithely on the verandah with a chilled glass of my house white in my hand, watching the sun go down on another perfect day. Well, I bet the people who do own this lovely château - Pardeillan in Blaye-Côtes de Bordeaux - would tell me life is much tougher than that, especially in the lesser known areas of Bordeaux, where you have to make just as much effort to create fine wine as the stars of St-Émilion or the Médoc, and yet you can only charge a fraction of the price. The gentle hills and valleys of places like Blaye, Bourg and Cadillac are some of the loveliest parts of Bordeaux, and some of the toughest to make a living as a wine producer.

To understand Bordeaux, you have to appreciate the importance of water, whether it's rain from the skies, the beneficial effects of the Gulf Stream or the protective influence of the wide Gironde estuary. This is the Gironde at St-Estèphe, the mudflats briefly become meadows then, at only a few meters above sea level, the vineyards appear and rise up to plateaux overlooking the water. The Bordelais say that the vines like to see the water, but not get their feet wet. In geographical terms that means they want well-drained sites where they can still benefit from the mild climates that accompany large expanses of water. In the best parts of the Médoc where the broad Gironde estuary lies just beyond the choice vineyards in St-Estèphe, Pauillac, St-Julien and Margaux, they should be exquisitely happy. Blaye is on the horizon across the Gironde.

Just gaze at this photograph and think, gosh, how beautiful, how tranquil. But there is a serious point to it, too. These are the vines of Ch. Troplong-Mondot just outside the town of St-Emilion on the Right Bank, and the vines are planted very close together so that they have to compete for nutrients and moisture. This reduces the yield per vine and increases the flavor in the grapes that are left.

What do you get when you combine ambitious château owners with a classification that was created in 1855 and has hardly changed since? There's no formal list but the notion of Super-Seconds has been adopted in the Bordeaux trade as a way of recognizing that certain Second Growth châteaux are making wine far better than their peers, perhaps even of First Growth standard. Most are charging significantly higher prices than their peers too, sometimes - as in the case or Léoville-Las-Cases - not far off those of a First Growth. This photograph shows my personal selection of Médoc Super-Seconds, plus a longtime favorite, Third Growth Ch. Palmer which is considered a Super-Second too: (from left to right) Pichon-Longueville, Palmer, Montrose, Cos d'Estournel, Ducru-Beaucaillou, Léoville-Las-Cases, Pichon-Longueville-Comtesse de Lalande and Léoville-Barton.

I never tire of the thrill of visiting Bordeaux's châteaux and I keenly anticipate the moment the big door swings open, the cool air hits my face and as I gaze into the gloom I can pick out row upon row of barrels, bursting with young wine, slumbering, quietly forming the flavors that will mature in bottle, often for decades. But tasting is damned hard work. Stop laughing! It is. The wine's cold, bitter, acrid, thick and purple and angular. I've got to work out what it'll be like in 10 years' time. And often I'm there in February or March, so I'm frozen anyway. I'm not convincing you, am I?

The vineyards and the winery of Ch. Latour in all their glory. Latour's vineyards are on deep gravel running down to the Gironde estuary. Where the gravel stops, the vines stop, and meadows take their place by the shore. The protective, warming effect of the Gironde on the vines is more marked at Latour than anywhere else in the Médoc.

Just because you are one of the great original estates of the Médoc doesn't mean you can't move with the times. This magnificent, circular underground barrel cellar at Chateau Lafite-Rothschild is one of the Médoc's modern architectural wonders; and I've even had dinner here once.

Château Latour may have been making wine seriously for over 300 years old but in order to maintain its position as a leading First Growth the current owner, French tycoon François Pinault has made significant investment since he bought the estate in 1993. Latour was one of the first Bordeaux properties to adopt stainless steel tanks for vinifcation in the 1960s. As part of this new investment the vat room was fully renovated in 2001. There are now 66 stainless steel vats of various sizes enabling each plot to be made into wine separately. They look positively space age, but in fact they copy the shape of the old wooden vats because some experts believe this helps with a gentler yet efficient extraction of color, tannin and flavor from the skins.

Ch. Pétrus is the wine that's got me half hysterical in the photograph on the right. No wonder I'm laughing. That's about $32,000 worth of wine I'm holding - an extremely rare 6-bottle jeroboam of one of the greatest Pétrus vintages - the 1990. I asked if I could have a taste. First, show me your money, said the owner of the shop in Bordeaux.

Tertre-Rôteboeuf is St-Emilion's most exceptional unclassified estate. The richly seductive, Merlot-based wines sell at the same price as the premiers Grands Crus Classés - and so they should. Here is the charming, philosophical François Mitjavile making a point about his delicious Tertre-Rôteboeuf which I may or may not understand. That's his tasting room, by the way, his kitchen.

Ch. Rieussec in Sauternes on a misty harvest morning with the sun just breaking through. This is just the sort of weather the sweet white wine producers of Sauternes and Barsac pray for in the weeks leading up to harvest. In September and October humid overnight and early morning fogs, helped by the cold waters of the little river Ciron that flows through the area, followed by long, hot sunny afternoons and evenings are crucial for the development of noble rot. This fungal spore, also known as Botrytis cinerea, penetrates the skins of the Sémillon and Sauvignon Blanc grapes and reduces the water content, thereby increasing the concentration of sugar, acidity, flavor and viscosity.

Only my friend, fine wine expert Michael Broadbent MW would have the slightest idea what these Margaux wines from the nineteenth century tasted like. Perhaps I'd best just gaze at them and imagine the pleasure without risking disappointment. 1848, now there's a vintage - it was the Year of Revolutions in Europe, but an outstanding vintage for red Bordeaux.
Follow Desi Globetrotter on Twitter: www.twitter.com/desiglobetrottr