Creativity Is Key To Ending HIV In El Salvador
By Bernabe Yameogo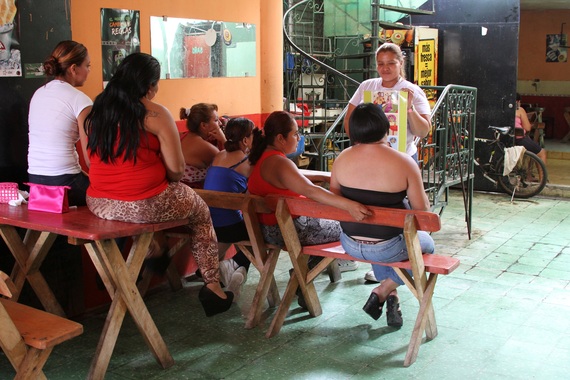 Twenty-year-old Taty is a trans woman living in El Salvador and working in the sex trade. Fear of discrimination and harassment keep her from visiting clinics and hospitals, meaning that she is at high risk of contracting HIV, but doesn't seek care.
The Global Fund, a partnership comprised of governments, NGOs like Plan International Canada, the private sector, and the general public, is working to end the HIV/AIDS, malaria and tuberculosis epidemics by 2030. It's true that we've made great strides to combat these epidemics in recent years, but make no mistake, this is an ambitious goal. In order to #EndItForGood, we must use creative approaches and innovative partnerships to ensure that support reaches all people -- especially the most vulnerable, like Taty.
Identifying vulnerable populations
What does it mean to reach vulnerable populations? How do we locate them, let alone create programs that will help them to access health care? National statistics tell us that among El Salvador's general population, an estimated 0.5 per cent of people have HIV, consistent with other countries in the region. However, El Salvador's vulnerable populations experience disproportionate rates of infection, namely female sex workers (4.5 per cent) , men who have sex with men (13 per cent) , and transgender women (16 per cent).
It is sadly not uncommon for transgender women to experience abuse and harassment from health-care professionals in El Salvador.
These vulnerable populations are all at greater risk of contracting HIV because they experience increased stigma, and are often overlooked altogether. Female sex workers face dual obstacles to HIV prevention. They are often discriminated against, and face difficulty convincing clients to use protection. Sex workers often go unseen by the health-care system, both because of stigma, and because their work hours do not align with clinic hours, effectively making services inaccessible.
Men who have sex with men are similarly discriminated against when they try to access health services, but they may also struggle with the issue of self-identification. Men who have sex with men but do not identify as gay may not recognize their increased risk of infection, and may not seek out protection or testing.
The highest prevalence of new HIV cases is among transgender women, who are most likely to experience discrimination that will block them from accessing health services. It is sadly not uncommon for transgender women to experience abuse and harassment from health-care professionals in El Salvador. To make matters worse, transgender women often struggle to secure employment, and are more likely to pursue sex work as a way to make ends meet -- a particularly precarious situation when combined with a lack of access to health services.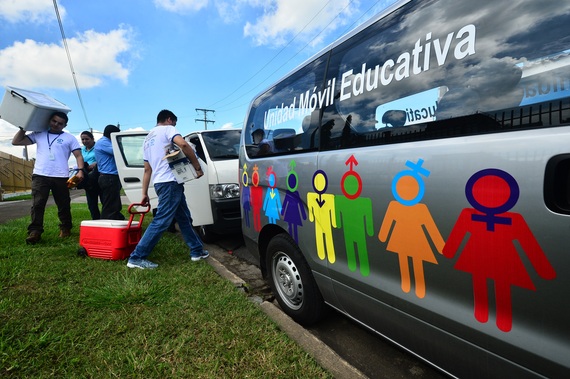 An Innovative approach
With the support of the Global Fund and El Salvador's Ministry of Health, Plan International has created an innovative program that provides prevention services and early HIV-care and support services to El Salvador's most vulnerable populations. It uses mobile education units (or Unidades Moviles Educativas, in native Spanish) to bring testing and other services to the people who need them. Minivan-based mobile units are staffed with professionals, including laboratory clinicians, counselors, educators and a driver. They increase awareness of HIV and provide access to condoms and lubricants, rapid HIV testing, pre- and post-test counseling, as well as referrals to health centres and HIV-care clinics.
Much more than a simple HIV testing and condom distribution service, this program helps people to access their fundamental human right to health and dignity.
These mobile units are able to serve people who otherwise would not receive care. They identify routes where vulnerable populations are more likely to be, including bars, brothels, country borders and commercial centres. Visits are often planned outside of traditional business hours to accommodate sex workers' schedules. Perhaps most importantly, each mobile unit employs at least two educators from one of the target populations, meaning that sex workers, men who have sex with men, and transgender women are providing support to members of their own communities. This allows the mobile unit to build credibility among the people it serves, and to provide testing and support that marginalized community members can trust without fear of discrimination.
A step in the right direction
Since launching in 2014, this program has provided prevention tools, testing and referrals to over 20,000 vulnerable people in El Salvador. Much more than a simple HIV testing and condom distribution service, this program helps people to access their fundamental human right to health and dignity. This program has made a difference in the lives of thousands, including Taty. She likes this program because "mobile unit educators walk through the block (area of sex work) and it's easier for us to get tested and to find out if we are infected [with HIV] or not."
Let's End it. For Good.
In my decades of experience in global development, I've seen great strides in HIV/AIDS prevention. But in order to continue to make progress, we must prioritize creative programs like the Unidades Moviles Educativas . A one-size-fits-all approach to prevention is not the solution to ending the HIV epidemic. However, through innovation, creativity, and continued partnership with the Global Fund, we can help all people to access their human rights to health, and can end the HIV/AIDS epidemic for good by 2030.
Bernabe Yameogo is Director of Global Fund Programs at Plan International Canada, where he oversees the development and implementation of programs that work to contribute to ending the tuberculosis, malaria and HIV/AIDS epidemics.
This blog is part of the blog series: AIDS, TB and Malaria: It's High Time for Us to End It. For Good by the Interagency Coalition on AIDS and Development (ICAD) in recognition of The Global Fund's Fifth Replenishment. The blog series runs from August 29 to October 3, 2016 and features a selection of blogs written by our member and partner organizations. Contributors share their broad range of perspectives and insight on the work of The Global Fund and the opportunity that this moment presents us one year following the inauguration of the global Sustainable Development Goals (SDGs).
The views expressed are those of the authors and do not necessarily reflect the views of CCIC or its members.
Follow HuffPost Canada Blogs on Facebook
ALSO ON HUFFPOST:
10 Important HIV/AIDS Discoveries
Only one quarter of the 1.1 million people with HIV have their condition under control, where "under control" means the virus has been suppressed, according to a report released this summer by the Centers for Disease Control and Prevention. CORRECTION: The first sentence has been reworded to more accurately reflect the number of people with HIV.

Even though two men were, for a time, able to go off antiretrovirals because their HIV had been reduced to undetectable levels after receiving bone marrow transplants, the HIV eventually returned in the men, according to news reports. In 2012, the news of the men's undetectable HIV levels made headlines. The men, who were both HIV positive and taking antiretroviral drugs, had received bone marrow transplants for Hodgkin's lymphoma. They had received the transplants while they were also taking the antiretroviral medication. However, in late 2013, preliminary results showed that the HIV had returned. This slide has been updated to note more recent developments related to the procedure.

New HIV infection rates can be dramatically lowered by making antiretroviral drugs free, a study from Canadian researchers found. The Canadian Press reported on the study, conducted by B.C. Centre for Excellence in HIV-AIDS researchers, which showed that British Columbia -- a province that offers free access to antiretroviral therapy -- had the lowest rate of new HIV infections over a more-than-10-year period, compared with Ontairio and Quebec.

More than half of HIV-infected young people are unaware that they have the virus, according to a Centers for Disease Control and Prevention report. "Given everything we know about HIV and how to prevent it in 30 years of fighting the disease, it's just unacceptable that young people are becoming infected at such high rates," Reuters reported CDC Director Dr. Thomas Frieden saying. The report also showed that for young people, 72 percent of the new HIV infections were in men who have sex with men, while almost 50 percent were in young, African-American males, Reuters reported. These figures are based on 2010 data.

The number of people living with HIV has increased by 18 percent from 2001 to 2011, according to a report released this year from the United Nations Programme on AIDS. An estimated 34.2 million people around the world are living with HIV. The report also showed that deaths from AIDS have dropped, from 2.3 million in 2005-2006 to 1.7 million in 2011, Reuters reported.

According to the same United Nations report, costs for the cheapest UN-recommended antiretroviral therapy drugs have also decreased over the past 10 years, Reuters reported. A year's worth of the drugs used to cost $10,000 in 2000 for one person; now, it costs $100 a year.

The Food and Drug Administration this year officially approved the drug Truvada -- which has been used since 2004 as a treatment for HIV -- to be sold as a preventive measure for people who don't have the infection, but are at high risk for it. The FDA said that the pill should be considered for preventive use not only by gay or bisexual men who are at high risk for HIV, but also heterosexual men and women who may also face HIV risks, the Associated Press reported. Heterosexual men and women make up more than one-fourth of new cases of HIV, and "that's not a portion of the epidemic we want to ignore," the CDC's Dr. Dawn Smith, who was the lead author of the new recommendations, told the Associated Press. The FDA also approved a new drug this year, Stribild, to treat HIV, Reuters reported.

In findings published this year in the journal PLoS Pathogens, scientists from the University of California, Los Angeles found that it's possible to genetically engineer stem cells to attack living HIV-infected cells in mice. While the study was only for "proof-of-principle," it "lays the groundwork for the potential use of this type of an approach in combating HIV infection in infected individuals, in hopes of eradicating the virus from the body," study researcher Dr. Scott G. Kitchen, an assistant professor of medicine at UCLA, said in a statement.

People should be screened for HIV even if they're not at high risk of contracting the infection, according to draft recommendations released just last month by the U.S. Preventive Services Task Force. The recommendations would mean that everyone between the ages of 15 and 65 should be screened for HIV, even if they're not at high risk for it, Reuters reported. "The prior recommendations were for screening high-risk adults and adolescents," Dr. Douglas Owens, a member of the USPSTF task force and a Stanford University medical professor, told Reuters. "The current recommendation is for screening everyone, regardless of their risk."

All HIV patients should be treated immediately with antiretrovirals, according to new guidelines issued this year from a panel of the International Antiviral Society-USA, as reported by TIME. The recommendations are counter to previous guidelines, which said that antiretrovirals should only be used if the CD4 count -- a measure of immune cells in a person's body -- becomes less than 350 cells for every mm3 of blood.
Follow Development Unplugged on Twitter: www.twitter.com/CCCICCIC