What Sharing My Story At Google Taught Me About Public Speaking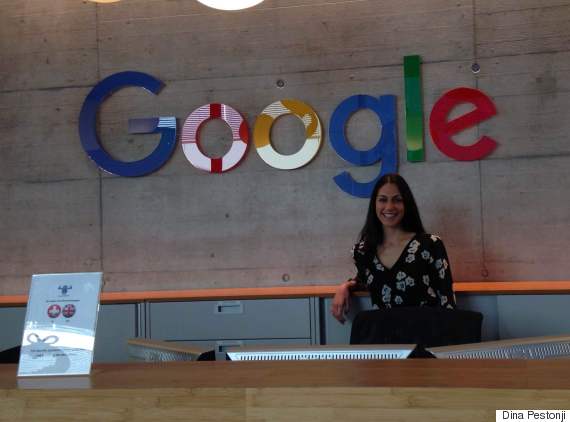 "Pack your bags - you're coming to Zurich."
I read that line in the email about 50 times. Me? Zurich? Google? They WANTED to hire ME to speak!??!!
A week earlier, a gentleman who worked at Google in Europe saw my new website and was intrigued about my new career as an inspirational speaker. We conversed through email and phone. He told me that there was a conference for his team with all his colleagues across Europe which would be held in Zurich.
He thought it would be a great idea for me to speak there and inspire the team. He asked me to put together a proposal on what I would speak about in a one-hour time slot.
I outlined the speech that I thought would resonate with the audience.
First half: I would talk about my story and the biggest challenge I faced (having a stroke, emergency brain surgery, my recovery).
Second half: I would discuss the positive coping tools I used to overcome my challenge successfully and how these coping tools apply to the challenges THEY (Google) face.
I mentioned that IF Google were to hire me to speak, we would need to have a conversation regarding the top three or four challenges that the audience faces.
To me, that is critical. Understanding the audience, their role and objectives, the obstacles they are encountering, and why. I need to know the audience so that I can put myself in their shoes.
The second half is all about the audience, bringing them in and giving them a new perspective on how to look at the challenges they face.
It is my job to paint that picture for the audience in such a way that when they walk out of the room, they look at their challenges in a BRAND NEW light, have a new plan of attack that they can implement RIGHT AWAY and are INSPIRED to tackle their challenges head on!
I give a lot of vivid examples so the audience can really visualize how the positive coping tools are used in THEIR daily life. I completed the proposal and sent it to my contact at Google.
Barely two days later, I got the email with the one line that shocked me -- "Pack your bags - you're coming to Zurich." I was dumbfounded. I pretty much sat in my apartment trying to make sense of it all. GOOGLE wanted me to speak -- GOOGLE!!??!
After the shock wore off, it was time to get down to business! I was going to fly to Zurich to speak at Google! Most important was to know the real challenges the audience was facing so that I could tailor my speech for them. After a few emails, I understood their challenges and re-worked my speech so that it really spoke to THEM.
They also requested we leave time for Q&A. So, speech was ready to go, agenda for my one-hour time slot was set, flight and hotel were booked.
Mon Jan. 25, 2016 arrived! It was Google Speech day. I will admit, I was rather nervous. My speech wasn't until 3 p.m. My contact at Google came to the lobby to get me and almost immediately my nerves disappeared. We laughed, talked and it was very evident how much he appreciated me coming to share my story and inspire his team.
He introduced me to his colleagues across Europe and various leaders across the company. It was a very intimate setting -- there were about 40 to 50 people in the room.
As I began to speak and shared my story, I could see everyone "leaning in." They were so engaged. After the first half, I delved into positive coping tools and THEIR challenges. With the nods of agreement and captivated interest, I KNEW I had hit the nail on the head -- the challenges I described were exactly what they were all feeling. I discussed different ways to look at the challenges they were facing to ensure success.
Next up was the Q&A. I was so surprised at how inquisitive they were! Question after question. It was wonderful! To have such a bright, smart and down to earth group of people so engaged was heartwarming to me.
I realized two things:
I had no reason to be nervous. The people in that room were so welcoming, warm, and expressed a great deal of gratitude that I had come to Zurich to share my story with them and inspire them.
It reinforced that I made the right career move. There is a lot to learn when you get into a new career but at the end of the day, to be able to inspire and motivate other people is a wonderful feeling!
Follow HuffPost Canada Blogs on Facebook
MORE ON HUFFPOST:
15 Inspirational Women From Time's 100 Most Influential People
American television and social media personality, businesswoman and model. "Beautiful in an exotic, totally exaggerated way, Kim exudes energy, sexuality, drama, determination, impetuousness and happiness. But she and her famous, entrepreneurial siblings—shepherded by a savvy, tireless matriarch—have also expanded the very definition of family."

Businesswoman and CEO of YouTube. "Susan believes in the power of story and knows that everything and everyone has its own narrative that deserves to be told. YouTube aggregates all of those stories, in all shapes and sizes, and makes them available to the world. It sounds simple, but the power of YouTube has made it the most valuable storytelling outlet our planet has ever seen."

American ballet dancer. "Misty proves that success is not about how you grow up or the color of your skin. Her story—of overcoming personal and physical challenges to become a soloist at the American Ballet Theatre—is the story of someone who followed her dreams and refused to give up. In that way, she is a model for all young girls."

Actress and UN Women's Goodwill Ambassador. "It's refreshing to see her vigorous embrace of feminism, which Watson defines as "the theory of political, economic and social equality of the sexes." And apparently she lives by it. Although she is one of the world's highest-paid actresses, she has spoken out about the paucity of female directors in Hollywood."

Actress and producer. "The reason Reese is on this list is that she is no longer just a talented and famous actress. She is an icon. Yes, she is beautiful, and I would buy any lipstick or bottled water she is selling. Hell, I'd buy cigarettes if her picture were on the pack. But that's not it (even though I think she could make a lot of money doing that). Reese is an artist, but she is also a hustler, a quality I recognized in her the first time I met her. She's impatient that Hollywood won't generate the kind of quality roles she wants to play, so she creates quality roles by creating quality movies. That resourcefulness is what makes her someone I not only admire, but someone who inspires me. And that is influence."

Feminist public speaker, media critic, gamer and blogger. "Anita is a feminist for the digital age, using modern tools and platforms to engage thousands of people who want to hear her thoughts and respond to the challenges she raises. A lesser person may throw up her hands and unplug her game console, but Anita is determined to ensure that video games are inclusive and representative of everyone who plays them. As her detractors grow increasingly unhinged, we have proof that her efforts are working."

American actress, reality television star, television producer, and LGBT advocate. "Having someone as visible and strong as Laverne Cox to look up to is inspiring. She's done so many amazing things—not just acting on Orange Is the New Black but also loving herself enough to share her story with the world. She's a pioneer for our community."

American actress and producer. "She puts her heart and soul into every issue she cares about. She's not afraid to dream big and do what she loves, whether it's in her acting career, in her advocacy or being a mom. It's because of women like Julianna that I know we can and will change the world."

Stand-up comedian, writer, producer, and actress. "She's the one most likely to be on your side when the bullies circle in. That's her face, there, that one pushing in to save you, elbowing them out of the way. She's the one who misses nothing: who buys no bullsh-t, fitted with a radar as keen as a rabbiting spaniel. "Amy's got your back. She's in your corner. She's an honesty bomb. And she's coming for you."

Actress and children's author. "Fearless. That is the first word that comes to mind when I think of Julianne Moore. Of course, the words beautiful, elegant, smart, loyal and steadfast can be used to describe her too."

German politician and a former research scientist. "Angela Merkel managed to leverage German economic power into diplomatic power to lead a major security effort on behalf of the world, which, most importantly, entrusted her with that effort. This attainment has been fully recognized not only by her partners but by her harshest political opponents as well."

Nigerian chartered accountant and co-founder of Transparency International. "Although I have not met Obiageli Ezekwesili, I know the #BringBackOurGirls campaign that she championed is very important. It would have taken a long time to raise awareness about the girls taken by Boko Haram without her using her platform as a former Minister of Education. "It has been a year, and the girls haven't been rescued, but she has made a difference by speaking about it. Not just speaking but shouting. I know some people will say she is too loudmouthed. The loud mouth is needed. People hear it."

American attorney, politician and member of the Democratic Party. "Women who advocate for other women are often pigeonholed and pushed to the margins. That hasn't happened to Hillary, because when she's standing up for the rights of women and girls, she is speaking not only of gender but also of justice and liberty."

Singer-songwriter. "I'm amazed at how much earned wisdom Taylor threads into her work. She seems tuned in to the greater good, and she embraces—thoughtfully and authentically—the chance to contribute to the world. I'm always trying to find the best words to talk to my kids (and myself) about growing up, but you can't top her beautifully articulated advice. The haters are gonna hate, but, well, shake it off. She illuminates our inner music that lets us dance to our own beat."

Pakistani activist for female education and the youngest-ever Nobel Prize laureate. "Spending time with Malala Yousafzai made me stronger. I didn't know her before meeting her in Za'atari camp last year, but I understand she suffered, and yet she continues to fight for what she believes in—for the rights of children and for their education. She is an inspiration for me."
Follow Dina Pestonji on Twitter: www.twitter.com/dina_pestonji