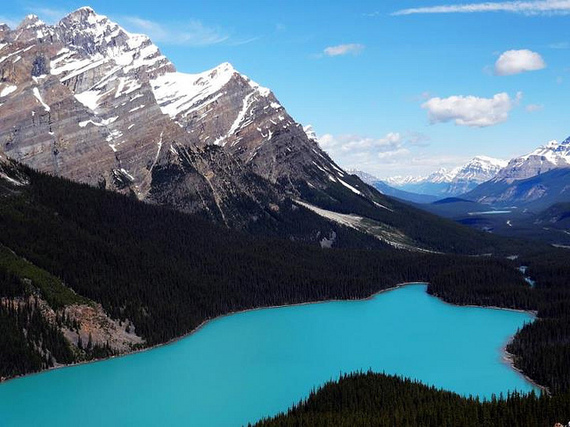 Photo credit: Rock Costeau
September is the height of fall in Banff National Park. The world's third-oldest national park is at its least crowded and arguably its most picturesque in September and early October, but the cool winter temperatures come quickly, and waiting too long to plan a visit can mean you're too late. The following are five reasons why you shouldn't hesitate to visit Banff National Park this fall.
Summer Outings Are Still Available
Banff National Park's favourite summer activities aren't halted as soon as the September school bells ring. September visitors can still take overnight horsebacking treks through the Canadian Rockies, hop aboard the Royal Banff Dinner Train, whitewater raft on the Kananaskis River, and even climb the new Via Ferrata route. The opportunities for adventure remain limitless, but the crowds and lines are often nonexistent.
The Lake Louise Fall Festival Is in Full Swing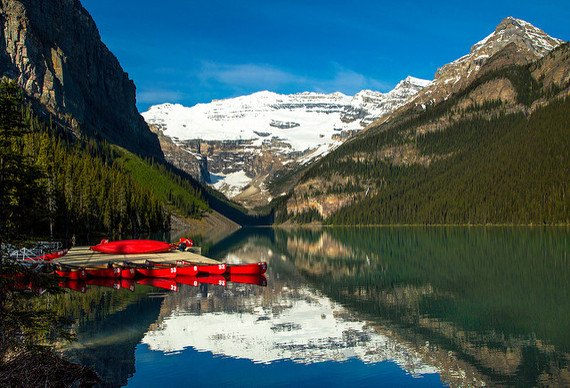 Photo credit: Sheila Sund
Fall isn't just a shoulder season for the small towns of Banff and Lake Louise located inside Alberta's Banff National Park. In fact, the town of Lake Louise shines as bright as ever during the annual Lake Louise Wonderfall festival. The festival is held from early September through mid October and serves as a month-long celebration of the beauty of fall in Canada's oldest national park. Visitors enjoy discounted festival accommodation packages, dining specials, workshops, photography classes, canoeing adventures and numerous other activities and events.
Your Trip Will Be More Affordable
Those attending the Lake Louise Wonderfall festival aren't the only ones who enjoy deep discounts in the fall months. This noticeably slower season (in terms of visitors) brings some of the lowest accommodation prices of the year. You'll find fall specials on tours and rentals while restaurants (like the Num-Ti-Jah Lodge) offer affordably-priced meals with fresh, autumn ingredients to lure in the season's smaller number of tourists.
The Fall Colors Are Epic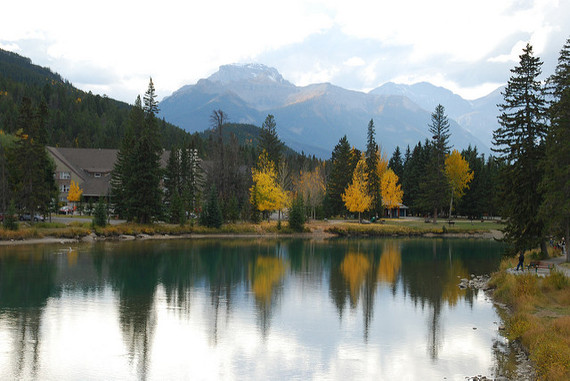 Photo credit: Paul Jerry
Banff National Park isn't known for the bright orange and red autumn leaves that can be found in other parts of the country. However, those who visit the park in fall find the needles and leaves of the larch trees turning brilliant shades of gold. Those searching for fall foliage or simply craving a scenic fall adventure can take the Larch Valley hike to admire the colors up close and personally.
Those who aren't in the mood for a fall hike can take in the fall foliage with a Canada Train Vacations leaf-peeping tour or a scenic cruise along Vermilion Lakes drive. Fall foliage sightings can be enjoyed by foot, bike, train, car or even canoe in Banff National Park.
The Trails (and Hot Springs) Are Practically Empty
Possibly the biggest perk of visiting Banff National Park in autumn is that you'll finally get to see the park's famously rugged Rocky Mountain scenery without the flocks of tourists. Whether you're into grueling backcountry treks or winding lakeside paths, you'll enjoy them with much more serenity in the calming fall season. Even more, the bustling Banff Upper Hot Springs, which are often overflowing with swimmers in the summer months, are open from 9 a.m. to 11 p.m., until Oct. 16, offering plenty of opportunities to soak without the crowds.
Follow HuffPost Canada Blogs on Facebook