5 Canadian Cities Worthy Of A Back-To-School Shopping Vacation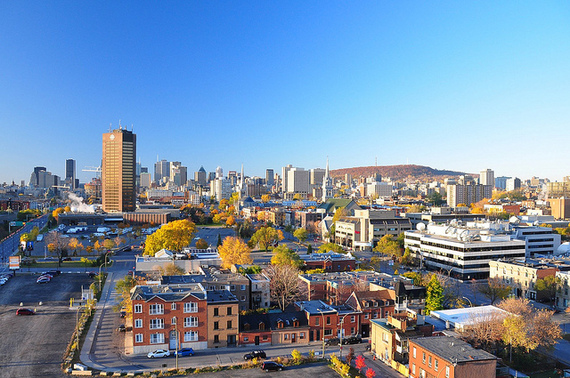 Photo credit: abdallahh
Don't let back-to-school shopping destroy your end-of-summer travels. Forego your annual August trip to the nearest mall and embark on a back-to-school shopping adventure instead. Canada is home to some of the world's greatest shopping cities, where spending your savings on another pair of sneakers and several pairs of Levi's can be a whole lot of fun.
Montreal, Quebec

You don't have to be a big spender to enjoy the ultimate back-to-school shopping excursion in Montreal. And you'll get to teach your little ones a bit about Canadian history and culture too. The French-speaking city is known as the cultural capital of the Great White North, but you'll have to pull yourself away from the affordably priced boutiques and department stores to sightsee. Find the more budget-friendly stores along Rue Sainte-Catherine or pick up the latest high-end fashions on Rue St. Denis. Montreal is also home to the famous Marche Jean-Talon farmers' market, so don't confine all of your shopping to clothing.
Toronto, Ontario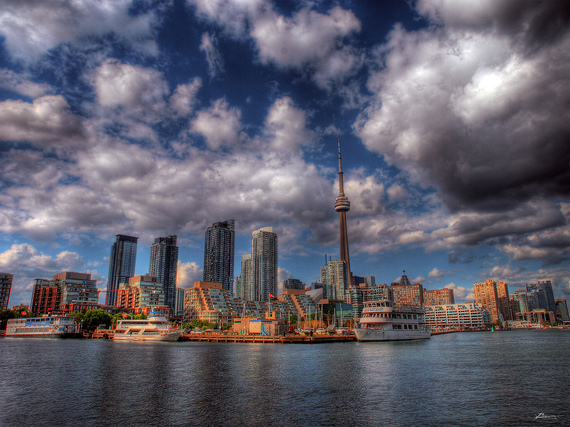 Photo credit: paul bica
Toronto is the largest city in Canada, offering everything from funky boutiques to flagship stores and celebrity favorites. Yorkville is where many shoppers stock up on their favorite luxury brands, including Burberry, Chanel and Louis Vuitton. However, you'll probably find yourself spending more time perusing the independently-owned, trend-setting shops on revived Queen Street West. It's nearly impossible to see every store in Hogtown, with more than a dozen shopping malls, several flea markets and so many places to support the community by shopping local.
Edmonton, Alberta

The West Edmonton Mall is North America's largest shopping mall, but it offers far more than the traditional shops, kiosks and food courts. The West Edmonton Mall houses a complete indoor amusement park, an 18-hole miniature golf course, a water park, an ice rink, a manmade lake, music venues and themed wings, including Bourbon Street and Chinatown. However, you don't even have to step foot in the massive shopping center to shop your heart out in Edmonton.
The city is home to several other malls and a downtown area that's bustling with locally-owned boutiques and specialty shops. Fort Edmonton Park, the Muttart Conservatory, the happening Whyte Avenue district and a number of family-friendly green spaces make Alberta's capital city a must-visit.
Winnipeg, Manitoba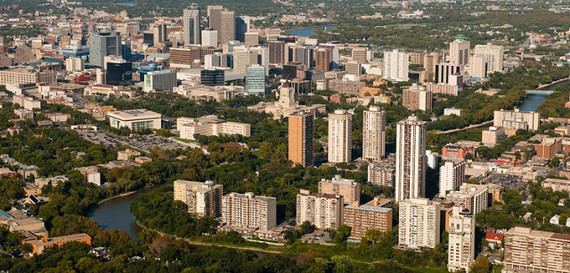 Photo credit: winnipeg's grumpy old man
Winnipeg's unique shopping scene dates back thousands of years. The area now known as The Forks, at the junction of the Assiniboine and Red rivers, was once a place of commerce for Aboriginal people. Later, it was used as a marketplace for traders, merchants and hunters. Now, The Forks attracts shoppers from around the globe with its indoor marketplace loaded with unique shops, eateries, galleries and more. Make your back-to-school shopping an adventure by perusing the many funky, handmade and historic items in this one-of-a-kind shopping city.
Vancouver, British Columbia

The only reason you wouldn't want to do your back-to-school shopping in Vancouver is because you may be completely overwhelmed. From the Vancouver Mall, the contemporary Aberdeen Centre and the international designers on Robson Street to Main Street's hip, local trends and Chinatown's endless array of accessories, you'll never find yourself wishing you had more options. Fortunately, you can kick your heels up at the end of a long day and enjoy some of the country's best cuisine in Vancouver's countless cafes, casual eateries and world-class fine dining establishments.
Follow HuffPost Canada Blogs on Facebook
MORE ON HUFFPOST:
9 Healthy (and Tasty) Back to School Snacks
Make your trip back to school a little sweeter and bring a handful of this super seedy mix with you to snack on throughout the day. Get the recipe for this Trail Mix with Almonds, Chia, and Cranberries.

These simple, gluten-free Chocolate Chip Banana Muffins will make Monday mornings a little easier and will make lunchboxes the envy of new friends. Get the recipe for Chocolate Chip Banana Muffins here.

Don't fall asleep on your first day of school - power up with this healthy, sweet, and satisfying Cashew Crunch Granola for breakfast. Get the recipe here.

Needing some energy for your last class of the day? Revive yourself with these amazingly portable, healthy quinoa cakes. Get the recipe for these Baked Quinoa Cakes with Sweet Potatoes and Broccoli here.

These easy, No-Bake Granola Bars are ideal for school bake sales! Bring some extra to snack on during your shift. Get the recipe for these No-Bake Granola Bars here.

Look and feel your best on the first day of school with this Dark Chocolate Bark that includes lots of amazing skin-clearing and beautifying ingredients. Get the recipe for this Beauty Bark with Chia Seeds, Pepitas, and Goji Berries here.

Don't let your lousy alarm clock prevent you from getting a healthy breakfast! These Raw Oatmeal Chocolate Chip Cookie Bites are a sweet and satiating on-the-go meal. Get the recipe for these Raw Oatmeal Bites here.

If you're gonna stress eat, do it healthfully with this bright and tasty Roasted Beet Hummus with Lemony Yogurt. Ge the recipe for this Roasted Beet Hummus here.

Combat the back-to-school stress of broken nails and nail-biting by snacking on these Maple Glazed Coconut Cashews that are packed with lots of nail-strengthening B5 vitamins. Get the recipe for these Maple Glazed Coconut Cashews here.
Follow DiscountMyFlights.ca on Twitter: www.twitter.com/discmyflights