Focus On Online Learning Can Help Boost Ontario Math Scores
With the recent news release, that Ontario students are doing poorly at math, it is imperative to focus on this issue now as it affects not only our current students and schools but our economy in the long run.
While STEM (Science, Technology, Engineering and Math) focused professions are the future of our economy they require a high level of math knowledge. For example, to enter an engineering field one must have a high understanding of math and, if not learned early it may be a loss that the next generation will have to deal with when losing opportunities in the future.
While the idea of having a one hour blocked time for math learning in classrooms is a great solution, I am personally not convinced when it comes to the online learning strategy. It is very interesting to see how many kids and their parents will actually have access to online resources considering that, although we live in one of the best nations in the world, many people do not have a computer and Internet access at home.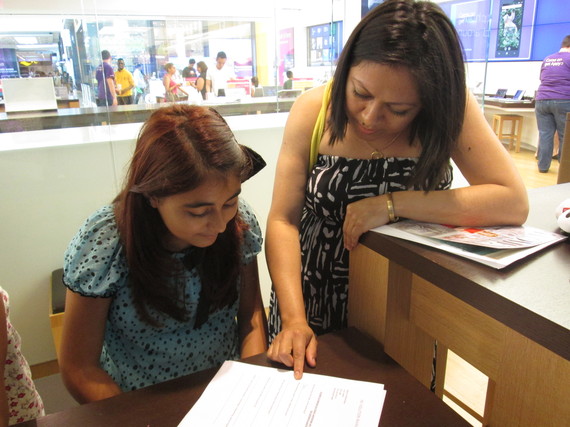 A 2011 study showed that one in five households did not have a computer or Internet at home, in Canada. It is hard to believe that many of these people are not interested in having access to a computer and Internet access considering that just about everything we do now requires online access starting from learning in the classroom and at home to looking and applying for work as a basic need of a computer with Internet access.
Online learning has become increasingly popular, and many courses are offered online starting with seeking resources for students and their parents in Grade 1 to the end of their studies in University. However, the question remains, who has access to it? Who will benefit from it in the long run?
At hEr VOLUTION, during our hEr VOLUTION Think Tank Accelerator, a program designed to offer young women in conflict with the law or at risk of, employable skills we require the use of technology on a daily basis.
With that said, 98 per cent of our participants do not have a computer with Internet access at home. This requires a lot of effort on our part to partner with the right stakeholders who can support this initiative offering us the space with the right equipment. That is a tall order on our part to ensure that although the resources are limited, the young women still get the education that they deserve.
While it is argued that there are many resources available outside of school with access to computers and Internet access, many libraries for example are packed with people who wait to use it and time is usually limited to 30 minutes. Many community centres do not have computers in good working conditions and one must meet the age and location criteria to use them at the times the centre is open not considering that many of the people require the use of a computer after working hours, particularly parents of the students from Grade 3 and up.
The question still remains, how are we going to facilitate online learning for young students and the future generation when they do not have access to adequate resources?
The answer still stands that, if we do not dig deep to the root of the problem, children from remote areas and the ones from low income households will still not be able to take advantage of the full learning experience; not only for the EQAO test but also for the learning that is required to improve our economy in the long run.
Follow HuffPost Canada Blogs on Facebook
Also on HuffPost:
STEM Stories: How Mentors Are Changing the Conversation For Young Women
Stela Stefanova is the principal of a highly competitive technical high school in Sofia, Bulgaria. She has a Ph.D. in digital signal processing and has authored many scientific papers in Bulgarian and international journals. As an instructor in the school's rigorous networking technology program, Stella has transformed a Soviet-era high school into a technical education powerhouse. Her students regularly take home top honors at national and international networking competitions. "Our students go on to work in ICT at big companies as programmers and networking specialists," she says. "They go into good careers and take leading positions." Read her story here.

Dr. Akila Sarirete worked as a software engineer in Canada and the United States before joining the faculty at Effat University in Saudi Arabia as a lecturer and IT supervisor in 2002. In 2004, the university adopted the Cisco Networking Academy curriculum to expand employment options for women and help advance their careers. Under the leadership of Dr. Sarirete, the program has become a training ground for the next generation of women leaders in Saudi Arabia. She has watched the job market change, with more companies considering women for positions traditionally held by men. Read her story here.

Soso Luningo (third from left) grew up in a shack in a small village in South Africa. Through intelligence and hard work, she earned a scholarship to CIDA City Campus in Johannesburg, a nonprofit institution of higher education serving students from historically disadvantaged backgrounds. In 2003 CIDA established an ICT Academy, which has become a pipeline for graduates interested in technology and for businesses seeking skilled workers. After earning her bachelor's degree and Cisco CCNA certification, Soso became the youngest IT technician and only woman on the IT staff at Queens Casino in Queenstown. Within three months, she was promoted to network administrator and team manager. With her salary, Soso was able to build a new home for herself and her parents in the Eastern Cape village where she grew up. Today she works as a trainer at the CIDA ICT Academy, guiding students down the same path she traveled to a prosperous, fulfilling future. Read her story here.

Babalwa Dube started as a volunteer at the Tembisa Community Knowledge Center (CKC) in South Africa and eventually became the manager and owner of a CKC in Ivory Park, a former township with a population of 100,000 black South Africans, eight schools, two health clinics, and one police station. Close to 100 adults attend classes at Ivory Park and many more regularly use its technology services. Babalwa provides support, encouragement, and a model of success, especially for girls and women. She started a women's club discussion group to motivate and empower women, and organized a Winter Camp for environment and leadership studies at the nearby Sukerbos Nature Reserve. "I was always interested in technology," she said. "I played with boys, connecting TVs and radios, wanting to learn more. Most of the people have never touched a computer. They are scared to touch the mouse. When they start, you see the warmth in their eyes." Read her story here.

Courtney Beard joined the U.S. Air Force in 2007. She served one year in Iraq, overseeing Intelligence Surveillance and Reconnaissance (ISR) Operations for United States Forces Iraq (USF-I). While there, she completed her associate's degree in intelligence studies and technology. After separating from the Air Force, she was accepted to the Warrior to Cyber Warrior program, a six-month cyber security program that prepares veterans for the CompTIA Security + certification and helps them improve their resumes and practice interviewing techniques. In October 2012, Courtney was hired at Cisco to provide support for customers in the public sector. "IT is a great field to be in," she says. "There are many jobs open now and I think the amount of IT jobs will going to continue to grow over time. IT skills are challenging to acquire, but they are very valuable to have in the long run." Read her story here.

Nada Krkobabic lost her IT job with a real estate company when the market crashed in 2008. She discovered the F_Email project, a competitive IT training program at the University of Belgrade in Serbia that combines technical and soft skills training in a small group setting, preparing women to bring their strengths and talents to the country's developing IT sector. She is now an instructor with the program and an IT administrator with a local mobile communications company. She gets to know F_Email project participants and recommends them to employers. "That personal connection is important … a network of real people connecting with each other," Nada says. "We make friends and make business opportunities." Read her story here.

vcaknott:Dr. Elizabeth Croft is the Associate Dean of Professional Development and Education of the Faculty of Applied Science at the University of British Columbia and the NSERC Chair for Women in Science and Engineering for the BC - Yukon Region. She has been essential in changing the culture surrounding women in engineering, in specific in the Undergraduate experience. She has been an amazing mentor to the students at UBC, helping inspire them to make a difference both in their personal development as well as their impact on society. Undergraduate engineering programs have been struggling to increase the number of women entering their programs above 20 percent but Dr. Croft has made it her goal to change this. How? By changing the whole culture. To learn about all the work she is accomplishing be sure to check out the website for her Chair: http://wwest.mech.ubc.ca/

tonyasims:My personal inspirations in STEM include: Marissa Mayer, Ursula Burns, Grace Hooper & Mae Jemison. Being able to read about their journeys has helped tremendously in my 7 year technology career as a software engineer.
Follow Doina Oncel on Twitter: www.twitter.com/hEr_VOLUTION