NDP Needs A Leader Who Supports Workers. Peter Julian Isn't It
The NDP are the only party with policies that support working people. They are the party with a social conscience that puts working Canadians before big businesses and profit. They uniquely understand businesses need to make a profit in order to survive, but they also know that profit has to be the servant of social need rather than a singular purpose unto itself.
Prime Minister Justin Trudeau's Liberals have shown that they continue to be a government for big business, serving the singular goal of its profits.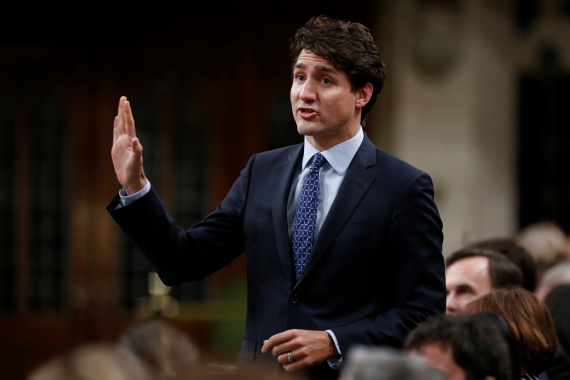 Prime Minister Justin Trudeau speaks during Question Period in the House of Commons on Parliament Hill in Ottawa, Feb. 14, 2017. (Photo: Chris Wattie/Reuters)
What happened to the compassionate Justin proffered during the last election? For instance, Justin has done nothing to provide for adequate and appropriate housing, to say nothing of putting money into health care and social programs to eliminate suicides in indigenous communities.

When prime minister Trudeau looks in the mirror, he should feel shame.
The NDP needs a strong leader to hold the Liberals accountable to the people of Canada, just as Thomas Mulcair did with such surgical precision against the Harper Conservatives. Unfortunately, we can't have Thomas back.
Though the candidates we have at this time are all quite thought provoking, we should be very cautious of the approach advocated by leadership hopeful Peter Julian.
Recently, Peter Julian has decided to declare war on Alberta and pipelines. His position in 2017 is ridiculous and would be quite amusing if it was not so problematic. To say that fossil fuel corporations will target him and that we will be locked into a new raw bitumen-based economy for the next 50 years is nothing more than pure supposition.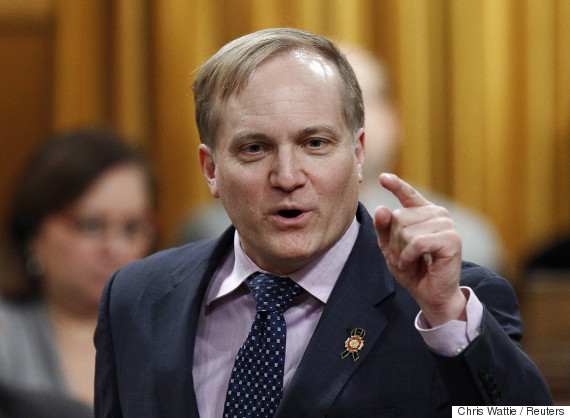 New Democratic Party MP Peter Julian speaks during Question Period in the House of Commons on Parliament Hill in Ottawa, Feb. 16, 2012. (Photo: Chris Wattie/Reuters)
Peter rightly suggests we need bold action to stop climate change. However, we need to be rational in our thoughts and actions in making decisions that will allow success in saving the planet. To say that Kinder Morgan, Energy East and Keystone should be scrapped makes as much sense as Mr. Julian thinking he can be the next prime minister.
The NDP needs a leader who is rational and has an abundance of common sense and knowledge about what they are talking about. We need a leader that everyday workers can believe in. A leader that understands that B follows A, and C follows B.
Peter is either naive or living under a mushroom, unable to deal with this reality.
This person is not Peter Julian. By denying Alberta pipelines now, Peter jumps into a future that has not yet arrived. And that will leave workers in Western Canada behind. It beggars common sense to move to a point that you are not prepared to occupy yet.
Yes, we need to move to a sustainable, climate-friendly and solar-powered future. But that is a transitional process. We can't skip ahead a decade or more to get there. Rationality requires us to move in a linear fashion. Morality requires us to transition economies and workers as we move.
There is no framework in which farmers get the fuel to run their equipment to farm their land, the transportation industry moves our consumables inland, and airlines fly us from one end of Canada to the other without petroleum -- in the next 10 to 20 years. Peter is either naive or living under a mushroom, unable to deal with this reality.
We need to have discussions and plans like those that Alberta Premier Rachel Notley has developed and has begun implementing. Positive, responsible and measured decisions that will work for Alberta and all of Canada.
The fearmongering that Mr. Julian is hoping you will believe makes him more suitable to be a member of the Alberta Wildrose party, not the NDP.
There is no doubt NDP members want a Canada we are all proud of. One where social justice, equality, fairness and green energy will allow our environment to be a place that is able to sustain life in perpetuity. This is a value we all share. But life just isn't a book that we can flip all the way to the end.
Peter, if you really cared about Canada you would follow the lead of Rachel Notley's NDP in Alberta, who are taking rational, progressive steps to simultaneously protect jobs and the environment while working strategically towards a more sustainable, green-energy fuelled world.
Follow HuffPost Canada Blogs on Facebook
Also on HuffPost:
9 Things Trade Unions Have Done For Us
Without trade unions promoting the aim of a 40-hour work week, there would have been no pressure on employers to limit the amount of time employees spend working. While of course employees are free to choose how long they spend working, trade unions worked to ensure this was the choice of a worker, not their boss. The movement for an 8-hour work day peaked at the turn of the 20th century, just before the First World War. And more recent moves towards re-imagining the working day have seen big businesses use technology to limit after-hours email traffic. Arguably such ideas are borne out of trade union campaigning more than a century ago.

While European rules introduced the basic legal right to paid-for annual leave, it is the trade unions which fought for enhanced entitlements over and above the basic EU provision. Since the early 2000s, the Trades Union Congress has fought for increases to the amount of leave, which is now the equivalent of 5.6 working weeks (PDF).

Before the Employers and Workmen Act 1875, workers were the only ones who could be sued for breach of an employment contract. The increased organisation of trade unions and the Great Reform Act prompted both Tory and Liberal governments of the time to take a renewed interest in employment laws. Ultimately this brought about greater parity in the relationship between employer and employee.

Trade unions were instrumental in lobbying government for the provision of leave for new parents - at workers' own discretion. In 1998, the Trades Union Congress launched a campaign to ensure that proposed parental leave would be flexible and well promoted to employees.

Cases of discrimination aren't uncommon, but they'd be a lot more if it weren't for trade unions. As the European Commission says: "Trade unions play a primary role in fighting against discrimination through a variety of actions and tools". They negotiate with employers, support victims, and monitor discrimination cases - keeping up-to-date with the latest case law so that we don't have to.

Although trade unions had reservations about the effect of a national minimum wage, they declared their support for the policy in the mid-1980s. By the 1990s, scholarly evidence caught up with the unions - arguing that a minimum wage would not reduce adult-age employment (PDF). And through the Labour Party, trade unions were able to influence policy in government after the 1997 election.

In the 1840s, unions that were highly centralised and which employed full-time officers brought about negotiation and arbitration as their preferred method of achieving a good deal for their members. This had a significant effect in improving worker/industrialist relations, and while not always successful, they fundamentally changed workplace relationships for the better.

In the 1830s, a Chartist movement was organised around 6 clear principles - and mobilised mass support for its aims through petitions. Just like trade unions, the Chartists' relied on collective aims amongst like-minded people - most visible in the form of three 'monster' petitions presented to Parliament. These contained millions of signatures and proved a desire amongst workers for improved working conditions.

The history of the working week lies in industrial practices, and in Britain factories operated 6 days a week to maintain efficiencies of scale. Sundays were always the day of rest. But trade unions fought to secure the Saturday for workers, too. And now the Monday-to-Friday work week is accepted across industries, as the LSE notes.
Follow Doug O'Halloran on Twitter: www.twitter.com/DougOHalloran