Don't Let Yourself Be Invisible at Work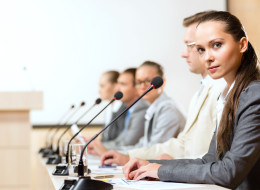 There are days, I am sure, that you sit in your office and you hide from your work. You put it off and wait another day. You are easily distracted in the moment by every little fancy. You check the weather. You check the news. You grab a coffee, and maybe bagel. But, most of all, you hide. You go unnoticed in plain sight.
And then there are the days that you are so consumed by your work that you forget to grab lunch. Your conversations are short, hurried and brief. You do not even have time to check the web. You rush, you're frantic, but you are delivering. You are really pounding it out. Only problem is, no one notices. You are still hidden in plain sight. Only thing people see is you in distress. Each interaction that you had was so frantic, you have pushed people away. And maybe they are talking, and if so, it is not in a good way.
If this sounds like you, ask yourself how do people know about the work that you do? I know in most organizations they measure success based on metrics, and results. But what are you doing to show your true value to the organization if what you do goes unnoticed? This is the paradox of being stuck in the middle. Sometimes, the harder you work, the deeper you dig and the more invisible you come.
I am not suggesting that you stop working and you loaf about and pound on your chest all day long. I am saying that you need to find a balance. You need to make sure your value is evident throughout. You need to own what you do well and make sure people know it, but be confident, not arrogant.
If you want to move in your career, and get unstuck, think about who sees you, what they see and go do something about it. Take the time to walk the floors. Check in frequently, albeit briefly, with your people. Share the learnings that you strike upon. Share the successes and the war stories. Learn to lead and guide others.
Oh, and its not 1992 anymore, staying late in the office for appearance sake went away with MC Hammer pants.
Seek out the meeting organizer, or a trusted colleague, and tell them that you would like the chance to contribute. Pick a topic that will be on the agenda, and prepare some thoughts in advance. If appropriate, prepare a short memo on your ideas that you can pass around at the meeting. Ask the organizer or colleague to please call on you when that topic comes up. You will feel much more confident because you are prepared.

A good way to get noticed is to speak in public, at team meetings, industry events, or educational sessions. This is terrifying to many people. So what can you do instead? One suggestion is to volunteer to introduce or thank a speaker. That takes only a minute or two, and you can read your remarks. Once you have done that role a few times, it will get easier and you may be reader for a larger part.

Networking is key to building your brand. But shy people find that attending networking events, especially where they don't know people, can be a challenging ordeal. Ask a colleague to come with you to the event -- you can give each other moral support and introduce the other person to anyone you know. And give some thought before the session to what you might have in common with other attendees. If you are attending an industry event, for example, think about some current issues in that industry and prepare some questions, and also some points of view, to get a discussion going.

We all know people who seem to have lunch with a different person every day. For shy people, this can be a daunting task, and it's easy to cling to the excuse that you are too busy. As you extend your invitation list to people you don't know well, find a reason to suggest lunch (or a coffee) -- do you want to pick their brain on an issue they know well, or share ideas for an upcoming project? One successful technique is to arrange a lunch with two people you know well but who don't know each other. You will get the reputation as someone who "knows people" and you won't have to do all the talking!
Follow Dr. Curtis L. Odom on Twitter: www.twitter.com/@curtisodom