Predatory Conferences Undermine Science And Scam Academics
In our recent post, we wrote about predatory open access journals and the threat they pose to research and medical practice. Predatory OA journals are run by entrepreneurs (con artists, in our opinion) that have little or no scientific credibility, but publish "journals" which essentially print everything that is submitted to them, without any peer review or scrutiny, so long as they get paid.
The scary thing is that a predatory publisher now owns several Canadian medical journals, as revealed by investigations by CTV News and Toronto Star.
In this post, we hope to raise awareness about the growing menace of bogus conferences, organized by predatory publishers as well as specialized conference groups such as BIT Congress Inc, Conference Series Ltd, Event Series (both owned by OMICS International), PSC Conference and many others. These groups, often based out of China and India, run vanity conferences on nearly every conceivable topic. A cursory look at their websites is enough to understand the staggering breadth of topics they cover.
Scientific conferences serve as the catalyzer for intellectual interactions among researchers.
Jeffrey Beall, the librarian who maintains a black list of predatory publishers, also highlights predatory conferences on his helpful website. According to him, "there's a lot of money to be made in the scholarly-conference organizing business in Asia these days. These are not conferences organized by scholarly societies. Instead, they are conferences organized by revenue-seeking companies that want to exploit researchers' need to build their vitas with conference presentations and papers in the published proceedings or affiliated journals."
Importance of conference presentations in academia
As part of the career advancement process in academia, researchers must present evidence that their work has attained national and international reputation. An invitation to give a talk at a prestigious conference, therefore, means a lot in academia. Credible scientific conferences, typically organized by major professional societies and research agencies, will invite researchers to present because of the caliber and validity of their work as judged by the candidate's peers.
All academics, including us, generally accept such invitations and see it as an opportunity for scholarly exchanges in our fields. It is a great opportunity to present research in progress and to hear from colleagues who work in the same field and dealing with similar challenges. Scientific conferences serve as the catalyzer for intellectual interactions among researchers; they help us to come up with solutions to common problems and inspire new leads for scientific inquiry.
Rise of predatory, vanity conferences
Given the importance of conferences in academia, predatory conference organizers sensed a business opportunity and started scamming researchers a few years ago. They send adulatory emails inviting people to deliver keynote lectures in their "prestigious" international conferences in North America, Western Europe or exotic locations elsewhere (typically, Japan and China).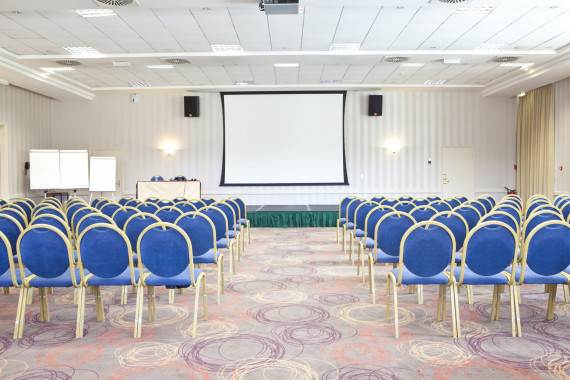 Here is an example that one of us (EF) received: "OMICS Group has acknowledged you as a world class expert capable of providing deep insight into the latest developments in Radiology and Imaging." MP received this invitation recently from Conference Series: "Greetings! We would delight to welcome you on behalf of the Organizing Committee, as a Speaker to the CPD Accredited Event "3rd World Congress and Expo on Applied Microbiology" Going to be held in Dubai, UAE." These invitations have nothing to do with our expertise.
Indeed, we get tons of invitations to speak on topics that have nothing to do with our own area of research, from obstetrics to radiology, even economics! Apparently, anyone can have a speaking slot, or chair a session, or lecture on any topic they want! Many of these invitations offer the recipient the opportunity to chair an entire session in the conference. All submitted abstracts are usually accepted after a science-free, zero peer review process.
Typically, initial invitations are followed-up by increasingly frequent follow-up emails, even if we decline. It is nearly impossible to opt-out of these invitations. In any given day, emails from predatory journals and conferences may add to more than half of one's work-related inbox.
Unwary researchers fall prey to these seemingly "prestigious" speaking opportunities and pay the high registration fee to attend, as well as the high cost of travel and lodging. These conferences make money through registration fees that are bundled with charges for hotel, meals, program materials, ground transportation and other hidden charges (e.g. sight seeing tours).
Sadly, predatory conferences have become "a cottage industry in scientific communication."
The enhanced "prestige" that comes from accepting an invitation to chair a session frequently adds an extra amount to the conference registration fee that has to be paid. Researchers who fall for these scams show up at sparsely attended events, and realize that the conference is not at all what they expected and has no prominent speakers from whom they could learn. Worse yet, they realize that the high profile names that seemed to be part of the organizing committee as displayed in the conference website were never there.
This is a common trick by the predatory conference organizers: they hijack from the Internet the photos and biographies of scientists who have established reputation and credibility (sometimes Nobel Prize winners). These names serve as baits to attract registrations. When the person whose identity was hijacked complains, nothing happens. These dishonest conference organizers will ignore cease-and-desist letters.
We are aware of several cases of colleagues (including our own experience) who were targeted to have their picture and biosketches associated with these pseudo-scientific events that only serve to collect the hard-earned research or salary money from junior researchers in developing countries.
Sadly, predatory conferences have become "a cottage industry in scientific communication." Between predatory journals and predatory conferences, academics are now being spammed on a daily basis, by greedy groups that neither understand science, nor care about advancing science. We fear this alarming rise of predatory journals and conferences will not only undermine science, but also scam academics, particularly junior researchers who can least afford it.
Madhukar Pai is a Canada Research Chair in Epidemiology & Global Health at McGill University, Montreal. He is the Director of McGill Global Health Programs, and the Associate Director of McGill International Tuberculosis Centre. (@paimadhu)
Eduardo L. Franco, is a James McGill Professor and Chairman, Gerald Bronfman Department of Oncology, McGill University. He is also the Director of the Division of Cancer Epidemiology at McGill University.
Follow HuffPost Canada Blogs on Facebook
Also on HuffPost:
Fun STEM Activities For Your Kids
Sneak in a lesson about gravity while creating beautiful art with pendulum painting. Suspend a broomstick in between two chairs and hang a plastic cup with some string in between. Put some paint in the cup, then poke a hole in the bottom. Set the cup to swinging to get some lovely designs. (Then you can talk about why the pendulum keeps swinging back and forth, gradually creating smaller and smaller circles.) Get the details: Hand Made Kids Art

You may know the recipe for homemade slime, but have you ever made magnetic slime? This incredibly cool experiment involves a bit of parental help and supervision, but it's well worth it! Get the details: Frugal Fun For Boys

Whip up a little kitchen chemistry to teach your kids about colour changes and chemical reactions. Red cabbage juice turns blue when mixed with a base (baking soda) and red when combined with an acid (vinegar). Combine both to get bubbles! Get the details: One Time Through

The maker movement has done a lot to get people of all ages interested in DIY technology. The MaKey MaKey kit helps kids take everyday objects and turn them into keyboards! Think playing piano with a banana or playing a videogame with Play-Doh. For a demonstration of what a MaKey MaKey kit can do, check this out. Get the details: MaKey MaKey

This one's called "$7 and a Screwdriver," because Leah at Socks & Shoes Not Required spent $7 on an old VCR at a thrift store. She explained to her kids how it worked, then gave them a screwdriver and let them go to town. Older kids could even try to put it back together. Brilliant! Get the details: Socks & Shoes Not Required

Wanna check out something cool? This neat experiment involves piping drops of water (carefully) onto coins. Your kids will be amazed that the water doesn't spill over the side! It's a lesson in surface tension, and your child can measure the amount of drops each type of coin can handle until it overflows. Get the details: The Science Kiddo

LEGO and STEM go hand-in-hand, and you can use your child's favourite multi-coloured building toys to teach many science, math and engineering concepts. Here, you can tackle density with some oil, water and a brick. (More ideas on the site below.) Get the details: Science Sparks

Anyone with a child and a smartphone knows that kids love taking photos. Send your school age children on a scavenger hunt to photograph items in nature, like flowers, seeds, birds, insects or tree bark. Great for an outdoor birthday party! Get the details: Betsy's Photography

If you glue popsicles together in a particular way, they will pop apart when you drop them. This lesson in tension is a fun one, and you can even set up the "bombs" next to each other for a chain reaction (a la the domino effect). Get the details: Frugal Fun For Boys

Forget boring old regular Bingo. Teach your child about fractions in a fun way with this Fractions Bingo game. She rolls the dice to figure out what fraction she's looking for, then fills it in once she finds it. First to get five in a row wins! Get the details: School Time Snippets

Kids don't learn about simple machines until grade school, but you can introduce the important concept of levers at an early age with this fun and colourful project. Your child can investigate which lever sends the cube flying the furthest. Get the details: Munchkins & Moms

Your child will learn about kinetics, the study of forces acting on mechanisms, while creating some little funny pals to play with. Turning the wooden dowel makes the googly heads spin, as you can see here. Get the details: Left Brain Craft Brain

Get your preschooler interested in number recognition and counting by utilizing the landscape of Dr. Seuss favourite, The Lorax. Older kids can work on adding and subtraction. Get the details: Inspiration Laboratories

If you REALLY want to bring the outdoors in, why not grow mushrooms with your children? This mom of quadruplets taught her four little ones a new x-word by growing xylophagous fungi on a log in their house (in this case shiitake and oyster mushrooms). The kids cared for the mushrooms by misting them each day until finally, mom made them into a casserole. Get the details: Capri + 3

Ever heard of ichnology? It's the study of the traces of organismal behaviour, like burrows or footprints. Introduce your child to this fascinating study with some air dry clay and plastic animal figurines. Check the website for more ideas involving paint (to make animal footprints on paper). Get the details: Suzy Homeschooler

A simple mixture of oil, water and food colouring creates a colourful light show in a jar. It also teaches kids about density. (ICYDK, the food colouring is denser than the oil, so it sinks through the oil layer and starts to dissolve in the water). Get the details: I Can Teach My Child

Even preschoolers can get in on the action with this cute apple-picking counting game. Kids pick up "mini-apples" with child tweezers and place enough on each corresponding number. Get the details: Fun-a-day!

Magna Tiles are awesome building toys. But you can also get kids excited about multiplication with these colourful, versatile squares. Here, this child is demonstrating 10 x 2. Get the details: And Next Comes L

Your little ones probably love to look at the sky at night. Bring that magic into the daytime by letting them try their hand at creating each of the planets. A great introduction to astronomy for even the youngest kids! Get the details: A Little Pinch of Perfect

Set out containers of varying sizes and shapes, then have your scientists-in-training guess whether they think a full scoop of coloured rice will fit inside or overflow. You can explore volume with liquids as well. Get the details: Little Bins For Little Hands

Explore "pirate science" by freezing small bits of treasure in a baking soda, Jell-O and water solution. Your kids can "dig" for treasure by using vinegar to excavate the goods. Get the details: Fun-A-Day!
Follow Dr. Madhukar Pai on Twitter: www.twitter.com/paimadhu