ISIS Stole This Family's Home, Don't Let It Take Their Baby's Life
In March 2014, Mustafa heard three bombs near his home in Sheran located in the province of Aleppo, Syria. At that precise moment, he knew his biggest fear was real: ISIS was at their door. This was his tipping point; his family packed a few belongings and tried fleeing to Turkey.
Having been refused entry by the Turkish army, the family spent the next 14 days sleeping on the dirt near the border, bullets passing over their heads, bombs exploding nearby with barely any food, no mattresses or blankets and, oh I forgot, a three-month old baby.
Defying all the odds, they managed to escape and find temporary shelter in Kurdistan, Iraq. As soon as they arrived, they (Mustafa, his wife Rojeen, his nephew Obaid, daughter Miraf and brother Mohammad) applied for refugee status with the United Nations High Commissioner for Refugees (UNHCR), the standard procedure. Mustafa's family dreamed of a land far away from their frightening experiences, a land where they could finally breathe freely and hope for a better life.
One year after arriving in Kurdistan, the family welcomed a new family member, a little girl they named Sazeen. Not long after giving birth, Rojeen and Mustafa discovered that Sazeen was born with a congenital heart disease and a large subaortic ventricular septal defect (VSD), with severe pulmonary hypertension.
In April 2016, Iraqi doctors told them that she urgently needed heart surgery, within a maximum of three months, but it had to be done abroad as Iraq did not have sufficient expertise for this highly specialized intervention.
We are now seven months past that deadline: Sazeen has stopped growing and gaining weight, cries from pain every few minutes and must remain indoors 24/7 with Rojeen, since the tiniest bacteria would be fatal for their precious princess.
In June 2016, the UNHCR interviewed the family to know more about their past and their ambitions. During the interview, they were asked if they would accept Canada as a new homeland. They gladly accepted.
Since then, they have been dreaming incessantly about their new home. They've devoured all the Instagram accounts, Facebook pages and Canadian channels they could get access to. They fell in love with our Justin and Sophie, and pray every day that they will have the chance to set foot on Canadian soil. Mustafa and Rojeen dream of becoming gardeners after finishing their degrees, as the war abruptly forced them to interrupt their studies. For his part, Mohammad would like to complete his degree in English literature.
They say the last mile is always the longest one, but time is precisely what Sazeen doesn't have.
Here they stand, stuck in a country that is not theirs with a daughter increasingly suffering and impatiently waiting for UNHCR's response, which is taking longer and longer even though they are on the priority list.
However, the call isn't coming and Sazeen's situation is getting worse and worse every single day. They've braved all these hardships, fled to another country, endured one medical procedure after another, and tried raising a family while waiting and hoping for a new life -- literally. They say the last mile is always the longest one, but time is precisely what Sazeen doesn't have.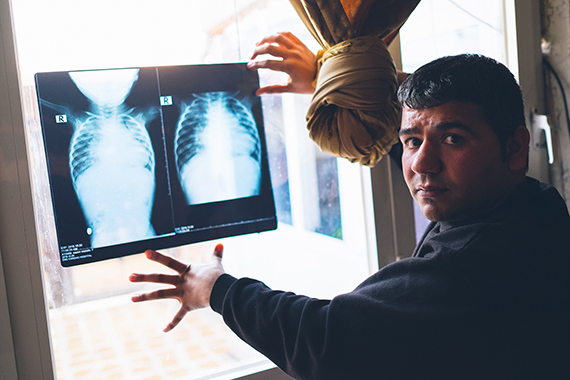 Mohammad showing Sazeen's last X-rays. Getting them required a significant cost for the family, not being able to find work since their arrival in Iraq. (Photo: Drowster)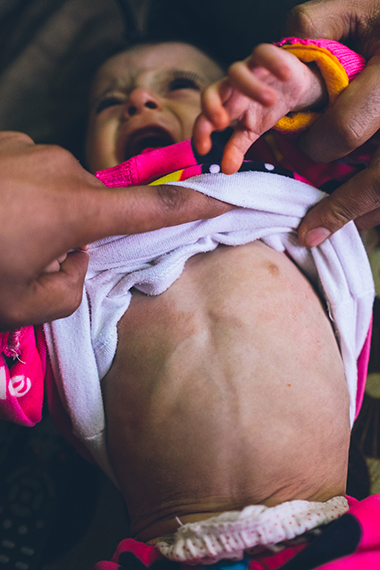 In constant pain, Sazeen's cries have become ambient noise. (Photo: Drowster)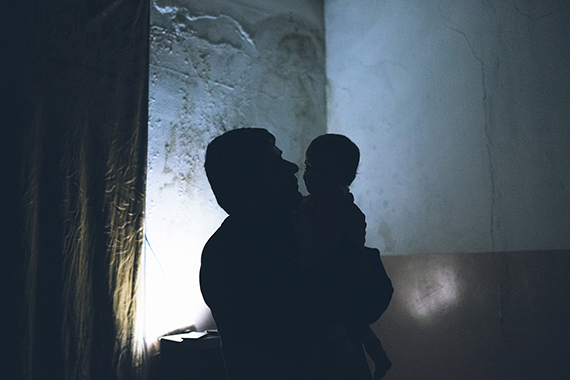 Having only 12 hours of electricity per day in the house they are renting, the family relies on their smartphones' flashlights and a small LED light they recharge every day when it is cut off. (Photo: Drowster)

No matter how often Sazeen cries, Mustafa or Rojeen take her in their arms and give her the most love they can. (Photo: Drowster)

Rojeen reviewing the family's immigration papers; their only hope for a better future. (Photo: Drowster)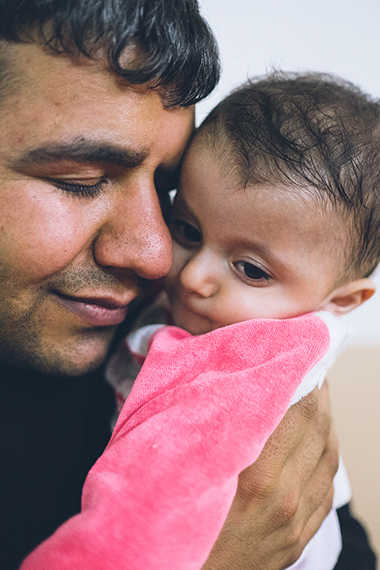 Mohammad had plans to join his younger brother in Germany, where he found refuge a few months ago. When he found out the urgency of Sazeen's health, he decided to stay in Iraq and has been paying for the family's expenses ever since in the hopes that Sazeen will survive. (Photo: Drowster)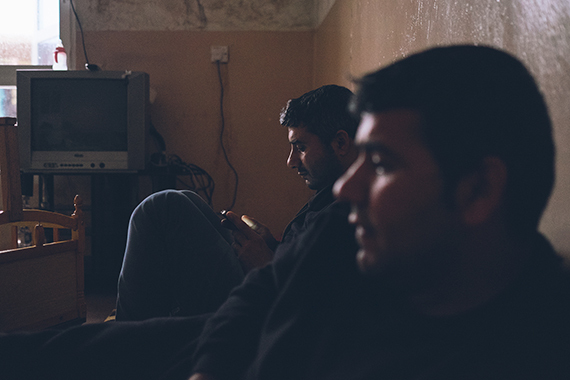 The family spends all day in their tiny living room. Their smartphones are their only way of communicating with their relatives and the outside world. (Photo: Drowster)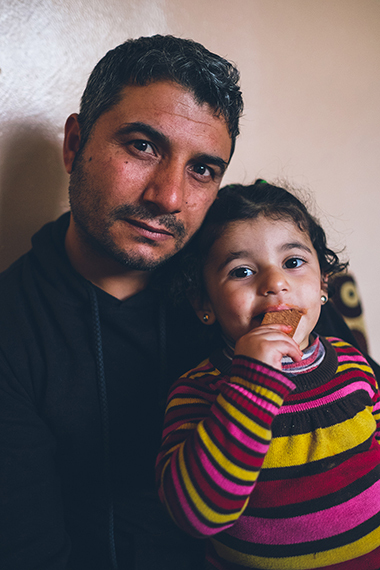 Daughter Miraf was born three months before the famil fled from Sheran, their hometown. War and the quest for a safe homeland is all Miraf has ever known. (Photo: Drowster)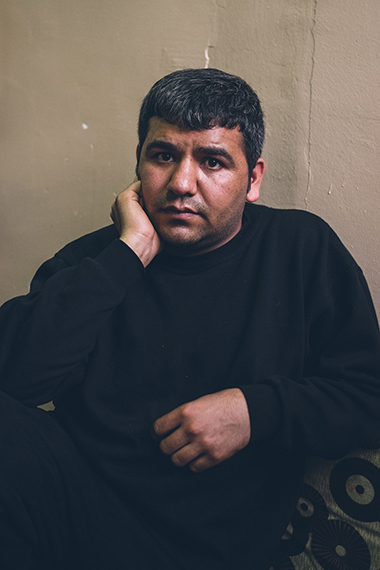 Mohammad was studying English literature at Damascus University before the war began. His dream is to complete his degree in Canada. (Photo: Drowster)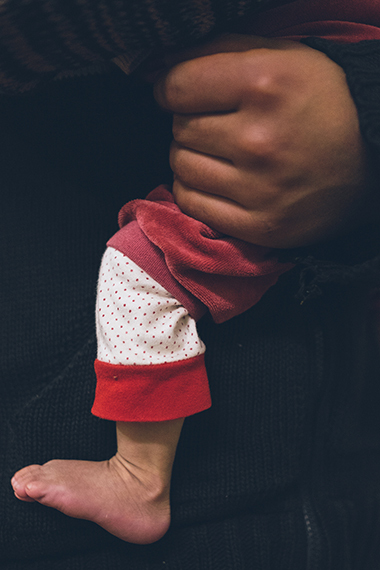 Obeid holds Sazeen, who is getting skinnier and skinnier. (Photo: Drowster)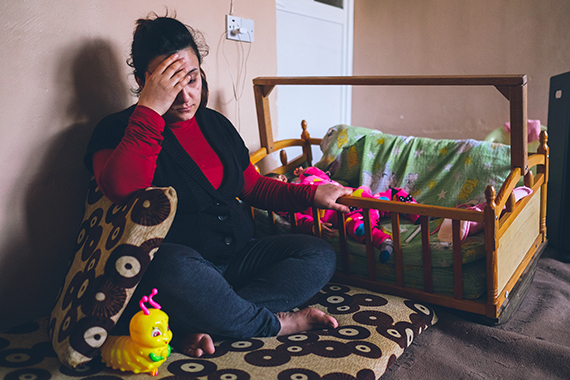 Rojeen only has one wish: to see Sazeen grow. (Photo: Drowster)
I, Drowster, am raising my voice and publishing this photo series in the hopes of raising public awareness about Sazeen and her family's plight. I'm seeking help from our deputies to accelerate the last few steps for their refugee approval in our land of freedom, hope and dreams in order to bring them to our wonderful country and offer Sazeen a future. ISIS has already ruined so many Syrian lives, let's not let them take Sazeen's.
Together, let's turn our dear values into actions and change Sazeen's last heartbeats into long lasting ones.
#WelcomeToCanada #WelcomeToCanadaSazeen
Sincerely,
Drowster
Follow HuffPost Canada Blogs on Facebook
Also on HuffPost:
Great Things Canadians Have Done So Far For Syrian Refugees
Joe Woodsworth, a senior manager with Surrey, B.C.-based Options Community Services picks up dozens of backpacks, each filled with school supplies for Syrian children. Operation Backpack is the idea of former 24Hours columnist Laila Yuile.

Malak arrived with her family in July after living in a Jordanian refugee camp for two years. Her teeth were so decayed the 5-year-old girl was kept up at night because of the pain until a local dentist stepped forward to help the family for free.

"Hopefully, together, we can prove that Canada in general and the Maritimes in particular are as generous and welcoming as the rest of the world thinks we are," P.E.I. artist Amy Seymour told HuffPost Canada.

In November, the Edmonton Oilers captain gave $10,000 to Edmonton's Mennonite Centre for Newcomers to support their work in helping to resettle incoming Syrian refugees. The donation helped the group meet its two-month goal in a single day.

The Guelph businessman made headlines last month after stepping forward to say he intended to spend $1.5 million to privately sponsor 50 Syrian refugee families to come to Canada. Estill explained he was tired of seeing refugee applications get snarled in long, bureaucratic processes. "I'm a businessperson, I'm very impatient, and we should just do it now," he said.

"It's really good to know that we're so compassionate and that we want to help," said Darrell McLeod of St. Clare's refugee family sponsorship group. "Everybody's very excited about it. Everyone's been really excited to make things happen."

Westbank Developments founder Ian Gillespie is behind many of downtown Vancouver's glitziest skyscrapers.A descendant of Irish immigrants, he made a pledge in November to furnish a 12-unit West End apartment complex and open it to incoming refugees. He also said he's exploring ways to help Syrians get jobs after they arrive in the city.

A small group of from the Keewatin Otchitchak traditional women's drum group gathered by baggage carousels to greet 17 Syrians to Treaty 1 with a song of welcome.

"I need to point out that the people who are desperate refugees are fleeing from the exact same people who perpetrated the kind of violence we saw in Paris and Beirut last week," the Calgary mayor told reporters a week after deadly attacks in France and Lebanon. "They're running away from the bad guys and, as such, we need to be able to open our arms to make sure that we can provide safety to these folks."

Christine Youssef (pictured) greets newly arrived Syrian relatives on a bus near Pearson International Airport in Mississauga on Dec. 11. Youssef and her mother are sponsoring 43 of their Syrian relatives to come to Canada. Thirteen have arrived and are staying at the family's small Scarborough, Ont. bungalow. Soon, nine of the relatives will move out, making room for more relatives to come in.

When CBC News reporter Eman Bare interviewed Mohamed Al-Noury, 21, and Athar Farroukh, 23, she realized the Syrian refugee couple had no wedding pictures. So Bare put a callout on soical media to surprise the high sweethearts with a wedding. Her request spread and within 24 hours people came forward donating a venue, suit, dress, and cake. "Grateful for a community that makes beautiful things happen," wrote Bare on Instagram below a photo taken at the couple's Saskatoon ceremony.