How To Survive A Mid-Flight Meltdown
You're waiting for your flight to board and you receive an unexpected text that sends you to an emotional tailspin. Lucky for you, if you book it the nearest bathroom and compose yourself before heading up in the air. But what if you find yourself unexpectedly sobbing at the ending of a rom-com mid flight? Or you find yourself in the middle seat between happy families and newly engaged couples going to Disneyland and you can't help but replay the conversation in your head.
Here are some steps you can follow to make sure your emotional episode is kept in check and airport security is not called upon landing: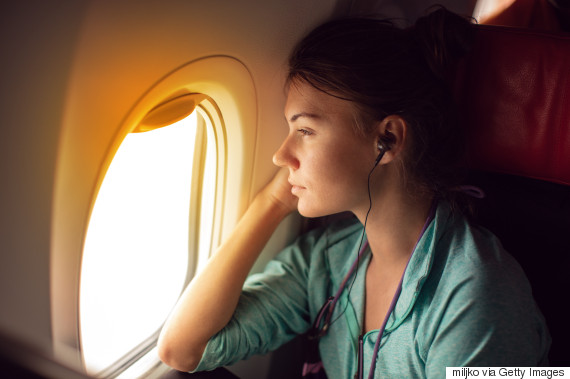 1. Dry tears quickly: Avoid drawing attention to yourself by using tissue that you may have on hand, a napkin, the side of your fingers. The pages of the inflight magazine are too rough for anyone's face. Blot your tears only. The rubbing of your face will cause friction and make your face and eye area red, thus drawing more attention. Inflight hack -- if you don't have anything to dry your tears, face the overhead fan towards you to help.
2. Hydrate: Take a pass on the alcohol or beverages (coffee, black tea) that would otherwise dehydrate. When the food cart comes around, get an extra water and extra tissues (just in case). Replace the tears with water. This is also a great flying tip in general, wether your on a three-hour flight to LA or a 22 hour-flight to Sydney. Another option is to use a facial mister mid flight to hydrate.
3. Be kind to yourself: If it's a song or a movie that has set off your tear ducts -- shut it down. Owe it to yourself to move on. And as much you would like to finish the movie, watch it when you are in a different headspace. Think twice about replaying sad songs on your iPod. It will only make you fester and relive the moment -- on repeat. Put something positive (or at least upbeat) on. Beyonce's Who Run the World (Girls) or Pharell's Girl works nicely.
4. Own it: If you can't suppress it, own it. Sure the kid in the aisle down from you might stare and whisper (in loud voice), "what's wrong with that girl Daddy?" but such is life. Ignore the child and focus on yourself. If you are the aisle or middle seat face forward. Avoiding eye contact will not invite engagement from close passengers and inquiring minds.
As soon as the waterworks stop and you feel ready, try and make your way to the bathroom to recompose yourself further. Brush your teeth, reapply makeup, grab more water. If you don't feel ready, don't leave your seat until deemed necessary. Overnight flights are helpful in this regard as the plane is usually dark and people are sleeping. If you don't leave your seat, head to the washroom once you land. This will be helpful during customs checks and in case you don't want your ride home knowing you spent your flight from Hong Kong crying after the ending of La La Land.
Follow HuffPost Canada Blogs on Facebook
Also on HuffPost:
Travel Lessons From Our Favorite Movies
"It's dangerous business going out your front door," Bilbo Baggins famously advises his nephew Frodo before he sets off on his heroic adventure. As much as we try to avoid the headaches of travel, there's no denying that to a certain extent, travel is about discomfort. However, our hardest moments are where we find our best stories and if you decide to venture out of your comfort zone, you'll find the adventure you've been dreaming of. RELATED: Lord of the Rings and Hobbit Filming Locations in New Zealand (Photo: Hobbit Village via Shutterstock)

Before Sunrise is the story of two strangers who meet on a train and decide to get off together and spend a night roaming around the streets of Vienna. The whole movie is a conversation between Celine, a French woman, and Jessie, an American, getting to know each other and falling in love. They take a chance on each other and it pays off. Traveling is an excellent opportunity to meet new people, but sometimes you have to be the one to work up the courage to start a conversation. You never know what could happen. RELATED: Romantic Europe: Places in the Heart (Photo: Eye Ubiquitous/Getty Images)

No story in recent history has inspired as many travelers as Elizabeth Gilbert's quest to find herself after her divorce. As she travels through Italy, India, and Bali in the course of a year, the audience stays with her for every revelation along the way. Eat, Pray, Love is a story about using experiences gained from travel to heal old wounds and find new meaning in life that will help you along on your journey. (Photo: Meditation in Bali, Indonesia via Shutterstock)

Whether you're planning to steal an ancient artifact from an army of Nazis or just trying to visit as many museums as you can by the end of the day, you can't expect everything to go perfectly. Between delayed flights, bad weather, and straight-up bad luck, travel is full of variables and as hard as you might try, you can't be prepared for all of them. In cases like these, it's time to channel your inner Indiana Jones and start thinking on your feet. (Photo: Machu Picchu via Shutterstock)

As we learned from Titanic, even "unsinkable" ships can sink. Your dream vacation might be planned out down to the last restaurant reservation, but that doesn't mean much when Mother Nature decides to crash the party. Always be prepared for the worst. RELATED: Travel Insurance 101: Everything You Need to Know Before You Buy (Photo: Thinkstock/iStock)

On her mission to hike the Pacific Crest Trail, Cheryl Strayed suffers throughout and is never truly safe. But despite her overweight pack and blackened toes, she pushes on and braves the elements. She finds support in a friendly community of fellow thru-hikers, but for the most part she is on her own. Her story of solo travel and willpower teaches us that all it takes is a little bit of bravery to go out on your own and accomplish your goals. RELATED: Seven Epic Walking Trails Around the World (Photo: Thinkstock/iStock)

Sometimes we get so caught up in taking in the sights and sounds of a new city, we find ourselves suddenly and totally lost. It's easy to feel scared, especially if you don't have Google Maps, but it's important to remember that little girl from Kansas who also once found herself in a strange new place. Dorothy was unafraid to ask for help and directions and she did it in the kindest, sweetest, most Judy Garland way possible, which is probably why she was able to befriend so many locals and find her way back home. What movies have inspired you to travel? (Photo: Andy Kropa/Getty Images) Read the original story: Travel Lessons From Our Favorite Movies by Jamie Ditaranto, who is a contributor to SmarterTravel.
Follow Elena Murzello on Twitter: www.twitter.com/ElenaMurzello