Why Parents Shouldn't Sweat the Small Stuff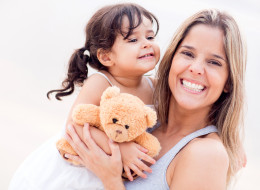 Parenting has always been a tough job. Possibly the toughest. But I believe it quite possibly could be even harder for parents today. Most families have to have two working parents, who, on top of having full-time careers and domestic responsibilities, are subjected to constant scrutiny, judgement, and criticism about their parenting choices from family, friends and even strangers. And the expectations just seem to be increasing for parents in virtually all areas of child-rearing. Most of the parents I know (myself included) spend a great deal of time agonizing about our choices and what's best for our kids.
As a counselor, the issue of parenting and early life experiences is a topic that is discussed with virtually all of my clients. From my work, I have developed a theory: There is a common thread underlying what seems to determine a person's emotional well-being in adulthood in terms of how they were parented: safety and security.
Children who feel safe physically and emotionally are more likely to grow up to be psychologically healthy adults. When I refer to safety, I mean an environment free from emotional, sexual and physical abuse, and where love and affection are given unconditionally (this, among other things, means affection is not tied to achievement), and children are not forced to deal with complex, adult issues.
The things that undermine safety and security include:
Abuse of any kind (as victim or witness)
Parental abandonment
Parental conflict
Parental alienation
Extreme poverty
Being forced to care for a parent
Blurring of boundaries
Extreme poverty
Some of these things are likely obvious, some not as much. For example, parents who fight in front of their children can do great damage. Parental conflict should be managed, when it's possible, behind closed doors. Similarly, one parent should never try to alienate children from the other parent whether or not the relationship/marriage ends. Parents dealing with addiction or mental illness should, of course, seek professional help and not rely on children for their care. Moreover, parents should not overshare their adult issues/problems with their children (sexual exploits, relationship issues, etc.). If there are financial problems -- again -- don't discuss them in front of your children. If poverty is extreme to the extent that food supply and lodging are unstable, than this insecurity will be obvious, but if the basics are being met, a happy childhood can still be had. Kids don't need (despite what many parents and children think) fancy toys and clothes. I've had many clients report very Spartan but happy childhoods because of loving, stable parents.
I'll tell you what, from my experience, doesn't matter much to a person's future emotional well-being (assuming they are brought up in a safe, stable environment):
Bottle versus breast-feeding
Co-sleeping/not co-sleeping
Toys/clothes/stuff
Stay-at-home parent versus working parents
Daycare versus nanny
Biological versus non-biological parents/care-givers
Only child versus siblings
Private versus public school
So parents, relax. Don't sweat the small stuff. Even if you work full-time, bottle feed, don't buy organic food, and never threw your kids gigantic birthday bashes with chocolate fountains and elephant rides, as long as you are physically and emotionally present for your children -- and provide a safe, stable environment for them -- they'll be just fine.
6 Ways to Nurture Happy, Healthy Kids
"Instill in your kids the idea of visualizing who they want to be. My mom used to do this with me all the time; she would point to the Romper Room hostess and say, 'You have the personality for that.' She had these specific career ideas for me that I thought were hilarious." -- Jenny Rosenstratch, author of Dinner: A Love Story

"Mothering is partly the daily practice of living my own life, so that my daughter is free to live hers." -- Sil Reynolds, coauthor of Mothering & Daughtering: Keeping Your Bond Strong Through the Teen Years

"Calm down, people. I used a special baby shampoo that I later learned had carcinogens in it, and I freaked. Then I found out that it causes cancer only if you feed several bottles of it to your child every hour." -- Jenny Lawson, author of Let's Pretend This Never Happened

"Get outside! Have a picnic, climb a tree, make a fort, watch the clouds move through the sky. Create an adventure!" -- Christy Ziglar, author of Can't-Wait Willow

"My mother worried endlessly about me--still does, and she's 88 years old--and it was a burden that kept me from taking risks and trying new things that I knew would scare her. Maybe that's why one of my current worries is that my worrying has kept my own daughters from certain adventures that might have been good for them!" -- Robin Marantz Henig, coauthor of Twentysomething: Why Do Young Adults Seem Stuck?

"We sing constantly. When we're studying the spelling word 'over,' I'll belt out, 'Juuuune is busting out all over!' from Carousel. It distracts them from hating things like homework, and it makes some of the drudgery and ridiculousness of child rearing actually funny." -- Vicki Glembocki, author of The Second Nine Months: One Woman Tells the Real Truth About Becoming a Mom. Finally.
Follow Erica Berman on Twitter: www.twitter.com/erica_health