Going Red for Valentine's Day: The Dos and Don'ts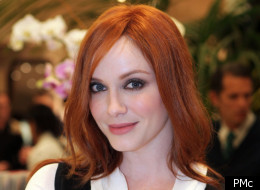 As my daughter's teacher, Dale, asked me what she could do to give her hair a little more vavoom, I happened to catch a glimpse of a picture of Emma Stone at the Golden Globes. With Valentine's Day around the corner, I was immediately inspired. How about becoming a vibrant redhead? (It's hard to say no to me when I get beauty inspiration so she timidly agreed.) Rather than making a mess of my bathroom and Dale's hair, I consulted Paul Labrecque, owner and chief creative officer of Paul Labrecque Salon and Spa in New York City to help me navigate the world of red. I knew Dale would be the perfect redhead and she was game to change her look. Click here to see her incredible transformation. If you want to do the same, Paul Labreque told me what you need to know.
EK: What skin tone should never be red?
PL: I would advise women with olive and dark skin tones not to go red.
EK: What questions should you ask a colourist before going red?
PL: How much will the entire service cost? What colour red do you think would look best with my skin tone and eye colour? How often will I need to come in for touch ups/maintenance? What types of hair products will I need to use?

EK: Should you go red at home?
PL: Please don't because it's very difficult and tricky! The evenness of the colour depends on how porous your hair is, what colour it currently is and the overall condition it's in. I wouldn't recommend going red at home. It's best to make an appointment with a professional stylist if you plan on becoming a redhead.

EK: If you do go red, how should you maintain it?
PL: Use a shampoo and conditioner that's specifically designed for colour-treated hair. Check the label to see if it's enriched with sunscreen/UVA/UVB filters and enriched with conditioning agents.
EK: After going red, should you change your makeup?
PL: Absolutely. Salome Figueroa, a makeup artist at my salon suggests the following:
Lipstick
For copper, strawberry and violet-based red hues, browns and sheer berries always work well. If you like red lipstick, choose one with an orange undertone. If your hue is more violet, red lipstick should have a blue undertone.

Avoid purple lipsticks or gloss! It looks really harsh and dull. It's best to experiment with a few of your favourite shades once you make the "redhead" change to see what looks good on you.

Eye shadow
You can play up your eyes using gold, brown, copper, khaki/olive, greens and greys. Avoid light blues and oranges.
Mascara options
Black mascara brings out any eye colour and it looks lovely on redheads. Don't use brown mascara because it "flattens" your eyes and won't make them stand out.

**Some Other Makeup Suggestions & Tips**
If you want to play up your eyes, keep you lip colour sheer. If you want your lips to really be emphasized, make them stronger and brighter with a bold colour and go softer with your eyes -- use a black or grey eyeliner to complete the look. Remember, always use black mascara if you're going to use mascara. It frames the face and gives it a warmer look, which is very attractive on redheads.
If you think you could be a redhead, now is the time. Its all the rage and nothing says "be my valentine" like gorgeous red hair!
RELATED: Our Favourite Redheads
The royal goofball is definitely a favourite, despite a few unprincely gaffes here and there. Not only is the 27-year-old officially the Prince of Wales, Harry also serves in the military, plays competitive polo and is easily one of the most eligible bachelors around. Prince Harry attends a fundraising day at the offices of BGC Partners on behalf of his charity Sentebale in Canary Wharf on September 12, 2011 in London, England. (Photo by Paul Grover - WPA Pool/Getty Images)

Even acclaimed actress Julianne Moore was teased about being a redhead when she was young. "Nobody likes being different as a kid. In first grade kids called me Freckleface Strawberry -- it was a drink mix. It is also the title of my children's book," she told People Magazine. Who's had the last laugh? Actress Julianne Moore attends 'The Big Lebowski' Blu-ray release at the Hammerstein Ballroom on August 16, 2011 in New York City. (Photo by Mike Coppola/Getty Images)

Canadians love the colour red. From the maple leaf to red-haired athletes like Jon Montgomery, who won gold during the Vancouver 2010 Olympics and chugged a pitcher of beer to celebrate. Canada's gold medalist Jon Montgomery celebrates on the podium during the medal ceremony of the men's skeleton final event of the Vancouver Winter Olympics in Whistler on February 20, 2010.

He is probably your teenage daughter's biggest crush. Rupert Grint or better known as Ron Weasley from the Harry Potter series made redheads cool again. Actor Rupert Grint poses in the press room during the 2011 Teen Choice Awards held at the Gibson Amphitheatre on August 7, 2011 in Universal City, California. (Photo by Jason Merritt/Getty Images)

Some argue that redhead male sex symbols are hard to find. This could be true. But we know for sure female sex symbols are here to stay. Actress Christina Hendricks arrives at the 63rd Annual Primetime Emmy Awards held at Nokia Theatre L.A. LIVE on September 18, 2011 in Los Angeles, California. (Photo by Kevin Winter/Getty Images)

Jessi Cruickshank doesn't think her red-haired race will die out any time soon. The former MTV Canada host of MTV Live and The Hills After Show often spoke out against hatred against redheads and even joined a redhead dating site to save her kind. Host Jessi Cruickshank attends MTV's 'The After Show' taping held at the Masonic Temple on September 11, 2009 in Toronto, Canada. (Photo by Teresa Barbieri/Getty Images)

Wedding Crasher's actress Isla Fisher supports redheads. She often gets confused with co-star Amy Adams, but wants to see more redheads in Hollywood, she told Yahoo.com. Actress Isla Fisher attends the Veuve Clicquot Polo Classic at Governor's Island on June 5, 2011 in New York City. (Photo by Charles Eshelman/Getty Images for Veuve Clicquot Polo Classic)

The rumours of Desperate Housewives star Marcia Cross's natural redheaded state have finally been cleared up. Her former agent says "the carpet does match the curtains," after claiming to have nude photos of the actress. Hey, at least she's a natural. Actress Marcia Cross arrives at the 2011 NCLR ALMA Awards held at Santa Monica Civic Auditorium on September 10, 2011 in Santa Monica, California. (Photo by Kevin Winter/Getty Images for NCLR)

We all love a man with a good sense of humour. It just so happens this one is also a redhead. Oh, and there is a whole Facebook movement trying to get a full redheaded audience to a taping of one of his shows. Television host Conan O'Brien arrives at the premiere of Paramount Pictures' 'Super 8' at Regency Village Theatre on June 8, 2011 in Westwood, California. (Photo by Frazer Harrison/Getty Images)

We have seen this man in all hair colours; stick with red Ewan! Why? MSN's Wonder Wall once named him the second hottest redhead in the industry. Actor Ewan McGregor arrives at the 2011 Film Independent Spirit Awards at Santa Monica Beach on February 26, 2011 in Santa Monica, California. (Photo by Alberto E. Rodriguez/Getty Images)

Another favourite in the music world, we hope Reba stays a redhead! Singer Reba McEntire attends the Starkey Hearing Foundation's 'So The World May Hear Awards Gala' 2011 at River Centre on July 24, 2011 in St. Paul, Minnesota. (Photo by Adam Bettcher/Getty Images for Starkey Hearing Foundation)

People often don't recommend matching hair and clothing colours, but there is nothing wrong with Nicole Kidman's hot hair or dress. Actress Nicole Kidman attends the Cinema Society with Ivanka Trump Jewelry & Diane Von Furstenberg screening of 'Snow Flower And The Secret Fan' at the Tribeca Grand Hotel on July 13, 2011 in New York City. (Photo by Stephen Lovekin/Getty Images)

The doctor in the house. Grey's Anatomy star Kevin McKidd has been quoted as a "redheaded, pale-skinned, raw hulk of a man." We agree. Actor Kevin McKidd arrives at the 19th Annual 'A Night At Sardi's' benefitting the Alzheimer's Association, at the Beverly Hilton Hotel on March 16, 2011 in Beverly Hills, California. (Photo by Frazer Harrison/Getty Images)

How can we forget this famous Canadian icon? Anne of Green Gables is one of history's most memorable redheads and actress Megan Follows was perfect for the role.

Look at this long, natural and curly head of hair. Snowboarding champion and professional skateboarder Shaun White probably has to most luscious locks of red hair we've seen on an athlete.Shaun White attends the 'Puncture' premiere at the Angelika Film Center on September 15, 2011 in New York City. (Photo by D Dipasupil/Getty Images)
For more articles like these, please visit my website at http://www.bondingoverbeauty.com and like me on Facebook.


Follow Erika Katz on Twitter: www.twitter.com/@bondoverbeauty