How Olympic Skiers Protect Their Skin on the Slopes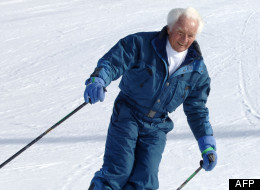 Olympic Skier, Julia Mancuso, is on the slopes every day. While temperatures may be low on the mountain, the sun's rays are still super strong. So, she has teamed up with the Spot Skin Cancer Campaign to help prevent and detect skin cancer early on. Click here to watch her video.
Skin Protection Tips
1. Apply before you ski. Julia always applies sunscreen 15 minutes before she skis so her skin can absorb the sunscreen.
2. UVA/UVB or Zinc. Choose a sunscreen with broad spectrum protection to protect against UVA and UVB rays. For maximum protection, Julia puts zinc oxide on her nose to protect against sunburn. I like sunscreens that contain titanium dioxide because it does not irritate my skin. I find sunscreens that contain avobenzone irritate my skin especially when I reapply. Mineral based sunscreens are another favourite of mine especially if you wear makeup.
3. Reapply. Keep a small sunscreen bottle in your ski jacket so you can reapply every few hours on the mountain. I always reapply after lunch and hot chocolate breaks.
4. Protect your eyes. Since UV rays are more powerful at a higher altitude and rays reflect off the snow, Julia likes to wear a mask or bandana to protect her face and avoid a goggle tan line. Goggles and glasses also help to keep you from getting crow's feet around your eyes.
5. Hats and Helmets. A helmet or a hat is a great way to give yourself some added sun protection. Julia likes her trucker hats or a helmet.
Now you and your skin can enjoy the slopes!
Winter Skin Care: Get Glowing Skin
During the winter months, your lightweight summertime moisturizer just isn't going to cut it. An oil-based moisturizer should do the trick -- just be careful to find one that won't clog pores such as almond or mineral oil. Some oil-based moisturizers may be too heavy to wear during the day, but that's OK -- slather it on overnight and use a lightweight one during the day.

We tend to think the sun goes away after November, but nothing could be further from the truth. The winter sun can actually be more harsh on your skin, especially when it's reflecting off of bright white snow (anyone who's been skiing on a sunny day can attest to this.) Therefore, make sure you keep up with your regular sunscreen routine -- and if you don't have one, try to find a moisturizer or foundation that you can wear everyday that has an SPF of at least 15.

Long, hot showers or baths seem like just the thing to get some moisture into your skin, but they actually have the opposite effect -- prolonged exposure to hot water can actually cause your skin to lose moisture because it opens up your pores. "Skin that holds in moisture is a stronger barrier against irritants than dry skin," New York City dermatologist Dr. Doris Day tells Good Housekeeping. Also, "Heat itself can cause a histamine release, which makes skin itch."

A humidifier "will replace moisture that's lost to indoor heating systems (including a crackling fireplace) and prevent your skin from getting flaky and itchy," says Hollywood aesthetician Sonya Dakar -- who's worked with celebs like Gwyneth Paltrow. It may also help prevent throat tickles and other side effects you can develop from breathing in all that dry forced air.

During the winter months, you don't want to be stripping vital moisture from your pores. If you use a foaming cleanser or an antibacterial soap to wash your face and skin, trade it in for a gentler, cream-based cleanser. You should also purge your alcohol-based toners as they deplete nutrients from your skin.

Studies show that vitamin C is excellent at preventing age-related wrinkles and dry skin (not to mention the common cold), so make sure you're getting lots of fruits and veggies. On the other hand, sugary drinks, alcohol and salty snacks can deplete your body of moisture so stay away from them. And, as always, make sure you're drinking lots of water.

Scrubbing skin off seems counter-intuitive when you're trying to keep your skin moisturized, but exfoliating is an important step you shouldn't neglect in the winter. Exfoliating your face and body "will simultaneously stimulate circulation and your after-shower moisture lotions will sink in more readily," Marcia Kilgore, founder of skin-care line Soap & Glory tells Elle. During the winter months, try to exfoliate at least once a week to get rid of unhealthy dead skin, and don't use any harsh, grainy surfaces -- a soft towel will do.

All skincare products are not created equal, and it's hard to break through all the marketing hype to find out what's really best for your skin. An aesthetician or even a dermatologist can give you personalized product recommendations that will work for your skin.
Follow Erika Katz on Twitter: www.twitter.com/@bondoverbeauty