7 Ways to Spruce Up Your Laundry Room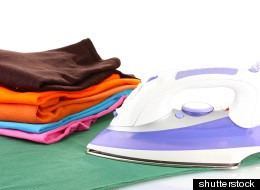 It's hard to imagine the words "laundry" and "inspiration" together in the same sentence. It's not usually a room in which most people want to spend more time.
Yet this was the request from my client, Andrea from Mommy Gearest: makeover her ho-hum laundry room into a space that's bright, functional and cheery. As a busy mother of two young kids -- one of whom wears cloth diapers -- Andrea knows a thing or two about living in a laundry room.
You can read about the details of this laundry room design challenge, but I want to share some easy ways to give your laundry room a facelift:
• The proof is in the paint: Choosing a new paint palette makes a big impact with little out-of-pocket cost. I used Behr Premium Plus Ultra (a primer and paint in one that's seriously the best paint I've ever used) in a bright turquoise as the accent wall, which made the space pop and feel bigger than it really is.
• Lighten up: Another easy improvement is to upgrade builder fixtures or outdated lights. You don't need to spend a lot of money for great lighting -- there are hundreds of options for less than $75 -- and you can incorporate trends like filament light bulbs without shelling out a tonne of cash. Know your DIY comfort level, though. If you barely know where your breakers are, have an electrician install your lighting fixture.
• Save and splurge: Andrea's laundry room came with an ultra-boring white plastic sink, which I replaced with a sink-and-vanity-combo I found on sale for $199. It came with a faucet that neither of us loved; but because the price was so good, we split up the set and upgraded to a beautiful faucet.
• Add some splash: Backsplash, that is. If you haven't considered adding a backsplash to your laundry space, it really adds wow-factor and can be worth the investment. It looks great and saves your walls from water damage, too.
• Know when to fold 'em: There are few more tiresome chores than carrying laundry to another room to dump, fold and repeat. Creating a place to fold and sort was on Andrea's must-have list and, if you can get creative with your space, should be on yours, too. Instead of the usual countertop options, I purchased a piece of raw pine for about $25 and custom cut it for the space, adding three coats of white lacquer spray paint for a modern, glossy finish.
• Shelve it: Without a doubt, shelving and storage equals organization. I used open shelves for easy access, beautiful staging and their attractive price. Odd numbers work well, and if you run into the challenge of studs in odd places (like we encountered), I suggest staggering the shelves and their lengths. I also placed a few $6 fabric storage bins on the shelves to house extra sheets and towels.
• The happy ending: It's the finishing touches that add character. Have some fun and include items that you really like, regardless of their function. Don't be afraid to pull hidden gems from other parts of your home to live a new life, like pasta canisters that can be filled with powdered detergent. Art is another way to instantly boost a room's mood, and we framed some laundry symbol art to round out the staging.
Do you have a laundry room that you love?
This is a great way to store summer items that you won't be using this upcoming season. First, measure the rail from the floor. DIY Network recommends measuring up from the floor 98 inches for rail height and then, one inch less than the length of the wall for width. Then, install the rail, uprights and add shelves. For the complete know-how visit, DIY Network.

Spruce up your kitchen by giving your appliances a makeover. Apply plastic faux tin ceiling tiles with double-sided adhesive tape to the dishwasher for a completely new, textured look. Check out Restyled Home for a full tutorial.

Take advantage of the beautiful weather with an outdoor DIY project. A sitting wall is a stylish addition to any backyard and a great way to add some flair to your landscaping. You'll need to do some measuring and digging before you get started. Once the area is dug out, lay the bricks. Use construction adhesive to make sure the wall is secure. Visit DIY Network for an in-depth tutorial.

There's still plenty of time before it starts to get cold. What better way to enjoy the change of seasons than to sit outside in a homemade chair? After you buy each piece of wood, cut and sand them accordingly, the hardest part is simply screwing all the pieces together. You can then choose any finish or color you want to customize it. Head over to Popular Mechanics for a materials list and full tutorial.

Whether you're unhappy with the water pressure, trying to conserve water or just ready for a new look, changing your shower head might be the answer. All you need is a new one, an adjustable wrench and and Teflon tape. Then, simply remove the old head, wrap the pipe with the tape, and attach the new. Check out Apartment Therapy for step-by-step instructions.

Give your kitchen a mini-makeover this weekend by changing the backsplash. We like this one that mimics tiles and is homemade with drywall compound and paint. After prepping the wall, create your design on butcher paper or on a computer and print. After measuring and marking the area, you will then transfer your design onto the wall and cover it with drywall compound. To finish, sand the surface and apply a ceramic finish or sealer. For a detailed tutorial, head over to DIY Network.

Hanging a coat rack is both efficient and stylish. First, measure the space between each anchor on the rack and mark the wall with the appropriate measurements. Then, just drill holes and place safety anchors into the wall. Finally, screw in your nails and hang the rack! For a full tutorial, visit How Stuff Works.
Follow Erika Veh on Twitter: www.twitter.com/@KismetInterior