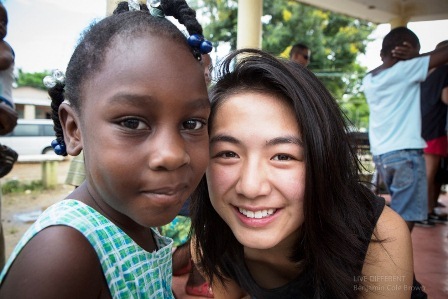 As the warmth fades away, the leaves begin to turn and stores are taken over by sugary treats and everything orange. Canadians know what to prepare for. Yet this spooky holiday isn't the only thing that makes October significant.
This month, we have the unique experience of celebrating amazing women who've inspired us and changed the world.
October is Women's History Month -- a chance to highlight the past and present contributions of women. We recognize their achievements as a vital part of our Canadian heritage. It gives us the chance to reflect on how we've benefited from women activists in the fight for women's equality. Most importantly, it gives us a sense of pride in our historic origins, while providing role models for Canadian women everywhere.
The first famine
Part of this history is Canada's caring for and empowerment of people around the world. One woman in particular who's played a significant role is Ruth Roberts of Calgary.
As a young girl, Ruth was heartbroken to see children in Ethiopia on TV, starving to death. She felt compelled to do something but was plagued by a sense of helplessness.
Those were the days of sit-ins and other peaceful protests -- and Ruth had an idea. She decided to host a "starve-in." Ruth, her close friends and her fellow church members would go without food to make a statement about one cause. Their group of 15 people received pledges from their community and raised $500 to help starving children through World Vision Canada.
Thus, one of the world's biggest global youth movements, the 30 Hour Famine, was born in a small church basement in 1971. It was thanks to the spirit and leadership of a young Canadian woman -- determined to help change the world.
Today the famine is a tool of empowerment for communities all over the world. More than just fasting, it's about helping families achieve more with their lives.
Today, Ruth Roberts and her husband hold pictures of the two children that they sponsor through World Vision Canada.
Young women today are full of their own ideas for making the world a better place.
"It's just that one idea," said Ruth in a recent interview. "It could be anything."
Carrying the torch
Today, as a young person working with World Vision, I'm so inspired by other young Canadian women who are carrying Ruth's torch -- striving to empower those around the world who have less.
Eighteen-year-old Alex Foto from London, Ontario, just came back from a trip to the Dominican Republic (DR). Facilitated by World Vision Canada and Live Different, the trip was a chance for youth to build a home for a needy family -- seeing first-hand how this kind of work can help a community thrive.
Alex formed a special bond with her roommate in the DR, Lissette Alacantara, who worked as a youth leader. Alex was truly inspired by Lissette's love for her work and the children she met. Motivated by Lissette's compassion, Alex was excited to meet other compassionate women devoted to making a difference in children's lives.
Alex came back to Canada determined to keep finding ways to help people who are battling poverty and injustice to change their circumstances.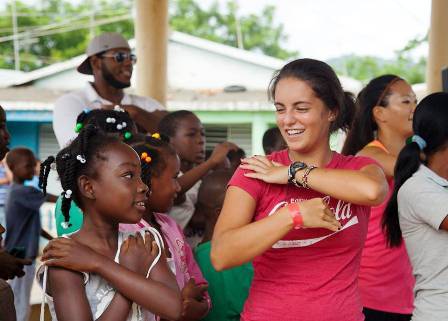 Ontario resident Alex Foto happily learns a cultural dance on a recent trip to Dominican Republic.
"I am very passionate about ensuring that every person, especially young girls, have equal opportunities throughout the world," Alex says.
Alex has led the 30 Hour Famine five times in her home community, and is now an official Youth Ambassador for World Vision Canada.
Inspired to shape the future
Fion Fong is passionate about people. The 17-year-old from Markham, Ontario, was changed by her experience in the DR.
Before attending this trip, she'd taken part in the 30 Hour Famine but was not completely sold on the effect her fundraising was having. She couldn't actually see the change those funds had created. When she was given the opportunity to take this trip, Fion leapt at the chance.
"This trip opened my eyes to a line of work I have never considered until now: humanitarian work," says Fion.
Many young Canadian leaders who travel overseas are inspired by the very people they're seeking to help. For Fion, one of these people was Joha Reyes. A mother of five, Joha had been left to care for the children alone, when their father abandoned the family. She and her children were overjoyed to be moving into a house which the visiting group helped to build. Fion was humbled by Joha's ability to persevere, despite her difficult situation.
"She is strong because, although life has dealt her something hard, she has not hardened," says Fion.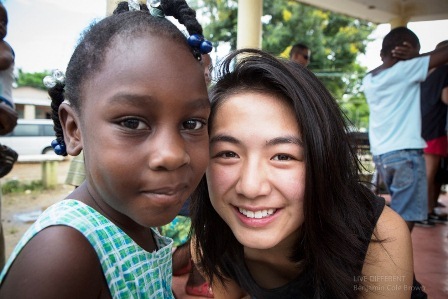 Fion formed many unforgettable relationships on her trip. Photo courtesy of Benjamin Cole.
"I now feel that, because I have what I have, it is my responsibility to help others who do not. I am responsible for giving back. I am responsible for getting up and taking action," she says.
Fion's next steps are to attend university for architecture and then use these skills overseas.
"I want to design housing that's both cost-efficient to build and effective," says Fion. "Maybe it resists a certain natural disaster, or it allows them to have access to their own food or water supply."
Charting history
Over the decades, many young Canadian women have left their comfort zones to bring strength to young women overseas -- and be inspired by these same young women in the process.
Their journeys have just begun, but the possibilities are endless. We celebrate this month by remembering those who've accomplished so much and those who play a role in creating Canada's history of caring, from here on.
Visit www.worldvision.ca/gifts to help girls and women in crisis around the world.
Aariak, 58, worked as a journalist, operated a retail store and also served as the first languages commissioner of Nunavut before deciding to seek election in 2008. Aariak said she was "floored" and "disappointed" about being the only woman elected that year, and suggested the territory revisit a proposal for gender parity in the 19-member legislature. Aariak was chosen premier under the territory's consensus style government, and was sworn in as Nunavut's second premier and first female leader in Nov. 2008. She has four children and three grandchildren. — The Canadian Press

The 60-year-old was a town councillor and deputy mayor of Burin before being elected to the legislature in 2003. She served as minister of innovation, trade, rural development, natural resources and as deputy premier. She was sworn in as the province's first female premier in Dec. 2010 after her highly-popular predecessor resigned. Dunderdale became Newfoundland and Labrador's first elected woman premier less than a year later, leading the Conservatives to a third consecutive majority government in Oct. 2011. She is widowed with two children.

The 47-year-old lawyer was first elected in 2008, after working for former prime ministers Joe Clark and Brian Mulroney. She also travelled the globe instituting democratic reforms in places like Mozambique, Namibia and South Africa. Redford served as justice minister before winning the party leadership and being sworn in as premier in Oct. 2011. She led the Progressive Conservatives to another majority victory in a provincial election in 2012, an upset after a slew of polls had suggested the Wildrose party was en route to ending the PC dynasty. Redford is married and has one daughter, Sarah.

Clark became the second woman to serve as B.C. premier when she took office in March 2011, 20 years after Rita Johnston — the first female premier in Canada. The Sorbonne-educated politician was first elected to the legislature in 1996 and was appointed deputy premier and minister of education in 2001. The 47-year-old took a break for five years in 2005, working as a columnist and radio show host, but returned to politics in 2010 in a successful bid for the leadership of the Liberal party.

Marois was a social services administrator, political attache and university professor before entering politics. She was first elected to the legislature in 1981 and held various cabinet portfolios in PQ governments, including finance, health, and education, as well as deputy premier for two years. She twice lost the leadership — in 1985 and 2005 — but was acclaimed as PQ leader in 2007. She lost the 2008 election, but led her party to a minority victory in Sept. 2012. Marois, 63, is married with four children.