How to Be a Caregiver Without Losing Your Career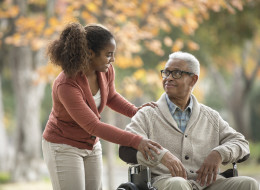 If you are currently transitioning from a full-time career to a full-time career and caregiving, you know how challenging it can be. Finding the right balance can seem near impossible, which leads to overwhelming levels of stress and concern. Family is priority but what about your career?
The number of unpaid caregivers in Canada continues to rise, as more and more family members require care. As a caregiver, you know that your duties are a full-time role in itself. Although caregiving is time-consuming and mentally draining, more than 70 per cent of American caregivers also have another job.
It's inevitable that one of these roles will be spread thin. If not, you will be spreading yourself thin, increasing your risk of burnout. If you are currently working a job while caregiving, you're not alone. There are strategies you can take to improve your current workload, while aiding your overall health.
Finding the Right Balance Between Your Career and Caregiving
As mentioned, a family member in need is always going to be priority in terms of your time and resources. We want the people close to us well, which is why we're willing to do whatever it takes to see them comfortable and stable. With that being said, completely leaving your career could significantly hinder various aspects of your life.
The most obvious area is finances. Not only will your income significantly decrease, but you will significantly impact your retirement. Having to leave your career at the age of 50 can have dramatic effects on your own personal future and well-being.
The most successful transitions are experienced when caregivers work within a career that is highly flexible. For those who own their own business, freelance, or any other position which offer a flexible schedule, can most certainly adjust more easily. Unfortunately, this is not the case for everyone.
For those who are struggling, what do you do? Before you make any major decisions, it's important to weigh your options carefully. Seek opportunities that offer the greatest levels of support and flexibility. In a perfect world you could balance both, but as many are finding out, one role's duties are not always met.
Tips to Maintain a Career and Your Caregiving Responsibilities
The choices you make now, can drastically influence your future. You CAN integrate both roles, you just need to plan effectively. Here are some tips so that you can properly care for your loved one, while maintaining an ideal income.
Understand What You Can Expect
Each and every situation is unique, so you need to understand what your personal circumstance will require of you. Preparation is key, as it will help you avoid chaos and potential burnout. Begin by educating yourself on your loved one's condition.
If they have early onset Alzheimer's, understand what that means and how the disease will progress. This increased knowledge will help you create a more thorough plan. What will be required of you short-term? What about long-term? Based on these requirements, you can then plan for career opportunities.
Proper scheduling will also make a substantial difference. What is your current schedule like? Planning ahead can make all the difference. There will of course be unexpected meetings or doctor's appointments but there will always be tasks in which you can plan in advance.
Don't Isolate Yourself
You would be amazed how support can positively impact your personal and professional life. Personal support tends to be easier to come by, as family and friends tend to have your best interests in mind. If you're feeling overwhelmed, reach out to a loved one.
Perhaps they could help you with some of your ongoing tasks. However, their emotional support is sometimes all you need. When it comes to professional support, sit down with your boss sooner than later. Explain your situation, so that your employer is fully aware of your current situation.
Focus on the positives, so that your employer knows you're still serious about your position. Try to work out new arrangements, discussing ways that you can accommodate work. Perhaps you need to take your mom to a dialysis appointment twice a week. If there's wifi on site, arrange for work you can do outside of the office during those dialysis hours.
Put yourself out there in terms of professional support. If your employer is not very responsive, then you may need to think of new opportunities and options. Either you explore caregiving options such as in-home care or adult daycare; or you explore new employment opportunities which allow you to focus on caregiving.
Each situation is unique, so you need to do what's best for you and your family. Stay organized and do not forget to take time for yourself. If you need further support, here are some great tips from the Canadian Caregiver Coalition.
MORE ON HUFFPOST:
13 Resources For Caregivers
Talking with other people who face the same daily challenges can help caregivers manage stress. Specific types of support groups can vary on a community-by-community basis; check out this Caregiver.com guide to find the right program for you.

Caregivers have their hands full and may not have the time to meet with an in-person support group. In that case, an online support group can be a great alternative.

Support groups not your thing? You can see what other people are saying about caregiving by just checking out a simple message board, such as this one sponsored by AARP..

You may need to attend an event or simply seek a few hours for some much-needed rest. Eldercare.net offers a Search For Respite Tool or Eldercare Locator where you can find professional help. Also check out this guide from caring.com for more respite-care ideas.

Does your loved one need transportation to go buy food or go shopping? There are numerous van and shuttle services specifically for seniors. Contact your local Area Agency On Aging for one near you.

Don't have time to shop and cook? Consider a service that will deliver gourmet meals to your home, no matter where you live. For low-income seniors in need, AssistGuide Information Services offers a directory of food services available.

During the 2009 economic downturn, 1 in 5 family caregivers said their finances were so strained that they were forced to move into the same home with their aging loved ones to reduce expenses, according to a survey by caregiving.org. Some 47 percent of working caregivers indicate that an increase in caregiving expenses caused them to use up all or most of their savings. The Many Strong Support Network has a fundraising tool which allows other people to anonymously donate funds to people who are under financial strain.

If ever you have a question about resources, or need support at a moment's notice, AARP's caregiving support line is available at 1-877-333-5885, Monday through Friday, 9 a.m. to 5 p.m. Senior care advisors for Care.com, also provide free counseling for caregivers, and help them map out the best course of care for their loved ones.

Organized caregiver co-ops can provide an affordable way to coordinate care for your loved ones. Check with local community centers or this Adult Day Care Directory to see if someone in your area has already started one.

Care.com's Senior Care Directory can set you up with a housekeeper, errand runner, pet sitter, or whatever you need to make the caregiving experience a little more manageable.

According to author of "The Medical Day Planner", Tory Zellick, hospital social workers are a great resource for all caregivers. "[Hospital social workers] are always armed with information for your community," said Zellick.

Websites like Lotsahelpinghands have caregiving communities that connect volunteers with caregivers in need of support or help.

Family gatherings offer a great opportunity to discuss the future of loved one you care for, says Dr. Bruce Chernof, president and CEO of The SCAN Foundation. The group offers a guide -- "10 Conversations To Plan For Aging With Dignity And Independence" -- to lay the groundwork for these critical discussions.
Follow Eva Zatrak on Twitter: www.twitter.com/EvaZatrak