Why Muslims Around The World Are Fasting For Ramadan
The month of Ramadan has just begun for over a billion Muslims around the world; thirty days of fasting from sunrise to sunset. While it may sound harsh to some, as Muslims there is so much beauty in Ramadan and what it represents. When Muslims fast (in our case for almost 18 hours) it invigorates your other senses in many ways. For myself and my community it's a beautiful time of charity, giving to the poor, spending time with friends and family and connecting with one another.
For those who don't know, Muslims who are either pregnant, nursing, elderly or not yet at the age of puberty do not need to fast; the same goes for those who are ill or whose health would be adversely affected by their fasting.
In many ways, as a Muslim born and raised in North America, Ramadan is like a communal hug.
Growing up, I used to beg my parents to fast. Mind you, the days (and fasts) were much shorter back then. It really used to mean waking up just before school, eating, going to school and then coming home and breaking your fast a short while later. As Islam follows a lunar calendar, Ramadan moves earlier and earlier each year. This year, it happens to coincide with some of the longest (and hottest) days of the year.
For now, my kids fast half days though they wish they could go longer. They will have the morning meal and then fast until lunch (or when they get hungry), then wait until supper. If it's too hot or they have an activity planned I encourage them not to as they are still young and it is not compulsory on them.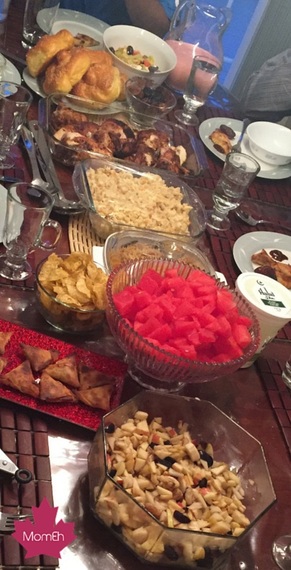 In many ways, as a Muslim born and raised in North America, Ramadan is like a communal hug. We get to see friends and family several times a week (something that we might otherwise not do), we also get to share communal meals. Some of my children's favourite memories of their summer so far is of swimming at their friend's place then staying over to share a late night (8:45pm or so) meal consisting of all their favourites. There is no specific food or drink. As there are Muslims around the world, the food varies from country to country.
To me personally Ramadan represents a time of introspection, reflection, and taking care of my community.

The breaking of the fast is referred to as Iftar (If-taar). For those of us born and raised here some of our favourite summer meals tend to be made on the grill. Nothing like sharing a big barbecue dinner with fresh salads or rotisserie chicken with all the fixings with friends. Fruit and dates are usually aplenty as it's important to re-hydrate your body. Dates have so many health benefits.

In the morning, we share what is called Suhoor (Suh-hoor) which is a pre-dawn meal. In our case, in Montreal, that means somewhere around 2:30-3:00am. I shared a couple of great recipes to help hydrate and keep you full on Breakfast Television Montreal.

While some friends have joked that we must be thrilled when Ramadan is almost over,
the truth is it brings a sadness. We don't want it to end. So many of us fall in love with the feeling of charity, selflessness and community that we associate with the month.

I'll miss sitting around the table with my friends and family who have fasted. The impromptu potlucks where a bunch of friends will get together with whatever they had made for home, and just share a meal, giving to charity but most of all, giving of ourselves. To me personally Ramadan represents a time of introspection, reflection, and taking care of my community. As a mom I am honoured to pass these memories and traditions on to my children.

The month is coming to an end. Soon the long fasts will be gone and life will return to its regular routine. Before it does though, we will celebrate Eid-ul-Fitr. We will dress up in our finest, pray as a community, then share gifts and goodies with our friends, families and neighbours. Looking after one another and celebrating our differences is an inherently Canadian value, and I am honoured to celebrate it as a Muslim woman.
This post was previously published on CanadianMomEh.com
Follow HuffPost Canada Blogs on Facebook
ALSO ON HUFFPOST:
How To Keep Energy Up During Ramadan
"The goal in Ramadan, especially in the summer months is to stay hydrated and fueled," says registered dietitian Anar Allidina. In addition to water, you might want to consider drinking a nutritional supplement which can provide you with a boost of protein, healthy fats and nutrients.

During Ramadan you may be tempted by sugary snacks and processed foods, but what your body really needs is nutrients. Opt for complex carbohydrates like steel cut oats, rye, barley, brown rice, quinoa, berries, apples and oranges which have a low glycemic index and do not spike blood sugars. These types of foods should be included in each of your meals during Ramadan.

"Fats provide us with essential fatty acids that protect our organs and help regulate our body temperature. They also nourish our skin, deliver fat­soluble vitamins, and are a great source of energizing fuel," says Allidina. Some of the best sources of these fats are nuts, butters, oils and avocados.

"Protein is critical in maintaining the structure and functions of our body and is particularly helpful in building muscles. Protein is also important for repair and maintenance and transport iron and oxygen to all our cells," says Allidina. Protein can also keep you feeling full. But try to avoid processed proteins and seek out whole proteins like fish, chicken, eggs, beans, nuts and low fat dairy.

Traditionally, dates are consumed after sunset. "Dates are a great quick source of energy and are filled with potassium, fibre, vitamins A, B and K," says Allidina who recommends only consumming one date as it is naturally very high in sugar. To keep yourself from consuming more, Allidina suggests having a smoothie filled with greens, berries and coconut water.

Following a small snack, prayers are said before iftar (the first meal after fasting). During this meal Allidina recommends consuming a mixture of lean protein, complex carbs and fat. She also suggests drinking 16 ounces of water to fill you up.

An hour after dinner you might start to feel hungry again. If this is the case snack on a handful of nuts or an ounce of cheese and fruit while drinking another 16 ounces of water.

Allidina suggests having some Greek yogurt with fruit or chia seed pudding or sprouted grain toast before bed. And don't forget to drink another two glasses of water!

Depending on where you live the sun could come up as early as 4 a.m. Wake up early and enjoy a meal of steel cut oats, a hard boiled egg and buttered toast before you begin your fast again.
Follow Fariha Naqvi-Mohamed on Twitter: www.twitter.com/canadianmomeh