5 Adventures You Can Only Have In Canada
Canada is the world's second largest country, and the diverse landscape that comes with that much territory means there are infinite adventures to be had. However, a number of Canada's coolest excursions are those that are distinctly Canadian. The following five adventures are the best of the best that you can only have in the Great White North.
Get Your Adrenaline Pumping on the Glacier Skywalk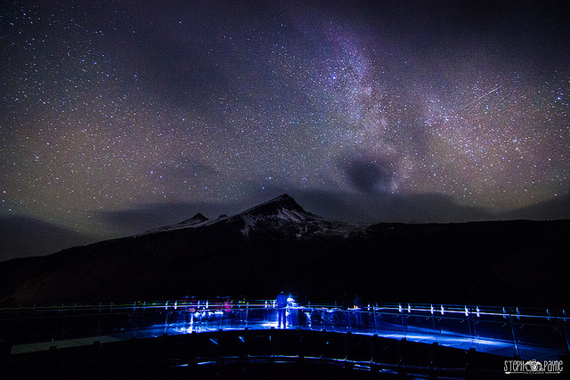 Alberta's Jasper National Park is no stranger to wild adventures, but the Glacier Skywalk offers a jaw-dropping adventure beyond the park's storied mountain peaks. The Skywalk, a glass walkway protruding from a cliff and dangling 918 feet above ground, offers arguably the best views of the Canadian Rockies in the entire country. The glass-bottom walkway is guaranteed to give you goosebumps, but the views of valleys carved by glaciers, waterfalls and snow-covered mountain peaks make it well worth the adrenaline boost.
Spot Icebergs in Twillingate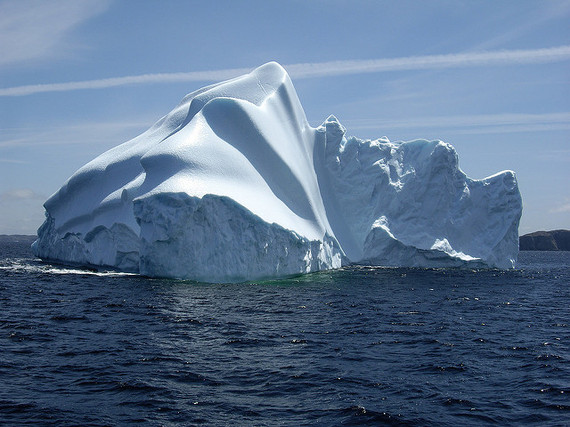 The small coastal town of Twillingate offers a unique experience for visitors between the months of April and June. Gleaming white and blue icebergs float through the area's waters from the arctic, creating a show for all to enjoy. Visitors can hop on one of a number of Twillingate Island's boat tours, which will take you shockingly close to the action.
Take a Dog Sledding Tour in Banff National Park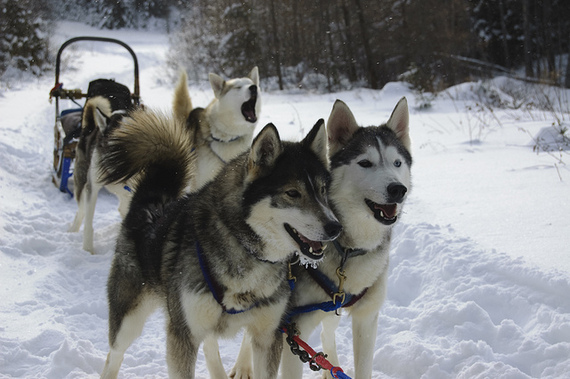 Canada isn't the only country that boasts dog sledding as a must-do activity, but it's the only place where you can dogsled through Canada's first national park. Cruise through tree-covered mountain valleys, passed glaciers and along rivers with a team of huskies on a half or full-day tour of some of Banff National Park's most picturesque scenes.
Surf Legendary Swells in Tofino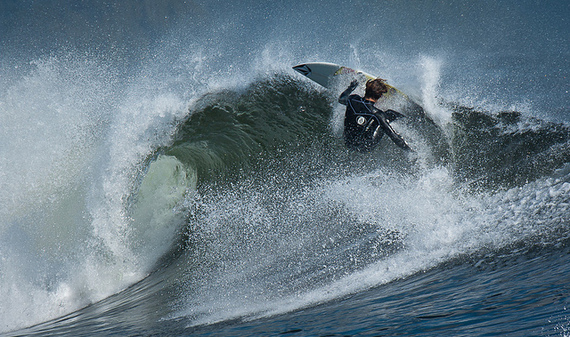 Planning a dream surf trip? Look no further than Canada. It may not be the most famous surf destination in the world, but that's part of what makes the shores of Tofino so special. Canada's surfing capital offers 35 kilometres of beach breaks that are suitable for all levels of wave riders. The chilly water, which hovers around 10-degrees Celsius, keeps crowds at bay, but bring a wetsuit, gloves and booties, and you'll get a taste of the area's fabled strong and consistent swells.
Ski Chest-Deep Powder on Duffy Lake Road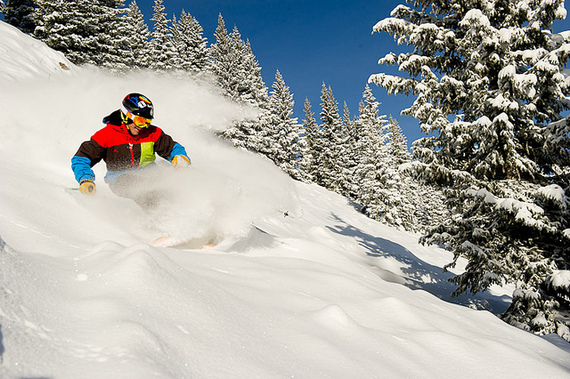 Canada is home to some of the world's best ski resorts. However, some of the most unforgettable snowy adventures are those that can be had off-piste. Duffy Lake Road, located an hour north of Whistler, has become known its abundant snowfall and resistance to B.C.'s coastal meltdowns. If you're looking to make first tracks on some of the world's best big-mountain terrain, Duffy Lake Road (Highway 99) is a hidden gem for avid powder enthusiasts. Don't forget to check the area's avalanche report before you go.
Follow HuffPost Canada Blogs on Facebook
ALSO ON HUFFPOST:
Best Travel Destinations For Canadians
Best time to travel: April, May, September, October Average price: $700 to $900 Why you want to go: Even if the Euro scares you more than the U.S. dollar does, Spain is still considered a budget-friendly country with low accommodation costs. "Spain has something for every traveller's needs whether it be a relaxing beach vacation in Malaga, exploring the Alhambra Palace in Granada or visiting the famed Sagrada Familia in Barcelona. Spain is also famous for their tapas and you can get tapas and drink for $5," says Rishi Modi of travel deal site Next Departure.

Best time to travel: April, May, September, October Average price: $700 to $900 Why you want to go: For Canadians, Lisbon is one of the cheaper European cities to fly into. "It's a lively city with delicious seafood and cheap drinks. Take advantage of its inexpensive public transit to visit the historic Sintra, go to a winery in Porto and enjoy the Mediterranean weather on a beach in Faro."

Best time to travel: December to March Average price: $900 to $1,200 Why you want to go: Getting to Thailand can be pricey depending on the time you go, but once you're there, everything can fit into your budget. "Food from street vendors and markets costs you $4 to $5 and accommodations can run you as low as $20 a night [depending where you stay]. Thailand has tons of attractions to offer travellers, from trekking in the jungles of Chiang Mai to relaxing on tropical islands like Ko Samui."

Best time to travel: October to May Average price: $900 to $1,200 Why you want to go: Marrakech was named Tripadvisor's number one destination in 2015, according to travellers. "Explore the ancient palaces, shop in the markets of Marrakech and stay overnight in the Sahara desert. Food is inexpensive in local restaurants and street stalls, while accommodations are reasonably priced."

Best time to travel: Depending if you go north or south, you want to avoid cold or rainy seasons. Late December is usually the best. Average price: $900 to $1,100 Why you want to go: If you're an urban explorer or nature lover, Vietnam offers both. "Vietnam is another South Asian destination that continues to be budget-friendly with beautiful sights, including cruising along Halong Bay and visiting the rice terraces. Food is remarkably cheap — a meal and beer can cost under $3."

Best time to travel: April, May, September, October Average price: $900 to $1,100 Why you want to go: If you want to go to Europe and still have spending money, Modi suggests avoiding popular destinations like France and Italy and opting for Eastern Europe instead. "From Hungary to Romania to Bulgaria, these Eastern European countries are rich in diverse culture and its modern and historical architecture."

Best time to travel: April, May, September, October Average price: $700 to $900 Why you want to go: "Peru is known for its geographic diversity, from exploring the vast Amazon jungle to hiking the Inca Trail to relaxing on the beach coast," he says. But Peru's most famous attraction is the ancient site of Machu Picchu — a must-see if you decide to go to this South American country.

Best time to travel: April, May, September, October Average price: $1,000 to $1,200 Why you want to go: Indonesia has thousands of islands and Bali is one of the most luxurious and popular ones. "Food and hotels are extremely cheap, where you can enjoy tasty meals from $1 to $2 and spend as little as $20 per night on accommodations." However, if you do plan on renting out a villa or eating on Seminyak's main tourist strip, it can feel like dining and living in a major Canadian city.

Best time to travel: January to March; September to November Average price: $600 to $1,000 Why you want to go: If you haven't been to Cuba, you probably know several Canadians who have — the Caribbean island is one of the most popular beach destinations for Canucks. "All-inclusive packages are affordable and offer a bang for your buck. If you're really flexible, you can often find last-minute cheap deals on flights and all-inclusive packages."

Best time to travel: January to April; September to December Average price: $350 to $650 Why you want to go: We're not saying you should head to pricey destinations like Hawaii or Las Vegas, but some U.S. spots have taken advantage of our falling currency. "Myrtle Beach, Kissimmee, and Scottsdale are starting to offer deep discounts — around 20 to 30 per cent off accommodations, free meal vouchers and discounts off activities. Also, expect major airline carriers alongside the low-cost carriers stateside such as Allegiant and Sprint to offer discounts and seat sales as well." And when you look at your budget as a whole, many U.S. destinations tend to be cheaper than leaving the continent.
Follow Flight Network on Twitter: www.twitter.com/FlightNetwork