Canada Is Home To The Coolest, Wildest Theme Parks In The World

Photo credit: Jeremy Thompson
The world's most famous theme parks, like Walt Disney World Resort and Universal Studios, attract summer travellers in droves. However, many don't know that we have some of the best theme parks in the world right here in Canada. You don't have to spend your savings on costly hotel rooms, outrageous entrance fees and flights for the whole family to enjoy these underrated parks located throughout the Great White North.
Calypso Water Park -- Limoges, Ontario
Consistently rated the best water park in the country, Ontario's Calypso Water Park is exactly what you need on a hot summer day. The park features 35 waterslides, including the lighting fast "Adrenaline" slide and the famous "Black Hole," as well as more than 100 water games, the largest wave pool in the country and plenty of slides and splash pads for the little ones.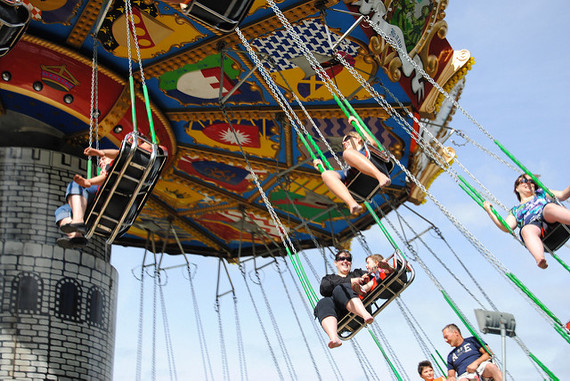 Photo credit: Courtney Walker
Calaway Park -- Calgary, Alberta
Calaway Park has been making summer more exciting for 35 years. This Calgary warm weather staple features an abundance of thrilling and family-friendly rides, ranging from the extreme Vortex coaster to Bumper Boats and the soaking wet Timber Falls log ride. In addition to rides for every level of thrill seeker, the park features a scenic adult- and kid-friendly railroad, games, food, shows, shops and the must-see Robinson Crusoe Cinemagic 3D experience.
Playland at the PNE Vancouver -- Vancouver, British Columbia
Travel back in time while still getting your summer thrills at the Playland amusement park at the PNE Vancouver. This historic park opened in 1958 and still features the original Wooden Roller Coast assembled the same year. However, not all of the rides are old-fashioned. Visitors can get a serious adrenaline rush on "The Beast," Canada's most extreme pendulum ride, or enjoy more low-key fun with the park's abundance of games, family-friendly attractions and summer-long events.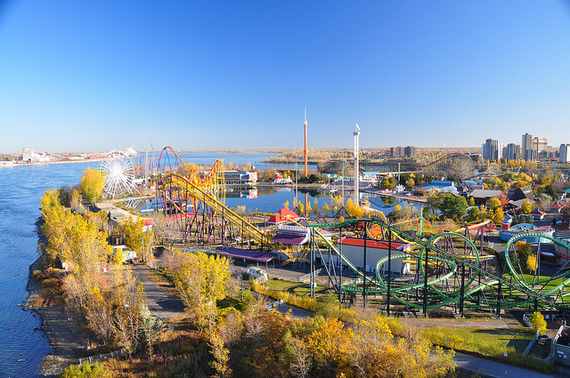 Photo credit: abdallahh
La Ronde -- Montreal, Quebec
La Ronde is the second largest amusement park in Canada and arguably the most exciting. The park, owned and operated by Six Flags, features all of the adrenaline-pumping rides visitors expect from the famous amusement park group. Adrenaline junkies have to ride the Boomarang, Cobra, Goliath and Demon coasters as well as the brand new "The Vampire Backwards" backwards roller coaster debuting in the summer of 2016. Family and kid's rides as well as delicious park eats and annual events make La Ronde a must-visit summer destination.
Canada's Wonderland -- Vaughan, Ontario
Canada's Wonderland is the country's largest and most famous park, and that's for good reasons, too. The park is home to more than 200 attractions, ranging from the hair-raising Leviathan coaster (the fastest and tallest in Canada) to the soaking slides at the Splash Works Water Park and the kid-friendly Planet Snoopy attractions. If you're looking for a park that's guaranteed fun for the entire family, Canada's Wonderland should be on your summer of 2016 bucket list.
Follow HuffPost Canada Blogs on Facebook
MORE ON HUFFPOST:
And that goes for everyone! Before you head out for your theme park adventure, get familiar with the park's layout and major attractions. What time does the park open? When do the fireworks start? Use this info to begin crafting a plan of attack that satisfies everyone's interests.

Avoid lines at the park entrance and potentially save a little cash by purchasing your tickets online. Many parks, including Walt Disney World, offer discount codes and special offers for online purchases.

Choose a time that not only works for your family's schedule but one that allows you to beat the crowd. Park websites often feature advice on the best time and days to visit.

Try getting to your destination a few minutes before opening. This way, you can have the park to yourself for a couple of hours before the crowd pours in. Some parks even offer special perks that let guests take advantage of extended park hours, such as Walt Disney World's Extra Magic Hours program.

Avoid multiple potty breaks by making sure everyone takes a visit to the little boys or girls room before you head to your rides of choice.

Start with a few pre-decided, "non-negotiable" activities to do together as a group before tackling the rest of the park. Avoid long lines by hitting the more popular rides as soon as the park opens. Or, skip lines altogether, by seeking out special offers that let you reserve a spot on your favorite attractions before your trip such as Disney Park's FastPass.

While it's tempting to simply follow the crowd, make an effort to go against the grain. If you see a large group of park-goers headed in a specific direction, try the opposite route.

Keep track of your little ones by writing your phone number on a piece of paper and slipping it into a sock or other secure pocket in case of emergency.

Lets face it – not all of us are tall enough to enjoy all that a theme park has to offer. But, that doesn't mean you have to split up the group to have a good time. Make the most of family time and keep everyone satisfied by seeking out activities you can all enjoy. Thrill-seeking families can hit up some of the park's more intense rides and roller coasters while less adventurous broods can plan a day full of parades, fireworks, and walking tours (Because who wouldn't love to see where the wild things roam at Disney's Animal Kingdom?!)

Protect your cell phone and electronics against seemingly inevitable water damage by carrying them in Ziploc bags. Be sure to pack an extra battery or portable charger in case they conk out.

Fun. Over. Everything. Chances are you won't get the opportunity to get on every ride. Just remember to have fun and let the adventure take you where it may!
Follow Flight Network on Twitter: www.twitter.com/FlightNetwork