Panama's Postcard-Worthy Bocas Del Toro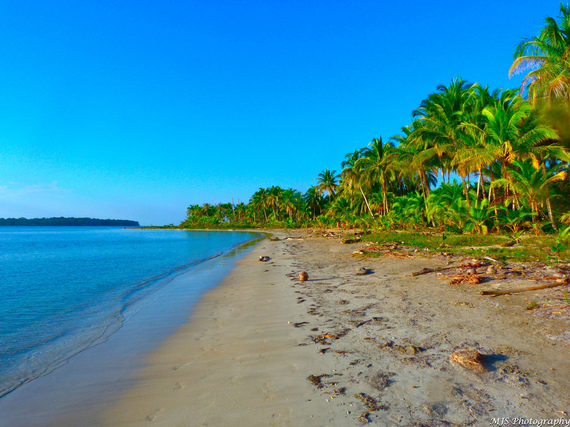 Photo credit: Marissa Strniste (Flickr)
When you're searching for a Caribbean vacation destination that's loaded with character, picturesque scenery, and laid-back beach vibes, there's no better place to look than Panama. The Central American country's Caribbean coast receives less praise than its canal, ultra modern capital city and Pacific beaches, but has just as much to offer.
This guide to Panama's Bocas del Toro, affectionately known as Bocas town, will probably make you start researching plane tickets.
What Is Bocas del Toro?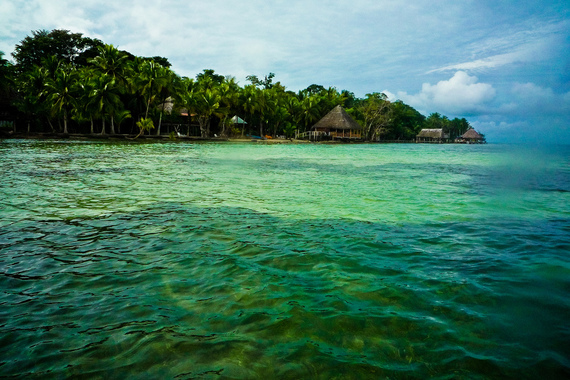 Photo credit: Roman Königshofer (Flickr)

You may have heard someone mention Bocas del Toro but didn't truly understand where they had been. That's because the Bocas del Toro Archipelago lies in the Bocas del Toro Province and is home to a town named Bocas del Toro.
The Bocas del Toro Archipelago is home to six major islands, 200 islets and 52 cays. The mixture of Afro-Caribbean, Panamanian and indigenous Ngobe tradition give the entire archipelago a unique flavor that can't be found anywhere else in Central America or the Caribbean.
Bocas del Toro, or Bocas town, was developed in the early 1900s, and it has since become a must-visit homebase for adventures across the beautiful Bocas del Toro archipelago. The colorful Caribbean houses, laid-back beach vibes, towering palm trees, happening bars and low-key restaurants have made this a hotspot for tourists and one where many have decided to stay.
What Can I Do There?
The opportunities for beachy outdoor adventures are endless in this palm-tree studded archipelago. Water taxis, or taxis marinos, will take you away from the bustling town to secluded beaches and shallow, crystal-clear waters that are known for providing some of the world's best snorkeling experiences. Birdwatching, surfing, sailing, forest trekking, diving Neptune's Gardens and exploring indigenous Ngobe villages are just a few of the many activities that visitors enjoy every day.
Although, you may find it difficult to leave the funky Bocas town with its bright colors, historic architecture, friendly locals, delicious eats and famous nightlife. It's difficult not to let loose when you're surrounded by the laid-back vibes and natural beauty of Panama's Caribbean coast.
Where Should I Stay?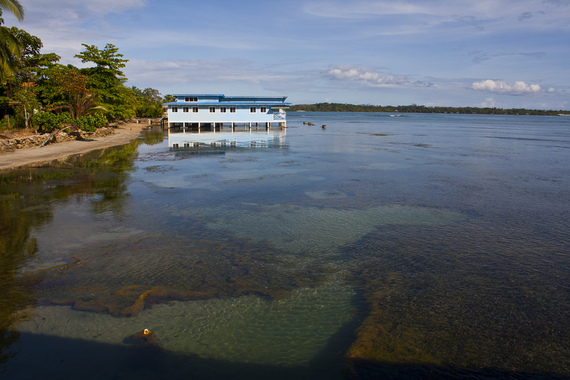 Photo credit: Martin Garrido (Flickr)
Bocas del Toro offers accommodation options for everyone from backpackers to travelers seeking a high-end, resort-style getaway. Visitors can rent Caribbean style bungalows perched above the turquoise water at Azul Paradise Hotel, enjoy all-inclusive luxury at the Hotel Popa Paradise Beach Resort or rest affordably at the Selina Bocas del Toro hostel-style accommodations.
Know Before You Go

Panama is one of the easiest Central American countries to visit. The official language of Panama is Spanish, but English is widely spoken in Bocas del Toro and many commonly visited areas of the country. Panama's legal currency is the Balboa, which is equivalent to the U.S. dollar. This crossover of currency makes it easy for Americans to know the cost of souvenirs, food and accommodations without having to use a calculator. The Banco Nacional de Panama is always a safe and convenient place to use the ATM or exchange traveler's checks.
If you're looking for an affordable place to escape, soak in the Caribbean vibes and enjoy tropical island scenery (above and below water), it's time to think outside the more commonly visited Caribbean islands to the picture-perfect beaches of Bocas town.
Follow HuffPost Canada Blogs on Facebook
ALSO ON HUFFPOST:
10 Ways to Win at Budget Travel
You booked a dream vacation and ended up spending way more than you expected. What happened? Yes, it's your vacation and you should make the most of it, but it's also important to make sure you can pay the bills when you get home. Here are 10 money saving tips to follow when planning your next vacation.

When it comes to booking, timing is everything. Prices on both flights and accommodations can vary wildly depending on when you book. Follow these three guidelines to maximize your chances of getting the cheapest options: Book in Advance: Whether it's a flight or accommodation, you're more likely to get a better price booking ahead of time—but, that isn't to say that you can't find last minute deals. The exact amount of time to book in advance will vary by destionation—check out TripAdvisor's "Best Time to Book" for upcoming summer travel—but many hotels will offer up to 20 percent off for booking in advance, and according to CheapAir.com, 54 days in advance is the magic number for booking the cheapest flights. Of course, timing is everything and there is no "golden rule", but earlier does tend to prove to be cheaper. Book a Stopover: If you're going on an international trip, consider taking a stopover to make the most of your journey by getting to experience a second destination for a much lower cost. Here are the top airlines that offer free stopovers. Book Travel for Midweek: If you can avoid travel on a weekend, you're going to have instant savings in most destinations. Fares are usually lowest on Tuesdays and Wednesdays, so it might be worth evaluating if the money you'll save makes up for using a few extra vacation days. RELATED: 14 Myths About Booking Cheap Flights (Photo: Thinkstock/iStock)

From couch surfing to house sitting, there are dozens of ways to cut travel costs or trade a service for accommodations. Hostels are a more traditional low-cost option, and new higher-end brands like Safestay and Generator Hostels offer hotel-like amenities. Couch surfing, staying in a university dorm, and KOA camping are other budget-friendly ways to save on accommodations while traveling, if you're willing to sacrifice a bit of comfort and added amenities. WWOOFing (World Wide Opportunities on Organic Farms) is one way to travel and stay for free in exchange for your work on a farm. Another alternative is to pet or house sit in exchange for accommodations through a site like TrustedHousesitters, or to house swap (HomeExchange) or night swap (NightSwapping). (Photo: Thinkstock/iStock)

Savvy travelers know that you can't just take any regular ATM or credit card abroad. Foreign transaction fees and ATM fees can add up quickly, so it's important to choose your cards wisely. Many credit cards now offer cards without foreign transaction fees, which will save you the two to three percent that other cards tack onto every purchase, so make sure the card you are primarily using abroad doesn't have these fees. ATM fees can also take a heavy hit on your wallet, so check with your bank to see what its ATM access fee is in foreign countries. Choosing a bank that is part of the Global ATM Alliance is also a good option for frequent travelers, as it will not charge an international ATM access fee—but beware: Depending on the card, you might still end up with international transaction or foreign currency fees. Another alternative is to take out larger quantities of cash a few times during your trip to avoid racking up fees with multiple smaller withdrawls—just make sure you are carrying your money carefully. RELATED: The Worst Credit Card Gotchas to Avoid When You Travel (Photo: Thinkstock/iStock)

Walking is often the best way to see a city, plus it's free and a great way to work off those extra scoops of gelato. By walking and booking accommodation close to the sites you want to see, you'll cut costs on transportation and be less likely to spend extra cash on taxis or ride shares. Many cities also offer free walking tours, and many of the best sites in cities are parks or architectural buildings you can see for free. (Photo: Thinkstock/iStock)

From AAA cards to student and senior discounts, there are plenty of discounts out there just waiting to be used. For American frequent travelers, AAA cards are a must, as they offer discounts at most major hotel chains, on Amtrak tickets, at stores and attractions, and they provide roadside assistance. Sites like Groupon and Living Social are packed with deals on travel, restaurants, activities, and travel gear—just make sure you read the fine print in the offerings. Many U.S. tourism boards are also great resources for discounts, offering coupon books, maps, recommendations, hotel discounts, and trip planning services. And, if you qualify as a student or senior, you tend to get even more discounts for transportation, museums, and attractions. RELATED: Tried and True Student Discounts in Europe (Photo: Thinkstock/Photodisc)

Spend a little extra time preparing and packing to save money when you're on your next trip. Make sure to use a bag that fits the carry-on restrictions to avoid checked bag fees (and to save you time at the airport). And be sure to abide by weight limits if you're traveling on an airline that's a stickler for this rule (most budget airlines are). When packing, make sure to have a checklist with all necessities—especially medicine, first aid kit essentials, and proper toiletries—as certain things tend to be a lot more expensive abroad (or at the airport). Speaking of …

Everyone knows this by now; there's an airport markup on many items. While you can't do much if you forget an essential at home, don't replace forgotten items at airport shops unless you want to spend more than you need to. To avoid high airport prices, pack an empty water bottle and refill it after security, bring your own snacks, shop for books and magazines before you travel, and make sure you have all of necessary toiletries, medicines, and essentials in your personal item before you leave for the airport. Finally, take note of currency exchange rates. The U.S. dollar is particularly strong right now, so you won't really be saving any money shopping duty free in most countries. RELATED: 9 Things You Should Never Buy at the Airport (Photo: Thinkstock/iStock)

Spend a few extra hours researching and budgeting to save big on travel and follow these tips: Research public transportation options ahead of time and decide if you're going to rely on walking, the subway, or taxis. Figure out your airport transportation ahead of time so you don't just hop into a cab. Budget in advance, so you're more likely to stick to a set dinner price or limit daily expenses. Find free attractions ahead of time and decide what other sights you are willing to spend on. By making a "must-do" list, you can prioritize what you would like to see in a destination, and then if you have extra time or money, do things lower on the list. It's also important to consider that some countries are expensive to get to, but very inexpensive in terms of hotels and food. The opposite is sometimes true, too: Often, destinations that have cheaper flight options also have high hotel and food prices. To budget on-the-ground expenses, check out Expatistan's Cost of Living Index for a general idea of prices in destinations around the world. (Photo: Thinkstock/Ingram Publishing)

You won't be charged that much data to post this one Instagram … right? Data roaming charges add up quickly, and it's unrealistic for many people to rely solely on Wi-Fi. There are a plenty of ways to make a phone work abroad, but as a general rule, know that unlocking your phone and getting a foreign SIM card is usually the best and cheapest way to go. Most carriers will unlock your phone if you go into a branch store, and basic data and text plans in most countries abroad will cost you under $30 (SIM card included). This option essentially allows you to use your phone as you normally would at home, just under a different number. RELATED: How To Prepare and Use Your Cell Phone Abroad

Food is an amazing part of a destination's culture to discover, but you can save a lot by reducing how much you rely on eating out, especially for breakfast and lunch. Pack 5 to 10 of your favorite granola bars in your carry-on to have on the plane, for a snack, or for an on-the-go breakfast. If you're staying in alternative accommodations, it's a lot easier to cook your own breakfast and keep snacks in a kitchen. If you're traveling for a longer period of time, check out the local grocery store—it will save you money compared to dining out, and it's a great way to have an authentic cultural experience. (Photo: Thinkstock/Photodisc) Read the original story: 10 Ways to Win at Budget Travel by Ashley Rossi, who is a regular contributor to SmarterTravel.
Follow Flight Network on Twitter: www.twitter.com/FlightNetwork