The Presidential Debates Have Told Voters Effectively Nothing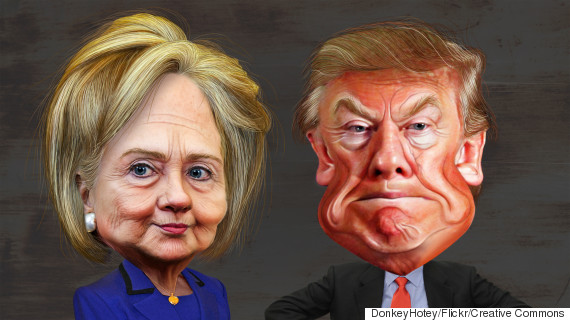 Hillary Clinton vs. Donald Trump. (Image: Caricatures by DonkeyHotey on Flickr through Creative Commons)
How many debates have we endured? There have been so many I've lost count. Correct me if I'm wrong but I think there were 12 GOP debates during the primaries, five for the Democrats, plus one town hall, one vice-presidential debate and three presidential debates.
Geeze Louise, talk about overkill.
Might not have been as unbearable if we had learned anything that could have helped voters make a decision. But that was not to be.
Having said that, to be entirely fair to Chris Wallace, the Fox News host who moderated Wednesday night's debate, for the most part he did a stellar job. He was able to control the audience and, at least for the first 30 to 40 minutes, managed to ask both candidates tough and pointed questions (not that either of them answered them). But he did force them to explain their views and policies more clearly than we've heard in any other debate -- giving voters some substantive issues, and differences, to ponder.
Alas, it didn't last ...
Any gains Donald Trump made in the first half of the debate were lost when, by refusing to say whether or not he'd accept the election results, he essentially told the world he doesn't trust that democracy works.
Great coming from a man who might become president of the free world.
My personal fave came during one of the many zingers Hillary Clinton managed to lob at Trump. It was when, in an effort to demonstrate how he always blames the system when things don't go his way, she said that "he even said the Emmy's were rigged against him when The Apprentice lost" -- and Donald leaned into the mic and interrupted her saying, "I shoulda won."
After each debate the burning question always is, "who won the debate?" Here's my take on it:
The real winners are the networks who carried the debates. They attracted larger audiences than they probably ever have or ever will again.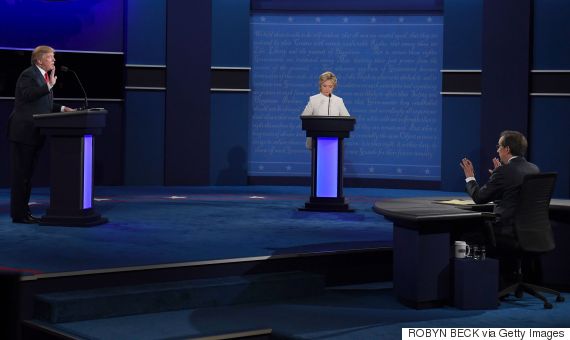 Donald Trump gestures as Democratic nominee Hillary Clinton looks on during the final presidential debate. (Photo: Robyn Beck/AFP/Getty Images)
Sadly, the real losers are the American people. At a time when the world is in a total mess, when the United States is dealing with critical issues on every front, when neither candidate is beloved and knowing what their vision is has never been more important, 22 debates later here's all we know:
Donald Trump has some kind of a breathing problem that causes him to snort under pressure.
It is as easy to get under his skin as it is to take candy from a baby.
He's rude and interrupts all the time.
He can't keep his temper under control.
He lies, lies, lies, lies, lies, lies, lies. And lies again.
He is a loose cannon who refuses to prepare for anything.
He is woefully under qualified for the job and shows no interest in learning, not that this is a deterrent for his supporters.
All we really know, almost a year and a half into this 2016 presidential race, is that both candidates have serious character flaws.
Hillary Clinton is the poster child for "grace under pressure." She may be seething inside but it never shows.
She has a lovely smile, which she does whenever she's being attacked.
She is extremely disciplined.
The facts she quotes are mostly true, but she does fib, exaggerate or under estimate some of the time.
She does her homework.
She is "experienced."
She has done a much better job of explaining her policies and plans throughout the debates than Donald has -- an undeniable fact even for those who won't vote for her -- not that they'd ever admit it.
I guess what I'm saying is, all we really know, almost a year and a half into this 2016 presidential race, is that both candidates have serious character flaws, and one has tons of experience and the other has none.
No wonder that even at this late date (slightly over two weeks until election day) so many voters are still undecided.
If you enjoyed this story click on "become a fan" at the top of the article, right next to my name. You'll be notified every time I post.
Follow HuffPost Canada Blogs on Facebook
Also on HuffPost:
Evolution Of Trump's Muslim Ban
Donald Trump calls for a "complete shutdown" of Muslims entering the U.S. in a statement emailed to reporters. A press release announcing the proposal is simultaneously published to his website -- where it remains to this day.

The Trump campaign releases a video ad called "Great Again TV Spot" that doubles down on his proposed Muslim ban, but now it includes the word "temporary."

During a Wisconsin town hall with MSNBC's Chris Matthews, Trump suggests the Muslim ban might have some "exceptions" -- including for his "rich" Muslim friends.

In a conversation with Fox News Radio's Brian Kilmeade, Trump says his call to ban all Muslims from entering the United States was "just a suggestion.""We have a serious problem, and it's a temporary ban — it hasn't been called for yet, nobody's done it, this is just a suggestion until we find out what's going on," Trump says.

Trump ramps up his proposal following the Orlando shooting and dares Congress to get in his way. But the wording of the ban has already shifted."I will suspend immigration from areas of the world where there is a proven history of terrorism against the United States, Europe or our allies, until we fully understand how to end these threats," Trump tells a small audience at St. Anselm College in New Hampshire.

During a trip to the UK, Trump responds to a question about Muslims immigrating to the U.S. from Scotland and he responds, "It wouldn't bother me." Later that day he tells CNN's Jeremy Diamond he only wanted to focus on "people coming from the terror states."

During his acceptance speech at the Republican National Convention, Trump says, "We must immediately suspend immigration from any nation that has been compromised by terrorism until such time as proven vetting mechanisms have been put in place."

Some question whether his comments at the Republican National Convention indicated a rollback of his initial proposal to enact "a complete shutdown" of Muslims entering the U.S., but he says no. "In fact, you could say it's an expansion," he tells NBC's Chuck Todd. He continues to say he would target nations "compromised by terrorism," and hints this could apply to countries like France and Germany.

Republican vice presidential nominee Mike Pence suggests Trump's "Muslim ban" might apply to Christians, Jews and people of other faiths. Speaking with conservative radio host Charlie Sykes, Pence echoes Trump's proposal to "temporarily suspend immigration from countries that have been compromised by terrorism." When Sykes asks whether the ban would apply to Christians, Jews and others from "compromised" countries, as well as Muslims, Pence suggests that would be the case.

During a campaign event at Youngstown State University in Youngstown, Ohio, Trump calls once again for "extreme vetting" of people trying to immigrate to or visit the United States, and he adds a proposal to use an ideological screening test to weed out those who don't "share our values and respect our people."

Despite repeatedly calling for "extreme vetting" of Muslims trying to enter the country, Trump essentially admits during a campaign rally in Canton, Ohio that such vetting might not even work."We don't know where these people come from," he tells the crowd while discussing Syrian refugees. "We don't know if they have love or hate in their heart, and there's no way to tell."

In interviews with CNN's "New Day" and MSNBC's "Morning Joe," Pence responds to questions about his running mate's proposed Muslim ban saying "of course" Trump no longer wants to ban all Muslims from the country. CNN's Chris Cuomo presses him on why he no longer condemns Trump's plan to ban Muslims from the country, and Pence responds, "Well, because it's not Donald Trump's position now."

In response to a question during the second presidential debate, Trump says his proposed Muslim ban has "morphed into [an] extreme vetting from certain areas of the world." When ABC News' Martha Raddatz presses him to say whether the ban is still his position -- and if not, why -- he repeats that his proposal is now for "extreme vetting."
Follow Fransi Weinstein on Twitter: www.twitter.com/3catsmeow