Soccer Led Me To Embrace Every Part Of My Multiracial Heritage

Born from the marrying of British and Trinidadian cultures, I defined my cultural identity through soccer when I decided to play for Trinidad and Tobago at the age of 14.
Growing up, my parents had never imposed their cultures on me -- my cultural identity had always felt like a decision between Canadian, Trinidadian and British. It wasn't until I had recently retired my soccer cleats when I'd realized I had never had to make the choice, that I could be all three.
As a woman I oscillate between essence and existence. As a woman of colour I participate in a more complex rigmarole of types. The quotidian experience of being asked "what's your background" or being told "you're pretty for a brown girl" and "I didn't know brown girls were athletic" served as a set of ongoing reminders that constantly interpolated my cultural identity.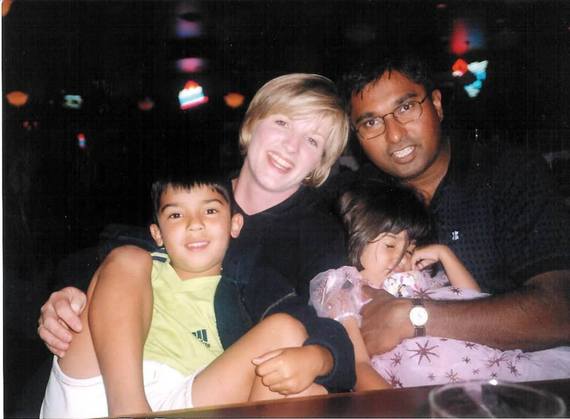 With a British mother and Trinidadian father, being a second-generation Canadian always felt like a tension between my heritage and my upbringing.
My father had left Trinidad at the age of seven, with five siblings and few belongings. I distinctly remember visiting the house they once called home in Curepe, amazed at how they all lived in such a tiny space. Growing up he had tales of running down dirt streets barefoot, milking their cow for fresh milk and sharing a bed with his brothers.
My mother had left England at the age of 24 with a job offer as a vehicle to a fresh start. Although both my parents had immigrated for separate reasons, they both had deep desires to be Canadian.
When I was in Canada, I was always the brown girl with the Muslim surname.
What "Canadian" meant to me was defined by shovelling snow for warm-ups, representing Ontario and striving to one day be a member of the Canadian national team. On my 13th birthday my mother gave me a Canadian jersey with Abdul in white bold letters printed on the back. A year later it was accompanied by my Trinidadian jersey that I wore that August in the World Cup.
But the Canadian patch on my sleeve and singing the national anthem before games never truly made me feel like I was part of Canadian culture. When I was in Canada, I was always the brown girl with the Muslim surname. But when I was playing in Trinidad, I was given the opportunity to grasp a new culture and represent part of my heritage without justification of any kind. I found myself so strongly wanting to assimilate into Canadian culture, but when I was given the opportunity to represent Trinidad, it felt more suiting.
Given with the opportunity to travel the world playing soccer and compete in a World Cup felt like a no-brainer. Soccer allowed me to explore the world in ways I never would have otherwise, but also revealed to me the ways in which I associated with my Trinidadian culture more strongly than my other backgrounds -- back home in Canada, my feelings of otherness cultivated a subconscious self-doubt.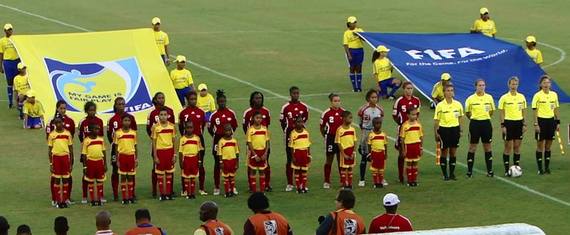 Soccer opened my eyes to an abundance of experiences and was a major player in how I negotiated my cultural identity. By choosing to represent Trinidad and Tobago, I felt less connected with what it meant to be British or Canadian. After a lifetime of being labelled "brown," I was made to believe that that's all that I was.
When I had begun university I had decided to replace my surname with my middle name, essentially whitening my identity. It wasn't a decision that I came to after many hours of introspection. Instead, it sort of just happened.
I was annoyed with the questions of race and religion I was endlessly bombarded with. I was exhausted of being labelled as "the pretty brown girl" or "the brown soccer player." Even though I wore Abdul on my back for thousands to see in some of the proudest moments of my life to date, I was still made to feel as if my surname was something to hide.
When I share my experiences as a biracial Canadian, people are still surprised at the racism I faced. My experiences as a second-generation Canadian are so incredibly different from those of my parents, but within my family I feel I experienced Canadian multicultural liminality to a stronger extent.
I choose to no longer place myself under erasure and label myself an an "other."
From the moment I entered my first-grade classroom among whispers of "Does she even speak English?" to being fired from a job only to later find out that they were seeking white girls with blonde hair instead, I faced such obstacles on an almost daily basis.
Reflecting on my experiences, I choose to no longer place myself under erasure and label myself an an "other." Rather, I will embrace all that I am, despite the distasteful rhetoric thrown my way.
By the time I finally left soccer altogether, I felt I had lost a large part of my identity not only to sports culture, but to my suddenly stronger connection to my Trinidadian roots. It was then when I began to realize that my choice to associate so strongly with one side versus the others was enhanced through my feelings of dissociation growing up.
Once my life had shifted focus and soccer was no longer at the forefront, I no longer felt the desire to assimilate with specific parts of my heritage to establish my identity, but rather embrace my overlapping identities in all that I am -- Trinidadian, British and Canadian.
Thank you to my parents who chose to be Canadian amidst all their confusion and for the hope that future generations can exist without justification of any kind.
Born And Raised is an ongoing series by The Huffington Post Canada that shares the experiences of second-generation Canadians. Part reflection, part storytelling, this series on the children of immigrants explores what it means to be born and raised in Canada. We want to hear your stories -- join the conversation on Twitter at #BornandRaised or send us an email at bornandraised@huffingtonpost.com.
Follow HuffPost Canada Blogs on Facebook
Also on HuffPost:
13 Ways Food Is Celebrated In Chinese Culture
Some families prepare the New Year celebrations with a tribute to the Kitchen God (sometimes called the God of the Hearth). Not unlike Santa Claus, the Kitchen God watches us and sees whether we've been bad or good. At the end of each year, he will travel to heaven and report to the Jade Emperor on your family's deeds. Depending on his reckoning, your family will either be blessed or punished. Because all families want a good report from the Kitchen God, they will pay tribute to his altar by offering incense and sticky confectionery treats, which will both please him and keep his mouth so busy with chewing that he won't be able to tattle.

When you serve dishes or present tea, always do so with two hands — never one. Using both hands is a sign of respect and reverence.

Another sign of respect is serving dishes to elders and distinguished guests first. They've been around longer, so they deserve the best pieces and the first pick!

The Chinese word for fish is "yu," which also means abundance and luxury. Because a little luxury doesn't hurt, the Chinese like to have not one, but two fish dishes for their Chinese New Year feasts. One dish is served on New Year's Eve and the other on New Year's Day; this symbolizes that after a long year of hard work, there will be much bounty for you to reap. The Chinese love to steam the entire fish, with head intact, along with a bit of soy sauce, spring onions, and ginger. Also make sure you don't devour the entire fish in one sitting, so that you have some leftovers for the next year. If you have distinguished guests or elders over for dinner, the fish's head should be directed at them as a gesture of respect.

Because long, uncut noodles (also known as "longevity noodles") represent long life, avoid breaking or cutting them short when you serve them to your guests.

Red and gold represent happiness and wealth, respectively. Consequently, many of the foods served during the Spring Festival are in these hues. It is also for this reason that citrus fruits are so popular during Chinese New Year.

While most of the rituals of the Spring Festival are boisterous and exciting, there are also moments of quiet remembrance and contemplation. Families will set up altars for loved ones who have passed, and honour them by placing foods before them. Oranges and apples are popular tributes, since their colours represent wealth and good fortune, respectively. Because the Chinese hate to waste anything — especially food — these tributes will later be eaten by the family.

Dumplings are a staple of Chinese New Year. The making of jiaozi brings people together for a common goal. Some of these dumplings are shaped in a way that resembles gold ingots, so the eating of dumplings is also believed to bring riches. Sometimes a coin is hidden in one of the dumplings. If you're the lucky one who finds the coin, it's said that your fortunes will stay golden for the rest of the year!

Eating a Chinese New Year feast is not like going out to a quiet French restaurant, where noise is frowned upon. Rather, you'll want to enjoy your time with friends and relatives, which means laughing boisterously, talking excitedly, and essentially, creating a racket. Loud noises represent joy, and it's important to turn up the volume. Here's why: legend has it that once upon a time, a beast lived in China that would decimate villages every New Year's Eve until the people discovered that he was noise-averse. Ever since then, Chinese dining tables have been a place of joyful din.

During the Spring Festival, you want to be on your best behaviour, since it is said that what happens on New Year's Day will determine the tenor of the rest of the year. On New Year's Day, people will visit friends and families and bring them their favourite snacks — these usually include candy, fruit, and rice cakes — to ensure that relationships stay strong.

Just as you will be visiting family and friends during the Spring Festival, you will also be receiving guests. To ensure that your visitors will have something to munch on when they arrive, many families will put together a "Tray of Togetherness," an octagonal or round platter with eight compartments that are filled with bite-sized snacks. Popular snack items include: candied fruits, dried coconut, candies, longan fruit, and kumquats.
Follow Geneva Abdul on Twitter: www.twitter.com/genevaabdul