Therapeutic Prison Pups Are A Win-Win-Woof For Inmates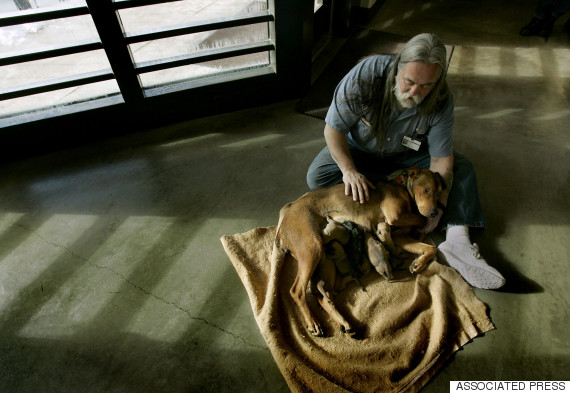 Inmate Leslie Ellifritz holds his dog Sandy as she nurses her eight newborn puppies in a cell block at Lansing Correctional Facility in Lansing, Kan. Dec. 9, 2005. (Photo: AP Photo/Charlie Riedel)
By Vjosa Isai
From university classrooms to women's centres, pet facilitated therapy programs are popping up everywhere, even behind bars.
Rehabilitation programs at correctional facilities in North American prisons are transforming the way offenders learn vocational skills and practice behaviours that will set them up for success after serving their time. This offering includes vocational programs for aesthetics, dog grooming, landscaping and interior commercial painting, among others.
"Vocational programs support an offender's successful rehabilitation and increase his or her opportunities for timely release, meaningful employment and successful reintegration into society," said Esther Mailhot, a media representative for the Correctional Service of Canada (CSC), in an email.
The Correctional Service of Canada runs two such programs for women offenders at the Nova Institution in Nova Scotia and Fraser Valley Institution in British Columbia.
The first of the two programs, the Pawsitive Directions Canine Program at the Nova Institution, was launched in 1996. The program offers women offenders the opportunity to learn the basics of canine-handling, including dog husbandry and training. Homeless dogs are sheltered as part of the program and later made available for adoption.
Punctuality, team work and reliability are all transferable to work and social life - and what better way to learn this than alongside a furry friend?
Over on the West Coast, the Langley Animal Protection (LAPS) Dog House at the Fraser Valley Institution runs a similar program. Established in 2006, the LAPS Dog House allows women offenders to run a full-service kennel, which is open to the public and includes programs to rehabilitate and prime shelter dogs for adoption.
Prior to joining the dog-related programs, offenders are screened for security reasons and to ensure their participation works towards meeting their correctional plan goals.
Women offenders at these two facilities learn skills that are useful when working with animals, and can also obtain certificates in animal welfare, first aid, kennelling and obedience training.
But anyone caring for an animal at home or places like a kennel, zoo, or veterinary clinic can attest to the fact that knowledge of how to look after pets is just the beginning.
At home, my cat likes to have her breakfast ready before the sun comes up, which means I have to slug myself out of bed and give her half a can of wet food. And depending on my schedule, someone else from my family may have to take over on food duty. In this simple act of feeding a hungry kitty, the life skills of punctuality and working as a team emerge.
Dogs need to be taken outdoors for exercise every day which requires an owner to be organized and good at managing their time to accommodate daily walks. Even the smallest and most sedentary of animals like fish or turtles depend on their owner's ability to be reliable with feeding them and cleaning out tanks. Punctuality, team work, organizational and time management skills, and reliability are all transferable to work and social life -- and what better way to learn this than alongside a furry friend?
While these programs set out to prepare offenders with life skills, it's the therapeutic quality of sharing a space with animals that makes this form of prisoner rehabilitation so unique.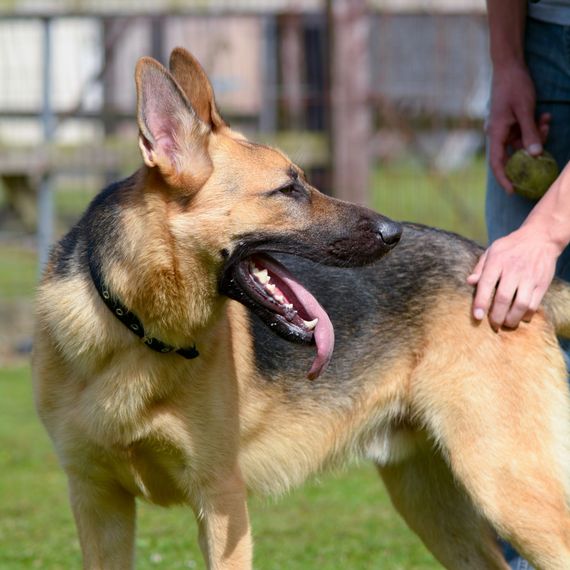 "Without question, the staff at these institutions, as well as the inmates, enjoy having the animals -- and indeed, without the intention of using animals in a therapeutic capacity, it still has the effects on both the individuals within the institution, and the climate of the institution itself," said Andrea Button, an assistant professor of sociology at Midwestern State University.
Button and a colleague looked at the effects of dog training in both a men's and women's correctional institution in Kansas about a decade ago.
In an interview cited in this study, one female offender said of the inmates: "It gives them a second chance, and it gives them a sense of responsibility, and it... if they're depressed or something, they can just sit there and love on the dog, and you know they're calm after that. It's like they take the stress out of you, and I just think that it's an amazing program."
In the men's facility, offenders recounted stories of giving back to the community, and the sense of satisfaction felt when providing a well-trained service dog to someone in need.
Take this man's story:
"I look at it like this: if I've taken so much from the community, I've done the drug selling, I've been involved in the gang shootings, I've done a few robberies and whatnot... now, I'm taking this as an opportunity to give back to the community because this dog is going to be used to help somebody else. It is going to be used to help a handicapped person, so I'm taking this time to just give back what I've taken out."
As useful as these programs are to rehabilitating offenders and offering a therapeutic sense of comfort and satisfaction, there are still many obstacles to introducing them to correctional facilities.
"...The structural constraints of housing and establishing programs within prison facilities is still the primary barrier -- as well as public resistance to men and women stigmatized by their status as inmates," Button said in an email.
The cost of establishing these programs is usually not accounted for in prison budget, she explained, meaning that community organizations must often step in to advocate the cause and raise funds. Despite these barriers, Button firmly believes pet facilitated therapies in prison have a "have a strong future -- if the connections to the community organizations is maintained."
"These organizations benefit from having additional resources to train and care for these dogs, but their interactions with the inmates also changed how they perceived them in the sense that their negative perceptions were often challenged," Button said.
It's a win-win-woof.
This article was originally published on Get Leashed Magazine.
Follow HuffPost Canada Blogs on Facebook
Also on HuffPost:
5 Countries Proving Prisons Can Work For The Benefit Of Everyone
Norway has one of the lowest re-conviction rates in Europe, at 20%, and 71 prisoners for each 100,000 population, roughly half the UK total. Dubbed the "world's most human prison system" it operates on the principle that custodial sentences restrict the freedom of movement only - and not prisoners' other rights. And there's an intense focus on rehabilitation. "Progression through a sentence should be aimed as much as possible at returning to the community," the government says. One prison, Halgen in the north of the country, has attracted international media attention due to its design - likened to university halls by some media - as well as its ability to serve the prison system's priorities. At Halgen Prison, prisoners: are able to cook meals for themselves have access to ensuite facilities can work in retail stores and other jobs earn points to spend on site have access to scenic running routes within landscaped, secure grounds have large windows with plenty of natural light However, Norway's system became so overcrowded last year it sent 300 prisoners to the Netherlands.

The Netherlands has just 69 prisoners per 100,000 population and has enough capacity in its prisons to accommodate criminals from other countries. Routines exist to rehabilitate "persistent offenders", and those who are motivated can develop skills related to: self care and hygiene; labour; education; spending of leisure time; financial administration; unsupervised settling; and social attitude However, while it pursues many policies aimed at rehabilitation of inmates, some of these have been severely curtailed in recent years. Single-use cells are no longer mandatory, while the amount of hours devoted to activities each week reduced still further. Nonetheless in 2013, it was reported that declining crime rates in the Netherlands meant that although the country has the capacity for 14,000 prisoners, there were only 12,000 detainees.

Denmark has a reconviction rate of 29% -- as opposed to England & Wales' 49% -- and it has 61 prisoners per 100,000 citizens - far fewer than the UK. The number of women guards in Danish prisons has been noted as having a calming effect on majority male inmates. Women are more likely to reduce tensions, and prisoners are more likely to make an effort to talk to them - more so than with their male counterparts. Annette Esdorf, deputy director general of the prison and probation service in Denmark, explained the philosophy to the BBC: "We make an effort to keep crime down by treating the prisoners in the best way. We have a rather humane regime, not because of the prisoners, but because we think it works better this way. "Our prison regime is based on normalisation, a principle of openness and responsibility, because we think it's the best way of avoiding reconviction."

Sweden has a remarkably low prison population rate at just 55 per 100,000 citizens. "Sweden's remarkable prison system has done what the U.S. won't even consider," Mic.com reported last year, stating, "prisons in Nordic countries are designed to treat (prisoners) as people with psychosocial needs that are to be carefully attended to." It is this philosophy which guides Sweden's correctional system. Director-general Nils Öberg told the Guardian: "It has to do with whether you decide to use prison as your first option or as a last resort, and what you want your probation system to achieve. "Some people have to be incarcerated, but it has to be a goal to get them back out into society in better shape than they were when they came in." Rather than "static security" roles, guards in Swedish prisons adopt "dynamic security" - fostering interrelationships between staff and inmates for the benefit of rehabilitation and safety.

Unlike many prisons across the world, Germany has placed an emphasis on pleasing decoration and home comforts - even those as simple as ceramic toilets and wash basins, opposed to the expected stainless steel. It has roughly half the prison population of the UK, at 76 inmates per 100,000 citizens. On a visit to a German prison alongside US justice officials, Vice News found: "Most prisoners have knives and forks in their cells. Though the prisoners cannot access the internet, they have telephones in their rooms, and they can call anyone—even the media." While reconviction rates are around 48%, special efforts are made to reintroduce offenders into society - aided by German culture.
Follow Get Leashed Magazine on Twitter: www.twitter.com/GetLeashed