Dogs Are As Smart As We Think They Are
By Erik Ryken
Have you ever tried fooling a dog into getting excited for the wrong thing? Perhaps testing their instincts by offering something boring to the tune of a tasty treat? It turns out that while they may very well be excited by the amped up sound of your voice, they are most likely on to your trick.
The Family Dog Project, at Budapest's Eötvös Loránd University, recently publicized their finding that -- just like humans -- dogs process word meanings in their left hemisphere and they process intonation in their right hemisphere. Although they are unable to speak the words, dogs in family settings are exposed to enough speech that they can make sense of what words are representing, independent of their intoned meanings.
In essence, this means that if we try to offer a pooch something unfamiliar from the fridge by using the same tone of voice as we would for a known treat, they will recognize the deception. We won't be fooling them with a little piece of broccoli, no matter how excited we are about its nutritional benefits. It just won't offer the same excitement as a strip of bacon or a slice of sausage.
Similarly, the effects of our tone of voice have proven to be more rewarding than food. In another study by The Dog Project at Emory University, researchers found clear evidence that dogs prefer praise over food as a reward for completing tasks. Not all dogs behave this way, however. Knowing that some dogs prefer social praise while others prefer edible treats could be helpful in determining what kinds of roles are best suited to dogs working jobs in therapy, assistance, and rescue.
So, does this mean dogs can read our thoughts? Not exactly. It does prove that they are more adept at interpreting speech than is often believed. As for science, the discovery that dogs and humans have similar neurological responses to language offers new potential insights into human cognition.
The primary goal of the Family Dog Project is specifically to research human-dog relationships through cognitive and behavioural studies with an interest in how this long-standing bond has shaped our dogs and our selves. Research topics have spanned from the ancestry of dogs -- comparing them with present-day wolves and how the two interact differently with humans -- to studies relevant to designing behaviour and sociality in robotics.
The technology used in each of these studies is MRI brain scanning. One feature of this method is the requirement that the research participant be patient enough to rest briefly in the confines of a scanning bed for about 30 minutes. Not all pups are thrilled about this, understandably, so dogs are selected based on their willingness to hold a down position for this length of time.
For those interested, here is a video showing how dogs are trained to sit through these studies without sedation or restraints.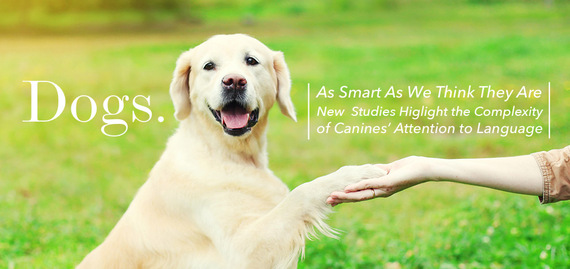 Follow HuffPost Canada Blogs on Facebook
Also on HuffPost:
Mowgli, a bull mastiff mix who's 3 years old and 140 pound, likes hanging out with people, dogs and cats. He was surrendered by his owner and has a neurological condition called wobbler syndrome, which does not require a lot of medical management right now. Mowgli is a love bug, who needs people who can give him guidance. Find out more from Dogs XL Rescue.

When Dan came to the Humane Society of Calvert County in Maryland, he was scarred up and super thin. But In no time, he left his past behind. Dan is now an extra large pit bull living the good life at the shelter. He gets to go on daily walks with volunteers, and he takes occasional trips to the beach. (Admittedly, one does fear that with his new figure, he may be mistaken as a seal on these beach trips). He gets plenty of love, as he is a staff favorite, and quite a few treats (which may have contributed to his extra large size). Every morning, he picks a toy out of the toy bin. He's sure to pick just the right one, and he keeps it with him in his outdoor play yard. His outdoor area is easy to spot, as it is the one with an obscene amount of toys in it! As happy as Dan is at the Humane Society of Calvert County, he would be extra happy in a forever home. Here's info about how you can adopt Dan.

Nucky and Dabney are a bonded pair, who are 4 and 3 years old, respectively. They must be adopted together, since they're best friends for life and wouldn't know what to do without each other. An older couple surrendered the pups due to financial reasons. Nucky weighs about 180 pounds; Teddy is comparatively small at about 118 pounds. They are lovely dogs -- gorgeous, social, friendly and goofy. Find out more from Dogs XL Rescue.

Lubs is a 79-pound, 5-year-old terrier mix. He is a sweet, curious, fun-loving guy, who loves to play Frisbee and cuddle. He also loves to lean in and shower you with kisses. He's looking for a home at KC Pet Project's Zona Rosa Adoption Center in Kansas City, Missouri. Adoption price includes neutering, microchipping, deworming, current vaccinations, 30 days of pet insurance and a lifetime of unconditional love.

Clarence was found as a stray, and although he had a microchip, the phone numbers weren't up to date, so the shelter couldn't reach his owner. He's a 3-year-old neutered male. Clarence has been learning lots of good behaviors like sitting patiently in his kennel when he meets new people. He responds well to clicker training and knows sit, shake and fetch. He's doing great in playgroups and loves wrestling with other dogs. He's very treat-motivated, so teaching him new tricks has been easy. Clarence is lovingly referred to as "a big goofy lug." Think he might be the big lug of your dreams? He's available for adoption through the Best Friends Pet Adoption Center in Utah.

Seven-year-old Jacky Frost is a true Silicon Valley dog. He's attended adoption events at the Google-Plex and is an ambassador to corporate volunteer groups. A big 70 pounds, he's very fit but very calm. During the week he's a member of the shelter's run club, in which he regularly does 3-mile jogs with volunteer runners. He's super polite and easy on a leash. He does wonderfully with other dogs and is a "party on paws" during big dog play groups. He's housebroken and has a great history with kids of all ages. How this enormous marshmallow hasn't found a home yet is a mystery. Come meet Jacky Frost at the Humane Society Silicon Valley in Milpitas, California.

Lenny is a 4-year-old gentle giant. George is his young Chihuahua companion. The two are inseparable, happy guys, who must be adopted together. Find out more from Marley's Mutts.

Forrest is a 2-year-old Staffordshire terrier mix. He came to PAWS Chicago as part of rescue efforts in Oklahoma shortly after devastating tornadoes struck the area in 2013. He was quickly adopted but was returned after his owner developed a chronic illness and could no longer care for him. Now he is looking for a new home full of love and play time. Forrest enjoys going to training classes, taking walks and getting treats. He can be fearful when strangers approach him too quickly, but he really bonded with his foster dad and followed him everywhere. Forrest is a smart guy who has completed basic obedience training and knows basic commands. Forrest can't wait to find his perfect forever home! If you are interested in adopting Forrest, please call 773-935-PAWS, visit www.pawschicago.org or email adoptions@pawschicago.org.

Rutty is a sweet boy with plenty of pep in his step! Now 5 years old, he was recently surrendered due to divorce and would love a family of his own again! Rutty's former owners report him to be good with other dogs. He is a snuggly boy who wants to be in your lap all the time for cuddles and kisses. Find out more from BARCS.

John Oliver is a 7-year-old, 130-pound Newfoundland. John Oliver has been an indoor dog and is housebroken. He is good with cats, kids and other dogs. Find out more from Dogs XL Rescue.

Though he's a big boy at about 70 pounds, Maksim is no bully. "He's a very intuitive sort of guy," an AC&C volunteer notes, "and with his good manners and dapper looks I could see him being the perfect 'plus one' for just about any occasion." Petting is quietly appreciated, but Maksim saves his happiest tail wags for other dogs, perking up when he sees them approach and greeting each new friend with polite yet enthusiastic attention. All this, and he's lived in harmony with cats, too! A true gentleman who'll do his new family proud wherever he goes, Maksim is all dressed up and ready to head home with you today." Meet Maksim, who's about 3 years old, at AC&C's Manhattan Care Center, at 326 E. 110th Street in New York City (open 12 p.m.-8 p.m. M-F, 10 a.m.-6 p.m. weekends), or email adoption@nycacc.org with his A#: A1028074.

Pacquiao, as AC&C volunteer notes, is "a big boy, with big paws and a very big heart…. He is as sweet as can be." Approximately 2 years old and 87 pounds, Pacquiao is an energetic and playful dog. Meet him at AC&C's Manhattan Care Center, at 326 E. 110th Street in New York City (open 12 p.m.-8 p.m. M-F, 10 a.m.-6 p.m. weekends), or email adoption@nycacc.org with his A#: A1027597.

This adorable girl, about 2 years old and 70 pounds, came to AC&C as a stray after she was found in the Bronx. An AC&C volunteer notes, "Mary is sweet, affectionate and friendly. She's stunningly gorgeous in her gray and white coat… Low key and gentle with soft energy, Mary is an absolute delight hoping to find her bestie today." Meet Mary at AC&C's Manhattan Care Center, at 326 E. 110th Street in New York City (open 12 p.m.-8 p.m. M-F, 10 a.m.-6 p.m. weekends), or email adoption@nycacc.org with her A#: A1029689.

Rogue is a female Saint Bernard. She's a loving dog who's thought to be 8 years old. Rogue was spotted living as a stray on the side of a mountain. She appeared hurt and scared, and it took volunteers quite a while to catch her. Originally, they thought she may have an injury or broken leg, but after catching her and taking her to a vet, it turned out that Rogue was suffering from arthritis and ear infections. She was also severely malnourished. Now, Rogue is about 100 pounds -- and she needs to put on quite a bit more! Find out more from Dogs XL Rescue.

Blizzard is a 2-year-old male Anatolian shephard mix, who weighs about 70 pounds and is good with other dogs. Blizzard was found wandering the parking lot of rural grocery store with leg injuries. He's on the mend now and looking for a new home. Find out more from Dogs XL Rescue.

Groot is a 2-year-old, 150-pound Anatolian shepherd mix. He's house-trained, crate-trained and well socialized. All he needs now is a home! Find out more from Dogs XL Rescue.

Maury is a 5-year-old Labrador retriever mix who doesn't realize how large he really is! At 70 pounds, he enjoys snuggling and giving kisses. Maury loves people and going on road trips. He's not a big fan of loud noises and sudden movements, so he prefers a quiet, adults-only home. He spent the last two years in a loving home but came back to PAWS Chicago because of some changes in the family. Maury is currently staying in a foster home, where he is reported to be an absolute gentleman. Maury likes some other dogs but gets very excited when meeting new canine friends. Maury is looking for a home without children where he can relax and be himself. He is guaranteed to provide endless snuggles! If you are interested in adopting Maury, please call 773-935-PAWS, visit www.pawschicago.org or email adoptions@pawschicago.org.
Follow Get Leashed Magazine on Twitter: www.twitter.com/GetLeashed