Think Twice Before Flying Your Pet In Cargo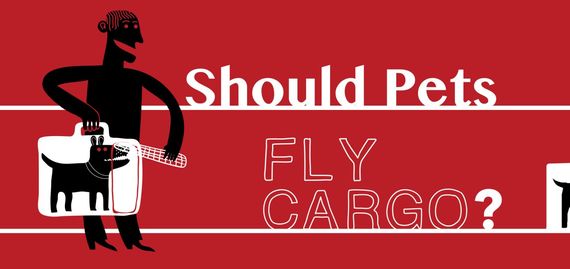 By Vjosa Isai
The festive transformation of storefront windows and winter drink menus are already in motion, signalling this year's holiday season is upon us once again. While it may be too soon for Christmas shopping, anyone thinking of a holiday getaway would benefit from an early start to planning, especially if you're bringing along a furry friend.
Airlines have pet policies in place to designate which animals are permitted in the cabin versus cargo hold, a vital consideration for pet owners. These guidelines are often based on the pet's weight, age, carrier size, and whether the flight is international or domestic.
Breed is also a major consideration. Some airlines, including WestJet, recommend that travellers with snub-nose (or brachycephalic) pets consult with a veterinarian before flying. According to WestJet's pet policies, "These types of pets suffer from respiratory problems that increase with stress and heat, and may not be suitable for travel in checked baggage."
Unfortunately, the whole experience of travelling with your pet can be rendered much more stressful with airlines that don't allow pets in the cabin (British Airways, Emirates, Air Asia, Air New Zealand, or Qantas to name a few, although some make exceptions for service animals). This restriction can force a pet owner's hand at making a decision that may leave them ill-at-ease during the flight, knowing their pet is in a pressurized and cooler-temperature part of the plane, with no access to them for the duration of the flight.
But is this fear warranted?
"Travelling in cargo isn't necessarily unsafe," said Get Leashed Magazine's veterinarian-in-residence, Dr. Sheldon. "If it's a onetime thing, and you're flying internationally and this is the only way, flying your pet in cargo is most likely going to be safe."
However, Dr. Sheldon strongly suggests avoiding having your pet in the cargo hold for for more frequent trips, saying it could increase health risks to your pet.
"If it's constant type of travel, I would never suggest you bringing your pet back and forth in cargo. You're increasing the risk and your pet would be much better off left in someone's care instead."
Echoing WestJet's recommendation on snub-nose breeds, Dr. Sheldon said dogs like pugs and bulldogs are not suited for the cargo hold due to breathing problems. Stress caused by noises, the cool temperature, and confined space in cargo can aggravate respiratory and cardiac issues, he said.
Other breeds without the "pushed-in" facial appearance, including poodles and Yorkies who have a tracheal collapse, can also be negatively affected by travelling in cargo.
"If the pet has a breathing problem, or an underlying condition you are unaware of, you could end up with a deceased pet on arrival," Dr. Sheldon said.
This frightening reality has pushed airlines like Delta to change their pet policies.
Delta Airlines banned all pets from travelling in its cargo hold as of March 1, 2016, after a total of 74 pet deaths were reported between May 2005 and September 2015.
According to MarketWatch, Delta banned snub-nosed dogs and cats from being checked in with baggage in 2011 due to respiratory issues. However, even after this initial ban, the airline experienced another 24 deaths leading up to the ban on all pets in cargo.
Another 14 animals went missing during this 10-year period.
"If an airline can lose luggage, they can lose your pet," Dr. Sheldon said. And as with any type of travel, delays can cause stressful situations for both pet and owner.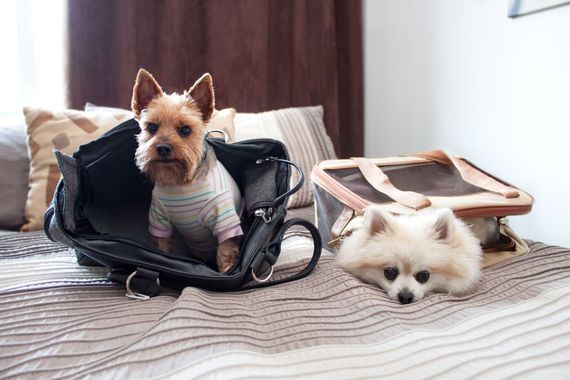 Elizabeth Taylor & Chance always fly in cabin
"Operations do not always run smoothly; you're sometimes delayed waiting for hours on board and you may not know what's going on. That situation alone is concerning."
If you're anything like me, the very thought of a beloved pet under my care being just beyond reach when they might need me most is enough for me to call a no-go to cargo hold travelling.
I can't control when the flight will land, how long it will stay on the tarmac, or who will handle my pet. I can't be there to comfort them during turbulence, or make sure they don't go missing in between flights. While it may not be high-risk to every animal's health, there are too many factors that I would rather find an alternative for in order to avoid a potentially stressful trip for myself and my animal.
But as much as I would rather avoid it, there could be a time when my pet has to travel in cargo. And the best person to go to if you're experiencing travel anxiety for your pet is your veterinarian.
Dr. Sheldon recommends seeing a vet before travelling to make sure your pet receives a clean bill of health. 
The holidays see some of the busiest travel days of the year with the heaviest luggage. So be sure to get started early on planning your pets travel itinerary or holiday accommodations.
Follow HuffPost Canada Blogs on Facebook
Also on HuffPost:
11 Ways To Get Moving With Your Pet
This game is like squats for your dog or cat. With a kibble of food in one hand, have your pet lie down or sit. For dogs, lower the reward and coax your dog to jump up and follow it. Then quickly lower the reward again and return the dog to a sitting or lying position. An ideal "high and low" is when your dog explodes upward and immediately lies down again. Repeat this three to five times before giving the food. For cats, place their food on a counter or table (add a pinch of tuna or salmon for extra incentive) and have the cat jump up to get it. Return the bowl to the floor and repeat several times.

This is similar to fetch but without the throwing -- and resulting broken lamps. Show your dog a favorite toy. Lead your dog into another room while you hide the toy from your dog's view. Make the hiding place obvious at first, like the toy peeking out from under a pillow. When your dog finds the toy, praise and give a kibble of food. Hide the toy in progressively more challenging places as the game continues. This game is so much fun that after a few rounds, you won't even need to offer your pet a reward.

Cats are natural predators. To tap into the instinct and encourage your cat to get its move on, try dividing the food into small bowls placed throughout your house. Have your cat watch as you "hide" the bowls. Your cat will "hunt" the food throughout the day. This is one of the best ways to get corpulent cats on their feet and burning calories.

This classic indoor game uses the same skills as "come and get it." Show your dog or cat a favorite toy and call him to you. Walk around your house with your pet following you. Go as fast as you like, but just don't blame your pet for any broken items.

Set up an indoor obstacle course made of empty drawers, buckets, pillows, boxes or broomsticks. Have your dog jump, crawl and navigate around furniture and objects for an intellectually stimulating activity. Playtime is about togetherness, not the quality of your toys. Get creative and resourceful to make even the dullest day bright with love and excitement.

Technology has provided pet owners an almost endless supply of remote-controlled toys. Many dogs and cats will chase a remote-controlled car or interactive talking toy. Look for a pet-friendly toy or car that has few small parts and is durable enough to withstand a paw strike or bite. Don't scold your pet if he destroys the toy; fun happens.

One of the most entertaining activities for many dogs is fetch. Use a fun toy and start with baby throws. Get your dog's attention and throw the ball or toy a couple of feet away. When he reaches the toy, praise him. As soon as he puts the toy in his mouth, take a few steps away while calling him to you. As your dog begins to approach, continue offering praise. When he reaches you, give the command "release" and show him a treat. Most dogs will trade the toy for a goody. Repeat this sequence, each time throwing the toy a little farther. Stop giving treats after two or three trips.

Show your dog a favorite toy, such as a ball or Frisbee. As you do this, quickly bend over at the waist and extend your arms downward. This nonverbal communication cue signals you want to play. While you're bending over, say, "Come and get it!" As soon as you're certain you have your dog's attention, turn and run away. When your dog gets within three or four feet, stop and offer praise and a tiny treat. If your dog isn't interested in chasing you, don't chase the dog because doing so may teach that it's a game to run from you.

Set up a basic agility or obstacle course in your yard. My favorite component is a climbing obstacle or ramp. Walking up and down uses your dog's largest muscle masses in the rear legs. Weaving poles and jumping bars also are fun. While you can buy all these tools, you can easily make your own. Ramps can be as simple as wood raised on blocks, and weaving poles can be made from dowels or broomsticks. Teaching old dogs new tricks like how to maneuver through an obstacle course might not only help them lose weight but also stay mentally healthy.

A simple technique for healthy, overweight dogs is to find a hilly trail or flight of stairs and walk up and down. (Before you walk your dog on stairs or hills, ask your veterinarian to evaluate your dog's knees and hips. Obese dogs can put more stress on their joints, resulting in higher frequency of injuries.) Maintain a moderate pace and avoid sharp turns or jumps. Five to 10 minutes of solid hill or stair climbing is a great workout for any pudgy pooch. If you have stairs in your home, feed your cat in places that make him climb up or down them.

If your dog likes to swim, indulge. Many breeds, like Retrievers, seem hard-wired to dive in. For dogs with joint injuries or arthritis, swimming is an excellent exercise.
Follow Get Leashed Magazine on Twitter: www.twitter.com/GetLeashed