If "Get Out" has taught us anything, it's that the dating world (and the world in general) continues to be a racist place.
In the video above, leads Allison Williams and Daniel Kaluuya speak to Vanity Fair about their roles in the movie, as well as the realities of how racist the dating world can be, especially interracial dating.
"Racism is horrifying," Kaluuya says. "Being black is absolutely fantastic, but dealing with how other people see it is horrible."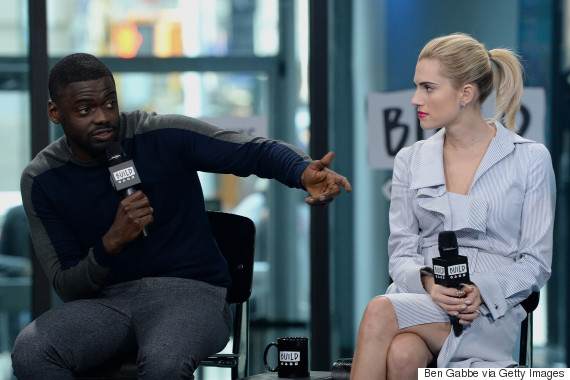 Daniel Kaluuya and Allison Williams attend the Build Series to discuss their new film "Get Out" at Build Studio on February 21.
In the movie, Williams brings home her black boyfriend (Kaluuya) to meet her family for the first time. When Kaluuya arrives at the mostly white suburban town, things start getting a little uncomfortable, to say the least.
In October, the film's director Jordan Peele told Forbes that nobody had really made a thriller about race.
"It is a very personal story. It's a horror movie that is from an African American's perspective. It very quickly veers off from anything autobiographical, but I think what interested me most about this movie was dealing with racism, really everything from the subtle racism that many people may not know exists on a day to day basis, or for a lot of people," he said.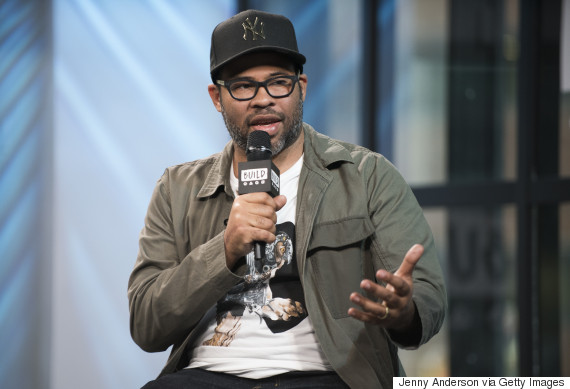 Actor and "Get Out" director Jordan Peele attends the Build Series to discuss the movie "Get Out" at Build Studio on February 21.
"I'm so glad someone is making this," the 28-year-old "Girls" star said. "I can't believe this occurred to Jordan, that's kind of crazy and terrifying."
When the movie premiered late February, it made US$30.5 million during its opening weekend.
"I think one of the fun things about this movie, for me as a watcher is that it manages to be a thriller, and it's definitely a horror [film]. The laughs usually come from characters, the relief and the release of characters responding to things the way they would actually respond in real life," Peele told Forbes.
Watch the full interview above.
Also on HuffPost:
Loading Slideshow
DO: Choose The Right Location

While no one's denying the allure of aisles full of screws and hard wood, getting nailed at Home Depot can <a href="http://www.huffingtonpost.com/2013/09/26/emily-craig-shaun-bowden-guilty-sex-home-depot_n_3996672.html?utm_hp_ref=weird-news" target="_blank">land you in jail. </a>Just ask <a href="http://www.huffingtonpost.com/2013/08/29/emily-craig-shaun-bowden-home-depot-sex-_n_3837573.html" target="_blank">this couple, </a>who learned the hard way that Home Depot's former motto of "You Can Do It. We Can Help" is a big, fat lie. <br> <br> Oh yeah, don't have sex <a href="http://www.huffingtonpost.com/2012/09/12/amanda-linscott-gun-sex-moving-car_n_1877198.html" target="_blank">while driving a car</a>, either.

DO: Pick A Human Partner

This means no<a href="http://www.huffingtonpost.com/2013/09/25/edwin-tobergta-guilty-sex-pool-raft_n_3990006.html?utm_hp_ref=weird-news" target="_blank"> pool floats</a>, no <a href="http://www.huffingtonpost.com/2013/06/26/gerard-streator-pleads-guilty-couch-sex_n_3504825.html" target="_blank">couches</a> and, for God's sake, <strong><a href="http://www.huffingtonpost.com/2012/12/13/carlos-romero-donkey-sex-constitutional-right_n_2293592.html" target="_blank">no animals.</a></strong> <br> <br> If you, like <a href="http://www.huffingtonpost.com/2013/02/07/andrew-mendoza-horse-sex-make-baby_n_2639598.html" target="_blank">this Texas gentleman</a>, are under the impression that having sex with a horse will result in "a horse-man baby," you are severely mistaken.

DON'T Confuse Porn With Reality

Hey, porn can be great, but there are some <a href="http://www.huffingtonpost.com/2013/07/30/porn-vs-real-sex-video_n_3677746.html" target="_blank">major differences between</a> porn sex and real-life sex. <br> <br> Plus, have you seen those people <a href="http://www.huffingtonpost.com/2013/03/11/porn-stars-without-makeup_n_2853817.html" target="_blank">without makeup? </a>

DO: Handle A Break-Up With Grace

Sometimes things just don't work out. This is not a legitimate reason to <a href="http://www.huffingtonpost.com/2013/08/20/crazy-exes-ex-girlfriends-ex-boyfriends_n_3781198.html" target="_blank">poop on the floor, hide out in your ex's attic, or start eating toes.</a> <br> <br> And please, please, no matter what you do, don't run over your ex-boyfriend's mother with a car, then <a href="http://www.huffingtonpost.com/2012/12/04/elizabeth-mcclain-ryan-boyd-stalk-ex-boyfriend-mom-car_n_2237000.html" target="_blank">send him a text message that says, "LOL."</a>

DON'T: Include Your Family

Family should always come first, but not in the bedroom. <br> <br> When <a href="http://www.huffingtonpost.com/2013/09/13/terry-antone-jenkins-assault-girlfriend-threeway-cousin_n_3920709.html" target="_blank">this South Carolina man attempted a three-way</a> with his girlfriend and her female cousin, the night ended with an assault charge. Don't try this at home, or anywhere.

DO: Call Your Mom

Not while shaking the sheets, obviously, but let her know what's happening in your life every now and then. Otherwise, you might wind up like <a href="http://www.huffingtonpost.com/2013/01/07/dale-rowlinson-bates-missing-sex_n_2424910.html" target="_blank">this British man</a>, whose mother reported him missing when he was really just having sex at a hotel.

DO: Be Kind

Ladies, if your man finishes a little too early, surely he's not feeling great about the situation. Try not to make things worse by assaulting him, like <a href="http://www.huffingtonpost.com/2012/11/27/racquel-gonzalez-esric-davis-orgasm-assault-sex_n_2200096.html" target="_blank">this Florida lady allegedly did. </a>

DO: Use Protection

Kids, use a condom. And not <a href="http://www.huffingtonpost.com/2013/04/15/condom-challenge-snorting-condoms-videos_n_3085258.html" target="_blank">for snorting. </a> <br> <br> But if it fails...

Do NOT Let A Dolphin Assist With Your Child's Birth

If you wind up with a case of the babies, go to a doctor, not a dolphin. <br> <br> <a href="http://www.huffingtonpost.com/2013/05/28/dolphin-assisted-birth-heather-barrington-adam-barrington_n_3346982.html" target="_blank">This North Carolina couple</a> claims they traveled to Hawaii to partake in a "dolphin-assisted birth," which is also known as "hands down, one of the worst natural birthing ideas anyone has ever had," according to science writer Christie Wilcox. <br> <br> Seriously, dolphins have been known to <a href="http://www.huffingtonpost.com/2012/09/06/frisky-dolphin-tries-to-get-busy-divers_n_1862148.html" target="_blank">try to rape people</a>, and disrupting wild dolphin populations with your screaming, blood-covered bundle of joy is <a href="http://www.huffingtonpost.com/2013/05/28/dolphin-assisted-birth-heather-barrington-adam-barrington_n_3346982.html" target="_blank">dolphin-itely a terrible idea. </a>