Jo Cox Showed Us What It Means To Fight Indifference With Courage
Like millions of others, I watched in deep sadness the tragedy that befell British MP Jo Cox -- murdered brutally outside her constituency office by a lone assailant. I read the accounts in the news, followed its implications on Britain's Brexit movement, and just overall felt a deep sadness for her family.
But one image remained with me: Cox's shoe, lying on its side, even after her body was removed. A powerful woman once filled that shoe. She was no regular political aspirant, but a true believer in the nobility of humanity and its capacity for hope and change. She had spent a decade as a relief worker for Oxfam in both the U.S. and Britain, later transitioning over to fight slavery for Freedom Fund, and landing a position with the Bill and Melinda Gates Foundation just prior to her entry into politics. Her all-too-brief record in Parliament was one of tackling leaders, including David Cameron and Barack Obama, and a relentless desire to defend the defenseless.
Jo Cox wasn't only a bright light in the political firmament, but a testament to those human rights and development workers who come to realize that it's only through the power of effective legislation that true change can come... and stick.
She wasn't merely fearless, but vocal about it.
Her world was literally the world, and no Parliament could have been large enough to contain a spirit like hers. In so many ways she had become the antithesis of so many in politics, or as C. G. Jung would put it: "You are what you do, not what you say you'll do."

Yet Cox had one problem, a big one, and it was to lead to her death. She wasn't merely fearless, but vocal about it. And in a world increasingly encroached upon by hatred, she became an inevitable target. She instinctively understood that she was entering dangerous waters and requested extra security measures when attackers online viciously herded after her. Eventually, following three months of requests, the help was granted, but, sadly, her sudden end would preempt the extra detail.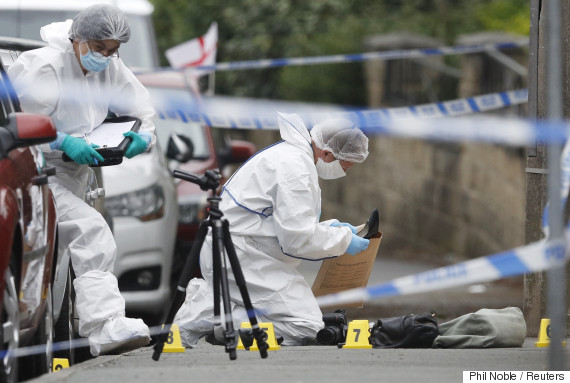 Forensics police officers collect a woman's shoes on the ground behind a police cordon. Jo Cox, a lawmaker for Britain's opposition Labour Party, has died after she was attacked, police said. (Photo: Reuters/Phil Noble)
Our modern world takes a certain delight in trashing politicians -- their egos, ambitions, constant compromises, even what we think are their cushy jobs. My personal experience following five years in Parliament is that most politicians are struggling to be relevant and true to their ideals in face of relentless pressures.
One of those challenges is dealing with citizens and groups through social media. It has become an essential step in the relevance of any political representative and the good ones do it well. But as assaulted figures they become the preferred target of the haters, those trolls and anonymous digital attackers that take a particular delight in fulfilling their dream by destroying the noble dreams of others.
And so, to serve is also to suffer the thousands of arrows heading in a politician's direction every week. However, the longer social media venues tolerate it and the law turns a neglectful eye, the more dangerous has the political world become. The moment hateful words remain uncensored, the quicker evil does its diabolical work, for, as author Jerry Spinelli put it, "If you learn to hate one or two persons... you'll soon hate millions of people." This was the world Jo Cox's very courage caused her to enter, and the result is not a national but an international tragedy.
Perhaps that is why the photo of her empty shoe on the street had such a devastating effect on me -- no one would ever fill her shoes again. She was a bright voice in a world of dark voices, silenced by idiocy. Her children and her husband must now navigate a future without her sun on the horizon, and politics must attempt to move on despite the loss of one of its guiding stars. No one can fill her shoes and no one can wipe away our tears.
Holocaust survivor Elie Wiesel clearly put the choice before us: "The opposite of love is not hate, it's indifference... And the opposite of life is not death, it is indifference." The only way Cox's senseless death can be redeemed is when we, as citizens, purge the hatred from among us by living for the same ideals of this one, too early gone.
Follow HuffPost Canada Blogs on Facebook
MORE ON HUFFPOST:
The Ukip leader and MEP is the most famous 'outer'. After his party took over a 100 council seats in May's local election's Nigel Farage is hoping to win the 2014 European elections and then gain MPs in Westminster in 2015. He has confirmed he will seek a parliamentary seat himself.

Margaret Thatcher's former chancellor and a true 'Tory grandee' revealed in The Times that if and when there is a referendum "I shall be voting out". He also stuck the boot into the David Cameron by saying the prime minister's attempts to renegotiate the terms of the UK's relationship with the EU would be "inconsequential".

There are quite a few Conservative MPs who would like to wave goodbye to Brussels. Ken Clarke has said the figure is as low as 30 despite the strong eurosceptic feeling on the backbenches. However the exact number is not clear. Mid-Bedforshire MP Nadine Dorries, who remains suspended from the Conservative Party, is currently talk tof the eurosceptic town amid rumours she may defect to Ukip. Other backbench Brexiters include Bill Cash, Douglas Carswell, Peter Bone and Philip Davies and former defence minister Sir Gerald Howarth.

Most of the anti-EU focus is on the Tory benches. But there are more than a handful of Labour MPs would would like to quit Brussels as well. Eurosceptics include Frank Field, Kate Hoey, Austin Mitchell, and Gisela Stuart. Stuart has argued the status quo is "not sustainable" and Britain should leave.

Rupert Murdoch has warned that the EU will "sink" the UK. The News International and boss caused a stir when he met Nigel Farage for dinner in London recently and said the Ukip leader was "reflecting opinion" with his anti-EU views. In November 2010 Richard Desmond's Daily Express became the first UK newspaper actively to call for Britain to leave the EU, launching a 'Get Britain Out' campaign

Of course no campaign is complete without a bit of star power. The pro-EU camp have Eddie Izzard, who do the Brexiters have? Joan Collins, a 'patron' of Ukip, wants the UK to leave. "The EU, controlled from Brussels, cares only about itself," she said in March.

Most business leaders do indeed seem content with what Lawson called the "warm embrace of the European single market", but there are a few dissenters. Private equity guys Jon Moulton and Edmund Truell are two and Next boss and Tory peer Simon Wolfson has said: "Britain should stay in Europe, but only on the right terms".

There are a number of loud voices whinnying on the sidelines to say "neigh" to the EU notably Melanie Phillips, Richard Littlejohn, Tom Utley, Simon Heffer. Basically the Daily Mail stable.

Several high-profile politicians appear to be on the verge of calling for the UK to exit the EU - but just are not there yet. Former defence secretary Liam Fox - pictured here with a big gun - has said "life outside the EU holds no terror" should David Cameron's hopes of negotiating a new treaty fail. Education secretary Michael Gove is said to have told friends the UK has "nothing to be scared of" by leaving Europe. And many other eurosceptic cabinet ministers, including Iain Duncan Smith and Owen Paterson are likely to share that view.
Follow Glen Pearson on Twitter: www.twitter.com/glenpearson