How Dallaire Relived Rwanda in Canada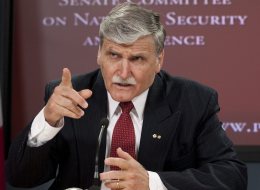 In what ultimately became the defining occasion of his life, General Romeo Dallaire knew he was alone -- without a clear mandate, sufficient resources, or even a sense of moral responsibility from world leaders. He had journeyed to Rwanda to implement the high ideals of human rights rhetoric in a manner that would protect a nation from destroying itself.
We all know what happened -- 800,000 killed, genocide on a significant scale, and dreams of international human security lying in ruins. Leading the United Nations Assistance Mission for Rwanda (UNAMIR), he had every right to expect the backing of those who had sent him there. By the time it was over, the United Nations, United States, Belgium, and others left Dallaire isolated, incapable of dealing with an imminent situation that he warned would get out of hand. It did, and among the many casualties of that period was the General's health -- the attempted suicide, depression, and abject feelings of failure.
Part of his eventual recovery came with his appointment to the Senate by PM Paul Martin in 2005. Hailed at the time as a pivotal selection, Dallaire entered the political fray in a fashion similar to his entrance into the military some 40 years earlier. His presence was immediately felt.
So it came as something of a shock for many last week to learn that this well-known Canadian was retiring from the Senate in order to pursue his human rights agenda on a broader stage. Believing in the Senate's purpose is difficult enough right now given all the scandal, but to lose the likes of Dallaire hollows out much of what is left of the institution's sense of morality and objectivity.
I worked with Romeo for my entire five years in politics and being in his presence always found me subconsciously sitting up straighter, speaking with gravitas, almost as if he was my presiding officer in the army. That was the effect he created on most, and in the Senate that deference many showed him at the time permitted him to make headway on issues that mattered to him: child soldiers, human rights, nuclear disarmament, and the Responsibility to Protect doctrine.
At times I would head over to his Senate office, or he to mine on the House side, and we would work away at legislation or gaining perspective on numerous global issues. But it was obvious that he was becoming disillusioned. As the House fell into a partisan shambles, the Senate was suddenly and firmly stocked with ideological appointees.
In ironic fashion, Romeo Dallaire was reliving the events of Rwanda, only on a less costly human scale. Sent to the Senate to bring intellectual rigor and disciplined experience, he was increasingly abandoned by a government that delighted more in waging domestic war in political ridings than in enhancing Canada's human rights and diplomatic record on the world's stage. He called for resources; they didn't arrive. He sought meetings with political elites; they didn't transpire. And when he ultimately called the government to account for its abandonment of Canada's diplomatic expertise in the world, he was ultimately abandoned and isolated. Parliament itself had become a tribal lair, but instead of Tutsis and Hutus, there were political tribes that swore oaths to destroy one another. It was brutal and ultimately self-defeating, but for Romeo is was history repeating itself.
In essence, he was a lion in a political winter, and since his very life and outlook transcended the paltry dealings around him, he did what he always does -- took the battle directly to the enemy. Tired of watching a government fiddle while the world burned, Dallaire has opted to travel around the world to fight for the causes he holds dear. He made a calculated and strategic decision: politics in Canada, as presently exhibited, is insufficient to play a strong hand on the global stage.
And so the lion has left, moving out into a global jungle that so desperately requires his perspective and ethical force. And the Canadian political scene? It is now without much of its moral centre and international acumen -- the lights are dimming. This is what darkened politics always does: reduces expectations and shoots its own.
Soldier on, Romeo. The world always needed you; it was blind political forces that didn't. Just remember that in all your travels, millions in this country yet desire to see Canada play its historic and innovative role around the world. You're now free to rise above the pettiness of the day. And in making your remarkable difference, we all salute you.
Romeo Dallaire Through The Years
Major-General Romeo Dallaireat the Kigali airport Aug. 1, 1994.

Canadian Major-General Romeo Dallaire in Rwanda Aug 5,1994.

Brigadier General Romeo A. Dallaire watches his troops April 5, 1993 in Valcartier, north of Quebec City, as they train on the field for a UN mission in former Yugoslavia.

Maj.-Gen. Romeo Dallaire, the decorated peacekeeper who led the United Nations mission in Rwanda two years ago, has been given the job of trying to restore morale in Canada's military. Dallaire is shown in this 1995 photo.

Ret. General Romeo Dallaire (right) shares a laugh with First World War veteran Paul Metivier, 102, during the launch of the Memory Project Digital Archive in Ottawa Friday, June 6, 2003. The archive contains the stories of 300 veterans from across Canada.

Goveror General Adrienne Clarkson (right) presents Lieutenant-General (Ret'd) Romeo Dallaire with the Order of Canada during a investiture ceremony at Rideau Hall in Ottawa Friday, May 9, 2003.

Governor General Adrienne Clarkson congratulates Lt.-Gen. Romeo Dallaire for his non-fiction book Shake Hands With The Devil, at the Governor General's Literary Awards ceremony in Ottawa Tuesday Nov 16, 2004.

Retired General Romeo Dallaire displays the Pearson Peace Medal he was presented by Governor General Adrienne Clarkson during a ceremony Rideau Hall in Ottawa, Wednesday, March 9, 2005. Dallaire led a United Nations peacekeeping mission in Rwanda in 1994 and he wrote an award-winning book on the genocide he witnessed in the region.

Retired General Romeo Dallaire is given a round of applause during a ceremony at Government House in Ottawa after he was presented the Pearson Peace Medal, Wednesday, March 9, 2005. Dallaire led a United Nations peacekeeping mission in Rwanda in 1994 and he wrote an award-winning book on the genocide he witnessed in the region.

Philosopher Vianney Decarie(centre) looks on as Quebec Premier Jean Charest (right) gestures to take a look at retired Canadian Forces general Romeo Dallaire's medal at the end of the Ordre national du Quebec award ceremony Wednesday June 22, 2005 at the Quebec legislature.

Senator Romeo Dallaire leaves Parliament Hill in Ottawa Tuesday, July 19, 2005 after the Senate passed Bill C-38 on same sex marriage.

Romeo Dallaire, right, with a Rwandan security in Kigali, Monday, April 5, 2004. Among those attending the 10th Annivarsary of 1994 Genocide is Romeo Dallaire, the retired Canadian general whose U.N. peacekeepers had to stand by helplessly as the slaughter unfolded. Dallaire, who went into suicidal depression because of his experiences in Rwanda, is on his first visit back to the country.

Senator Romeo Dallaire, left, talks to the media and crowd during a rally in Toronto, Sunday, Sept.17, 2006 to protest the violence in the Darfur region of Sudan and urge Ottawa to commit troops to the troubled region

Retired general Romeo Dallaire addresses a tribute to former leader Paul Martin at the Liberal Leadership Convention Thursday, Nov. 30, 2006, in Montreal.

Retired Canadian general Romeo Dallaire (left) and actor Roy Dupuis of 'Shake Hands with the Devil' at the Toronto International Film Festival in Toronto, Monday, Sept. 10, 2007.

Senator Romeo Dallaire appears as a witness at the commons foreign affairs subcommittee on the Omar Khadr case on Parliament Hill in Ottawa on Tuesday May 12, 2008.

Senator Romeo Dallaire a retired Lieutenant-General in the Canadian Army and commander of the U.N. Assistence Mission for Rwanda (UNAMIR) speaks after he received the Common Ground Lifetime Achievement Award from the Search for Common Ground Foundation in New York Tuesday, Nov. 6, 2007

Sen. Romeo Dallaire unveil's the Will to Intervene (W2I) Project report entitled Mobilizing the Will to Intervene: Leadership and Actiom to Prevent Mass Atrocities during a press conference at the National Press Theatre in Ottawa, Ont., Thursday September 17, 2009

Torchbearer Ret. General Romeo Dallaire carries the Olympic Flame towards Rideau Hall in Ottawa, Ont., on Saturday December 12, 2009. The Olympic Flame which travelled all the way from Olympia in Greece is now on a 106-day cross country relay which will end in Vancouver on Feb. 12, 2010 to mark the start of the Vancouver 2010 Winter Olympic Games.

Jonathan MacDonald and Senator Romeo Dallaire hold Olympic Torches up after a hand off of the flame in front of Rideau Hall in Ottawa on Saturday Dec. 12, 2009.

Senator Roméo Dallaire speaks to members of the media and 105! Canada conference members at the National Arts Centre in Ottawa on Friday, March 12, 2010. Dallaire announced he would like a new monument similar to the mother Canada statue at Vimy Ridge erected in Ottawa as part of the 150th celebrations of Canadian confederation.

Romeo Dallaire, left, the Canadian general who was in Rwanda during the genocide, and former child soldier Emmanuel Jal on Dec 10 2010 at the McMIllan Theatre in Toronto after the launch of Zero Force, a global movement to end child soldiers.

Senator and retired general Romeo Dallaire in his office, talking about his new book 'They fight like soldiers, they die like children.' Senator Dallaire, whose latest book deals with the morally complex issue of child soldiers throughout the developing world, said Omar Khadr is a black mark in Canada's international reputation.

The Quebec City International Military Bands Festival takes place every summer bringing together bands from Canada and around the world. Seen here is Lieutenant General Romeo Dallaire during the parade.
Follow Glen Pearson on Twitter: www.twitter.com/glenpearson