Has Technology Ruined the Romance of Travel?
It was the summer of 1998 and my friend and I decided to spend 5 weeks touring the UK and Ireland before heading back to school in the fall. We were 19 and it was the first time either of us had traveled outside of North America. Armed with our 65 litre backpacks and Lonely Planet guides, we were ready for anything.
During that trip we got lost, rocked up to cities without securing a place to sleep and had no idea how long we'd stay. We let our senses guide us, and at 19, our senses were sometimes more likely to lead us to the best places to party (the only photo I have of Glasgow is a night out on Sauchiehall Street), but I digress. Reading maps, trusting recommendations from other travelers and engaging with locals was the only way to feasibly get around.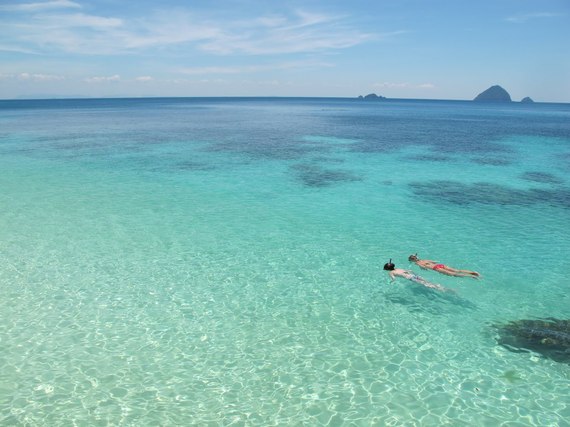 A few years and several stamps in my passport later, I embarked on a 3 month solo trip around South East Asia. Instead of researching ratings on TripAdvisor or sifting through travel blogs -- which didn't exist -- I relied on friends who had traveled the region for recommendations.
One friend had spent several months as a dive instructor in the Perhentian Islands in Malaysia and suggested I check it out. She emailed me a step-by-step guide on how to get there, because the travel guides hadn't really picked up on this little piece of paradise yet. So I printed out her directions and tucked them into my bag along with other emails and handwritten notes from friends on things to see and places to stay.
The directions seemed obscure at first, but she was bang on, and when I arrived to catch a boat from the mainland to Perhentian Kecil -- the smaller of the two islands -- I discovered several other travelers also had notes and emails from friends to help get them there. Forty plus countries and 5 continents later, I still consider this island to be the most beautiful place I've ever traveled.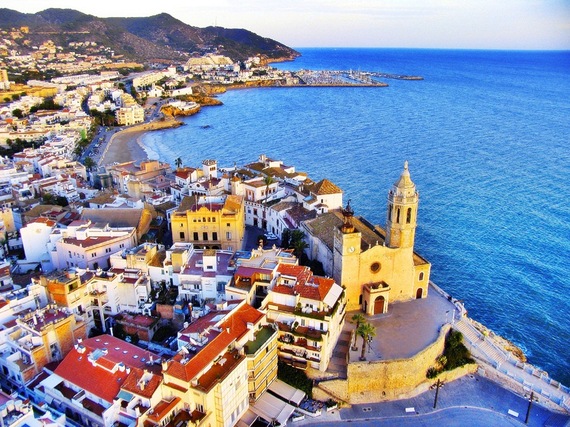 Fast forward to 2008 where I was most definitely researching destinations and booking accommodations in advance online. I made plans to spend a few months traveling Morocco, Spain and Portugal and I knew almost exactly how my trip would go before ever crossing the Atlantic. Despite all the digital resources at my disposal, I was still open to recommendations from friends (I still am to this day). My best friend suggested I spend a day in Sitges, a beach town about 20 minutes by train south of Barcelona.
After an afternoon of lazing on the beach and people watching, I perched my sun-kissed bod at a beach bar and ordered a pitcher of Sangria (as you do). A few moments later a tour group of seniors strolled by smiling and uttering things to me. My command of the Spanish language is pretty basic, so I asked the men behind the bar what they were saying. "They say you are beautiful lady," one announced, giggling. But I knew he was lying, and that "beautiful lady" was probably the extent of his English.
Then a man a few tables away declared that the bartender, as I suspected, wasn't telling me the truth. He said they were saying how happy I looked, despite being alone. That sparked a conversation with this man who turned out to be David Dalmau, a well-know Catalan artist (enter Woody Allen cliché here).
Instead of relying on a smartphone to tell me where to go, what to eat, and what to see I spent the afternoon strolling around Sitges with David. He grew up there and was back visiting friends and family before a new exhibition of his work was set to open in cities across Europe. Hearing his stories as we slowly made our way through the village made for a much richer experience. Had I been hunched over flipping through my Twitter feed (as I sometimes do today) we may never have met.
I now travel with a smartphone and like many of us, I'm completely guilty of being connected while away. It's nice to check-in for a flight on your way to the airport or book hotels on the fly. Yet it's hard to be fully aware of your surroundings while you're so busy capturing them to brag to everyone at home. While travel is a million times easier than it was back in 1998, I'm so grateful to have traveled a few hidden gems before technology made them so accessible.
Do you ditch your devices when you travel, or do you prefer the ease of having information at your fingertips?
ALSO ON HUFFPOST:
Unplug And Relax At These Digital Detox Retreats
The gold standard of detox retreats, Canyon Ranch has become synonymous with relaxation, rejuvenation and total luxury. The all-inclusive health resort and luxury spa caters to the rich and famous, offering the best in healthy cuisine, spa servies, body work, fitness activities, and spirituality and meditation facilites. The resort also offers educational opportunities to help you make a long-lasting commitment to healthy living. One-week all-inclusive stays start at $11,740 per person.

The Digital Detox (whose company motto is "disconnect to reconnect") offers regular tech-free getaways to the peaceful Shambhala Ranch Retreat in the Mendocino hills of Northern California. The restorative trip includes yoga, meditation, hiking, art, and organic cuisine -- no devices allowed. The intimate retreat is open to a maximum of 14 guests, who stay in luxurious private rooms in the large ranch-style lodge. Four-day stays range from $500-950.

The small Caribbean island group of St. Vincent and the Grenadines is encouraging travelers to leave their gadgets at home when they come to enjoy the tropical beauty of the island on their vacation. The islands offer a digital detox vacation package, complete with a tech-free travel guidebook and life coach who will guide you in learning not to let technology control your life.

Experience the beauty of nature and the tranquility of a technology-free existence, try this 12-day African retreat from Jacada Travel. The group trip starts with a safari on the Selous Game Reserve -- one of the largest faunal reserves in the world, and ends with some R&R on the stunning beaches of Mozambique. And of course, enjoy spa treatments and yoga for extra de-stressing. 12-day packages from $12,248 per person.

With luxury yoga retreats in Costa Rica, Sayulita, Mexico, and Todos Santos, Mexico through the year, Via Yoga offers the ultimate wellness retreat and digital detox package. Although you don't have to give up your gadgets, yoga retreat attendees who turn in their iPhones upon arrival receive a 15 percent discount. In addition to beachside yoga, pilates and meditation classes, guests can also enjoy surfing and outdoor activities. Retreat rates start at $2,395 per person.

On the shores of Lake Placid, surrounded by the Adirondack Mountains, the rustic yet luxurious Lake Placid Lodge is the perfect place to escape the distractions of everyday life. With the "Check-In to Check-Out" package, you can check in your devices upon arrival and use the rest of your trip to enjoy the beautiful natural scenery, outdoor activities, and the hotel's many amenities. Private cabins start at $375 per night.

Dublin may be a major metropolitan city, but that doesn't mean you can't do a little unplugging on your next trip to Ireland. The luxurious, five-star Westin Dublin's digital detox package includes breakfast in bed, in-room massage, detox survival kit, and a safe to lock your gadgets away in, so that you can enjoy tranquility and peace in the heart of downtown Dublin. Rates start at $227 per person per night.

Head down to tropical Costa Rica to get away from the business of your everyday life and enjoy a little R&R. The retreat takes travelers through the Cloud Forests and then on to the beaches of the Nicoya Peninsula. All-inclusive 10-day packages from $5,957 per person.

This summer camp for adults promises visitors a chance to get back to childhood -- with campire songs instead of YouTube videos and board games instead of Angry Birds, The Digital Detox's "Camp Grounded" is all about technology-free summer fun. This June, 200 grown-up campers will unplug for four days of outdoor activities and nostalgia in the California redwoods. Four-day stays start at $340 per person.

This luxury Moroccan getaway for women comes with everything you could want in a wellness getaway: Yoga, meditation, spa treatments, organic fine dining, a gorgeous setting and poolside lounging. Harem Escape describes itself as an "oriental paradise where [guests] are encouraged to leave behind the stresses of the world" -- and it's undoubtedly the perfect place for stress relief. The intimate property (it contains just nine rooms) is nestled on 24 acres of desert grounds just outside the vibrant city of Marrakech. All-inclusive prices start at $545 per person per night.

The Farm at San Benito, a Batangas resort, prides itself on offering top-notch holistic healing services in a stunning island setting. It's easy to see why it was rated the "Best Medical Wellness Resort in the World" by SENSES Germany: Luxurious facilities are surrounded by beautiful jungles, gardens and pools. Try the five-day detox cleanse package, a supervised nutritional and therapeutic program, for intensive stress relief and a kick-start to a healthier lifestyle. The four-night, five-day detox cleanse starts at $1,925 per person.

The Island Experience is an unusual health and adventure program where guests can get healthy and relieve stress on the beautiful island oasis of Ilha Grande, off the coast of Brazil. The seven-day program is a combination of adventure spa, yoga retreat and fitness vacation program, designed to "detox your body and de-stress your mind." Contact for pricing information.

Detoxify your mind, body and spirit while surrounded by the natural beauty of the Eastern Townships at Spa Eastman, a Nordic-style luxury spa in the Quebec countryside. Visitors can enjoy the therapeutic benefits of thermotherapy at Eastman-les-bains, as well as traditional spa treatments, gourmet health food, and outdoor activities. Try the Health & Wellness Immersion package -- which includes meetings with a nutritionist and kinesiologist -- for a total detox experience. The seven-night Health & Wellness Immersion package starts at $2,065 per person.

A luxury hotel and spa in the foothills of the Himalayas just might be the perfect place to recharge your health and lower your stress levels. At Ananda In The Himalayas, guests can spend their days practicing yoga and meditation, eating organic health food, and exploring the tranquil forests surrounding restored Viceregal Palace. Try the yogic detox or stress management package for a wellness immersion. The seven-day stress management package starts at $550 per person per night.

Detox and de-stress in "Downton Abbey" style at the luxurious Coworth Park Hotel & Spa, which offers an array of health and wellness services as well as traditional English rituals like afternoon tea and horseback riding. The spa at the five-star luxury hotel was rated the #1 hotel spa in the UK by Conde Nast Traveler. Although the hotel doesn't offer extended detox packages, you can easily create your own wellness getaway with a combination of spa treatments (try the Spring Clean Spa Day Detox), healthy meals and walks in the garden. Double rooms start around $468 per night.

This well-known Byron Bay wellness retreat center, co-owned by Olivia Newton-John, has hosted celebrities like Oprah for detoxing getaways. Guests stay in luxurious bungalows set in the subtropical forests of bungalow bay, while enjoying spa services, yoga and meditation, naturopathy sessions and organic cuisine. Try the five-night refresh package or the seven-night restore package for total pampering. Five-night refresh retreats start at $3,273 per person.
Follow Heather Magee on Twitter: www.twitter.com/MissusHeatherM