Unwinding Under A Million Stars On Colombia's Isla Coralina
There aren't many affordable island paradises left in the world that have been minimally impacted by tourism while maintaining the original mystique that led travellers there in the first place. I've been fortunate to experience a few: Malaysia's Perhentian Islands, Nicaragua's Corn Islands and Bali in the 90s pre-Eat Pray Love and expat overload.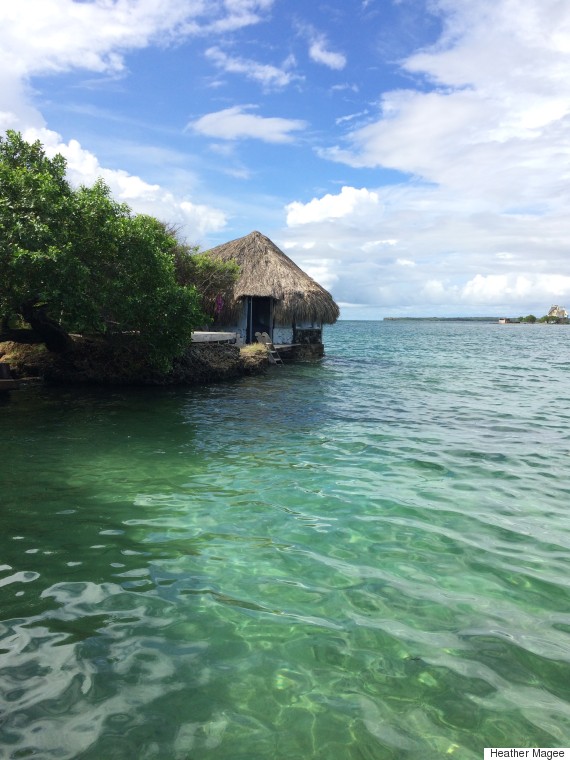 In some cases, it's happenstance or a lucky accident. A missed flight, washed-out road or recommendation from a local. Sometimes it's the difficulty in which to reach these places that deters the crowds, for a while anyway. But as digital media continues to blow open visual access to the world's hidden gems, it's only a matter of time before they land among a list of most instagrammable places in a dust-covered coffee table book. So, the trick is to get there first.
I'm not suggesting you spin your desk globe and pinpoint the most obscure, desolate place you can find. Instead, point your compass towards Colombia and spend some time on Isla Coralina.
Representing a tiny piece of an expansive puzzle of islands, Coralina is part of the Islas del Rosario archipelago, 100 kilometers from Cartagena. Made up entirely of coral and mangroves, its delicate appearance compelled me to tiptoe gently upon it, as if to prevent a piece of this paradise from breaking away and slipping into the sea. A living and breathing land mass with a flurry of birds, butterflies and sea life to engage and entertain its guests.
While you can arrange to visit Isla Coralina for the day, you'll wish you had booked to stay longer. Hotel Coralina, the island's sole accommodation, has well appointed thatched roof huts that feel more like a modern hotel room from the inside. All your meals and private boat ride from Cartagena are included (alcoholic beverages are extra).
If you're not a fan of seafood, you can stop reading right here. Each morning, I would watch young fisherman haul thirty-pound fish out of their boats and gut the beasts in the lagoon out back. Massive Caribbean lobster pulled from the water mere moments before being cooked and aesthetically arranged on my plate. Each meal is elevated with fresh fruit, local ingredients and traditional Colombian cooking techniques. I could literally eat like this for the rest of my days.
There's plenty of ways to stay active on the island, if that's your jam. Scuba diving can easily be arranged through the hotel and snorkelling around the island is excellent. Kayaks are available for exploring nearby shores and the warm Caribbean water is perfect for swimming or floating listlessly atop a pool noodle. If you'd prefer to remain horizontal and completely unwind, lounge on one of the private docks or sway the day away in a hammock.
I tried my best to meditate each morning on our little dock over hanging the sea, but was so distracted by the island's natural beauty I couldn't stand to keep my eyes shut. Watching schools of fish sparkle like hundreds of tiny diamonds, I couldn't help but wonder what life is like among the lowest link of the oceanic food chain. These little wonders must have inspired the saying "safety in numbers."
Given its west-facing locale, sunsets are superb and the stargazing is comparable to a California desert night. The only disturbances, if you could call them that, are the nocturnal noises from the species that call the mangroves home.
Service is what I would call island white glove and guests dine in a candlelit, jungle-like setting. On our last night, my husband and I asked if we could have dinner on one of the more secluded docks. The attentive staff quickly set up our table for two beneath a million brilliant stars -- Venus and Mars aptly visible -- the warm breeze off the ocean and gentle sounds from the surrounding jungle our soundtrack. As we savoured those final fleeting moments, we agreed -- it doesn't get more idyllic than this.
Follow HuffPost Canada Blogs on Facebook
Also on HuffPost:
23 Food Reasons Colombians Know Best
Bogotá is nestled deep in a mountain basin of the Andes, which makes the city's weather colder than the hot climate found just a few hours outside of it. So, it's no surprise that the Colombian capital's staple is a hearty soup. Ajíaco is made with three different types of potatoes, corn, shredded pieces of chicken and, most importantly, guascas (a special herb).

Arepas, or "corn cakes," are not the sweet baked goods their English translation may indicate. They are to Colombians what tortillas are to Mexican – as in they go with anything at any time and any place. Arepas come in different sizes and varieties. In the department of Antioquia, you'll often find a small white arepa on your plate as a side, while in Boyacá they prefer larger buttery arepas made with cheese. Other varieties? Arepa de Huevo, an arepa stuffed with an egg, and arepa de choclo for true corn lover. The one thing they have in commong? They're all delicious.

Buñuelos, almojábana, pandebono, pan de yuca, palitos de queso (all varieties of cheese bread) are just some of the options you can find at your corner bakery. Buñuelos (pictured above) are cheese fritters eaten year-around but are a special treat at Christmas time.

In Colombia, the word "paisa" isn't really used to identify fellow countrymen, across the country people from the departments of Antioquia, Risaralda, Caldas and Quindío are called "paisas" – hence, la bandeja paisa (the paisa platter). What does this colorful dish have to offer? Ground beef, egg, arepa, chorizo, avocado, rice, red beans and chicharron (more on that later), fried plantains, morcilla (blood sausage). Yes, that's all for one person.

Nothing says oceanfront cuisine like fish and coconut, so why not combine the two? Along Colombia's coast you can find fried mojarra accompanied by a side of coconut rice and patacones (these are fried green plantains we will discuss in detail later).

Like arepas, the fried patty is made from yellow cornmeal, or masarepa. This ingredient is what sets Colombian empanadas apart from, let's say, Argentine flour empanadas. Both, however, can be filled with anything from shredded meat and potatoes to chicken to cheese. This snack can be found in little plaza stands or street carts and can be served at any time of day. But why stop there? Add some ají, lime or pineapple sauce for some extra flavor.

Who said beans and rice can't be a part of a complete breakfast? Calentado or Calentao literally translates to "heated." In the Andean region, especially, Colombians regularly enjoy beans and rice for dinner and Calentado was born as a way to consume what was left from the night before in the morning by adding an arepa, egg, chorizo and more to the plate. Thus, this dish is nothing but reheated leftovers. If you think that makes it any less delicious, you'd be mistaken.

For Colombians the best way to eat avocado is by slicing it in half, taking a spoon and scooping it up straight. There is nothing that cannot be eaten with avocado; a slice of the green superfood is bound to top every regional dish and compliment any meal.

Colombians may not enjoy spice the way Mexicans do, but it doesn't mean they don't know how to heat things up. Ají is a special sauce that can be found in practically every restaurant, regardless of the region. Made from diced tomatoes, cilantro, chopped green onions, vinegar, water, lemon juice and, of course, ají or habanero pepper. This sauce is perfect for grilled meats, empanadas, patacones, arepas and much more.

This anise-flavored liquor is derived from sugarcane, but don't expect it to be sweet. Aguardiente – colloquially known as "guaro" – has an intense flavor so it's no surprise its name translates to "burning water." Guaro is Colombia's signature drink and at least one bottle never fails to make an appearance at any party. Pro tip: Aguardiente is about sharing, which means if there is one bottle, three plastic shot glasses and 10 people – don't expect to get your own personal cup.

There is likely no better combination of sweet and salty than baked plantains topped with guava and melted cheese. It will instantly turn that frown upside down and make you realize that Colombians know no boundaries when it comes to tasty treats.

Tamales from the Tolima department are a delicious breakfast enjoyed all across the country. In Colombia, where bananas abound, the tamales are wrapped in plantain leaves. Inside, the filling comes with chicken, pork belly, pork ribs, boiled eggs, carrots, peas, potatoes, rice and more. Yup, that's breakfast. Oh and did we mention it usually comes with hot chocolate and an arepa?

Aguapanela, which translates to "panela water," can be served hot and with a little lime to help cure any flu or it can be served cold to cool down during those sunny summer days. Panela is a sweet, solid block that is derived from sugar cane and adding lime to the drink helps make the drink less sweet to suit your palate.

Oh you thought dulce de leche only existed in Argentina? Nope. In Colombia this delicious elixir prepared by slowly heating sweetened milk is called arequipe. This scrumptious concoction can be enjoyed in many ways but nothing beats smearing a thick serving of arequipe on the impossibly thin and round wafers known as obleas.

As if all of the delicious snacks and treats available to Colombians weren't enough, let's add an oversized fried green plantain topped with a special tomato and onion sauce. A "patacón con hogao" can be served as an appetizer or frankly just as a side to one of the many national dishes.

Colombians drink their coffee black. That's it. No fancy concoctions or flavors, just the pure aroma and taste of fresh ground coffee. But don't expect most people to ask for "un café," in the South American country people drink tinto. Colombians will often enjoy their tinto after a meal or when having a long conversation with a friend. You just can't go wrong when it comes to Colombian coffee.

If the idea of eating what is essentially a sausage filled with dried blood is less than enticing, never fear, Colombians have the answer. For them, morcillas should also be stuffed with rice, peas, onion, parsley and a few more ingredients that make them a beloved addition to any platter.

Sure, nothing warms you up quite like a large cup of hot chocolate. So how can you make it better? Add cheese. Colombians are known for dropping pieces of double cream cheese into hot chocolate, which after some time melts.

Pitaya, lulo, granadilla (pictured above), mamoncillo, guanabana, cherimoya, tomate de arbol, uchuva, zapote, curuba…just to name a few.

It's not simply pork rinds, Colombians like a lot more meat on their skin. The fried pork belly has the crunchy skin on the outer rim and the soft meat on the inside. It's a guilty pleasure, so don't start counting calories.

Refajo, a mix of beer and the national kola champagne known as Colombiana, is a big hit at barbecues and family gatherings. It may not be fancy but it sure is delicious.

Whether its celebrating Independence Day or Christmas, Lechona is a ridiculously popular dish – nay, an event -- across the country. It's made with peas, green onion, yellow rice and spices which are all stuffed within a roast pig and cooked in a brickoven for several hours. The process is lengthy but lechona is always a crowd pleaser.

We weren't lying when we said arequipe was the perfect compliment to anything, including fruit. A popular Colombian dessert is brevas con arequipe (figs with arequipe), a tasty treat often accompanied by a fresh slice of cheese. So you can feel (a little) less guilty about your sweet tooth.
Follow Heather Magee on Twitter: www.twitter.com/MissusHeatherM