Airports Must Be Good Neighbours To The Communities Around Them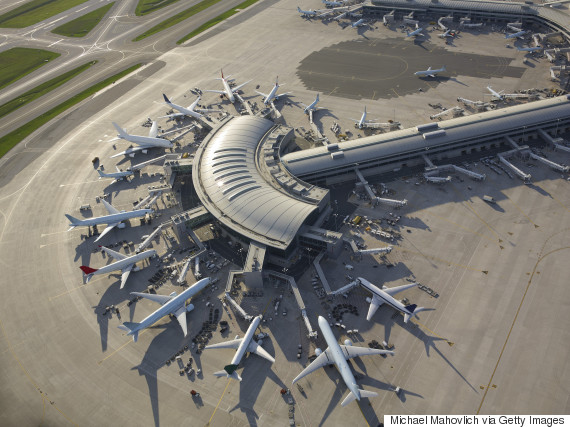 Last month, Toronto hosted 6 Degrees Citizen Space 2016, a symposium that included leading thinkers such as Canada's former Governor General Adrienne Clarkson, who spoke of Canada's inclusiveness and the ongoing need to build citizenship in our communities.
Our country is known for its commitment to welcoming newcomers -- consider the arrival of 30,862 Syrian refugees to date. It makes sense for a young country like Canada, which is made up of newcomers (my own mom arrived in Toronto from Trinidad as a child), to prioritize inclusiveness and to offer lessons to other countries on how to do this successfully.
I enjoyed learning more about inclusiveness at 6 Degrees, particularly given that I work for Canada's largest airport. In fact, the area that surrounds the airport is home for many communities of new Canadians: people with energy and enthusiasm who are looking for employment opportunities -- not just to earn a living, but also to build connections within their new home. I happen to believe that airports have a unique opportunity to engage those around us and welcome newcomers to the neighbourhood. After all, our surrounding communities rely on one another to grow and thrive, and without one, we do not have the other.
Like other airports situated outside of city centres, Toronto Pearson is surrounded by some of the most underserved neighbourhoods in the Greater Toronto Area. The regions of Mount Olive-Silverstone-Jamestown, Elms-Old Rexdale and Humber Summit all scored far below the Neighbourhood Equity Benchmark that the City of Toronto releases each year. For new Canadians who start their lives in these neighbourhoods, finding support in the forms of employment and community can be particularly challenging.
We're constantly looking to change the status quo, and are taking steps to ensure that the airport serves as an effective hub to our neighbours in as many ways as we can. Not only do we want to help; it's within airports' best interests to help build the communities that surround them, improve the quality of life and provide employment opportunities to those who live in our backyards.
For example, through the Propeller Project, we've helped give Syrian newcomers transit passes to assist them navigate and travel through Toronto. We're not alone in these types of efforts: similarly, London's Heathrow Airport funds a grant-making charity (Heathrow Community Fund) devoted to improving the communities surrounding the area. As we move forward, the Propeller Project will continue to evolve, and will focus on building pathways to employment and developing diverse talent pipelines.
Like some of the largest companies in the world, airports employ thousands and thousands of people, with a variety of skills and expertise. And as air passenger traffic continues to increase year over year, the need to find employees in the surrounding communities will only become more urgent.
The largest airport in the world, Hartsfield-Jackson Atlanta International Airport, employs approximately 56,000 people. At Toronto Pearson, we currently have 49,000 employees - a number that has grown 23 per cent since 2010. When we think of that size, it's easy to see why airports, including Heathrow Airport (London) and Calgary International Airport, turn to their neighbourhoods for support.
Airports have a responsibility to contribute to their communities by supporting the surrounding neighbourhoods and identifying job opportunities for those living nearby. Inclusiveness is a not just a goal but it is our responsibility to ensure this is reflected in the work we do beyond our doors.
Follow HuffPost Canada Blogs on Facebook
Also on HuffPost:
Unique Airports In The World
The main airport on the Caribbean island of Saint Martin, this airport's runway is situated in close proximity to Maho beach.

The main international airport in Maldives, this airport is also known as Malé International Airport. It has been constructed at an elevation of 2 metres above mean sea level. Adjacent to the aiport is a waterdrome that has four water runways for seaplane operations.

This is reputed to be the most dangerous airport in the world with a sloped runway that is 527 m long, 20 m wide, and inclined at an amazing 12 degrees.

Spread over 45.9 acres, this is the only airport on the island that lies off India's west coast. It features one runway and its terminal can handle a maximum of 50 passengers at peak time.

A challenging airport to land in, flights are restricted to land/take off only during daylight hours.

The Kansai airport is Japan's second largest airport is built on an artificial island that cost 17 billion dollars to construct. It was built to relieve overcrowding at Osaka International Airport.

Build during World War II, the Gibraltar International Airport features an astounding view of the Rock Of Gibraltar, however is another difficult airport for pilots to manoeuvre around, because of the same reason.

Oddly enough, this airport features a railway line (Pamerston-North to Gisborne) that cuts rights across the main runway.

One of the highest airports in the world (3,256 metres above mean sea level), there is heavy level of this security at this airport: police and soldiers from the Indian army patrol the airport at all times.

Commonly known as DIA, this is the 5th busiest airport in the United States and the only airport (in that country, at least) to feature an ISO 14001-certified environmental management system.

Close to the McMurdo station, this runway (out of three) is the main runway for the US Antarctic Program. It is used until early December, after which the operations are shifted to Williams Field, another snow-ice runway.

This altiport features a short runway (537 m) in the French Alps, and has gained a reputation for being a dangerous landing area due to its mountainous terrain.
Follow Hillary Marshall on Twitter: www.twitter.com/HillaryMarshal