How Do We Make A Better World For Children Affected By HIV/AIDS?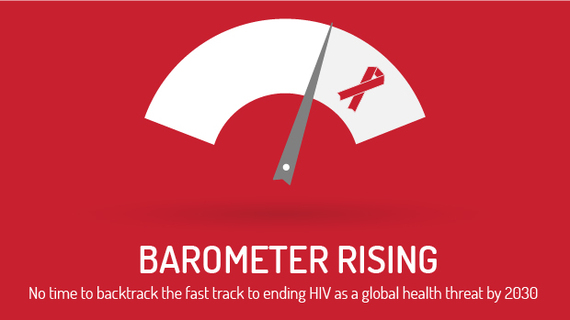 By Nicci Stein
When you think about HIV prevention and children, the first thing that comes to mind is perinatal/vertical transmission -- a baby acquiring HIV in utero, through the birth process or through breastfeeding. For some reason, the catchy acronym "PMTCT" (Prevention of Mother to Child Transmission) stubbornly stays in our lexicon even though it is archaic and places the burden of guilt for transmission onto women living with HIV. But that's another topic for another day.
How HIV affects children and how the impacts can be addressed and mitigated involves so much more than ensuring babies born to HIV+ moms can be "HIV free." It's not that I'm dismissing the enormous impact of the world's most successful HIV prevention program -- far from it. Since 2011, new infections in children have reduced by a massive 60 per cent -- this drop is responsible for most of the impressive decline in HIV infections globally. Of course this is to be celebrated by everyone -- most especially by HIV+ moms themselves. I think it is safe to say that no woman actually wants their baby to born with HIV.
It is widely acknowledged that social stigma about HIV is what hampers so many of our prevention efforts.
So why then is it hard for me to join in the spontaneous applause that tend to break out at events where statements such as "... and her baby was born HIV-free" or "... and my baby is healthy" are made? I keep thinking about what that says about mothers who did give birth to HIV+ babies. Have they somehow "failed" in their parental duties? Do they feel they have to explain their circumstances to justify that it wasn't their "fault" so that the rest of us can "understand" their "failure?"
It is widely acknowledged that social stigma about HIV is what hampers so many of our prevention efforts. Stigma manifests both in the outside environment and in the self-reflections of those living with HIV and, most disturbingly, sometimes in our very own HIV community. Every day we come across situations of discrimination in our work -- sometimes based on HIV status but more often based on gender and race. Until we really tackle these issues on a massive scale, we will continue to face obstacles in our quest for global goals that make it seem as if eliminating HIV is just around the corner.
Take child apprehension for example. A staggering 41 per cent of children in the care of Toronto Children's Aid Society are black, yet only 8.2 per cent of Toronto's under-18 population is black. Parents feel overwhelmed when they come into contact with bias and systemic racism in large bureaucratic structures such as the Children's AID Society (CAS), schools and the police service. In situations where parents are struggling with issues such as poverty, under-employment and unsuitable housing, the common goal is to support them and help to strengthen the family to regain their footing and get back on track. Sometimes that happens, but all too often parents lose hope and feel frustrated. Once they express their anger and frustration, they are branded as uncooperative and everything gets so much more difficult.
Someone outside of the HIV field recently pointed out to me that they never hear about HIV any more -- except of course when a photograph of an evil "AIDS killer" graces the front of our daily newspapers when yet another black man is hauled through the court system for committing "fraud" in the context of scientifically outdated notions of what constitutes "HIV risk." It is really the behaviour of the courts that is criminal in this context -- stubbornly refusing to embrace the science that has clearly shown that "undetectable = uninfectious."
So how do we "end the epidemic by 2030" when these barriers seem so insurmountable? The global #StartStayAIDSFree movement outlines a plan to tackle the issue of HIV in children in three ways across the lifespan -- prevent new infections in infants, helping those same HIV negative children and adolescents stay that way and ensuring that children born with HIV live long and healthy lives. In each of these stages, we must work actively towards breaking down the walls of discrimination and bias as well as tackling violence directed at women and young girls before we can see any real success. While it is hard for an individual to combat structural racism in its monolithic entirety and when it seems that the expression of hatred has taken a renewed hold in our world, each one of us can work to make our own footprints lighter.
So my challenge for you this week when the world's attention is focused on HIV and AIDS, is to be mindful every day of how you go about your life -- be open and kind, really listen to what people are telling you -- not just the words, but try to imagine their experience and how it feels to be in their position, tread gently as you go through your day and end every day listing three things for which you are thankful. In this way we can honour those who we have lost to HIV and start to create a kinder and more forgiving world for those who live with HIV every day.
Nicci Stein is the Executive Director of The Teresa Group, Canada's oldest community-based charitable organization specifically serving children affected by HIV and AIDS and their families.
This blog is part of the blog series: Barometer Rising: No time to backtrack the fast track to ending HIV as a global health threat by 2030 by the Interagency Coalition on AIDS and Development (ICAD) in recognition of World AIDS Day (1 December). The series features a selection of blogs written by our member and partner organizations. Contributors share their broad range of perspectives and insight on what they think needs to be done to strengthen our HIV prevention efforts at home and abroad in order for the world to meet the ambitious target of ending AIDS as an epidemic by 2030.
Disclaimer: The views and opinions expressed in this blog series are those of the authors and do not necessarily reflect those of ICAD.

Follow HuffPost Canada Blogs on Facebook
Also on HuffPost:
10 Important HIV/AIDS Discoveries
Only one quarter of the 1.1 million people with HIV have their condition under control, where "under control" means the virus has been suppressed, according to a report released this summer by the Centers for Disease Control and Prevention. CORRECTION: The first sentence has been reworded to more accurately reflect the number of people with HIV.

Even though two men were, for a time, able to go off antiretrovirals because their HIV had been reduced to undetectable levels after receiving bone marrow transplants, the HIV eventually returned in the men, according to news reports. In 2012, the news of the men's undetectable HIV levels made headlines. The men, who were both HIV positive and taking antiretroviral drugs, had received bone marrow transplants for Hodgkin's lymphoma. They had received the transplants while they were also taking the antiretroviral medication. However, in late 2013, preliminary results showed that the HIV had returned. This slide has been updated to note more recent developments related to the procedure.

New HIV infection rates can be dramatically lowered by making antiretroviral drugs free, a study from Canadian researchers found. The Canadian Press reported on the study, conducted by B.C. Centre for Excellence in HIV-AIDS researchers, which showed that British Columbia -- a province that offers free access to antiretroviral therapy -- had the lowest rate of new HIV infections over a more-than-10-year period, compared with Ontairio and Quebec.

More than half of HIV-infected young people are unaware that they have the virus, according to a Centers for Disease Control and Prevention report. "Given everything we know about HIV and how to prevent it in 30 years of fighting the disease, it's just unacceptable that young people are becoming infected at such high rates," Reuters reported CDC Director Dr. Thomas Frieden saying. The report also showed that for young people, 72 percent of the new HIV infections were in men who have sex with men, while almost 50 percent were in young, African-American males, Reuters reported. These figures are based on 2010 data.

The number of people living with HIV has increased by 18 percent from 2001 to 2011, according to a report released this year from the United Nations Programme on AIDS. An estimated 34.2 million people around the world are living with HIV. The report also showed that deaths from AIDS have dropped, from 2.3 million in 2005-2006 to 1.7 million in 2011, Reuters reported.

According to the same United Nations report, costs for the cheapest UN-recommended antiretroviral therapy drugs have also decreased over the past 10 years, Reuters reported. A year's worth of the drugs used to cost $10,000 in 2000 for one person; now, it costs $100 a year.

The Food and Drug Administration this year officially approved the drug Truvada -- which has been used since 2004 as a treatment for HIV -- to be sold as a preventive measure for people who don't have the infection, but are at high risk for it. The FDA said that the pill should be considered for preventive use not only by gay or bisexual men who are at high risk for HIV, but also heterosexual men and women who may also face HIV risks, the Associated Press reported. Heterosexual men and women make up more than one-fourth of new cases of HIV, and "that's not a portion of the epidemic we want to ignore," the CDC's Dr. Dawn Smith, who was the lead author of the new recommendations, told the Associated Press. The FDA also approved a new drug this year, Stribild, to treat HIV, Reuters reported.

In findings published this year in the journal PLoS Pathogens, scientists from the University of California, Los Angeles found that it's possible to genetically engineer stem cells to attack living HIV-infected cells in mice. While the study was only for "proof-of-principle," it "lays the groundwork for the potential use of this type of an approach in combating HIV infection in infected individuals, in hopes of eradicating the virus from the body," study researcher Dr. Scott G. Kitchen, an assistant professor of medicine at UCLA, said in a statement.

People should be screened for HIV even if they're not at high risk of contracting the infection, according to draft recommendations released just last month by the U.S. Preventive Services Task Force. The recommendations would mean that everyone between the ages of 15 and 65 should be screened for HIV, even if they're not at high risk for it, Reuters reported. "The prior recommendations were for screening high-risk adults and adolescents," Dr. Douglas Owens, a member of the USPSTF task force and a Stanford University medical professor, told Reuters. "The current recommendation is for screening everyone, regardless of their risk."

All HIV patients should be treated immediately with antiretrovirals, according to new guidelines issued this year from a panel of the International Antiviral Society-USA, as reported by TIME. The recommendations are counter to previous guidelines, which said that antiretrovirals should only be used if the CD4 count -- a measure of immune cells in a person's body -- becomes less than 350 cells for every mm3 of blood.
Follow Interagency Coalition on AIDS and Development on Twitter: www.twitter.com/ICADCISD