Continue To Fund Fight Against AIDS, Tuberculosis And Malaria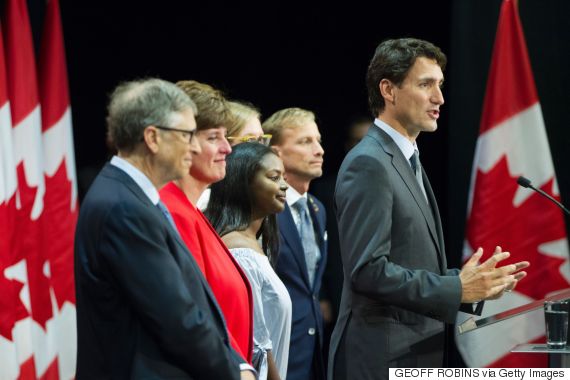 Canadian Prime Minister Justin Trudeau speaks during a press conference following the conclusion of the Fifth Replenishment Conference of the Global Fund to Fight AIDS, Tuberculosis and Malaria in Montreal, Quebec, Sept. 17, 2016. (Photo: Geoff Robins/AFP/Getty Images)
By Katja Tielemann, Advocacy Officer with Deutsche Stiftung Weltbevölkerung (DSW)
At the conclusion of the 5th Global Fund Replenishment Conference of the Global Fund to fight AIDS, Tuberculosis and Malaria in Montreal, Canada, on September 16 to 17, the Global Fund announced that pledges totalling US$12.9 billion were made. This is almost US$1 billion more than what was raised at the previous replenishment conference in 2013 and represents a significant commitment to fighting the three diseases over the coming three years. But will it be enough to end the three epidemics for good?
At the beginning of this replenishment process, the Global Fund made the case for a US$13 billion investment to allow it to keep on the right trajectory to reach the target of ending AIDS, Tuberculosis (TB) and Malaria by 2030. But US$13 billion are only 80 per cent of what it actually needs to be fully funded and so this can only be the beginning of an ongoing fundraising effort for the Global Fund (and the broader global responses to the three diseases which require strong advocacy in the coming years). It seems that the Global Fund set the funding target at what it knew it would be able to raise from donors, rather than at what it requires to meet the challenges and do its work properly.
Global Fund replenishment - what is it?
The Global Fund plays a unique and important role in the global effort to fight the three diseases. Its work over the next three years is expected to save up to eight million lives and prevent 300 million new infections. However, we must not forget that there are millions more who will fall through the cracks if we stop and if we consider the work done after the replenishment conference and don't do more to increase investment. Further mobilization, resources and leadership are needed to bring an end to these three epidemics by 2030, which is one of the targets of the Sustainable Development Goals (SDGs).
As civil society we must ensure that what governments announced translates into funding, the pledges to the Global Fund as well as countries' co-investment through their own health budgets. This is critical to address the needs of the most vulnerable and key populations no matter where they live.
Germany, like other European countries has increased its contribution; namely by 30 per cent to €800 million. However, considering that the core contribution only increased by 10 million to €675 million and that the rest comes from exceptional contributions as debt to health swaps (€100 million) and Germany's technical support (€25 million), Germany's pledge was not as ambitious as hoped. But we are only at the beginning: we, together with our partners from German civil society, will continue advocating for a fair German contribution to the Global Fund.
As civil society we must ensure that what governments announced translates into funding.
New partners for the Global Fund replenishment conference
Many new partners pledged for the first time, and private sector contributions more than doubled. Several low-and middle-income countries, that are significantly increasing their investments in health, also pledged contributions to the Global Fund. Thus Kenya, for example, pledged US$5 million. Most African nations are recipients of Global Fund grants. However, several made contributions. While these contributions do not represent a large share of the Global Fund's budget, they are an important demonstration of leadership and commitment.
Civil society advocates participated at the conference to ensure that the voices of key populations, such as women and girls and those living in countries transitioning out of the Global Fund eligibility, were heard. Private sector, rock stars, philanthropists and diplomatic leaders demonstrated their support for the Global Fund through several side-meetings. For example, a two-day pre-meeting "Celebrating the Gains, Meeting the Challenges was held on September 15 to 16.
The event brought together Canadian and international advocates to discuss ideas and develop strategies to mitigate the impact on key populations of donor transitioning out of middle-income countries they also deliberated the challenges and actions needed to maintain the momentum and prepare for the next replenishment in 2019. Human rights and gender equality as well as the needs of key and vulnerable populations were mainstreamed as cross-cutting issues.
Another event organised by civil society was the panel discussion "Sharpening our Focus: Human Rights and Key Populations in the Global Response to HIV, TB and Malaria." As custom in Canada, the event was opened by an indigenous Mohawk Elder, Sedalia Fazio, who reminded participants about the health of the planet and our role in preserving it: "Everything on Earth is doing exactly what it was instructed to do -- except human beings."
What happens after the Global Fund replenishment 2016?
Post-replenishment is before the next replenishment. As Rachel Ong, Communication Focal Point of the Communities Delegation, said in her statement on behalf of the communities and civil society delegations on the Board of the Global Fund: "The 5th Voluntary Replenishment of the Global Fund cannot end here in Montreal and we will all be accountable for what we can achieve to end it for good." The German and international civil society will continue to advocate for a fully funded Global Fund to continue to support people living with and most affected by the three diseases wherever they are.
Katja Tielemann-Ruderer is the Advocacy Officer with Deutsche Stiftung Weltbevölkerung (DSW), an international development and advocacy organisation working to empower young people and communities in low- and middle-income countries by addressing the issues of population dynamics and by improving health as a way to achieve sustainable development.
This blog is part of the blog series: AIDS, TB and Malaria: It's High Time for Us to End It. For Good by the Interagency Coalition on AIDS and Development (ICAD) in recognition of The Global Fund's Fifth Replenishment. The blog series runs from August 29 to October 3, 2016 and features a selection of blogs written by our member and partner organizations. Contributors share their broad range of perspectives and insight on the work of The Global Fund and the opportunity that this moment presents us one year following the inauguration of the global Sustainable Development Goals (SDGs).
Disclaimer: The views and opinions expressed in this blog series are those of the authors and do not necessarily reflect those of ICAD.
Follow HuffPost Canada Blogs on Facebook
Also on HuffPost:
10 Important HIV/AIDS Discoveries
Only one quarter of the 1.1 million people with HIV have their condition under control, where "under control" means the virus has been suppressed, according to a report released this summer by the Centers for Disease Control and Prevention. CORRECTION: The first sentence has been reworded to more accurately reflect the number of people with HIV.

Even though two men were, for a time, able to go off antiretrovirals because their HIV had been reduced to undetectable levels after receiving bone marrow transplants, the HIV eventually returned in the men, according to news reports. In 2012, the news of the men's undetectable HIV levels made headlines. The men, who were both HIV positive and taking antiretroviral drugs, had received bone marrow transplants for Hodgkin's lymphoma. They had received the transplants while they were also taking the antiretroviral medication. However, in late 2013, preliminary results showed that the HIV had returned. This slide has been updated to note more recent developments related to the procedure.

New HIV infection rates can be dramatically lowered by making antiretroviral drugs free, a study from Canadian researchers found. The Canadian Press reported on the study, conducted by B.C. Centre for Excellence in HIV-AIDS researchers, which showed that British Columbia -- a province that offers free access to antiretroviral therapy -- had the lowest rate of new HIV infections over a more-than-10-year period, compared with Ontairio and Quebec.

More than half of HIV-infected young people are unaware that they have the virus, according to a Centers for Disease Control and Prevention report. "Given everything we know about HIV and how to prevent it in 30 years of fighting the disease, it's just unacceptable that young people are becoming infected at such high rates," Reuters reported CDC Director Dr. Thomas Frieden saying. The report also showed that for young people, 72 percent of the new HIV infections were in men who have sex with men, while almost 50 percent were in young, African-American males, Reuters reported. These figures are based on 2010 data.

The number of people living with HIV has increased by 18 percent from 2001 to 2011, according to a report released this year from the United Nations Programme on AIDS. An estimated 34.2 million people around the world are living with HIV. The report also showed that deaths from AIDS have dropped, from 2.3 million in 2005-2006 to 1.7 million in 2011, Reuters reported.

According to the same United Nations report, costs for the cheapest UN-recommended antiretroviral therapy drugs have also decreased over the past 10 years, Reuters reported. A year's worth of the drugs used to cost $10,000 in 2000 for one person; now, it costs $100 a year.

The Food and Drug Administration this year officially approved the drug Truvada -- which has been used since 2004 as a treatment for HIV -- to be sold as a preventive measure for people who don't have the infection, but are at high risk for it. The FDA said that the pill should be considered for preventive use not only by gay or bisexual men who are at high risk for HIV, but also heterosexual men and women who may also face HIV risks, the Associated Press reported. Heterosexual men and women make up more than one-fourth of new cases of HIV, and "that's not a portion of the epidemic we want to ignore," the CDC's Dr. Dawn Smith, who was the lead author of the new recommendations, told the Associated Press. The FDA also approved a new drug this year, Stribild, to treat HIV, Reuters reported.

In findings published this year in the journal PLoS Pathogens, scientists from the University of California, Los Angeles found that it's possible to genetically engineer stem cells to attack living HIV-infected cells in mice. While the study was only for "proof-of-principle," it "lays the groundwork for the potential use of this type of an approach in combating HIV infection in infected individuals, in hopes of eradicating the virus from the body," study researcher Dr. Scott G. Kitchen, an assistant professor of medicine at UCLA, said in a statement.

People should be screened for HIV even if they're not at high risk of contracting the infection, according to draft recommendations released just last month by the U.S. Preventive Services Task Force. The recommendations would mean that everyone between the ages of 15 and 65 should be screened for HIV, even if they're not at high risk for it, Reuters reported. "The prior recommendations were for screening high-risk adults and adolescents," Dr. Douglas Owens, a member of the USPSTF task force and a Stanford University medical professor, told Reuters. "The current recommendation is for screening everyone, regardless of their risk."

All HIV patients should be treated immediately with antiretrovirals, according to new guidelines issued this year from a panel of the International Antiviral Society-USA, as reported by TIME. The recommendations are counter to previous guidelines, which said that antiretrovirals should only be used if the CD4 count -- a measure of immune cells in a person's body -- becomes less than 350 cells for every mm3 of blood.
Follow Interagency Coalition on AIDS and Development on Twitter: www.twitter.com/ICADCISD