If the Stories Are True, Can Rob Ford Be Removed From Office?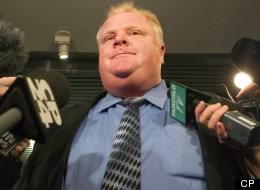 The most recent scandal to touch Toronto's mayor, Rob Ford, involves allegations he smoked crack cocaine. Now, the allegations come second hand in the Toronto Star, and while the Star is a very legitimate newspaper it is also famously feuding with Mayor Ford. Some Toronto Star reporters saw a video tape and based on what they saw concluded Mayor Ford was smoking crack. Maybe they misunderstood, were intentionally misled or were just mistaken in what they saw.
It is possible the allegations against Mayor Ford are false or perhaps dated (none of the apparent current references supposedly made by the mayor during the infamous tape could have been made in the past).
That said, the obvious question is, if Mayor Ford is charged with possession of crack cocaine does he then lose his post? The short answer is "no."
Standing alone criminal charges do not affect the right to sit as mayor. In fact, Ontario's municipal laws provide very little way to remove a mayor convicted of a crime while in office.
For example, in 2007, Jim Jones, deputy mayor of Markham, was convicted of assault. As a Markham spokesperson noted Mr. Jones would "certainly be eligible to continue to serve" as a York Region Councillor. Mr. Jones was not a mayor but the ability to remain in office applies the same to mayors.
The only limit on a mayor serving when criminal charges are pending is where the mayor is actually "serving a sentence of imprisonment in a penal or correctional institution." (Municipal Elections Act). And to get an actual sentence of imprisonment is quite difficult -- it is most unlikely that someone like Mr. Ford would be sent to prison for smoking crack cocaine, especially for a first crack offence.
Absent imprisonment, there is really no way to remove a mayor who is charged with an offence. There are no legally-binding mechanisms to impeach, recall, or force resignation on a mayor in Ontario.
Accordingly, whatever is worrying Mr. Ford, an expulsion from office because of the supposed crack scandal before the next election should not be high on his list.
Rob Ford's Greatest Gaffes
In March, former mayoral candidate Sarah Thomson accused Rob Ford of grabbing her behind while at an event. She later suggested the mayor was so out of it that she wondered if he was on cocaine. Ford has denied the accusations.

In November of 2012, an Ontario Superior Court Judge ordered Rob Ford to be removed from office for violating Toronto's Conflict-of-Interest Act. The ruling stemmed from Ford's participation in a council vote to recommend he repay donations that he solicited for his private football foundation using official city letterhead. After weeks of uncertainty about who would replace Ford, the mayor won his appeal, allowing him to remain in power.

Ford's role as coach of a high school football team has repeatedly landed him in hot water. From a city bus used to ferry the team home after a reported brawl, to missed council meetings and court appearances, Ford's gridiron exploits have made headlines again and again. Despite the controversy, Ford has maintained that he's not giving up his other job to focus on running the city.

On a trade mission to Chicago, Ford infamously confused Winnipeg and Windsor, a verbal stumble that prompted chuckles on both sides of the border.

A video clip of Ford falling while attempting to throw a football at a Grey Cup event was quickly turned into GIF image that went viral.

In October of 2012, a photo hit the web of Ford reading while driving. The mayor admitted to doing it, but refused to hire a driver, despite pleas from the police and political allies. The incident was far from the first Fordian fail on the road. The mayor has also been accused of giving a motorist the finger while driving and has admitted that he pleaded guilty to refusing to provide a breath sample after driving under the influence of alcohol in Florida.

A photo hit the web in September of 2012 of Ford posing with a neo-Nazi dressed in a foreign military uniform. Ford explained that he was unaware of the man's political beliefs. At least one major Jewish group said it was satisfied the mayor meant no harm.

For several months in 2012, Ford took part in a very public weight-loss campaign. Weigh-ins staged before the press meant the mayor had nowhere to hide, and after some initial success, he actually started putting on pounds. Ford admitted to giving up soon after.

Ford called the police in May of 2012 and alleged that Toronto Star reporter Daniel Dale trespassed on his property. Dale denied the allegations and said Ford approached him with a raised fist. Ford would subsequently refuse to speak with reporters from the Star or to co-operate with the paper in any way.

Ford has twice bucked tradition and refused to attend Toronto's Pride parade, prompting widespread criticism.

Late in 2011, Ford called the police after Marg Delahunty (Mary Walsh) and the crew of CBC's satirical show "This Hour Has 22 Minutes" showed up at his home. While other politicians have reacted with laughter when approached by Delahunty, Ford said the "ambush" at his family home crossed the line.
Follow James Morton on Twitter: www.twitter.com/@MortonsMusings