Someone Tell The Ontario Liberals That Autism Doesn't End At 5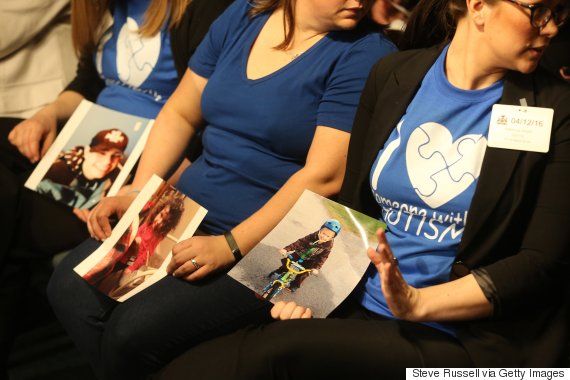 Parents of children with autism hold a press conference at Queen's Park on April 12 to protest changes to the Ontario autism program that leave their kids without intensive therapy once they turn five. (Photo: Steve Russell/Toronto Star via Getty Images)
When the Progressive Conservatives and the NDP agree on something, the issue must transcend ideology. The Ontario government's recent cut of life-changing therapy for autistic kids has mobilized them both.
On Tuesday the PCs, supported by their opposition colleagues, will move that the Ontario government restore funding for Intensive Behavioural Intervention (IBI) therapy for children five years of age and over.
For the third time in a month, parents from across the province whose children's futures are at stake will descend on Queen's Park to watch the debate unfold.
As one such parent, I've watched Question Period nearly every day for a month, witnessing members from both opposition parties passionately challenge the government to do the right thing. And repeatedly, the minister and premier continue to insist that their decision to cut kids off of IBI at age five is based on the advice of their expert scientists, who apparently told them that kids over age four are no longer in the "right developmental window" to benefit from the therapy.
On May 14, a social media and personal conversation between the chair of the government's expert committee, Dr. Ian Dawe, and a mother-turned-undercover-investigator/activist Josie Chaves, was displayed on CityNews. In the exchange, Dr. Dawe had affirmed to Chaves that IBI can work for kids over five and revealed that: "What government funded was not what we recommended."
Some of the government's actions directly contradict the experts' recommendations.
After Chaves made this exchange public, the ministry's response was to malign the messenger, issuing a statement that said: "We find Dr. Dawe's actions to be regrettable and unfortunate."
What's unfortunate and regrettable is not that Dr. Dawe spoke the truth, but that the government is refusing to listen.
But we don't need Dr. Dawe to confirm that the government's actions aren't true to his committee's report. This will be clear to anyone who actually reads the document.
Some of the government's actions directly contradict the experts' recommendations. The report states, for example, that kids should receive a minimum of 12 months of IBI, when the government's new program is cutting many off after just six.
And while it's true that the government-appointed experts state that IBI is more effective before five, they do not indicate that children over four will not benefit from intensive therapy. In fact, plenty of evidence demonstrates the opposite, as do the thousands of children who have made significant gains in Ontario's pre-existing IBI program, in which (due largely to long waits for entry) 85 per cent of participants were over the age of five.
It is precisely because the Liberal government failed to invest sufficiently in the IBI program earlier that impacted families have been on wait lists for two to four years while their children "aged out" of coverage.
They feel doubly betrayed. Desperate to obtain the treatment for their children that was promised to them, autism parents have added to their already busy lives by holding rallies across the province, signing petitions, writing letters, doing media interviews, tweeting thousands of messages under the hashtag #AutismDoesntEndAt5, and telling anyone who will listen that they have confidence in their children's potential to succeed, even if the government doesn't.
Many have taken notice. Dozens of groups, including school boards, autism support groups and behaviour analysts (whose job it is to administer IBI) have spoken up.
The Ontario Federation of Labour, various unions, the Ontario Advocate for Children and Youth, and a growing chorus of mayors, including of Oakville and Richmond Hill, have all come out stating the changes were a mistake. Newspaper editorial boards across the province have voiced strongly that kids over four should still receive IBI.
Two years of IBI at $50,000 a year is a drop in the bucket compared to 60 years in a group home.
Why should everyone care? Supporting the most vulnerable members of our society should be a good enough reason, but it also makes economic sense. Intensive therapy is costly, but if provided, autistic children are more likely to gain independence and less likely to require expensive supports throughout their lives.
Two years of IBI at $50,000 a year is a drop in the bucket compared to 60 years in a group home. Some estimates place the cost of full-time care of a severely autistic adolescent or adult at $150,000 a year.
The government is standing in opposition to virtually everyone else. Many of their proposed changes to the new autism program are positive, but they got the age five cut-off wrong. The motion on Tuesday will force a vote, in which individual members may choose to stand against their party. I am hoping that many Liberal MPPs will vote with their conscience and put children's needs ahead of partisan loyalties. It's not their fault the minister and premier made a poor decision, but it will be their fault if they continue to support it.
The Liberal government needs to admit it made a mistake and put this issue to rest. Many parents are calling for immediate and sufficient direct funding for their kids' therapy programs, a move that will quickly address further wait lists.
It's an investment that's long overdue. Let parents of autistic children get back to spending time playing with their kids rather than having to fight on their behalf.
Follow HuffPost Canada Blogs on Facebook
MORE ON HUFFPOST:
At first autism meant "scary" to our family. As time went on autism became normal. The littlest things like your child eating a new food puts you in a good mood and warrants a brag post on Facebook!

It means seeing the world through a different set of lenses.

It would take at least a dozen pictures. Him reading a book at 3-years-old, even though no one taught him how. Crying because the sun hurts his eyes or his brothers were just too loud. Laughing. Snuggling. Riding his bike. He has taught us so much. He is truly our sunshine.

Our daughter has Down syndrome and autism and is a small piece of the puzzle. Autism means a little more unique than the rest...

Autism is enjoying swings, rides and slides!

Autism means your child can be your hero.

Autism to me means cherishing every milestone, every bite of food, every babble, every time my son points to something to share interest, every hug, every kiss. We rejoiced when he would tolerate eating a sucker! It was a big deal! Literally every moment or stride brings me joy and hope.

To our family autism means compassion and patience. It inspires me to see the uniqueness in all children, even "typical" kids.

Autism means building from our strengths and what brings us joy.

Taking family vacations like everyone else.

Autism means that moments like these are rare and treasured and completely unforgettable.

Autism means looking at the world through a magnificent set of lenses that only he can provide.

Autism is celebrating the accomplishments that others overlook -- even something as simple as touching sand!

Autism means sometimes she wants a big hug -- just not from her mommy. Autism means understanding all her nonverbal cues and never taking it personally.

It means never having the socially accepted "appropriate" answer, but always being a delightful surprise and a ray of fresh sunshine. Also it means hating babies but loving his little brother unconditionally.

It means taking a completely different path on the journey you had in your mind, all while learning that beauty is nothing like you ever imagined, it's better.

Autism to us means knowing that not everyone will understand and that's OK.

Autism means learning and changing. I never expected to be here, but I will do everything I can to help my son.

Autism means that it's not going to be how I thought it would be. It means taking a different path than most. It means I will hold his hand and walk with him through whatever struggle we face or success we have.

Autism means finding joy in each and every accomplishment! Autism means challenges, loving so much it hurts, growth, setbacks, memorizing every line from a movie, picky eating, laughing, innocence. This kid's future is so bright that he needs his shades indoors.

It means the rules change every day, food usually doesn't get eaten, and I was lucky enough to give birth to the bravest Superman I've ever known.

To us, autism means not assuming that ASD kids are unhappy or un-bonded to their families. Drew is the sweetest, kindest, most loving little boy. In our life, autism means getting stuck in every entrance door because Drew has a fixation on doors. It also means protecting our sweet baby from the mean people who have cussed at him when he's had a meltdown in public.

It's about living out loud; he never censors himself to make anyone feel more comfortable, he is unapologetically himself. When you're a freshman and your sister is a senior and she takes you as her date to the winter formal, that's a pretty fantastic thing. Sure, he may have both Down syndrome AND autism, but he's also got some killer dance moves; neither diagnosis defines him.

It means we learn to take on this crazy world in a whole different way together, we teach each other and the people around us to think and learn a different and unique way. My favorite saying: " I would not change you for the world, but I would change the world for you"

I believe autism means to have more patience and be more patient and to have an open mind for new ideas to overcome challenges. I believe every child has a story, they are unique and beautiful in their special ways.

We are a military family with two beautiful boys on the spectrum and to us autism is just love.
Follow Janet McLaughlin on Twitter: www.twitter.com/ProfJMcLaughlin