10 Surefire Ways To Improve Your Mood
They say that into every life a little rain must fall... Sometimes, however, it pours. If you've had a less-than-fabulous time of it lately, here are 10 proven ways to improve your mood.
1. Breathe.
As adults, a lot of us can go all day without taking a proper breath. Sit somewhere quiet and put one hand on your chest and the other on your lower ribcage. Focus on feeling the air moving in and out of your lungs. Breathe in for a count of four and out for a count of four. Taking the time to really breathe helps calm the nervous system and will help you start to feel better right away.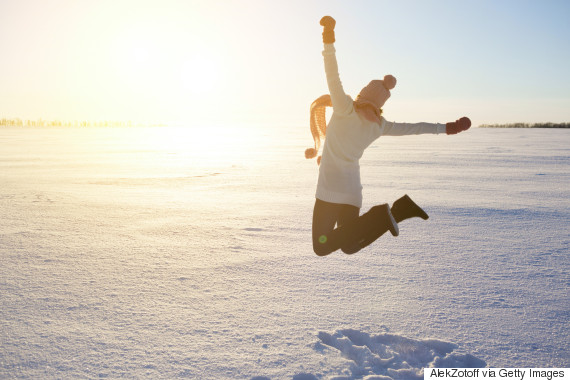 2. Make self-care a priority.
When the chips are down, it's hard to remember to eat well, exercise, get a good night's sleep, and do all of the other little things that keep people on an even keel. Taking care of yourself sends your brain the message that you are valuable, and feeling good about your health brings back a sense of control. Try a new fitness class or cook your way through a healthy cookbook. Make sure you get at least eight hours of sleep and drink some water. Life seems more manageable when you have enough energy and you can fit into your favourite jeans.
3. Do nothing.
When you are down, all you have to do is look after your dependents and go to work. Everything else is negotiable. Give yourself permission to do nothing for a while. Read magazines, watch bad TV (Real Housewives anyone?), and read a juicy novel with no educational value. Sometimes you just need to give your brain and body a week or two off. You always can be Type A next month.
4. Find someone who understands.
When bad things happen, there is often the desire to retreat inward and hide under the covers, but it's better to stay connected. Reach out to safe people with whom you can share your struggles. (Town gossips need not apply for the job!) If you don't have a close confidant, there are plenty of online discussion groups for people going through just about anything. There is comfort in finding people who understand what you're facing, and the empathetic reaction of others can help restore your faith in the universe.
5. Go pro.
There are so many talented people who are experts in helping people in times of crisis. Talk to your doctor, employee assistance program, or local college or high school guidance office to see if they can refer you to a good social worker or therapist. Many work on a sliding scale to make their work available to anyone who needs it.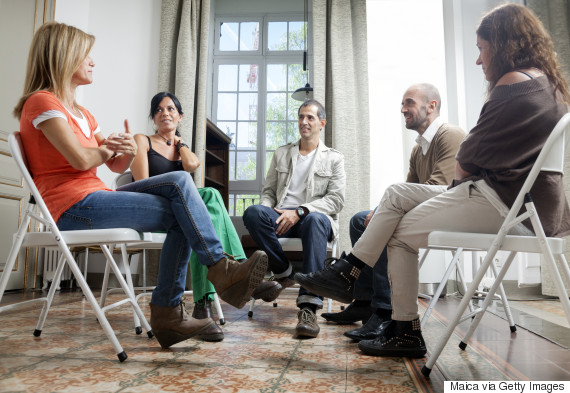 6. Help someone.
Smile at the store clerk. Put your change in the charity box at the checkout counter. Write a short online review of a book you enjoyed or local business you frequent. When you are down, it's hard to be wildly magnanimous but small acts of kindness go a long way towards making you feel better.
7. Try some yoga.
There's a reason why yogis are so calm. A lot of yoga poses help the body release feel-good hormones. One of the best positions is called Legs up the Wall, where you lay on your back and, using a pillow or block to support you, rest your legs on the wall (there are a million great illustrations of this online.) Better yet, call a yoga studio and ask if they have a small drop-in class you can try. Ask for a restorative or gentle yoga class to ensure you will not be flipping into headstands.
8. Set a goal for a year from now.
Set a small goal for a year from today. Maybe you want to read a three new books by the end of the year, or meet one new person, or learn to play pickleball. Set a goal that is a bit of a stretch but is achievable. The goal should focus on action (which you control) rather than results (where other people or luck can have an impact.) Having a goal gives you a reason to get out of bed and will rebuild some of your confidence.
9. Put it in perspective.
Dr. Sonja Lyubomirsky, author of The How of Happiness and The Myths of Happiness, discovered that life circumstances such as health, financial stability, and relationships determine a slim 10% of our overall happiness. As tough as the tough times can be, they do not define us. A great mantra in tough times is "it's only ten percent." Even in the worst of times, you can be content.
10. Engage in positive self-talk.
Make sure you are nice to yourself. Write a list of five things you are good at and five things that make you unique. Think about what you have rather than what you lack, as gratitude is a huge contributor to feeling good. And, finally, remember Christopher Robin's words of wisdom to Winnie the Pooh, "You're braver than you believe, and stronger than you seem, and smarter than you think."
Follow HuffPost Canada Blogs on Facebook
Also on HuffPost:
Try the "chocolate meditation" technique. This allows you to fully savor the sweet treat. Instructions here.

Write your worries down in a journal.

Peel an orange. Studies show the smell of citrus can help reduce stress.

Read a book for six minutes.

Eat an avocado. The monounsaturated fats and potassium in the superfood can lower blood pressure.

Take a walk in green space.

Hang out with your BFF.

Spend a few minutes focusing on your breath.

Take a power nap.

Bring your dog to work. Research suggests having Fido in the office can lower stress levels throughout the day.

Listen to Mozart.

Try some aromatherapy. One 2009 study found it's an effective stress-relief technique, especially for high school students.

Let out a laugh.

Get a massage.

Give someone a big hug.

Belt it out at karaoke...

...Or sing in your church choir.

Do a small project or craft.

Take up knitting. Research shows the activity puts your brain in a state of flow similar to the one achieved through meditation.

Speaking of which, try a little mindfulness meditation.

Have sex.

Unsubscribe from all of those promotional emails.

Kiss a loved one.

Call your mom.

Do a progressive muscle relaxation exercise.

Take an email vacation. (Bonus: It also makes you more productive.)

Forgive someone.

Think about something you're grateful for.

Exercise. Research shows it helps boost the body's ability to handle stress.

Be mindful of how you deal with frustration during an argument.

Drink black tea.

Power down that smartphone for a few minutes.

Walk the walk. Research shows if you carry yourself like a happy person, you'll feel happier, too.

Drink some orange juice.

Chew gum.

Reflect on what (and who) is important in your life.

Eat foods rich in omega-3 fatty acids. Bring on the salmon!

Tap into your religious beliefs.

Look into a less stressful job.

Live in Salt Lake City (or just take a visit). It was named the least-stressed city in the country in 2014.

Walk or bike to work.

Listen to soothing nature sounds.

Eat a bowl of oatmeal.

Give acupuncture a try.

Flash a smile at someone.

Do some guided imagery exercises.

Get a plant for your house or your desk.

Let yourself have a good cry.

Eat some dark chocolate.

Get in touch with your inner yogi. Try one these yoga poses, specifically geared toward reducing anxiety.

Say no. You can do anything, but not everything.

Have an orgasm.

Take a laughter yoga class.

Think positive thoughts.

Dance it out. Not only does it reduce stress, it can also boost your memory.

Take a warm bath.

Surround yourself with the scent of pine...

...Or the aroma of vanilla.

Float in water.

Sleep. Not only is it crucial to zapping stress, it's key to your daily happiness. "When we're exhausted, we drag ourselves through the day instead of enjoying the day," HuffPost president and editor-in-chief Arianna Huffington once said.

De-clutter your home or your desk.

Become a morning person. (Or at least embrace the morning.)

Spend time around horses.

Focus on one task at a time.

Pay attention to your surroundings.

If you're a smoker, quit.

Watch 3-D videos of trees. (Really!)

Go to the beach.

Distance yourself from stressful people in your life.

Repeat a positive affirmation. Looking for a few examples? Try these.

Choose not to wait in line.

Spend time with the person you're in love with.

Drink a cup of green tea.

Feel free to ignore your boss while you're on vacation.

Embrace aging.

Try a "mood monitoring" exercise. Find tips on how to do it here.

Take a break from social media.

Use a little foul language (in the right company).

Share a meal with a friend.

Let out a deep sigh...

...Or a primal scream.

Make a silly face.

Close your eyes, even for just a few moments. (But don't do it while you're driving.)

Brush your hair.

Do something nice for someone else. Good karma and less stress? Win.

Give yourself some quiet time.

Write your thoughts on a piece of paper, then physically throw them out.

Stare at the color blue.

Look at old photographs.

Set "stress boundaries." If someone -- or something -- is starting to stress you out, step away from the situation.

Go for a run.

Color a picture. This activity isn't just for kids!

Pet your dog or cat.

Look out the window.

Try a de-stressing app. Programs like Headspace, Calm and our own GPS for the Soul are designed to reduce stress.

Use your imagination and look at your life like scenes in a movie.

Count to 10, then count backward.

Spend a little time in the sun. (Just wear your SPF!)

Take a lunch break away from your desk.

If your stress becomes unmanageable or overwhelming, consider seeing a therapist.
Follow Jen Lawrence on Twitter: www.twitter.com/readjenlawrence