B.C. NDP's Pledge To Raise Minimum Wage Sets Example For Nation
A fair shot in life begins with a living wage.
But increasingly in this country, we are seeing a widening gap between rich and poor. Those at the top are getting richer, while those at the bottom face increasing precariousness in their employment and wage rates that don't keep up with the high cost of basic living.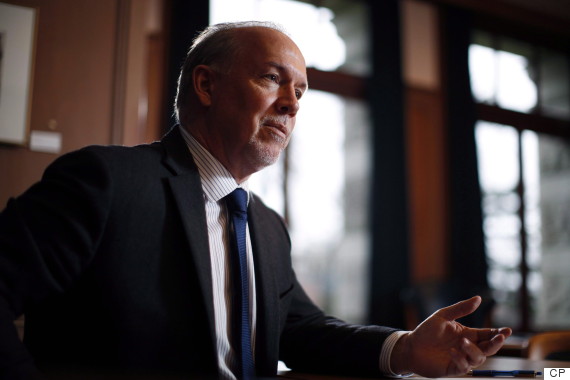 B.C. NDP Leader John Horgan. (Photo: CP)
Young people who have done everything right -- gone to school, got the training, done volunteer work to make themselves more attractive to employers and improve their skills -- still find themselves stuck in casual or contract work with diminishing hope of building a decent life, let alone a decent future. It has to stop. We can and must do better.
In British Columbia, where the race for the May 9 provincial election is heating up, the NDP has called for a $15 minimum wage in the province by 2021. This is a good move, and one that progressive people across Canada should get behind.
A recent poll by the Broadbent Institute found that more than 82 per cent of Canadians believe the gap between the wealthy and everyone else is increasing. More importantly, the poll also found that Canadians are mad about the gap and blame government policies and a tax regime that favours the rich and the powerful.
Smart politicians would take note of that, and many are.
Against a backdrop of B.C. Premier Christy Clark increasingly being portrayed as a premier for the wealthy, the NDP in the province has rightly put forward policies aimed at directly helping working people.
Beyond the minimum wage plan, the B.C. NDP is calling for $10-a-day child care, low-income housing, help for renters, no-interest student loans, improvements to social assistance and other measures aimed at helping working people in the face of a widening wage gap that threatens our social fabric.
A recent study by the Institute for Research on Public Policy, for instance, found that while Canadian incomes rose 13.5 per cent between 1982 and 2010, "that growth was strikingly uneven." Those with an income in the bottom 90 per cent saw their income rise by a meager two percentage points over that period. At the other end of the spectrum, those in the top 10 per cent enjoyed an increase of more than 75 per cent. Those in the top one-tenth of the one per cent saw a whopping 160 per cent income increase.
Such increasing disparity is not sustainable, which is why the policies of the NDP in this B.C. election are so welcome.
Now is the time to push for change, demand more and help working people build better lives.
Elsewhere in the country, progressive people are working to improve the lives of those left behind by the policies of the past. We have already seen the benefits and success for working people by the leadership of Rachel Notley's NDP government who have taken bold and necessary steps to address the minimum wage of workers, and the needs of the community by investing increased funding in education and health to maintain public services.
Another good example is Jagmeet Singh, deputy leader of the Ontario NDP, who is calling for stronger protections for temporary workers -- including equal pay for equal work, a ban on so-called temporary jobs that end up being long-term gigs but remain officially temporary, and the elimination of unfair fees by temp agencies.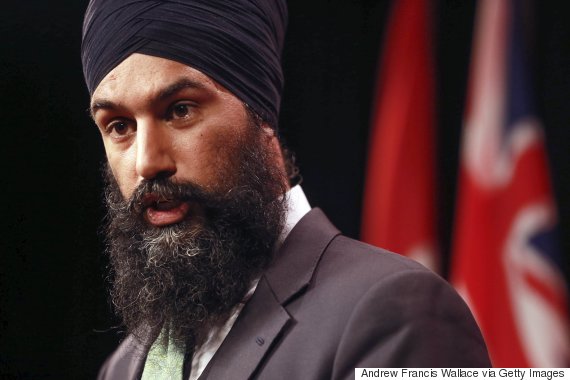 Brampton MPP and deputy Ontario NDP leader Jagmeet Singh. (Andrew Francis Wallace/Toronto Star via Getty Images)

The work to improve the lives of our most precarious workers is not unique to B.C., but is something we must confront in every province. Unifor, for instance, is active across Canada -- including being a leading player in Ontario's Changing Workplace Review, a government initiative to overhaul the province's labour and employment standards legislation to better reflect the modern workplace.
As we have been in other provinces, as well as federally, Unifor is also taking an active role in the B.C. election to help ensure that the needs of working people are heard.
By standing and working together as a united labour movement and coalition of progressive people, we can address the destructive income disparity and growing precariousness of work that we've seen in the last few decades. Now is the time to push for change, demand more and help working people build better lives for themselves and their families.
Follow HuffPost Canada Blogs on Facebook
Also on HuffPost:
9 Things Trade Unions Have Done For Us
Without trade unions promoting the aim of a 40-hour work week, there would have been no pressure on employers to limit the amount of time employees spend working. While of course employees are free to choose how long they spend working, trade unions worked to ensure this was the choice of a worker, not their boss. The movement for an 8-hour work day peaked at the turn of the 20th century, just before the First World War. And more recent moves towards re-imagining the working day have seen big businesses use technology to limit after-hours email traffic. Arguably such ideas are borne out of trade union campaigning more than a century ago.

While European rules introduced the basic legal right to paid-for annual leave, it is the trade unions which fought for enhanced entitlements over and above the basic EU provision. Since the early 2000s, the Trades Union Congress has fought for increases to the amount of leave, which is now the equivalent of 5.6 working weeks (PDF).

Before the Employers and Workmen Act 1875, workers were the only ones who could be sued for breach of an employment contract. The increased organisation of trade unions and the Great Reform Act prompted both Tory and Liberal governments of the time to take a renewed interest in employment laws. Ultimately this brought about greater parity in the relationship between employer and employee.

Trade unions were instrumental in lobbying government for the provision of leave for new parents - at workers' own discretion. In 1998, the Trades Union Congress launched a campaign to ensure that proposed parental leave would be flexible and well promoted to employees.

Cases of discrimination aren't uncommon, but they'd be a lot more if it weren't for trade unions. As the European Commission says: "Trade unions play a primary role in fighting against discrimination through a variety of actions and tools". They negotiate with employers, support victims, and monitor discrimination cases - keeping up-to-date with the latest case law so that we don't have to.

Although trade unions had reservations about the effect of a national minimum wage, they declared their support for the policy in the mid-1980s. By the 1990s, scholarly evidence caught up with the unions - arguing that a minimum wage would not reduce adult-age employment (PDF). And through the Labour Party, trade unions were able to influence policy in government after the 1997 election.

In the 1840s, unions that were highly centralised and which employed full-time officers brought about negotiation and arbitration as their preferred method of achieving a good deal for their members. This had a significant effect in improving worker/industrialist relations, and while not always successful, they fundamentally changed workplace relationships for the better.

In the 1830s, a Chartist movement was organised around 6 clear principles - and mobilised mass support for its aims through petitions. Just like trade unions, the Chartists' relied on collective aims amongst like-minded people - most visible in the form of three 'monster' petitions presented to Parliament. These contained millions of signatures and proved a desire amongst workers for improved working conditions.

The history of the working week lies in industrial practices, and in Britain factories operated 6 days a week to maintain efficiencies of scale. Sundays were always the day of rest. But trade unions fought to secure the Saturday for workers, too. And now the Monday-to-Friday work week is accepted across industries, as the LSE notes.
Follow Jerry Dias on Twitter: www.twitter.com/JerryPDias