Senator Lynn Beyak Must Resign Over Residential School Comments
It is well past time for Senator Lynn Beyak to do something she has so far refused to do.
She needs to show the people of Canada, and the residents of her own Northwestern Ontario community in particular, the respect they are due and resign.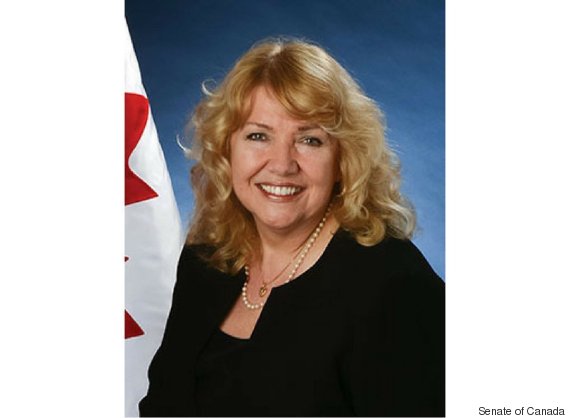 It has been a month since Beyak stood on the floor of the Senate to make her outrageous comments about the "good" parts of the residential school system.
"Nobody meant to hurt anybody, the little smiles in the Truth and Reconciliation Commission are real, the clothes are clean and the meals are good," she said, stunning a nation with her apparent ignorance and insensitivity.
As if not enough, she went on.
"There were many people who came from residential schools with good training and good language skills, and, of course, there were the atrocities as well."
There were the atrocities as well. She actually said that.
Senator Murray Sinclair, whose exhaustive six-year Truth and Reconciliation Commission and report Beyak was commenting on, has acknowledged that a few students benefited from the schools, but it pales in comparison to the physical, mental and sexual abuse that was rampant at the schools, or the 6,000 children who died of malnourishment or disease, and the cultural genocide that was at the heart of the entire system.
Sinclair dutifully recorded the positives in his report, like the responsible senator he is, but made it clear that those schools, the policies that brought them into place and the racism that allowed them to continue for so long were a scar on Canada that will have lasting effects for generations to come.
For anyone who has done even a little research into this issue, that much is obvious. Not for Beyak. For her, the obvious truths are dismissed.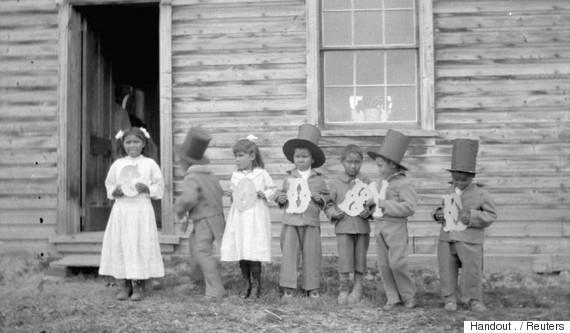 Children hold letters that spell "Goodbye" at Fort Simpson Indian Residential School, in Fort Simpson, Northwest Territories in a 1922 archive photo. (Photo: J.F. Moran/Library and Archives Canada//handout via Reuters)
When it was politely suggested that she get more education on the impact of residential schools, she said she had double-dated with an "Aboriginal fellow" and his future wife when she was 15, so "I don't need any more education." A shocking and dismissive response that exposes her racist ideas, as if to suggest you become an expert (or rather, that your ignorance is acceptable) because you know or have met someone who is Aboriginal.
Almost as stunning as Beyak's determined ignorance is that of Conservative Senator Don Plett, the party's whip in the Senate, as he refused to remove Beyak from the Senate Standing Committee on Aboriginal Peoples and proved he was equally incapable of understanding the harm done by the schools, saying, "Life will go on. The sun will rise tomorrow and set again tomorrow night and we'll continue."
What I am talking about here is Beyak's fitness to serve. On that measure, she clearly fails.
Atrocities? Get over it. Abuse? Look at the sunrise. Six-thousand dead children? Life goes on.
This level of ignorance, especially shown by representatives of Parliament, can be more dangerous and tougher to fight than any other problem we might have with Beyak and her insidious comments. As Senator Lillian Dyck, chair of the Aboriginal Affairs Committee, said, ignorance leads to fear, and fear leads to racism. In the current context we, collectively the people and politicians, need to do more to stop and eradicate racism, rather than allow it to fester.
Handed a golden opportunity recently to repair at least some of the damage she had done, Beyak once again failed to show the kind of leadership we should expect from our senators. She sat and listened as two Aboriginal elders who had summoned the courage to tell the committee about their experiences at a residential school, recalling horrific tales through their tears. It takes incredible courage to show such vulnerability in public, and they did it.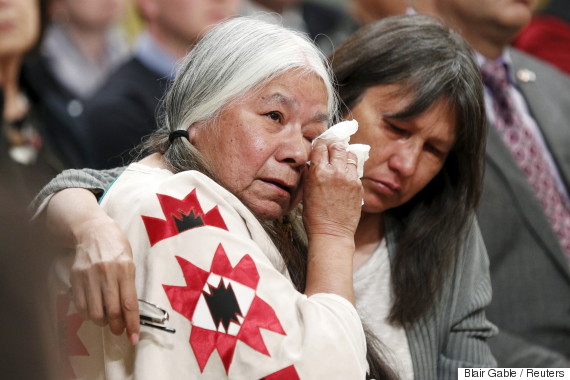 Residential school survivor Lorna Standingready (L) is comforted during the Truth and Reconciliation Commission of Canada closing ceremony at Rideau Hall in Ottawa, June 3, 2015. (Photo: Blair Gable/Reuters)
Beyak's response to this heartbreaking scene? Well, she asked them what they thought of more audits for First Nations communities. Stunned, one of the elders struggled to find an answer, showing Beyak more respect that she'd shown them.
Just to be clear. I am not talking about political correctness, though of course we should all be sensitive to the language we use and its impact on others and the communities around us.
What I am talking about here is Beyak's fitness to serve. On that measure, she clearly fails.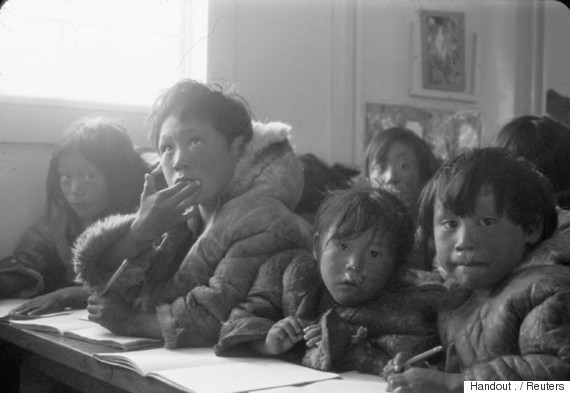 Students are seated at their desks in a classroom at the Eskimo Point Federal Hostel in Arviat, Nunavut in an undated archive photo. (Photo: D.B. Marsh/Library and Archives Canada/handout via Reuters)
Beyak has shown us that despite the Truth and Reconciliation Commission, despite the apology in the House of Commons by Stephen Harper when he was prime minister, and despite a new government that says it is committed to the ideals of that commission -- though little concrete has been done -- the attitudes that allowed the schools to be set up and to thrive for so long are still among us.
Part of me wants to thank Beyak for this reminder and making it so abundantly clear that there is much work to be done to expose truth and ensure reconciliation. But Beyak doesn't have to stay in the Senate for me to do that.
Follow HuffPost Canada Blogs on Facebook
Also on HuffPost:
Residential Schools: A Photo History
Children hold letters that spell "Goodbye" at the Fort Simpson, N.W.T, Residential School in 1922.

The blackboard on the left reads: "Thou Shalt Not Tell Lies." Cree students at the Anglican-run Lac la Ronge Mission School in Saskatchewan in 1945.

Inuit children who lived too far away and had to stay at school during the summer at the Anglican Mission School in Aklavik, N.W.T. in 1941.

Sisters of the Soeurs du Sacré-Coeur d'Ottawa and students on the steps of the school on the Pukatawagan Reserve in Manitoba in 1960.

An undated photos of aboriginal students attending the Metlakatla, B.C., Residential School.

La Tuque Residential School's hockey team at a tournament held during the Quebec Winter Carnival in 1967.

Canada's first and only Indian Air Cadet Unit, "No. 610" in 1956. The boys are from the Roman Catholic-run Williams Lake, B.C., Residential School.

Chemistry class at Kamloop's Residential School in 1959

Students play pool at the Norway House Residential School in Manitoba in 1960.

Students at a dormitory of the Shingwauk Residential School in Ontario in 1960

The carpentry shop at a Kamloops, B.C., residential school in the late 1950s.

Children at the Fort Resolution, N.W.T., residential school in 1928.

Undated photo of a group of students and parents from the Saddle Lake Reserve in Alberta en route to the Methodist-operated Red Deer Industrial School.

St-Michael's Residential School in 1959

Shingle Point Residential School & Home For Boys, Mackenzie District, N.W.T. in 1930.

Students from the residential school in Moose Factory Island in Ontario attend a service at St. Thomas Anglican Church in 1946.

Aboriginal children at the Roman Catholic-run Fort Providence Residential Mission School in the Northwest Territories in 1929.

An undated photo of a dog team carrying a hay load near the residential school at Fort Resolution, N.W.T.

Undated photo of children cutting logs at the residential school in Fort Resolution, N.W.T.

Undated photo of boys cutting hay at the residential school in Duck Lake, Sask.

Two Métis children with an Inuit child at the All Saints Residential School, in Shingle Point, Yukon, in 1930.

Students at the Onion Lake Catholic Residential School in 1950.

Adeline Raciette amd Emily Bone study on the lawn of the Assiniboia Residential School in Manitoba in 1958.

Students share dish-washing chores at Portage La Prairie Residential School in Manitoba in 1950.

Fort Qu'Appelle Industrial School in Saskatchewan in 1884.

The Alert Bay Mission School in British Columbia in 1885.
Follow Jerry Dias on Twitter: www.twitter.com/JerryPDias